Falcons vs. Panthers: Final Report Card, Player Grades for Atlanta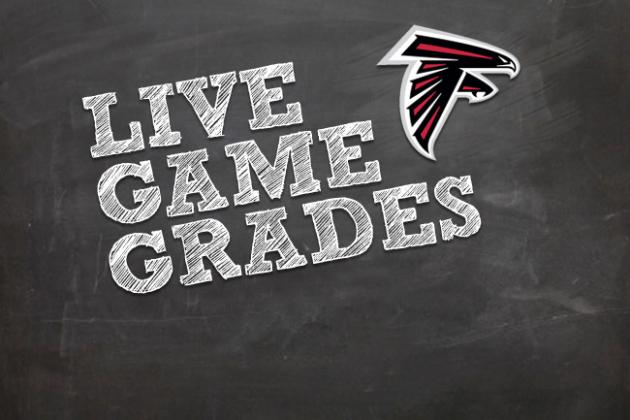 The Atlanta Falcons (11-3) lost 30-20 to the Carolina Panthers (4-9) at Bank of America Stadium Sunday in a game that wasn't as close as the score indicated.
Cam Newton took control of the game early, leading the Panthers to an 16-0 lead at the half that could've been much wider had Carolina been able to score touchdowns instead of field goals in the redzone.
The Panthers dominance continued in the third quarter, when they extended their lead to 23-0 on a 72-yard Newton touchdown run.
The Falcons narrowed it to 23-13 with two quick touchdowns of their own. But the Panthers put the game away for good with a 53-yard DeAngelo Williams touchdown on a screen pass to make it 30-13.
A Michael Turner touchdown run with seconds left in the game made it 30-20, but that's as close as the Falcons would get.
Here are the Falcons' final game grades.
Begin Slideshow

»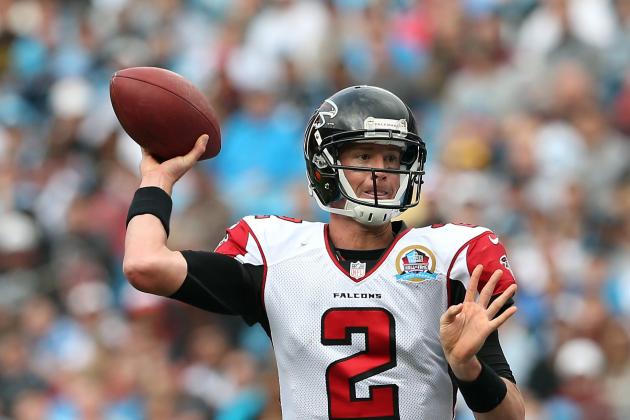 Streeter Lecka/Getty Images

Matt Ryan–Game Grade–C+
Statistically it was a strong showing from Matt Ryan, who finished 34-of-49 for 342 yards and two touchdowns along with one interception.
Ryan generally made the right reads and protected the ball well. But it was the few mistakes Ryan made that ended up being his demise, first with a slow start consisting of key inaccurate passes and a failure to attack the defense before throwing a game-clinching interception on 4th down late in the game.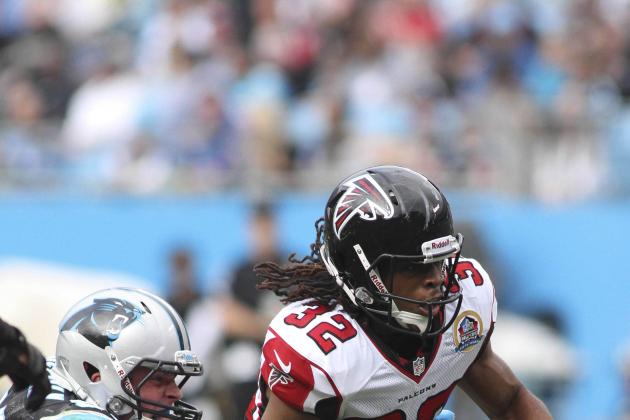 USA TODAY Sports

Michael Turner–Game Grade–C-
Turner scored the Falcons' lone rushing touchdown of the day, but it came in garbage time. He proved to be virtually ineffective the rest of the time and it showed as he carried the ball just seven times for 14 yards on the day.
Jacquizz Rodgers–Game Grade–A
10 touches, 64 yards, numerous other broken tackles. Rodgers yet again showed why he deserves a bigger share of the workload after yet another great performance in limited action on the season.
Jason Snelling–Game Grade–N/A
Snelling had just one catch for five yards and was really nowhere to be seen aside from that play. He didn't play enough to warrant a grade.
Antone Smith–Game Grade–N/A
Smith's only play on offense came when Matt Ryan's screen pass to him was thrown out of his reach. He didn't play enough to warrant a grade.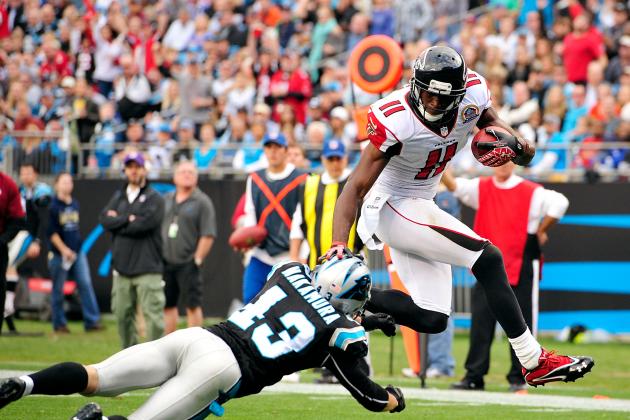 Grant Halverson/Getty Images

Roddy White–Game Grade–A
Nine catches for 117 yards and a touchdown. It took a while for Ryan to get him involved in the game, but when he did White did not disappoint, making diving grabs left and right. A blown call by the referees cost White his best catch of the day when he caught the ball in endzone and secured it to the ground on a play that would've made it a one-score game.
Julio Jones–Game Grade–A-
Jones did finish with five catches for 66 yards and a touchdown–the result of a great effort on a screen pass–but was noticeably not on the same page as Ryan on a few throws.
Harry Douglas–Game Grade–B
Douglas was once again the forgotten man in the gameplan, finishing with just two catches for 29 yards on the day. The talent is there–why not use him?
Drew Davis–Game Grade–N/A

Davis' only catch of the day came when he gained six yards on third and long. He didn't play enough to warrant a grade.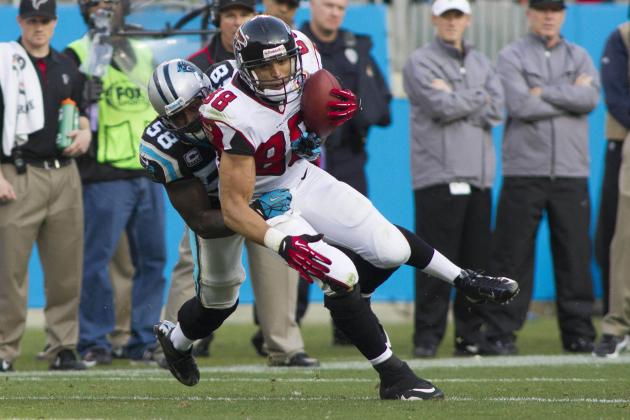 USA TODAY Sports

Tony Gonzalez–Game Grade–A
What else to expect from the future Hall of Famer? Gonzalez ran crisp routes all day long, resulting in his eight-catch, 61-yard performance. He caught virtually everything thrown his way, including a key third down conversion that led to Jones' touchdown on the very next play.
Michael Palmer–Game Grade–B-
Palmer's only had one catch for four yards, but his presence was more significantly felt blocking in the running game.
Chase Coffman–Game Grade–N/A
There's not much room for a third tight end in Atlanta's offense, but when called upon in garbage time he delivered with an 11-yard catch for a first down with just over two minutes left in the game. He didn't play enough to warrant a grade.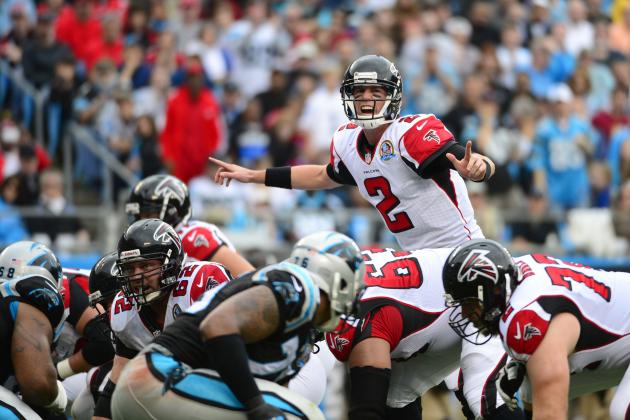 USA TODAY Sports

Todd McClure and Justin Blalock–Game Grade–C-
These two go together because their performance today was summed up by two plays. The first is Jones' screen pass touchdown, made possible by two key blocks by McClure and Blalock.

The second is a whiffed double team resulting in immediate pressure in Ryan's face on 4th down late in the game, leading to a hurried throw and an interception to essentially end the game and the reason for this low grade.
Peter Konz–Game Grade– B
Konz generally took care of his man in the trenches, giving Ryan a good amount of time to throw the ball on most of his throws and is part of a right side of the offensive line which paves the way for the Falcons' most successful runs.
Tyson Clabo–Game Grade– C+
Greg Hardy got the best of Clabo in these two teams' first matchup. While he allowed Hardy another sack in this one, it would be Clabo's only real mistake in an otherwise well-blocked game.
Sam Baker–Game Grade–B
Baker's name wasn't called once in the game and that's a good thing. He didn't allow any sacks and had a key block on Turner's late-game touchdown run.
Mike Johnson–Game Grade–N/A
Didn't see the field much, but had a big block on Turner's touchdown run. He didn't play enough to warrant a grade.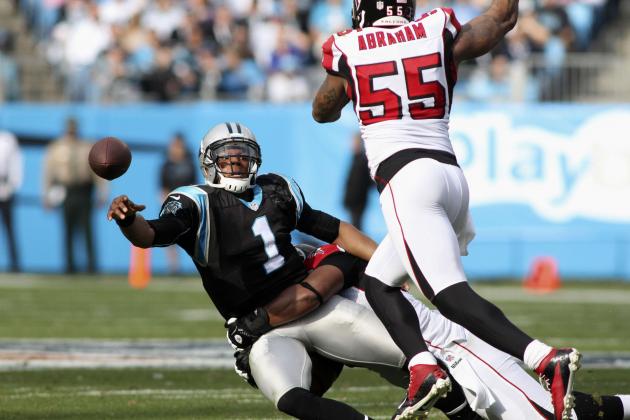 USA TODAY Sports

DEs
John Abraham–Game Grade–D-
For all his pass-rushing prowess Abraham disappeared on passing downs, not doing so much as touching Cam Newton on the day. He finished with one total tackle on the day.
Kroy Biermann–Game Grade–C-
Biermann had a decent day statistically with three solo tackles and one assisted, but a misread on a fake by Newton was the catalyst to his 72-yard touchdown run.
Cliff Matthews–Game Grade–N/A
He was not officially inactive, but did not play enough to warrant a grade.
Lawrence Sidbury–Game Grade–N/A
Did not play.
DTs
Jonathan Babineaux–Game Grade–N/A
Babineaux's day ended early when he went down with an injury midway through the second quarter. His play up until then included missed tackles and a lack of pressure on the quarterback, but he did not play enough to warrant a grade.
Corey Peters–Game Grade–C
Peters struggled to collapse the pocket and couldn't create much disruption in the running game. But his worst play of the day was an inability to bring Newton down on a sure-looking sack, resulting in a drive-extending 14-yard run by Newton.
Vance Walker–Game Grade–B
Walker made but two plays on the stats sheet, both positive: he first sacked Newton toward the end of the first half before then stopping DeAngelo Williams for a one-yard gain up the middle. All in all, a good showing from Walker.
Peria Jerry–Game Grade–C+
Jerry's only play of the day resulted in no gain for the Panthers. He didn't play much aside from that.
Travian Robertson–Game Grade–N/A
Did not play.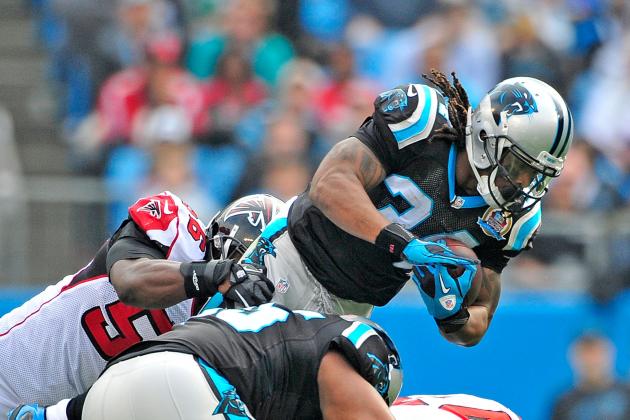 Grant Halverson/Getty Images

Sean Weatherspoon–Game Grade–C-
It was a rough outing for Weatherspoon, who had numerous missed tackles throughout the game and finished with just two solo tackles and five assists on the day. 'Spoon looked off his game and generally did not perform as you would expect from the defense's team leader.
Stephen Nicholas–Game Grade–C
It wasn't the best performance from Nicholas, who saw Newton and DeAngelo Williams run right by him on more than a few occasions while being unable to get home on his blitzes.
Akeem Dent–Game Grade–B-
Dent didn't play much, but did finish the game with four solo tackles and four assisted ones. He was quick to fill his gaps and bottle up the run when it came to him.
Mike Peterson–Game Grade–N/A
While not officially inactive, Peterson did not play enough to warrant a grade.
Robert James–Game Grade–N/A
While not officially inactive, James did not play enough to warrant a grade.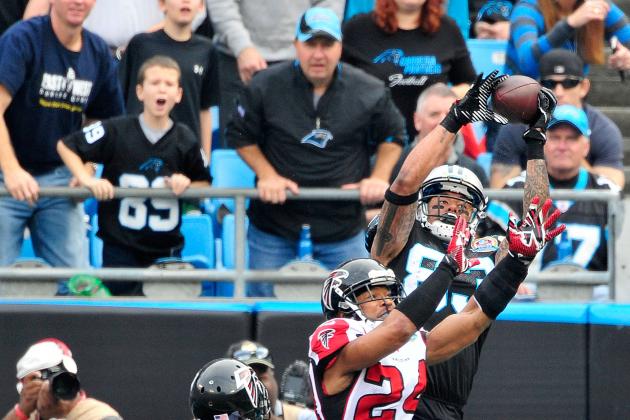 Grant Halverson/Getty Images

CBs
Asante Samuel–Game Grade–N/A
While not officially inactive, Samuel didn't play enough to warrant a grade.
Dunta Robinson–Game Grade–D-
From looking lost in coverage, to face-guarding receivers, to being penalized for defensive holding, it was an overall terrible showing from Robinson.
Robert McClain–Game Grade–B
McClain yet again proved to be one of Atlanta's surest tacklers, finishing with seven solo and one assisted. While he got beat by Steve Smith a few times, and missed a tackle on DeAngelo Williams' touchdown run, McClain continues to impress.
Chris Owens–Game Grade–B-
Owens had a decent showing Sunday, playing hard and providing relatively good coverage along with forcing a Louis Murphy fumble.
Dominique Franks–Game Grade–N/A
Franks did not play enough defensive back to warrant a grade.
Safeties
William Moore–Game Grade–N/A
Moore was inactive for Sunday's game.
Thomas Decoud–Game Grade–C
DeCoud's highlight of the day: watching Greg Olsen run right past him down the seam for an easy 25-yard touchdown catch. We've seen better from DeCoud this year.
Chris Hope–Game Grade–C-
Hope is a backup for a reason. His own highlight of the day was having Steve Smith block him out of the way on Newton's 72-yard touchdown run.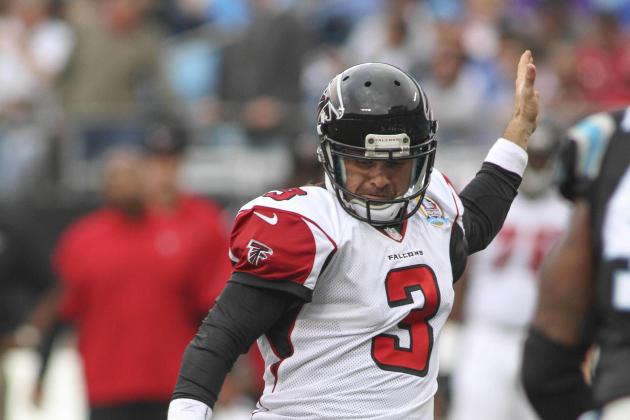 USA TODAY Sports

Matt Bryant–Game Grade–N/A
No kicks from Bryant on the day.
Matt Bosher–Game Grade–B+
Four punts averaging 42 yards, one inside the 20 and none of which were returned by the Panthers.
However, it would be nice to see him kick more touchbacks–all three of his kickoffs were short enough to be returned by Carolina.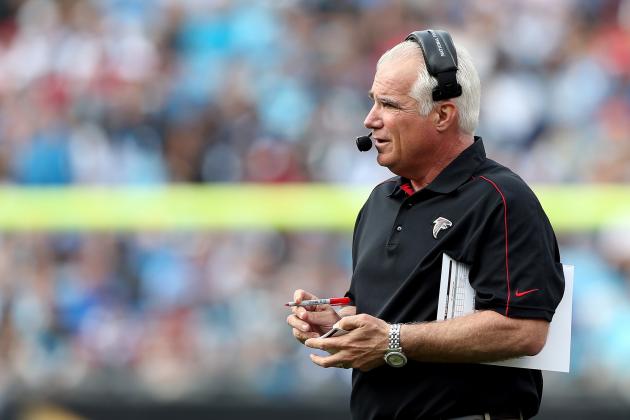 Streeter Lecka/Getty Images

Mike Smith–Game Grade–B-
Smith saw his team start off slowly but he did his best to have them finish fast and never gave up on the game, from going for two down 13-23 early in the fourth quarter, to going for it on 4th and 8 at midfield later in the game, to going for the onside kick down 30-20 with just over 50 seconds left in the game.
Smith coached a great second half–it's in the first half that he needs to coach more aggressively.
Dirk Koetter–Game Grade–C+
The Koetter that helped Matt Ryan be a mid-season MVP candidate was nowhere to be found in this one. Koetter had Ryan throwing sideways and called a very conservative first half before finally getting the no huddle going in the third quarter, but by then the game was just too far out of reach for the offense.
Mike Nolan–Game Grade–B+
The statistics won't show it, but Nolan called a strong game against Carolina. He repeatedly brought the blitz on Newton and matched up his defense well with Carolina's offense according to the given situations. It's his players that weren't able to execute Sunday.