Green Bay Packers Can Prepare for the Playoffs by Doing 4 Things in Week 14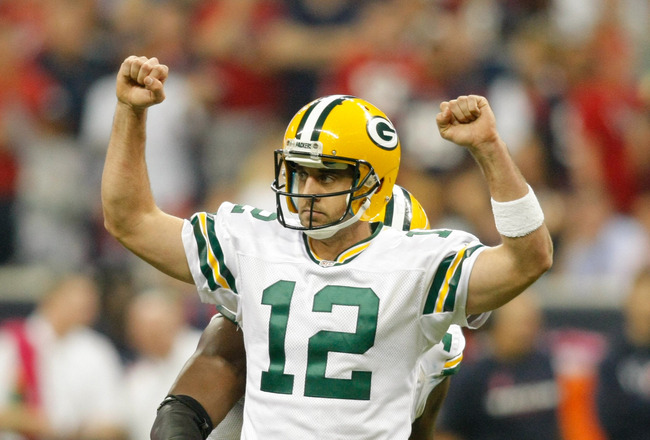 Brett Davis-USA TODAY Sports
As we move to the final quarter of the season, teams are doing one of three things: making plans for the offseason, making a final push for the playoffs or trying to fine-tune themselves for a Super Bowl run.
The Green Bay Packers fall into the latter of these three scenarios. Despite still needing to clinch a spot, the Packers would have to suffer an epic collapse to not end up with at the very least a wild-card spot.
With that in mind, the Packers must look inward and work to fine-tune their team for the playoff run. Every team has weaknesses and once the playoffs begin, teams will be trying their best to exploit those weaknesses to the fullest extent. The team that minimizes its weaknesses the most ultimately will be the last one standing in New Orleans.
So let's take a look at the top four things the Packers can do this week against the Lions to improve their team.
4. Keep Jermichael Finley Motivated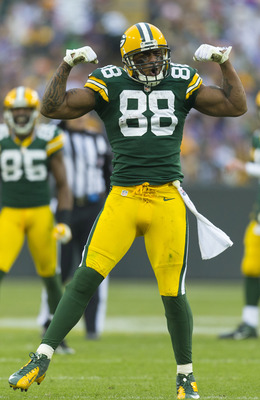 Jeff Hanisch-USA TODAY Sports
Maybe he and Aaron Rodgers finally sat down for that drink. Maybe someone finally told him to shut his mouth and play football.
I don't know what has gotten into Jermichael Finley the last couple weeks, but the Packers need to keep doing whatever they're doing.
Finley is running hard routes, making great blocks and catching everything that he is supposed to catch. This Jermichael Finley is the one the Packers and Packers fans have been looking for for most of the season.
Over the last two weeks Finley has had a total of nine catches for 111 yards, his highest two-game total since the first two weeks of the season.
I'm not going to get into all of Finley's flaws. Packers fans have stewed in them long enough. For all his flaws, though, Finley is a beast. His physical prowess is matched by few. If the Packers can keep his head on straight and have him playing at the level we've seen the last two weeks, Finley brings a whole other dimension to the Packers offense.
3. Limit Calvin Johnson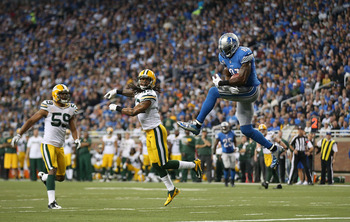 Leon Halip/Getty Images
Please note that the title does not say "stop Calvin Johnson". No one in his right mind can expect to shut Johnson down. He is playing on a whole different level from every other receiver in the league.
Johnson is going to get his catches. As they say, "you can't stop him; you can only hope to contain him". Unfortunately, as I recently said in another article, the Packers have struggled mightily with containing No. 1 receivers.
Johnson provides the ultimate test for the Packers secondary. If it can at least contain Johnson from putting up huge numbers, than the secondary can be confident that it can contain any other receiver that it might face in the postseason. With the Lions struggling, no receiver in the postseason will compare to Calvin Johnson.
2. Limit Rodgers' Sacks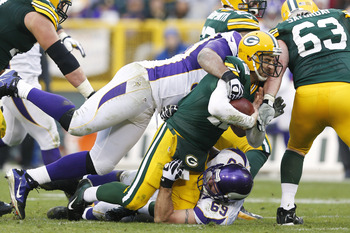 Joe Robbins/Getty Images
Aaron Rodgers doesn't have to have a clean jersey to win. He has had plenty of experience getting knocked around, only to pull out the victory in the end. However, that is an uphill battle that needs to be avoided whenever possible.
This season, the Packers have a record of 1-3 when Rodgers is sacked more than five times. By comparison, they have a record of 7-1 when he is sacked less than five times.
Rodgers has been sacked 39 times this season. He is already been sacked eight more times than he was all of last season.
Injury risk aside, the offense can not function properly with all of these sacks. It puts the offense in long yardage situations that are tough to get out of.
The last time Rodgers was sacked at this pace was the 2009 season. As Packer fans remember, that season eventually ended with a sack.
If the Packers want to avoid the same fate this season, they must slow down the sacks by any means necessary.
1. Do No Harm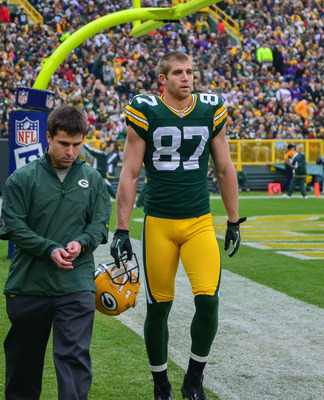 Benny Sieu-USA TODAY Sports
Much like the Hippocratic oath that doctors take, the Packers' No. 1 goal this week should be to "do no harm". They need to walk off the field this week just as healthy as when they walked on.
The Packers have struggled so terribly with injuries this season, but there is now light at the end of the tunnel. There are reports that both Charles Woodson and Clay Matthews may be back next week in time for the Chicago Bears.
Other players such as T.J. Lang, Sam Shields, C.J. Wilson and Jordy Nelson are working to get back from injuries and the team is the closest to 100 percent that it has been all season. With the team getting closer to full strength, the last thing the Packers need is to lose anyone else.
While every week is important in the NFL, this game could be seen as less of a priority as far as the NFC North title is concerned. Even with a win this week and a Bears loss, the division is still going to come down to the Week 15 game between the Packers and Bears.
By no means am I saying the Packers shouldn't go 100 percent and do their best to win; however, I think the most important thing this week is for the Packers to "do no harm."
Keep Reading

Green Bay Packers: Like this team?