Houston Rockets vs. San Antonio Spurs: Postgame Grades and Analysis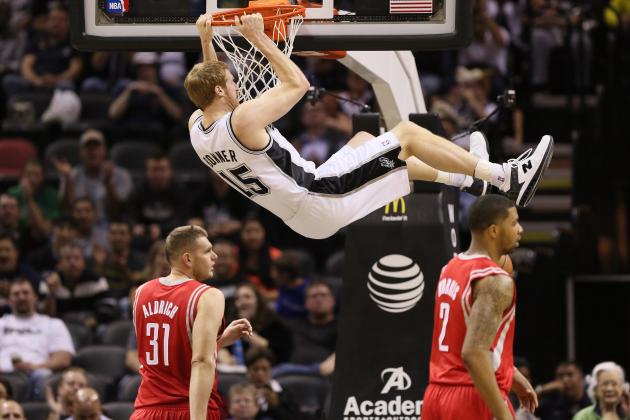 USA TODAY Sports

In a battle of in-state rivals, the San Antonio Spurs dismantled the Houston Rockets by a score of 114-92. Tony Parker led the Spurs with 17 points and seven assists, while James Harden found his stroke and put up 29 points of his own for Houston.
Even still, Harden's contributions fell well short of a victory.
Tim Duncan chipped in 12 points and 12 rebounds in 23 minutes, while Tiago Splitter and the second unit put up 59 points for the Spurs. The Brazilian big man finished with 15 points and six rebounds of his own in 20 minutes.
All in all, the Spurs dominated every facet of the game.
It was 114-92 on the scoreboard, 50-37 in rebounds, 33-23 in assists and 55.2 percent shooting from the floor to Houston's 38.9. So how did the individuals fare?
Begin Slideshow

»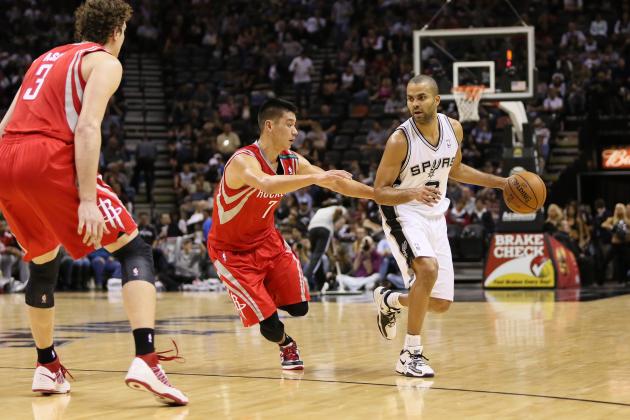 USA TODAY Sports

Tony Parker, SAS: A
Most people study a player such as Tony Parker and only look at his statistics. The fact of the matter is, San Antonio blows teams out of the water and, more often than not, has games over by the end of the third quarter.
Friday night was no different.
The Spurs led 87-66 after three, with Parker leading the charge. For the game, he finished with 17 points and seven assists.
He also shot 7-of-9 from the floor, which expresses how easily he was doing whatever he chose to do. Forgive me for expressing it in such a manner, but that's literally how this night went.
Whatever Parker wanted to do, on either end of the floor, he did it.
Just don't blame Jeremy Lin, folks. Parker does this to each and every opponent he faces.
We've just yet to take notice.
Jeremy Lin: C-
Statistically speaking, Jeremy Lin had the type of game that you'd expect to see from your reserve who plays 15 to 20 minutes a night. Four points, six rebounds, four assists and one steal.
A solid stat line for a reserve. A disappointing evening from the man that is supposed to be your franchise point guard.
For the game, Lin shot just 2-of-9 from the floor and 0-of-3 from beyond the arc. He also failed to reach the free-throw line.
What saves Lin's grade from going any lower is that he didn't play terrible basketball, he just wasn't good. His +/- of negative-seven was the best of any Rockets starter, however, while his two turnovers were the lowest of any starter.
Yet another evening in which Lin was nothing more than pedestrian.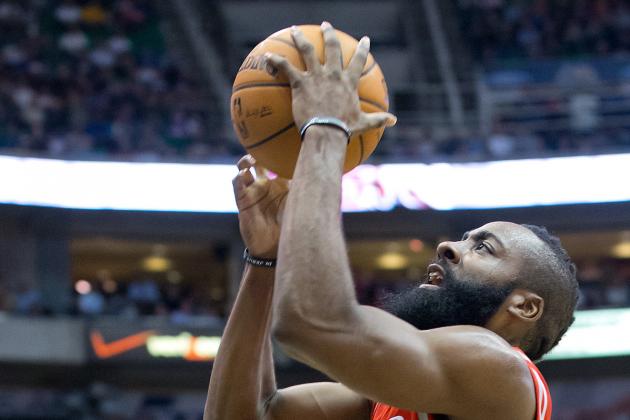 Russ Isabella-USA TODAY Sports

James Harden, HOU: A
If you're going to blame anyone for the Houston Rockets losing by 22 points, don't let it be James Harden. Not after he finally righted his shooting woes.
With that being said, don't praise his defense, either.
For the game, Harden finished with totals of 29 points, five assists, three rebounds and four steals. He did so on 10-of-16 shooting, which comes after a three-game span in which he shot just 25.5 percent from the floor.
A solid turnaround by The Bearded One.
Harden also hit three three-pointers and went 6-of-7 from the free-throw line. Unfortunately, his lackluster defense allowed Gary Neal and Manu Ginobili to combine for 24 points on 10-of-19 shooting.
Even still, Harden deserves an A for his individual effort.
Gary Neal, SAS: B-
Gary Neal may be the most underrated player in the NBA. You could probably say that about every player on the San Antonio Spurs, but Neal specifically.
Another solid evening against Houston proved that.
Neal is rarely going to post eye-popping numbers. What he continues to do, however, is play efficient basketball and provide floor spacing for the Spurs' fast-rising bigs.
Twelve points on 6-of-11 shooting proves such a belief.
Although Neal struggled from beyond the arc, going 0-of-4, he played a very efficient game. He picked up two assists and a steal while failing to commit a single turnover or personal foul.
Although James Harden scored at virtual will, Neal gave the type of effort which has earned him the starting role.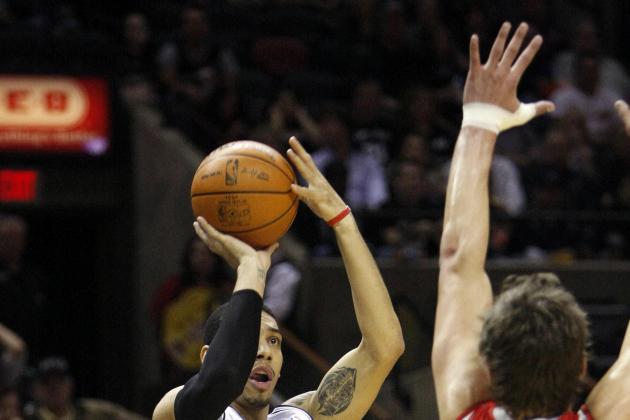 Soobum Im-USA TODAY Sports

Daniel Green, SAS: C+
Offensively speaking, Daniel Green didn't offer much to marvel. He finished with six points and an assist on 2-of-6 shooting from the floor, although he did hit two three-pointers.
Defensively, however, Green was extraordinary.
Green came up with loose balls left and right, tallying three rebounds, three steals and two blocks. He also held the hot-shooting Chandler Parsons to seven points on 3-of-10 shooting from the floor and 0-of-4 from beyond the arc.
Green became the first defender to hold Parsons to single-digit scoring since Tayshaun Prince of the Detroit Pistons on November 10th.
Nothing spectacular offensively, but Green continues to make plays when he's needed. A solid evening from the former North Carolina Tar Heel.
Chandler Parsons, HOU: D+
As previously alluded to, this was the first time since November 10th that Chandler Parsons has scored less than 10 points. It was also the first time all season that Parsons was held without an assist.
In other words, everything fell apart against San Antonio.
On a night in which James Harden finally rediscovered his scoring groove, Parsons was nowhere to be found. He shot 3-of-10 from the floor and missed all four of his three-point attempts.
Parsons' +/- of negative-18 speaks volumes toward how he performed against San Antonio.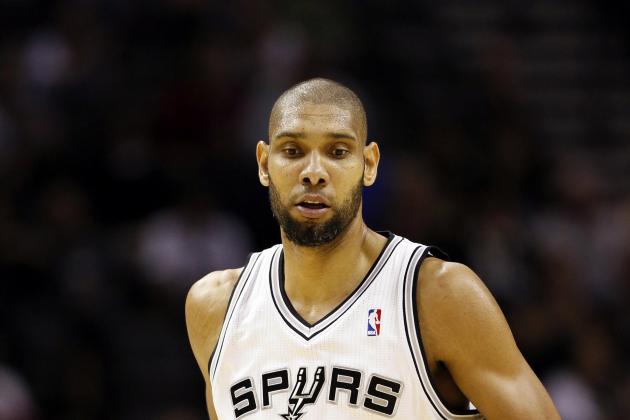 USA TODAY Sports

Tim Duncan, SAS: A-
For the second consecutive game, Tim Duncan finished with a double-double despite not playing a single minute in the fourth quarter. How is that for efficiency?
For the night, Duncan finished with 12 points, 12 rebounds, three assists and two blocks on 6-of-13 shooting. This came in just 23 minutes of action.
Once again, efficiency.
For the season, Duncan ranks third in the NBA in efficiency and first amongst power forwards. That was on full display against Patrick Patterson and the Houston Rockets, as Duncan capitalized on his size advantage to score via the post.
Duncan also played smothering defense on a much younger opposition.
Patrick Patterson, HOU: C+
Patrick Patterson may not post your typical power forward stat line, but he fills out a stat sheet rather nicely. Despite shooting 0-of-3 from beyond the arc, he proved that against San Antonio.
Patterson finished with 10 points, five rebounds, five assists, one block and a steal. He also grabbed three offensive boards.
Although he was unable to step up in the scoring department, going just 5-of-14 against a tough Tim Duncan, Patterson played well. He continues to fill in as a consistent, but not spectacular, option at the 4.
The question is, can this rate of play really push the Rockets to the postseason?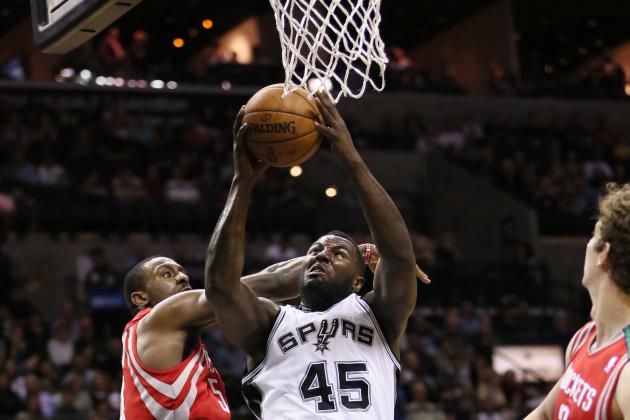 USA TODAY Sports

DeJuan Blair, SAS: C+
DeJuan Blair didn't do anything to hurt his grade, playing quality and mistake-free minutes. Although one could harp on his two turnovers, we could also cite the positives.
Eight points, five rebounds, one assist and a steal on 3-of-5 shooting. He was also perfect from the charity stripe and posted a +/- of positive-eight.
The reason his grade moves from C to C+ is the fact that he made Omer Asik a virtual non-factor in the paint. Due to Blair's bruising style of play, Asik appeared out of his comfort zone throughout the evening.
A very nice 20 minutes of play from Blair, who did an excellent job of pushing Asik out of the paint.
Omer Asik, HOU: F
Entering this game, many expected Omer Asik to be a difference-maker in the paint. He'd been averaging 10.9 points and 12.1 rebounds coming in, including 3.8 offensive boards.
Asik didn't deliver the performance you were expecting.
For the game, the big man finished with no points, five rebounds, five turnovers and three personal fouls. He shot 0-of-6 from the floor and posted a team-worst +/- of negative-23.
Despite playing less minutes than any other starter.
I rarely ever hand out an F, but if there is ever a need for one, it's Friday night. For those opposed, what exactly did he do right at any point in the game?
Asik was horrendous on both ends of the floor and played a major role in the Rockets losing the rebounding battle, 50-37. A disappointing evening, to say the least.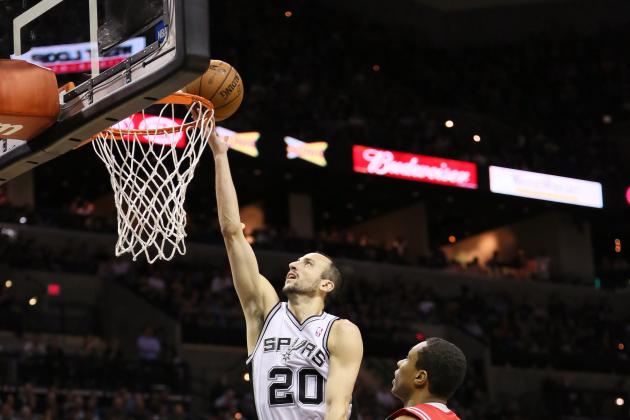 USA TODAY Sports

Manu Ginobili, SAS: B-
The masses have been wondering what happened to Manu Ginobili. As injuries have hindered his performances early in the season, Ginobili has become a bit of a non-factor in San Antonio.
Friday night he reminded viewers why he's a former Sixth man of the Year.
Ginobili finished with 12 points, five rebounds, three assists and a steal in 20 minutes of play. He committed just one turnover and posted a +/- of positive-22 for the evening.
Although he, and many others, failed to slow down James Harden, Ginobili contributed key baskets on the offensive end of the floor. With every bucket that fell, Ginobili helped create an insurmountable lead.
For which he earned a grade of B-.
Toney Douglas, HOU: C+
Statistically speaking, Toney Douglas had himself a solid evening. The former Florida State Seminole finished with 10 points, three assists, one rebound and two steals on 4-of-9 shooting from the floor.
That includes 2-of-4 shooting from beyond the arc.
Unfortunately, Douglas also had two costly turnovers. He also posted a weak +/- of negative-15, which reflects his influence for the game.
Just as negative as every other Rockets player.
Douglas doesn't deserve the blame for this one, though, as he continues to play quality defense and contribute a pretty shooting touch. He may not be a New York Knick, anymore, but he's playing big-time ball.
Respect is due.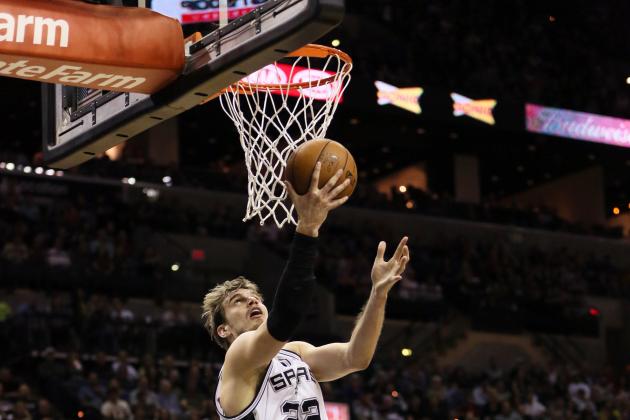 USA TODAY Sports

San Antonio Spurs: A+
The San Antonio Spurs have the best second unit in basketball, and anyone who wants to debate said belief should stop themselves now. The amount of depth on this team is absolutely outrageous.
It was on full display against Houston.
The Spurs' second unit put up 59 points on 55.8 percent shooting from the floor. They also made four of the team's six three-point field goals, grabbed 29 rebounds and dished out 19 assists.
That's 59 points, 29 rebounds and 19 assists on 55.8 percent shooting from the floor, for a quick recap.
Tiago Splitter led the way, continuing to display his monumental development. He finished with 15 points, six rebounds, one block and a +/- of positive-24 in 20 minutes of play.
Patrick Mills also finished in double figures with 12 points.
The truth of the matter is, no individual deserves more recognition than another. Eight Spurs reserves scored, all but one had at least three rebounds and all but two had an assist.
Both Boris Diaw and Nando de Colo had five dimes. A+ is the only grade acceptable here.
Masterful.
Houston Rockets:
Can we really compare?
The Houston Rockets' second unit played well, but most of their scoring came during the fourth quarter. San Antonio's second unit, meanwhile, spread their production out across all four quarters and simply stepped up in the final period of play.
Even still, Houston's second unit deserves respect.
The Rockets bench combined for 40 points on 42.5 percent shooting from the floor. In other words, they scored during garbage time and rarely made the shots they attempted.
Even still, it's good to know that Houston's bench can drop 40 if need be.
Rookie Terrence Jones scoring nine points in eight minutes of play is also promising. Where are his minutes?