NBA Rookie Benchwarmers Who Should Have Stayed in School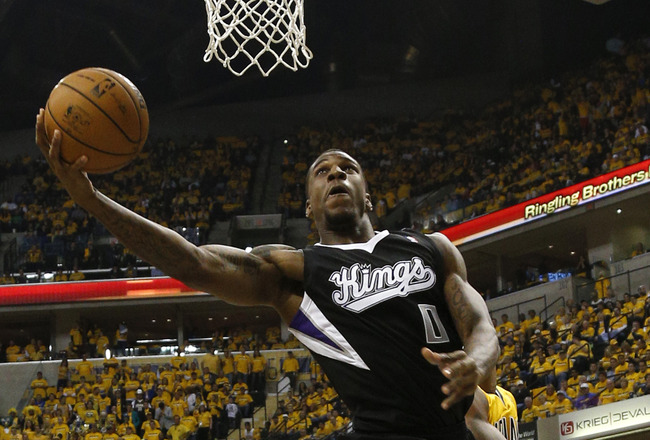 Robinson went fifth overall but isn't getting many minutes for the Kings.
Joe Robbins/Getty Images
To stay or not to stay.
With millions of dollars awaiting them in the pros and the option of leaving college after just one year at the minimum, so many of the best players enter the NBA Draft even when staying in school may be their best option.
What happens next to so many of those players is at least a year or two spent on the bench watching and hopefully for their teams' sake, learning.
It's an apprenticeship of sorts, a redshirt type situation, in which they go from being the main man to the 11th or 12th man with not too much certainty to when their moment in the professional sun will even arrive.
Every year there are a handful of these rookies. Let's take a look at some who have had a tough time getting minutes through the first quarter of the 2012-2013 season.
Kendall Marshall, Phoenix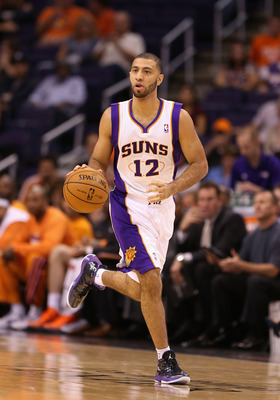 Marshall has barely played for the Suns and is now in the D-League.
Christian Petersen/Getty Images
From midway through his freshman year as a point guard at North Carolina until breaking his wrist in last season's NCAA Tournament as a sophomore, Marshall averaged eight assists per game in his 56 career games as a Tar Heel.
He went 13th overall to the Suns in last year's draft after deciding the eschew his junior year in Chapel Hill, and while that technically makes him a lottery pick, given the big games he missed due to the injury and the fact that the Suns committed a big free-agent contract to point guard Goran Dragic over the summer, hindsight would suggest that Marshall would have been better off staying in school.
He's managed to get into seven games thus far but played only 34 minutes total and is now toiling for Phoenix's D-League outfit in Bakersfield.
He could be starting for a top 20 team back in Carolina and improving his stock for the 2013 draft instead.
Marquis Teague, Chicago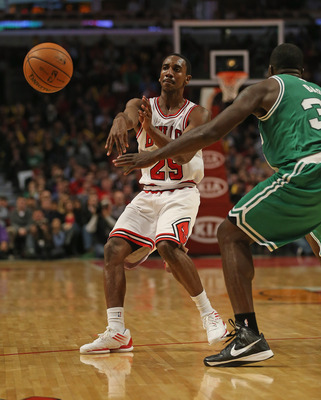 Teague can't crack the Bulls' rotation.
Jonathan Daniel/Getty Images
Teague played the point for the national champion Kentucky Wildcats and must have thought that since every halfway decent player leaves that basketball factory after one year thanks to glorified AAU coach John Calipari, he should as well.
It was a massive mistake.
Teague, who could have been the man at UK with another year there, was taken with the second to last pick in the first round by the Bulls and has played a grand total of 34 minutes this season. He can't even sniff Chicago's rotation despite Derrick Rose's injury.
Teague's brother Jeff toiled on the Hawks' bench for a couple of seasons after leaving Wake Forest early but has recently emerged to be a borderline star in Atlanta.
Marquis has a long way to go to get there.
Jeremy Lamb, Oklahoma City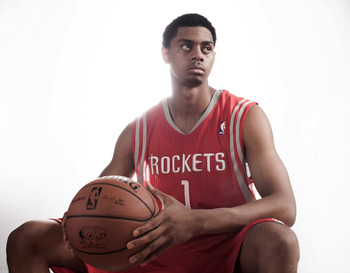 Lamb never even got to play for Houston.
Nick Laham/Getty Images
Lamb was the second best player on UConn's 2011 national championship squad as a freshman but there were some serious warning signs regarding his readiness for the pros during and after his sophomore year.
The Huskies slumped to a losing record in the Big East with Lamb as their focal point last year and they would only be around to defend their title for the first round of the 2012 tourney.
Lamb declared for the draft anyway and was taken 12th overall by the Rockets, who had three first-round picks and were trying to trade any or all of them in an attempt to land Dwight Howard or Andrew Bynum up to that point.
Instead, they kept all three and Lamb was their first player chosen, but was then dealt to the Thunder on the eve of the season as part of the James Harden trade.
It couldn't have been a worse move for Lamb. Now, instead of potentially starting in Houston, he found himself behind Kevin Durant, Thabo Sefolosha and fellow traded teammate Kevin Martin on a team that played in the Finals last year.
Lamb scored 17 points over small parts of eight games for Oklahoma before getting farmed out to the Thunder's D-League affiliate in Austin.
If he's stayed one more year in Storrs and led the Huskies back to national prominence, maybe he'd be in the rotation of an up-and-coming NBA team today instead of down on the farm.
Tony Wroten, Memphis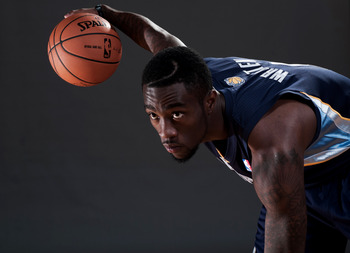 Wroten had one great season in college.
Nick Laham/Getty Images
Wroten, still just 19 years old, had to have thought the NBA was a good idea after his one and only season at the University of Washington.
He was freshman of the year and All Pac-12 first team after averaging 16.7 points, five rebounds and 3.6 assists per game to become the first freshman to make the first team in that conference.
So, he bolted for the pros and lasted all the way until the 25th pick in the draft, where the Grizzlies selected him. And since then, he's played only eight minutes all year and is now playing for Memphis's D-League team in Reno.
Wroten has a future in the NBA with the Grizzlies. He's a 6'6" shooting guard who can score and Memphis has Tony Allen and Wayne Ellington—neither of whom have ever lit the world on fire, filling that role ahead of him at the moment.
But given his youth and his relative inexperience, maybe an extra year at Washington would have gotten him in an NBA rotation faster.
Thomas Robinson, Sacramento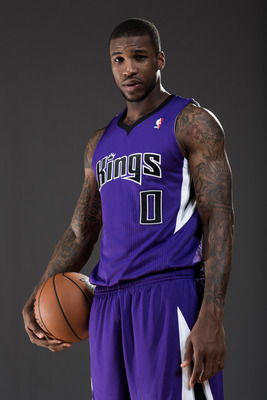 Smile, T-Rob!
Nick Laham/Getty Images
Robinson was a beast in college, leading Kansas to the national finals last year and proving that he would be worthy of a very high draft choice.
He was so confident in his ability, he even publicly said he thought he should go No. 1 overall, ahead of Anthony Davis.
Instead, he fell to No. 5 and the Kings.
Robinson looked like he was going to cry while being interviewed after he was selected. And since then, about the only thing he's done of note is get suspended for landing a vicious elbow to the throat of Pistons' forward Jonas Jerebko.
Robinson would have been a senior had he gone back to Kansas for one more year, but it's safe to assume he probably wishes he had right about now. The Kings are terrible and he's not getting much run, playing 16 minutes per game and averaging five points and four rebounds.
By comparison, the players selected second, third, fourth and sixth (Michael Kidd-Gilchrist, Brad Beal, Dion Waiters and Damian Lillard) are all playing at least 27 minutes per night. And none of them have to worry that a guy like DeMarcus Cousins will take out everyone in the room at the drop of a hat.
Robinson will likely wind up getting more time as the Kings' season continues to go down the drain. There's no reason to keep such a valuable future commodity playing less than the likes of James Johnson, John Salmons and Chuck Hayes when you're going nowhere.
But for now, it's a safe bet that Robinson misses Allen Field House in a big way.
Keep Reading