NBA Teams That Should Stand Pat Before the Trade Deadline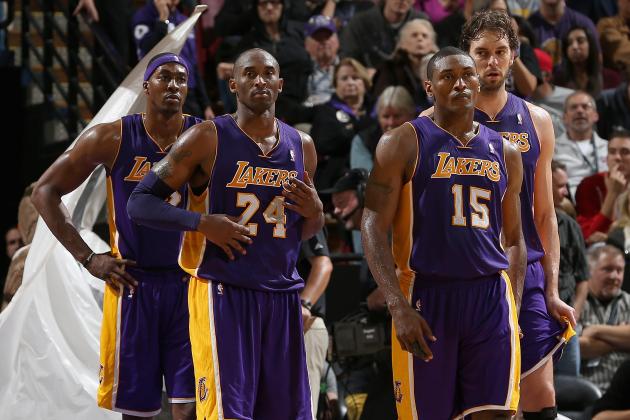 Ezra Shaw/Getty Images

Sometimes the best move an NBA team can make is staying put.
Drafting and developing talent has long enjoyed a reputation as the best way to build a franchise. But that takes time and patience—both rarities in the what-have-you-done-for-me-lately world of professional sports.
The 2012-13 season is young, but not as young as you'd think. There's already a double-digit gap between three Eastern Conference cellar dwellers (Cleveland Cavaliers, Toronto Raptors and Washington Wizards) and the conference-leading New York Knicks. Out West, the Sacramento Kings and New Orleans Hornets are just a game away from a similar distance between them and the Memphis Grizzlies.
If there are trade discussions around a franchise now, the zeal in those debates will only grow as the February 21, 2013 trade deadline approaches. The looming annual review for these year-to-year workers pours unneeded fuel on these trade fires.
With trade rumors running roughshod over certain franchises, some damage control will be needed. But that's a much greater prospect than making an ill-advised move just to make one.
All statistics used in this article are accurate as of 12/6/2012.
Begin Slideshow

»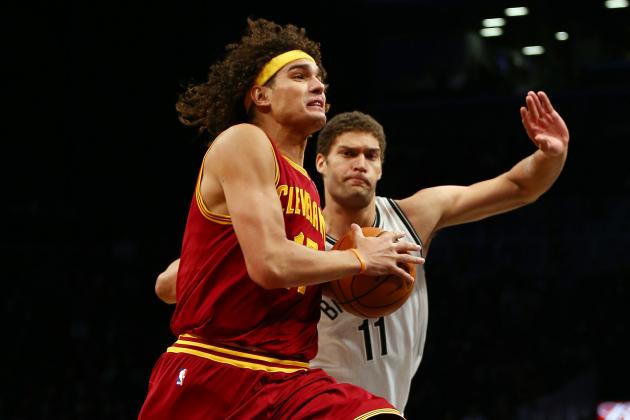 Elsa/Getty Images

There's a simple path to success in investing: buying low and selling high.
Well, Cleveland whiffed on the first part of the equation. At least, that's how it appeared when the Cavaliers rolled out a six-year contract worth as much as $50 million for Anderson Varejao after the 2008-09 season. Prior to netting that big deal, his best single season averages were 8.6 points and 5.5 rebounds.
Through the first three years of the contract, Varejao looked more like an amnesty candidate than a worthy recipient. But the 2012-13 season has been an epiphany for the Brazilian. His 15.4 rebounds per game is best in the league. He's thrashed previous career highs in scoring (15.0) and minutes (36.6) as well.
But now the Cavaliers may be shopping Varejao, or at least that's what conventional wisdom suggests. In Kyrie Irving and Dion Waiters, Cleveland has a backcourt long on talent, but short on experience. The 30-year-old Varejao could be flipped now for multiple assets for the future.
But that's assuming his value around the NBA is the same as it is inside Quicken Loans Arena. While he's having a good season, his star may be shining brighter given the absence of Irving (out with a broken finger) and the lack of consistency from his teammates.
If Cleveland's getting back question marks and cap relief in return, then the deal's not worth it. This team has to remain calm and find other pieces to complement that backcourt and Varejao.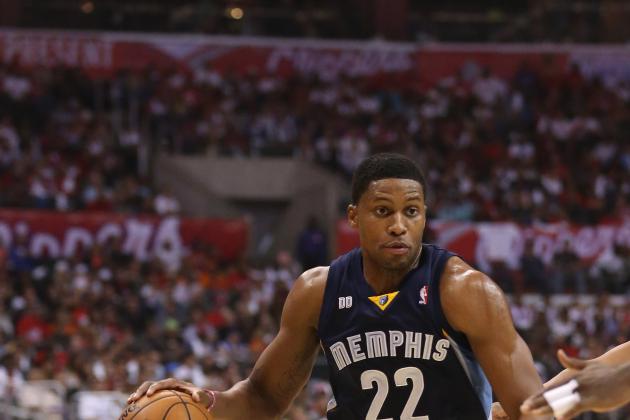 Stephen Dunn/Getty Images

With the NBA's best record (13-3), the Grizzlies have enjoyed a quiet calm amid the swirling trade winds around the league.
But they're not far removed from an inordinate amount of talks surrounding their star, Rudy Gay. The idea was pretty simple—Gay was young with gobs of athleticism, potential and value around the NBA, and the Grizzlies had fared well in his absence. He missed the team's 2010-11 first-round playoff upset of the top-seeded Spurs.
They almost looked better off without him. But then Zach Randolph was hobbled the next season, and the team still won 41 of 66 games. Perhaps the team's consistency without its stars wasn't a knock on those stars, but rather a compliment to coach Lionel Hollins and the rest of his roster.
With both Gay and Randolph back healthy and performing, the Grizzlies have manhandled opponents to the tune of a plus-8.06 scoring differential. Gay leads the team in scoring (18.6) and Randolph leads them on the glass (13.3 rebounds per game).
Short of a deal offering them legalized larceny, Memphis shouldn't even be entertaining offers.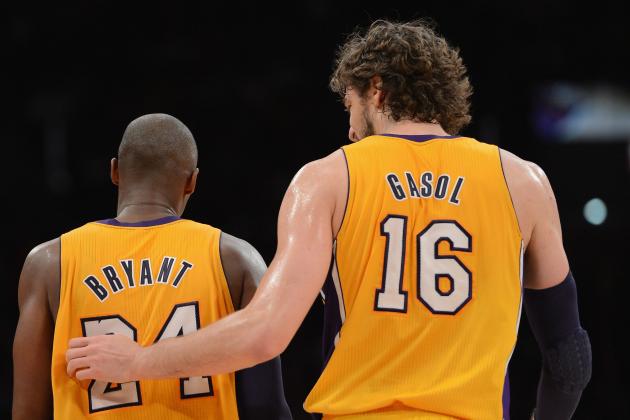 Harry How/Getty Images

This Lakers team was built to win a championship in 2012-13. They're talented and expensive...and tied for eighth in the Western Conference. L.A. has found themselves in a tough spot. They are overspending (combined $100-plus million in salaries this season) and underperforming (9-10).
And there's one player largely at fault (Pau Gasol). Or at least that's been the majority decision handed down by the court of public opinion.
Gasol struggled mightily (12.6 points on 42.0 percent shooting) before knee tendinitis forced his way out of coach Mike D'Antoni's lineup. With an abbreviated championship window (given Kobe Bryant's age, 34, and Dwight Howard's impending free agency), Laker fans have pleaded for the front office to deal the Spaniard.
But any Gasol trade will be difficult or impossible to make, according to what some league executives have told ESPN's Chris Broussard. Potential trade partners understand what Gasol is: old (32), expensive ($19.2 million salary in 2013-14), injured and losing his effectiveness.
Those teams that have engaged the Lakers have attempted to undersell the team. Despite Gasol's early struggles, L.A. can not afford to give him away.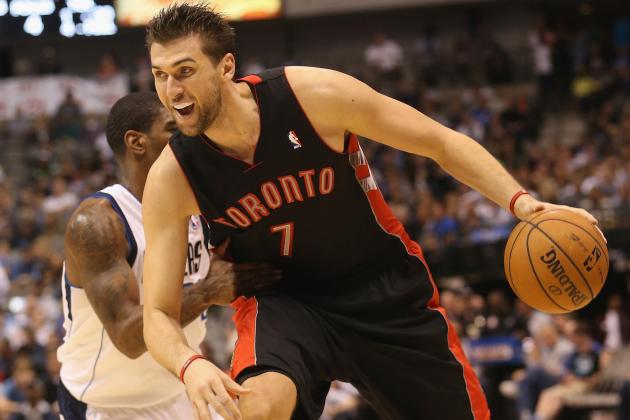 Ronald Martinez/Getty Images

Things were supposed to be different in 2012-13 for the Raptors.
Four seasons removed from their last playoff berth (and three removed from even playoff contention), things were finally looking up for this franchise. Potential franchise center Jonas Valanciunas, the fifth selection of the 2011 draft, was headed to Toronto along with guards Kyle Lowry and Landry Fields.
The Raptors appeared to have their interior complement for former No. 1 draft choice Andrea Bargnani and the perimeter shooters to open up driving lanes for DeMar DeRozan.
But things went awry quickly. Lowry was bitten by the injury bug. Valanciunas was effective but raw. Bargnani's rebounding issues continued (4.4 per game). The team dropped 15 of its first 19 contests.
So temptations have peaked for this club to either go all-in on the struggling Gasol or cash in their available assets and try this all over again. But the Lakers have rebuked Toronto's calls. And it's still unclear just how valuable those assets are.
That talent that intrigued analysts and enticed this fanbase before the season remains. And despite overpaying for Fields (three years, $18-plus million), the franchise is in position to add some pieces from the potentially loaded 2013 free-agent class.
If they can resist those trade temptations, that is.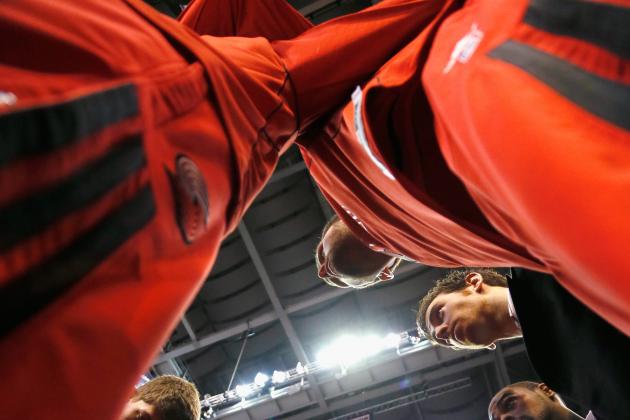 Rob Carr/Getty Images

The Trail Blazers might face the toughest quandary of all.
They're not deep enough to compete (8-11), but not bad enough to give up. Their starting five is as deep as any in the NBA, with potential 20-point outbursts coming from any of the starters. But their bench is the worst in the business, struggling to just combine for 20 points between them (14.7 per game, last in the NBA).
Finding this type of talent for each starting position is something that all franchises struggle with, but the Trail Blazers have done it. But without the bench to support them, those five players can only accomplish so much.
To make matters worse, it's a starting group as young (27-year-old LaMarcus Aldridge is the oldest of the unit) as they are talented. So Portland may be faced with a barrage of offers given their ability to fill any position on the floor.
Portland can't add any depth to its reserves without sacrificing one of those starters. But if they give away too much, those supporting players will be asked to do more than they're capable of.
Their best bet is to stay the course this season, search for some free-agent or D-League talent and hope for one of the final playoff spots in a deep Western Conference. Once the 2012-13 season has ended, the team can then address that unsightly bench via free agency and possibly the draft (top-12 protected pick owed to Charlotte, via hoopsworld.com).