1 Glaring Fix Every Struggling NBA Star Must Make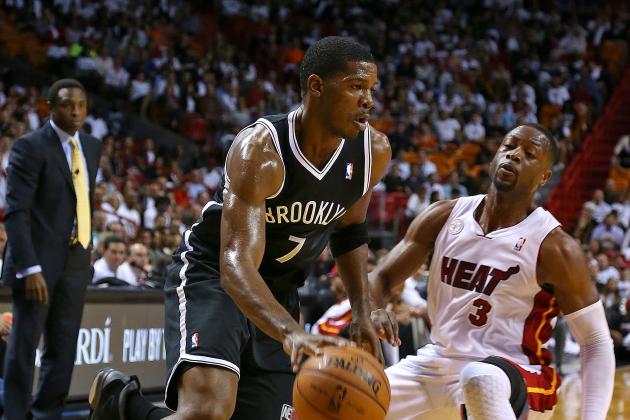 Mike Ehrmann/Getty Images

It's been the best of times for some NBA stars and the worst of times for others. You don't need to be Charles Dickens to figure that out.
There are those who are at the peak of their respective powers. LeBron James has kicked it up a notch, Carmelo Anthony is playing like an MVP (for once), Chris Paul is playing the point as well as anyone since Magic Johnson, and Rajon Rondo isn't far behind.
There are those whose greatness continues to grow. Kevin Durant and Russell Westbrook are doing more without James Harden, who's also doing plenty without them. Kyle Lowry and Ryan Anderson have been revelations for their cellar-dwelling squads. Blake Griffin is on the mend after a slow start, Zach Randolph seems to have recovered from last season's knee troubles and Kevin Love is providing plenty more competition at power forward now that his broken hand has healed.
And there are those for whom Father Time is not yet undefeated. Kobe Bryant is leading the league in scoring, and is doing so more efficiently than ever. Tim Duncan is closing in on a 20-10 campaign at the tender age of 36. Kevin Garnett and Paul Pierce have been none too shabby in their latest go-round with the Boston Celtics.
But not everyone's been so fortunate. Just ask these seven stars, all of whom have struggled to live up to (rather lofty) expectations thus far and would do well to tweak their games accordingly.
Begin Slideshow

»
The Miami Heat haven't exactly been blowing away the NBA this season as everyone had expected, and Dwyane Wade's decline stands out as one of the more obvious culprits for their inconsistencies.
With his 31st birthday fast approaching, Wade has, at times, looked like little more than a shell of his former, high-flying self. Such was the case against the New York Knicks on Dec. 6, when Wade went 3-of-13 from the field and registered a career-worst minus-33 rating in the box score.
Not that D-Wade has lost "it" entirely, or even most of "it," whatever "it" is. He's had six games of 20 or more points this season, including 29 in the season opener against the Boston Celtics, 28 in an overtime thriller opposite the Milwaukee Bucks and a season-high 34 against the Brooklyn Nets on Dec. 1.
On the whole, though, his points, shot attempts, free-throw attempts and rebounds are at their lowest levels since his rookie season. More troubling, he's not attacking the basket with the same vim and vigor as in years past, choosing instead to settle for inefficient mid-range jumpers and long twos.
Of which he's hitting just 36.3 percent, per NBA.com's stats tool.
Clearly, Wade isn't and hasn't been the same guy from night to night. His persistent knee problems would appear to contribute to his apparent cowardice; his shot attempts at the rim are down for the fourth year running, per Hoopdata.
That leaves Dwyane with a few options:
1.) Pace himself to mitigate the prevalence of "stinker" games.
2.) Sit out for a bit if his knees truly are giving him trouble.
3.) Get back to attacking the rim.
4.) Sharpen his jump shot.
Seeing as how Options 1 and 2 are probably out of the question and Option 3 is a stretch given the state of Wade's body—now and going forward—Option 4 would seem the best. Michael Jordan and Kobe Bryant both managed to prolong their respective careers by spending more time in the post and hitting jumpers. If Wade wants to preserve his body, prolong his career and remain productive, he'd be wise to do the same.
It's not as though he can't.
Speaking of second-fiddles on glamorous clubs, Pau Gasol's poor play hasn't been any easier to watch.
He's been forced to spend more time as a spot-up power forward since the Los Angeles Lakers traded away Lamar Odom and handed the keys to the paint to Andrew Bynum (and now Dwight Howard).
According to Hoopdata, Gasol's attempts at the rim have steadily declined from 5.8 per game in 2009-10 (when the Lakers last won the title) to 3.2 this season. At the same time, he's gone from taking 1.6 long twos per game in 2009-10 to 5.1 per game in 2012-13.
Which is to say, Pau's been forced to trade in the most efficient shots in basketball for the least efficient shots.
It's no surprise, then, that his scoring, shooting, rebounding and free-throw numbers have all dropped precipitously this season under both Mike Brown and Mike D'Antoni.
Feathery as his shooting touch may be at times, Pau's gifts as a post-up player have been left to rot on the vine just inside the three-point line. Tendinitis in both of his knees hasn't helped the situation, though asking a 32-year-old in his condition to make quick basket cuts and float on the perimeter still doesn't sound like the smartest idea.
The solution? Give Gasol more touches in the post. He's done well as a distributor down low next to another quality big in the past and could create easy opportunities for a mobile big like Dwight near the hoop.
And when Howard has to sit, Pau should have plenty of leeway to go to work on the block. The key, aside from getting Gasol healthy, is for Mike D'Antoni to realize that post-ups don't equate to poor possessions.
Especially with this Lakers roster.
Much was expected of Ty Lawson coming into the 2012-13 season. He was coming off a breakout year, had just signed a lucrative extension with the Denver Nuggets and was due to run a team that had the makings of a dark-horse contender in the Western Conference.
Instead, the fourth-year point guard out of North Carolina seems to have regressed. His assists are up slightly, but his shooting accuracy is down, which seems to be the trend in the Rocky Mountains these days.
The poor shooting of Danilo Gallinari and the departures of versatile chuckers like Arron Afflalo and Al Harrington have only made Lawson's job as a penetrator more difficult, since opposing defenses are taking liberties to clog the middle of the floor.
Lawson can't control the struggles of his teammates. What he can do, though, is get his own stroke back on track and reestablish himself as a threat from the perimeter. The fact that Ty's free-throw accuracy has cratered to a career-low 60.3 percent would appear to indicate that something is amiss with his jumper.
That's not to say that a few more splashes through the net will necessarily solve all of Lawson's woes, much less those of the Nuggets as a whole. But the kid's shown that he can shoot—he hit a respectable 36.5 percent of his three-pointers last season and has converted them at a 38.3-percent clip for his career.
If Ty can rediscover his mojo from beyond the arc, Denver just might climb its way closer to the top of the West before long.
Everyone and their mother had Josh Smith pegged for a big year in 2012-13. He played like a borderline All-Star during the lockout-shortened season, is facing free agency in the summer of 2013 and doesn't have to worry about sharing the ball with the dribble-loving Joe Johnson (more on him later).
Things haven't exactly gone according to plan for J-Smoove, though. His Atlanta Hawks are humming right along in the Eastern Conference, but he's not scoring, rebounding or shooting as much as he did last year, nor is he shooting as accurately from the floor.
His three-point percentage (.333) is the highest it's ever been, but he's only taken 15 shots from that range. His long-two attempts are down from the insufferable 6.3 he launched per game last season (per Hoopdata), but he's also shooting a lower percentage from that distance.
Frankly, he's been abysmal from anywhere between the restricted area and the three-point line—28.8 percent, according to NBA.com's stats tool.
With the bevy of floor-spacing shooters Atlanta has on its roster, it stands to reason that Smith should spend less time loafing in the mid-range and even more time attacking the basket, be it off the dribble or off cuts. The room to do so figures to be there, so long as the likes of Kyle Korver, Jeff Teague, DeShawn Stevenson and Anthony Morrow are still converting.
And if Josh is ever tempted to launch from a ways away, he'd do well to remind himself that shots from beyond the arc are worth 50 percent more.
Joe Johnson no longer has to share the court with Josh Smith now that the former is a member of the Brooklyn Nets.
But the six-time All-Star has looked like anything but since taking up residence at the Barclays Center. He's been more reluctant than ever to work his way to the rim and isn't posting up opposing wings with quite the same frequency or aggression as before.
As a result, Johnson's taking just 3.0 shots within nine feet of the hoop per game and nearly three times as many (8.9) from beyond the free-throw line (per Hoopdata).
Not that this is entirely Johnson's fault. He spent seven years as "the man" in Atlanta and is adjusting to a more secondary role on a new team in a new city. It's also more difficult for Iso Joe to find shots in the paint when he's on the floor with space-clogging behemoths like Brook Lopez and Kris Humphries.
Perhaps, at 31, Joe is just old. Perhaps, he's "doomed" to be a 40-percent-field-goal shooter from here on out.
Or, perhaps Avery Johnson should let Iso Joe handle the ball a bit more (though still judiciously) when Deron Williams is on the bench.
Then again, Brooklyn's 11-7 so far, so it's tough to argue with the Little General's game plan too much.
As a pure point guard, Jeremy Lin is coming along just fine. His assists are up, despite using far fewer possessions with the Houston Rockets than he did with the New York Knicks last season. He's also doing a better job of taking care of the ball by nearly every measure.
But, in reality, Lin is a more natural fit as a scorer than as a distributor, and scoring the ball he is not. He's contributing just 10.5 points per game on 10.4 attempts.
The problem? Jeremy can't seem to throw a beach ball in the ocean with any consistency. He's shooting 25.6 percent from three and 27.5 percent between the restricted area and the arc, per NBA.com's stats tool. Luckily, Lin is still getting to the hole 4.8 times per game, but has only converted 52.4 percent of those attempts.
A slow recovery from knee surgery likely contributed to some of the drop-off in accuracy, though he was never really a sharpshooter to begin with.
The solution? Aside from hitting more of his layups, Lin should follow Dory's advice and just keep shooting. According to Chris Ballard of Sports Illustrated, Linsanity has been working diligently on refining his jumper behind the scenes:
Jeremy Lin told me he's been working with his shooting coach, Doc Shepler, on reducing arc on his shot (usually it's the opposite)

— Chris Ballard (@SI_ChrisBallard) November 29, 2012
It's only a matter of time, then, until Lin commits the tweaks to muscle memory and starts shooting with more confidence during games.
Like Lin, Dwight Howard has been working hard on his shooting form in practice.
Not necessarily from three-point range or from the elbow, but rather from the free-throw line. He's shooting a career-worst 46.9 percent from the stripe this season with the Los Angeles Lakers.
Even though he's been working diligently with assistant coach Chuck Person to refine his form. And even though the Lakers regularly allege that he's knocking them down at an 80-percent clip in practice.
Those woes have given L.A.'s opponents incentive to pull out the "Hack-a-Howard" tactic in crunch time. Howard's inability to convert at the line has already, in part, cost the Lakers two games, while Dwight's general problems on foul shots have jeopardized a handful of others.
It would appear, then, as though something's lost between the time Howard leaves the Lakers' practice facility in El Segundo and arrives for a game at the Staples Center.
Maybe the nerves get to him when he's shooting in front of 18,000 people. Maybe he forgets to abide by the tips his teammates and coaches have given him when he steps to the line.
Or maybe, just maybe, everyone needs to stop trying to tell Howard how and what to do. As he told Jeff Caplan of NBA.com:
...my mind cannot get clouded with everybody telling me how to shoot a free throw. I just have to go up there and shoot it my way and not get caught up with what everybody else is saying because that's when I miss.
Whatever the case may be, it would behoove Howard to get his head together if the Lakers are to stop dropping games on his behalf and get back into the swing of things in the West.