Ravens vs. Redskins: Final Report Cards, Game Grades and Analysis for Washington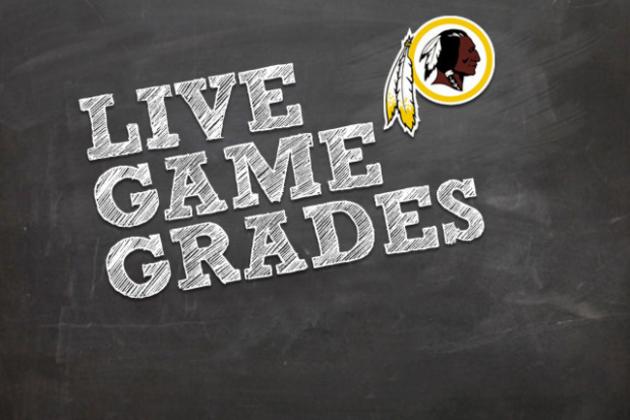 Final
Redskins 31
Ravens 28
A huge punt return by rookie Richard Crawford set up the Redskins for a game-winning Kai Forbath 34-yard field goal to the give the Redskins the win over the Baltimore Ravens.
With today's win, the Redskins' playoff hopes remain very much alive and we all have to remain hopeful that Robert Griffin III's current knee "sprain" isn't too serious.
Stay tuned for the Redskins final report card and game analysis.
Begin Slideshow

»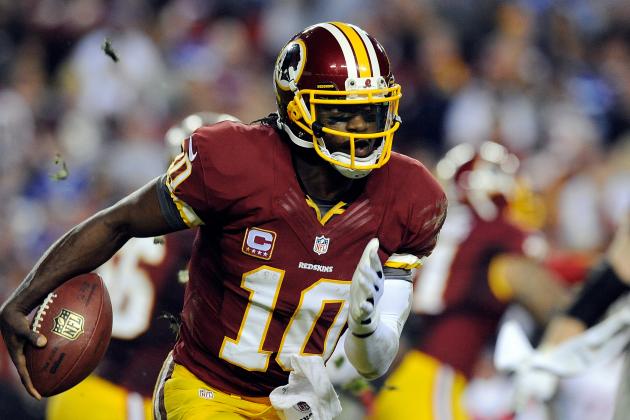 Patrick McDermott/Getty Images

Robert Griffin III – A
Regardless of how well Robert Griffin III played today, all fans will hold their breath until tomorrow's MRI results are revealed.
Griffin took off on a scramble late in the fourth quarter as part of the Redskins' game-tying drive. Although the sidelines were manageable, Griffin elected to go for more yards, turned up field, and had his right leg whipped pretty hard.
Griffin tried to stay in the game, but the pain was obviously too much.
Before his injury, Griffin was playing very well despite a typical looking stat line. He had good pocket presence and he seemed more committed to sticking there and delivering a good pass. He was accurate on a majority of his throws and he demonstrated good touch on the deep ones—albeit only a few.
Griffin finished the game with 246 yards on 15-of-26 passing and one touchdown. He also added seven carries for 34 yards.
Kirk Cousins – A
Called upon in the middle of an extremely bright light, fellow rookie Kirk Cousins entered the game for the injured Robert Griffin III and played very well. He went 2-for-2 for 26 yards and a touchdown to bring the game within two. Cousins then executed the designed quarterback sneak to convert the two-point.
Cousins' future with the Redskins this season also hangs on tomorrow's MRI results. Having faith in the young man is certainly justifiable, but there's no doubting the changes to this Redskins offense if Cousins starts and Griffin remains on the sidelines.
Pregame Analysis
After being named Rookie of the Week for the third consecutive week, Robert Griffin III will look to remain impressive against a Ravens defense that isn't anywhere near as threatening as seasons past.
Of the 372 average yards allowed per game by the Ravens defense this season, over 245 are coming through the air. Not to mention, for a quarterback like Griffin that loves to take advantage of the single high safety, the Ravens' seemingly favored coverage package could work to the Redskins' advantage.
Also important to note, Ravens pass rusher Terrell Suggs is questionable for today's game.
Not that the Ravens can't rush the quarterback without T Sizzle, but he's one of the game's best. Things are significantly less stressful for RG3 if Suggs isn't coming off the edge foaming at the mouth.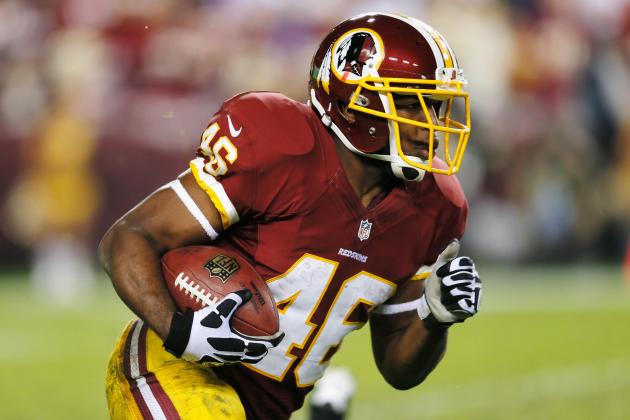 Rob Carr/Getty Images

Alfred Morris – B+
Another hard day of running from the rookie Alfred Morris, who continues to break franchise records and take the league by storm.
Morris looks like a veteran out there with demonstrated patience and the decisiveness in his cuts. Game after game, Morris appears to improve with his decision making and he's a staple in this offense moving forward.
All that said, Morris did fumble for the second time in as many games and they're coming deep in the Redskins' zone. These are costly turnovers that the Redskins can't afford. They may have escaped these past couple games, but the playoffs (yeah, I said it) don't allow for clumsy turnovers.
Darrel Young – A
Not voting Darrel Young to the Pro Bowl this season would be a bit criminal. Young turned out another strong game by leading the way with huge blocks and he's a deceivingly reliable pass catcher.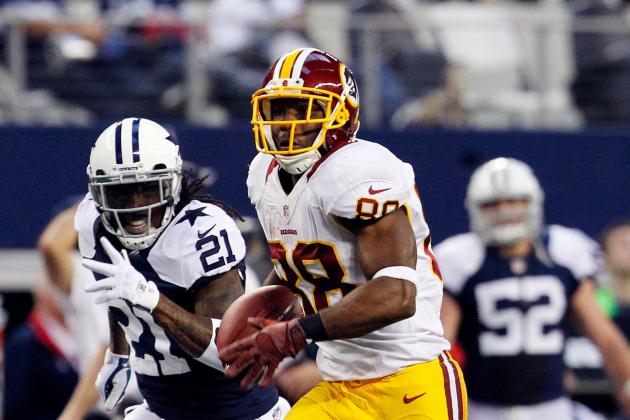 Tom Pennington/Getty Images

Pierre Garcon – A
Pierre Garcon continues to impress since returning from an ugly toe tendon injury. I'll be the first to tell you that I had given up on him this season, simply because I never thought he'd regain his explosiveness.
But after these past few games, it's safe to say Pierre is back.
Finishing the game with five catches (nine targets) for 87 yards and a touchdown, Garcon adds such a dynamic to this Redskins offense. He's a threat downfield, which helps to open run lanes, and he's a major factor with the ball in his hands (as shown on his 29-yard catch-and-run).
Joshua Morgan – B
Three catches of four targets for 30 yards and a touchdown today, Joshua Morgan continues to be a subtle, yet very reliable target for the Redskins. He's got size and he uses his body to shield defenders and bring in the ball.
Leonard Hankerson – B
Finishing the game with 67 yards on four catches (five targets), Leonard Hankerson turned in a good day and continues to earn the trust of Redskins fans.
When the ball goes to Hankerson, I feel like a lot of people hold their breath and consider it a 50/50 chance of a catch. While I can understand that to a degree, Hankerson has played well the past couple of games and his blocking in the run game is a plus.
Santana Moss – B
The veteran got the looks I expected he would today, hauling in three catches on four targets for 52 yards. Santana Moss had his biggest catch in the fourth quarter when he took a short underneath toss for 15 yards and out of bounds to stop the clock on the Redskins' game-tying drive in the final minutes.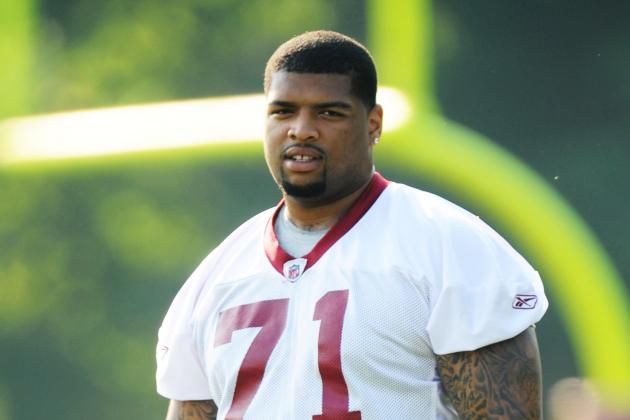 Mitchell Layton/Getty Images

Trent Williams – A
Not at 100 percent, yet left tackle Trent Williams continues to leave all on the field and he handled his own today. His athleticism is exactly what Mike Shanahan fell in love with when he drafted him and he's perfect for this scheme.
Unfortunately, it appeared that Williams may have tweaked himself on the final kick of the game. That's nothing close to confirmed, but it appeared that way on tape. We should know more tomorrow.
Tyler Polumbus – D
Responsible for at least one sack (that I recall), right tackle Tyler Polumbus turned in yet another poor performance today.
It's nothing against Polumbus' effort, as I think he puts forth plenty. But he's not a starting right tackle when it comes to pass protection. Can he operate in the run game? Sure. But he's not good enough to protect an investment like RG3.
Kory Lichtensteiger, Will Montgomery, Chris Chester – B
I thought the interior was decent today. Robert Griffin III had some pockets early in the game that appeared to be some of the better settled ones since the bye week and it allowed the quarterback to hang in the pocket, step up with confidence, and deliver solid throws.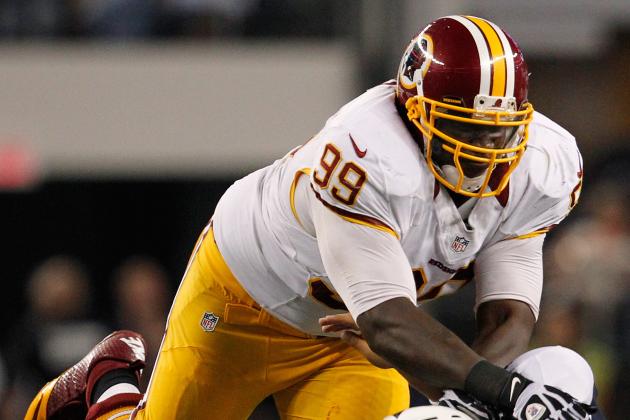 Tom Pennington/Getty Images

Stephen Bowen – B
No surprise with another solid outing from Stephen Bowen. He didn't get as much penetration as you would've liked to see against this line, but he contributed to Ravens left tackle Michael Oher getting beat on number of plays.
Barry Cofield – A
The big nose tackle nearly came down with an interception today, but even without it, Barry Cofield had a good game today. He got great push up front and he was effective in moving down the line and jamming the cutback lanes.
Jarvis Jenkins – A
One of the best games of Jarvis Jenkins' young career if you ask me. He was very effective in sealing the edge today, he got low when stopping the run, and he had a great tackle behind the line of scrimmage that was telling of his anticipation and instincts.
Jenkins finished the game with five tackles.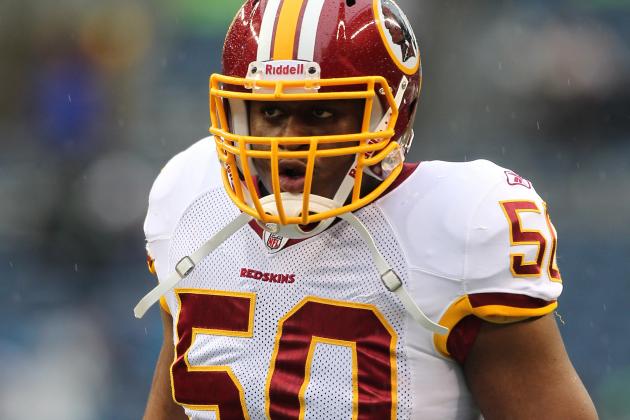 Otto Greule Jr/Getty Images

London Fletcher – A
Another strong outing by the veteran today, as London Fletcher finished with four tackles and an interception.
After struggling so much lately in coverage, Fletcher was arguably best today in a matchup with tight end Dennis Pitta. Although he did finish the game with a touchdown, Pitta wasn't nearly as damaging (46 yards) as we've seen him against other opponents.
Perry Riley – B+
Quietly leading the team in tackles today, Perry Riley finished with ten and always seemed to be in good position. There were a few cutback lanes in which Ray Rice was able to cutback and get loose, but Rice and this Baltimore offense aren't chopped liver.
Rob Jackson – A
Why Rob Jackson doesn't receive more opportunities to the rush the passer, I will never understand.
Today, Jackson turned in another game and got to Joe Flacco at just the right time with the Ravens threatening early in the third quarter. Jackson got around Michael Oher with ease, stripped Flacco with a powerful swat of the arm, and eventually recovered the loose ball himself.
Ryan Kerrigan – A
It was good to see a more efficient pass rush from Ryan Kerrigan today. Although he's still not nearly as effective as I think he can be, Kerrigan did finish with four tackles and a key hit on Flacco to help force the London Fletcher interception.
Pregame Analysis
Although Ravens quarterback Joe Flacco struggles under pressure, fans who believe the Redskins will magically find a way to rush the passer are sadly mistaken.
Last week, linebacker Rob Jackson performed well rushing off the edge, but Ryan Kerrigan wasn't nearly as effective on the other side. In order for these rush linebackers to get to Flacco today, the Redskins defense will need to run stunts and disguise blitzes.
In the secondary—a unit that has struggled in Washington—I think the Ravens receivers are coverable. While Anquan Boldin will catch anything and everything that comes his way, Torrey Smith's biggest threat is his straight-line speed, and Jacoby Jones struggles to create separation. I don't believe man coverage by the Redskins in order to bring more of a pass rush will be all that damaging.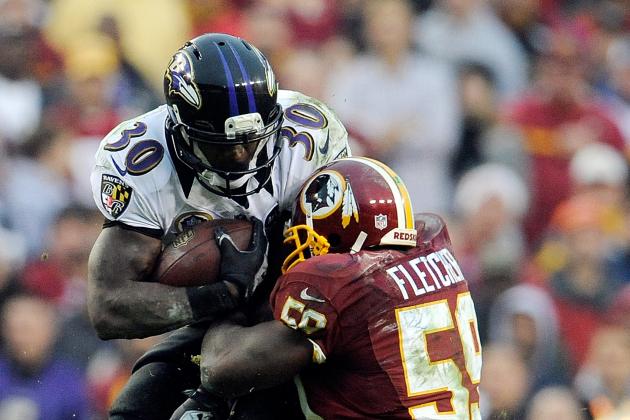 Patrick McDermott/Getty Images

DeAngelo Hall – C+
While I won't blame the first Anquan Boldin touchdown on DeAngelo Hall, I will blame the second one on him.
On the first, safety Madieu Williams was late getting over and he was mesmerized by some non-existent threat in the middle of the field. But on the second, Hall was solid and coverage and seemed to breakdown mentally once the ball was in the air—not playing it right and giving Boldin an easy snag for six points.
And although Hall was embarrassing on a tackling attempt of Boldin along the sideline late in the game, he was very good in run support today and he blitzed off the edge with aggression.
Josh Wilson – B
Turning out a better game than I anticipated, Josh Wilson hung tough and wasn't picked on a whole lot by Flacco and the Ravens.
Early in the game, Ravens receiver Torrey Smith blew by Wilson off the line and had what looked to be an easy six points on Wilson. Fortunately for us, Flacco made a weak throw that eventually fell incomplete.
Madieu Williams – D
Terrible angles. Late help. Aimless wandering in the middle of the field. Safety Madieu Williams is way too hit-or-miss to be considered a reliable veteran in the Redskins secondary.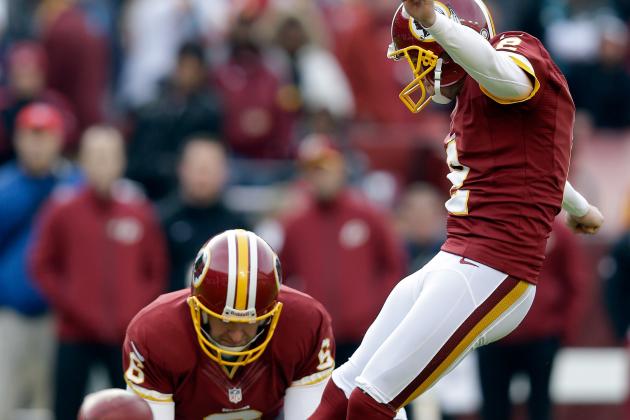 Rob Carr/Getty Images

Kai Forbath -- A
Connecting on both a 48- and 49-yarder to help outscore the Ravens 6-0 in the third quarter, Kai Forbath remains perfect and he's still the frickin' man.
He then wrapped up his day to win the game in overtime with a 34-yarder.
The kid has a helluva leg and all the confidence in the world moving forward.
That said, his short kickoffs MUST be backed with solid coverage.
Niles Paul -- C
With Brandon Banks inactive for today's game, Niles Paul got the start at kick returner.
Paul wasn't bad until crunch time in the fourth quarter when he brought it out of the endzone and nearly cost the Redskins the game with a fumble near the sidelines. A review would ultimately call it a non-fumble because the Ravens player didn't have possession before going out of bounds.
Richard Crawford -- A+
Getting the start at punt returner by way of Brandon Banks' benching, rookie Richard Crawford was everything you want in a punt man. He ran north and south and broke his opportunity wide-open in overtime to set up the game winning kick.
Why he couldn't outrun the Ravens punter to gobble up the go-ahead touchdown remains a mystery.
Pregame Analysis
The Ravens have one of the better special teams units in the NFL. With a threatening kick return squad, the Redskins will need to have their coverage teams down pat—led by Lorenzo Alexander on kickoffs and Niles Paul on punts.
Meanwhile, the Redskins rank near the bottom of the league in punt return average, thanks to a dud season thus far from Brandon Banks.
Although it appears the Banks experiment is all but over moving into next year, a big performance from him as a special teamer in a meaningful December game could keep coaches open to Banks returning as the punt returner.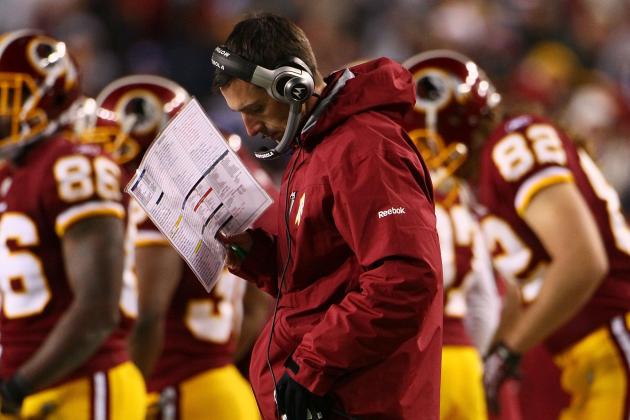 Win McNamee/Getty Images

Kyle Shanahan -- B+
There always seems to be that one call that Kyle makes during the game that kind of makes you cringe. Today it was the option left on third-and-short that should've been nothing more than a gut run--which had been working all game.
Besides that, Kyle's aggressiveness and unpredictability continues to impress and he has this Redskins offense firing as best as it has in the past ten-plus years.
Jim Haslett -- C+
If it weren't for the dialed blitz on third-and-short that left a ten yard cushion for the Ravens receivers in man coverage, Jim Haslett's grade is probably in the 'B' range. The underneath route was wide-open for Baltimore, everyone was screaming it from the stands and their couches, and the Redskins allowed an easy conversion.
The Redskins did let up more on the ground than we're accustomed to, but the Redskins also missed a lot of tackles today and that shouldn't fall on Haz.
Not to be misunderstood though, I'm not on board for more Haslett next season.
Pregame Analysis
After calling a near-perfect game last week against the Giants, Redskins fans can only hope offensive coordinator Kyle Shanahan remains aggressive and keeps the opposition on their toes.
Look for Shanahan to set up the run game early, feeding Alfred Morris the ball, and then looking to take shots down field with speedsters Pierre Garcon and Aldrick Robinson.
Defensive coordinator Jim Haslett will have an opportunity today to play some man coverage and bring a pass rush that will hopefully disrupt Joe Flacco.
The loss of Cedric Griffin hurts more than most people realize, but I don't anticipate Josh Wilson or DeAngelo Hall having bad games against the Ravens and their wide receiver corps.