WWE Raw: 'Buy or Sell' for the Dec. 10 Show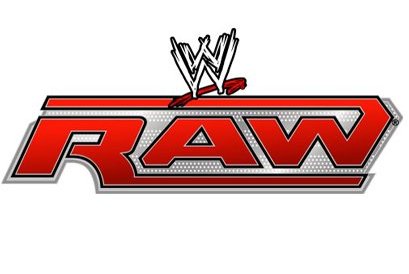 courtesy of wwe.com
Welcome to this week's edition of Raw: Buy or Sell.
Every Tuesday, I'll examine the hottest angles from the latest episode of WWE Monday Night Raw, and tell you whether I'm on board with what WWE is doing (buy) or if I didn't like what I saw (sell).
Some angles and matches won't be covered, as some things on every show don't really warrant a comment. I'll try to stick to the parts of the broadcast that truly matter to WWE fans.
Feel free to comment on what you'd buy or sell from the latest episode of Raw. Tell me if you agree with my choices, or if you think I'm off the mark.
Begin Slideshow

»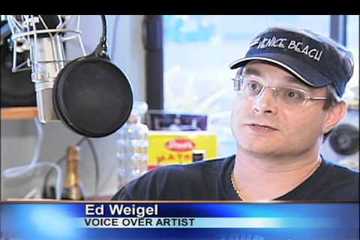 Ed Weigel does much of the voice over work for WWE
I'm starting the week out with a buy. I like the voice over opening of Raw that's been going on for about a month now. That deep baritone voice makes everything seem just a little bit more important.
WWE's always-stellar video production also sells the upcoming matches. I like that this also provides a bit of a review of what went on the previous week. It's certainly better than having Cole and Lawler recap everything four times on the show.
A buy for the pre-produced opening segment.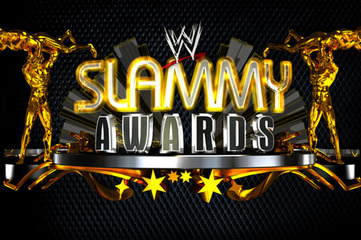 courtesy of wwe.com
I'm giving a sell to just about every aspect of the Slammy Awards announcement from last night.
First of all, I'll sell the fact that the awards weren't even on the radar until tonight. If this is supposed to be WWE's year-end award show, shouldn't it be important enough to promote more than a week in advance? The late announcement makes the awards feel cheap and contrived (more on that later).
I'm also selling the fact that the Slammy Awards are apparently "Raw Active" this year. This means that the fans are supposedly electing the winner. A quick check of WWE.com shows that there's not even a set of nominees, just categories.
Apparently, the fans can vote for whomever or whatever they want. Of course, they can only vote if they happen to have the WWE app. Both the announcement on the show last night and the Slammy page at wwe.com state that the only way to vote is through the second-screen feature on the WWE app.
I looked at the app, and it seems that live voting during the show is the method that WWE wants fans to use. I'm going on record now stating that the vote is fixed. WWE is NOT going to let fans decide any "important' awards like "Superstar of the Year" or "Match of the Year."
They're not even making the effort to provide nominees (unless they're going to do it on the live show). To me, this is a more obvious setup than the Kane win over Daniel Bryan during a recent Raw Active poll.
Lastly, I'm selling the Slammy Awards themselves. It's hard to take them seriously when they include awards for "Kiss of the Year," "Tell Me I Did Not Just See That" and "LOL Moment of the Year." Even the ESPYs, the most similar awards show to the Slammys, takes itself more seriously than that.
I vote "sell" on the Slammy Awards.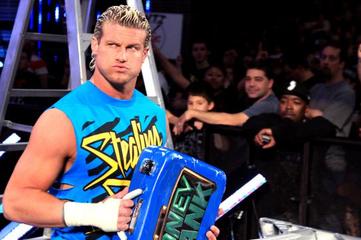 courtesy of wwe.com
I'm buying the opening promo segment of the show. Dolph Ziggler started the festivities by addressing the WWE Universe from a ladder. This underscores the importance of his upcoming ladder match with John Cena, and also provides the fans with a great visual of Ziggler, literally, elevated.
There was good logic in Ziggler's promo, too. He explained what he likes and doesn't like about his match with Cena. He promises to get the World Heavyweight Championship and defends his decision to hold on to the MIB briefcase for the time being.
When Ziggler was interrupted by Sheamus, and then by Big Show, it made the World Heavyweight Championship seem more important than it has in a long time.
Three of the biggest stars in the WWE were out in the ring, debating which of them is ultimately going to end up with the belt. The fact that three major stars are interested in the WHC gives it more gravitas than it's had in years.
I thought both Ziggler and Big Show did very good jobs on the microphone. Sheamus was back to his jolly, happy-go-lucky persona, and I think it hurt his performance.
Buy the opening segment for making the TLC pay-per-view and the World Heavyweight Championship seem more relevant.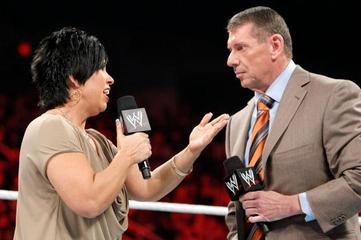 courtesy of wwe.com
What's better than a segment featuring Vince McMahon and Vickie Guerrero? Apparently, it's two segments featuring Vince and Vickie.
I'm selling both segments, and the entire interaction between WWE's CEO and Raw's Managing Supervisor.
These segments come off making both participants look bad. Vince, for the second week in a row, came out to the stage and called Vickie out to join him. For the second week in a row, Vince coerced Vickie into making matches that she wouldn't normally make.
I realize that this gets certain matches on Raw without having Vickie lose her edge as a heel, but does Vince need to gloat over her and bully her into making them? It makes him seem creepy and threatening, and her seem weak and dumb.
Telling the same bad joke over and over again doesn't make it funny. This feels like the same bad joke we saw last week. The angle lacks logic, as well. If Vince wanted certain matches made, couldn't he just call Vickie and tell her to make them? If he was interested in screwing her over, why not just fire her in the first place?
Selling the Vickie and Vince Show. It's redundant, a little sad, and lacks a point. (Plus, it resulted in my having to watch Vickie wrestle.)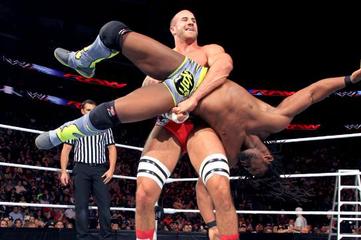 courtesy of wwe.com
As much as I'm selling the two Vince and Vickie segments, I'm buying the three segments of last night's show that featured the United States. Tag Team and Intercontinental Championships.
Elevating these secondary titles makes them seem more important, and gives stars on the rise something meaningful to feud over. Anything that leads to logical storylines in WWE is a buy for me.
I was pleased that Cody Rhodes made his return on last night's show, and that he and his tag team partner, Damien Sandow, were immediately reunited and put into a fatal four-way match to determine the potential No. 1 contenders for the WWE Tag Team Championships.
There was a bit of a logic flaw in that Rey Mysterio and Sin Cara seem to have simply been named No. 1 contenders leading into the PPV, but at least Rhodes Scholars were reunited, and they're wrestling for something that matters.
Having both of the individual champions come out to do commentary on the match between the No. 1 contenders for the IC and US belts made the upcoming PPV matches seem more important. Antonio Cesaro was good on commentary, and Kofi Kingston held his own. The match between Wade Barrett and R-Truth wasn't a great one, but the fact that it happened was good enough.
The match between Cesaro and Kingston was very good. It highlighted the difference between Cesaro's physical style, and Kingston's high-flying tactics. Even though the two won't wrestle each other on Sunday, they still made a point.
Kingston's opponent, Barrett, is a physical wrestler, much like Cesaro. Cesaro will face R-Truth, whose style is somewhat similar to that of Kingston. It was a way to define the two matches without giving away the actual matchups.
It was also interesting that both Truth and Kingston got to hit big moves on Barrett. Does this foretell a title change (or two) on Sunday? Usually, heels give babyfaces a beatdown on the show before a PPV, so that the faces can get their revenge in the match that actually matters.
After these segments, I'm more interested in the IC and US title matches for Sunday's show. A buy for the elevation of the secondary titles.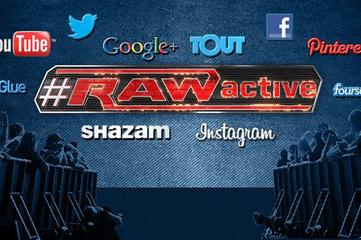 courtesy of wwe.com
I'm selling WWE's constant shilling for its social media presence.
Okay, I get it. WWE has a bigger presence on the social media than any entertainment company in the history of mankind. #yawn.
If you were an advertiser that paid for commercial time on Raw, wouldn't you be a bit unhappy that the announcers spend the entire show telling the TV audience about all the things they can be doing during the commercial breaks besides watching commercials?
The Muppets got air time. Cole and Lawler also promoted the WWE app, various Twitter trends, WWE on Facebook, the WWE YouTube channel, RawActive on WWE.com and the new Divas web site. These were all pimped during the first 90 minutes of the show.
It's almost as if WWE wants viewers to be so busy on their phones, tablets or notebooks that they don't notice the TV product at all. #sell.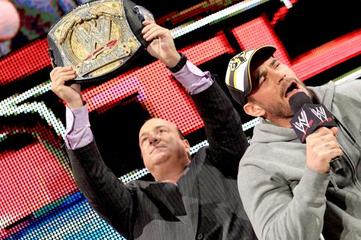 courtesy of wwe.com
I'm buying CM Punk's promo on last night's show.
This was another example of why Punk is the best promo man on the WWE roster right now. He came out and disparaged the fans, gave a logical explanation for his injury, and addressed the questions that fans would naturally have without anyone actually asking him.
Punk made the point that if you work every show for a year and change, you're bound to get hurt eventually. He also listed the litany of stars that he's defeated to hold on to his WWE Championship for over a year. This makes the concept of him faking an injury to avoid Ryback seem less likely.
Punk also pointed out that Ryback isn't thinking about the future. He attacked Punk, hitting him with a chair and a ladder, and ultimately powerbombed him through a table. Logic dictates that if you injure the champion, you won't get a title shot.
Also, since Rock is slated to face the current champion at the Royal Rumble, injuring Punk now virtually guarantees that Ryback won't get a title match for at least two months.
Punk also started ripping the Rock. While his premise, that Rock only shows up when he's going to get a title match, seemed very much like John's Cena's complaint leading up to WrestleMania, Punk did get the hype started for what should be a very exciting contest. This also gets fans excited, as they begin to wonder when Rock will show up to counter Punk's accusations.
Punk did more in this short segment to increase interest in upcoming events than almost anything on the show. I'm buying what Punk's selling.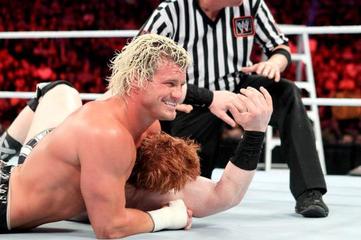 courtesy of wwe.com
I'm selling the fact that Raw featured three "main event" level matches last night, and two of them weren't worth watching.
Before I get into selling, I'll buy Main Event No. 1 between Dolph Ziggler and Sheamus. There was at least a semi-logical reason for the match, as Sheamus had tipped a ladder over with Ziggler standing on it during the show's opening segment. (Also, Vince told Vickie to make this match.) Ziggler, as always, sold every move that Sheamus put on him, making both of them look good heading into Sunday's PPV.
The second main event featured Vickie Guerrero facing AJ Lee. This is not a good pairing, as Vickie has no credibility in the ring. Having Brad Maddox come out to referee the match told the audience immediately that Vickie would win via unfair circumstances. This, logically, tipped off the fact that AJ, who would lose unfairly, would come unhinged and attack somebody.
Of course, everybody was already gone, so AJ attacked the set (and the ring announcer) instead. Nothing was gained here, and this seems to perpetuate the AJ/Vickie storyline, which is another bad thing. Sell Main Event No. 2.
Main Event No. 3 was harder to classify. John Cena faced off against the Big Show. Again, there was no particular logic behind this match, but at least it was entertaining to watch. However, the match seemed secondary to what was going on at the announcers' table.
Ziggler came down to do color commentary on the match, which makes sense. What makes less sense is that Cole, Lawler and Ziggler spent the vast majority of the match talking about Ziggler and not what was happening in the ring. The conversation made the actual match seem virtually meaningless.
Of course, the match was virtually meaningless. The audience paid little attention to Cena and Big Show, as they were waiting for The Shield to make its obligatory run-in. Sure enough, here came the men in black. They were followed by Team Hell No, also predictable. Even more predictable, Ryback came out (possibly because the audience had been chanting "Feed Me More" for the past three minutes) and destroyed just about everyone in sight.
Nothing here was new, and none of it was surprising. It was all a virtual repeat of the end of last week's Raw program. Selling the triple main event concept.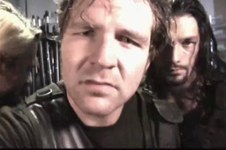 courtesy of wwe.com
Though I generally bemoan the constant recaps of storylines on Raw, I was a fan of WWE replaying The Shield's manifesto that originally aired last week on SmackDown.
Though Raw's viewership numbers are down, the show still draws millions more viewers than SmackDown on Friday night. Thus, there are millions of fans who didn't see this promo when it originally aired.
Dean Ambrose, Seth Rollins and Roman Reigns did a good job of selling the logic behind their recent attacks, and promised more havoc to come. The cutaway style and grainy footage made it seem like a homemade video, and thus more authentic.
The promo was brief enough to hold fans' interest, gave reasonable answers for previous actions, and promised more action in the future. This should be the template for all future WWE promos.
I'll buy The Shield's manifesto.
courtesy of wwe.com
Overall, I'm selling the impact of last night's Raw as a lead in to the Tables Ladders and Chairs pay-per-view.
There were some good things on the show. I'm more interested in the matches for the Intercontinental title, the US Championship, and the No. 1 contenders match for the tag team belts. I'm no more interested in the main events (Cena vs. Ziggler, Big Show vs.Sheamus and Ryback/Team Hell No vs. The Shield) than I was before. In fact, I'm almost burned out on those concepts.
Why am I burned out? Because I've been fed a steady, predictable diet of Cena smirks, Big Show glowers, Sheamus grins, Ryback run-ins and Shield attacks for about a month now.
It felt like WWE's creative team ran out of ideas to promote the PPV about a week ago, so recycled most of their previous content into last night's show. The Vince and Vickie segments were a repeat. AJ heading into the locker room was a repeat. The Shield run-in was almost identical to last week, as were the responses from Team Hell No and Ryback.
I was left feeling like I'll just see more of the same on Sunday at TLC. That's not the feeling WWE wants me to have.
Well, at least I have the Slammy Awards to look forward to.

See you next week.