2013 MLB Free Agent Tracker
Use your ← → (arrow) keys to browse more stories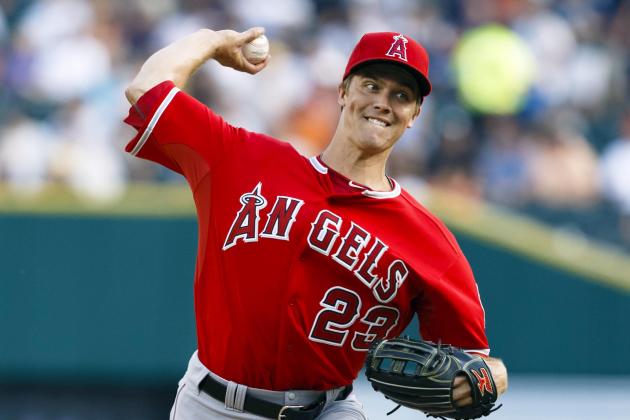 Rick Osentoski-USA TODAY Sports
Zack Greinke is now a Dodger.
With a plethora of names on the 2013 free agent list, here's a complete guide to the latest buzz.
This list includes every free agent and the team he has signed with. I'll be sure to update it as often as possible.
First Basemen
| | | | |
| --- | --- | --- | --- |
| Name | Team Signed With | Years | Amount |
| James Loney | Tampa Bay Rays | 1 | $2.0 M |
| Eric Hinske | Arizona Diamondbacks | 1 | $1.075 M |
| Kila Ka'aihue | Arizona Diamondbacks | 1 | Minors |
| Lance Berkman | Texas Rangers | 1 | $11.0 M |
| Jason Giambi | — | — | — |
| Aubrey Huff | — | — | — |
| Casey Kotchman | — | — | — |
| Adam LaRoche | Washington Nationals | 2 | $24.0 M |
| Carlos Lee | — | — | — |
| Lyle Overbay | — | — | — |
| Carlos Pena | Houston Astros | 1 | $2.90 M |
| Brandon Snyder | — | — | — |
| Mark Reynolds | Cleveland Indians | 1 | $6.0 M |
Second Basemen
| | | | |
| --- | --- | --- | --- |
| Name | Team Signed With | Years | Amount |
| Robinson Cano | New York Yankees | 1 | $15.0 M |
| Marco Scutaro | San Francisco Giants | 3 | $20.0 M |
| Robert Andino | Seattle Mariners | 1 | Unknown |
| Mike Fontenot | Tampa Bay Rays | 1 | Minors |
| Will Rhymes | Washington Nationals | 1 | Minors |
| Yuniesky Betancourt | — | — | — |
| Bill Hall | — | — | — |
| Willie Harris | — | — | — |
| Kelly Johnson | — | — | — |
| Freddy Sanchez | — | — | — |
| Ryan Theriot | — | — | — |
| Orlando Hudson | — | — | — |
| Adam Kennedy | — | — | — |
| Ryan Raburn | — | — | — |
| Ronny Cedeno | — | — | — |
Third Basemen
| | | | |
| --- | --- | --- | --- |
| Name | Team Signed With | Years | Amount |
| Jeff Keppinger | Chicago White Sox | 3 | $12.0 M |
| Eric Chavez | Arizona Diamondbacks | 1 | $3.0 M |
| David Wright | New York Mets | 1 | $16.0 M |
| Drew Sutton | Boston Red Sox | 1 | Minors |
| Steven Tolleson | Chicago White Sox | 1 | Minors |
| Hector Luna | Japan | 1 | $0,45 M |
| Kevin Youkilis | New York Yankees | 1 | $12.0 M |
| Miguel Cairo | — | — | — |
| Casey McGehee | Japan | 1 | $1.50 M |
| Chone Figgins | — | — | — |
| Jack Hannahan | Cincinnati Reds | 1 | $2.0 M |
| Brandon Inge | — | — | — |
| Jose Lopez | Japan | 1 | $1.20 M |
| Placido Polanco | Miami Marlins | 1 | $2.75 M |
| Scott Rolen | — | — | — |
| Ian Stewart | Chicago Cubs | 1 | $2.0 M |
| Ty Wigginton | St. Louis Cardinals | 2 | $5.0 M |
| Mark DeRosa | — | — | — |
Shortstops
| | | | |
| --- | --- | --- | --- |
| Name | Team Signed With | Years | Amount |
| Maicer Izturis | Toronto Blue Jays | 3 | $10.0 M |
| Jhonny Peralta | Detroit Tigers | 1 | $6.0 M |
| Jason Bartlett | — | — | — |
| Stephen Drew | Boston Red Sox | 1 | $9.50 M |
| Alex Gonzalez | — | — | — |
| Cesar Izturis | — | — | — |
| Munenori Kawasaki | — | — | — |
| Alberto Gonzalez | — | — | — |
| Brian Bixler | New York Mets | 1 | Minors |
Outfielders
| | | | |
| --- | --- | --- | --- |
| Name | Team Signed With | Years | Amount |
| Curtis Granderson | New York Yankees | 1 | $15.0 M |
| Angel Pagan | San Francisco Giants | 4 | $40.0 M |
| B.J Upton | Atlanta Braves | 5 | $75.0 M |
| Jason Bay | Seattle Mariners | 1 | $1.0 M |
| Melky Cabrera | Toronto Blue Jays | 2 | $16.0 M |
| Jonny Gomes | Boston Red Sox | 2 | $10.0 M |
| Nate McLouth | Baltimore Orioles | 1 | $2.0 M |
| Juan Pierre | Miami Marlins | 1 | $1.60 M |
| Shane Victorino | Boston Red Sox | 3 | $39.0 M |
| Dewayne Wise | Chicago White Sox | 1 | $0.70 M |
| Torii Hunter | Detroit Tigers | 2 | $26.0 M |
| Reed Johnson | Atlanta Braves | 1 | $1.75 M |
| Nate Schierholtz | Chicago Cubs | 1 | $2.25 M |
| Brian Bogusevic | Chicago Cubs | 1 | Minors |
| Travis Buck | San Diego Padres | 1 | Minors |
| Mitch Maier | Boston Red Sox | 1 | Minors |
| Jason Bourgeois | Tampa Bay Rays | 1 | Minors |
| Rick Ankiel | Houston Astros | 1 | Minors |
| Michael Bourn | — | — | — |
| Grady Sizemore | — | — | — |
| Andres Torres | San Francisco Giants | 1 | $2.0 M |
| Aaron Cunningham | Texas Rangers | 1 | Minors |
| Matt Diaz | New York Yankees | 1 | $1.20 M |
| Austin Kearns | Miami Marlins | 1 | Minors |
| Ryan Ludwick | Cincinnati Reds | 2 | $15.0 M |
| Darnell McDonald | Chicago Cubs | 1 | Minors |
| Josh Hamilton | Los Angeles Angels | 5 | $125.0 M |
| Bobby Abreu | — | — | — |
| Johnny Damon | — | — | — |
| Raul Ibanez | Seattle Mariners | 1 | $2.75 M |
| Delmon Young | — | — | — |
| Endy Chavez | Kansas City Royals | 1 | Minors |
| Ben Francisco | — | — | — |
| Kosuke Fukudome | Japan | 3 | $5.50 M |
| Andruw Jones | Japan | 1 | $3.50 M |
| Don Kelly | Detroit Tigers | 1 | Minors |
| Cody Ross | Arizona Diamondbacks | 3 | $26.0 M |
| Jeff Baker | — | — | — |
| Ichiro Suzuki | New York Yankees | 2 | $13.0 M |
| Ryan Sweeney | — | — | — |
| Scott Hairston | — | — | — |
| Juan Rivera | — | — | — |
| Nick Swisher | Cleveland Indians | 4 | $56.0 M |
| Xavier Nady | Kansas City Royals | 1 | Minors |
Starting Pitchers
| | | | |
| --- | --- | --- | --- |
| Name | Team Signed With | Years | Amount |
| Zack Greinke | Los Angeles Dodgers | 6 | $147.0 M |
| Jeremy Guthrie | Kansas City Royals | 3 | $25.0 M |
| Joe Blanton | Los Angeles Angels | 2 | $15.0 M |
| Hisashi Iwakuma | Seattle Mariners | 2 | $14.0 M |
| Scott Baker | Chicago Cubs | 1 | $5.50 M |
| Bartolo Colon | Oakland A's | 1 | $3.0 M |
| Jorge de la Rosa | Colorado Rockies | 1 | $11.0 M |
| R.A. Dickey | New York Mets | 1 | $5.0 M |
| Zach Duke | Washington Nationals | 1 | Unknown |
| Scott Feldman | Chicago Cubs | 1 | $6.0 M |
| Gavin Floyd | Chicago White | 1 | $9.50 M |
| Jeff Francis | Colorado Rockies | 1 | $1.50 M |
| Dan Haren | Washington Nationals | 1 | $13.0 M |
| Tim Hudson | Atlanta Braves | 1 | $9.0 M |
| Hiroki Kuroda | New York Yankees | 1 | $15.0 M |
| Paul Maholm | Atlanta Braves | 1 | $6.50 M |
| Jason Marquis | San Diego Padres | 1 | $3.0 M |
| Brandon McCarthy | Arizona Diamondbacks | 2 | $15.50 M |
| Jake Peavy | Chicago White Sox | 2 | $29.0 M |
| Andy Pettitte | New York Yankees | 1 | $12.0 M |
| Ervin Santana | Los Angeles Angels | 1 | $13.0 M |
| James Shields | Tampa Bay Rays | 1 | $10.25 M |
| Randy Wells | Texas Rangers | 1 | Minors |
| Erik Bedard | — | — | — |
| Dallas Braden | — | — | — |
| Aaron Cook | — | — | — |
| Kevin Correia | Minnesota Twins | 2 | $10.0 M |
| Ryan Dempster | Boston Red Sox | 2 | $26.50 M |
| Freddy Garcia | — | — | — |
| Justin Germano | — | — | — |
| Rich Harden | Minnesota Twins | 1 | Minors |
| Roberto Hernandez | Tampa Bay Rays | 1 | $3.25 M |
| Edwin Jackson | Chicago Cubs | 4 | $52.0 M |
| Jair Jurrjens | — | — | — |
| Jeff Karstens | — | — | — |
| John Lannan | Philadelphia Phillies | 1 | $2.50 M |
| Francisco Liriano | Pittsburgh Pirates | 2 | $12.75 M |
| Kyle Lohse | — | — | — |
| Derek Lowe | — | — | — |
| Daisuke Matsuzaka | — | — | — |
| Kevin Millwood | — | — | — |
| Dustin Moseley | — | — | — |
| Jamie Moyer | — | — | — |
| Roy Oswalt | — | — | — |
| Carl Pavano | — | — | — |
| Mike Pelfrey | Minnesota Twins | 1 | $4.0 M |
| Jonathan Sanchez | — | — | — |
| Anibal Sanchez | Detroit Tigers | 5 | $80.0 M |
| Joe Saunders | — | — | — |
| Tim Stauffer | — | — | — |
| Carlos Villanueva | Chicago Cubs | 2 | $10.0 M |
| Chien-Ming Wang | — | — | — |
| Kip Wells | — | — | — |
| Randy Wolf | — | — | — |
| Chris Young | — | — | — |
| Carlos Zambrano | — | — | — |
Relief Pitchers
| | | | |
| --- | --- | --- | --- |
| Name | Team Signed With | Years | Amount |
| Jonathan Broxton | Cincinnati Reds | 3 | $21.0 M |
| Kyuji Fujikawa | Chicago Cubs | 2 | $9.20 M |
| Brandon League | Los Angeles Dodgers | 3 | $22.50 M |
| Ryan Madson | Los Angeles Angels | 1 | $3.50 M |
| Mariano Rivera | New York Yankees | 1 | $10.0 M |
| Fernando Rodney | Tampa Bay Rays | 1 | $2.50 M |
| Joakim Soria | Texas Rangers | 2 | $8.0 M |
| Jeremy Affeldt | San Francisco Giants | 3 | $18.0 M |
| Sean Burnett | Los Angeles Angles | 2 | $8.0 M |
| Randy Choate | St. Louis Cardinals | 3 | $7.50 M |
| Darren Oliver | Toronto Blue Jays | 1 | $3.0 M |
| David Aardsma | New York Yankees | 1 | $0.50 M |
| Luis Ayala | Baltimore Orioles | 1 | $1.0 M |
| Shawn Camp | Chicago Cubs | 1 | $1.35 M |
| Octavio Dotel | Detroit Tigers | 1 | $3.50 M |
| Jason Grilli | Pittsburgh Pirates | 2 | $6.75 M |
| Joel Peralta | Tampa Bay Rays | 2 | $6.0 M |
| Koji Uehara | Boston Red Sox | 1 | $4.25 M |
| Oliver Perez | Seattle Mariners | 1 | $1.5 M |
| Fernando Abad | Washington Nationals | 1 | Minors |
| Bill Bray | Washington Nationals | 1 | Minors |
| Tim Byrdak | New York Mets | 1 | Minors |
| Alex Hinshaw | Toronto Blue Jays | 1 | Minors |
| Collin Balester | Texas Rangers | 1 | Minors |
| Chris Seddon | Korea | 1 | Unknown |
| Brian Fuentes | Retirement | | |
| Brad Lidge | Retirement | | |
| Matt Capps | — | — | — |
| Rafael Soriano | Washington Nationals | 2 | $28.0 M |
| Jose Valverde | — | — | — |
| Brian Wilson | — | — | — |
| Brett Myers | Cleveland Indians | 1 | $7.0 M |
| Dana Eveland | Korea | 1 | $0.675 M |
| Pedro Feliciano | — | — | — |
| Mike Gonzalez | Milwaukee Brewers | 1 | $2,25 M |
| Tom Gorzelanny | Milwaukee Brewers | 2 | $5.70 M |
| J.P. Howell | Los Angeles Dodgers | 1 | $2.85 M |
| Will Ohman | — | — | — |
| Manny Parra | — | — | — |
| Rafael Perez | — | — | — |
| J.C. Romero | — | — | — |
| Daniel Schlereth | Baltimore Orioles | 1 | Minors |
| George Sherrill | Kansas City Royals | 1 | Minors |
| Hisanori Takahashi | — | — | — |
| Jeremy Accardo | — | — | — |
| Manny Acosta | Japan | 1 | $1.65 M |
| Mike Adams | Philadelphia Phillies | 2 | $12.0 M |
| Scott Atchison | — | — | — |
| Miguel Batista | — | — | — |
| Todd Coffey | — | — | — |
| Jose Contreras | — | — | — |
| Francisco Cordero | — | — | — |
| Juan Cruz | Philadelphia Phillies | 1 | Minors |
| Joey Devine | — | — | — |
| Chad Durbin | — | — | — |
| Kevin Gregg | — | — | — |
| LaTroy Hawkins | — | — | — |
| Livan Hernandez | — | — | — |
| Jason Isringhausen | — | — | — |
| Bobby Jenks | — | — | — |
| Matt Lindstrom | — | — | — |
| Shane Loux | San Francisco Giants | 1 | Minors |
| Mark Lowe | — | — | — |
| Brandon Lyon | — | — | — |
| Jeff Manship | Colorado Rockies | 1 | Minors |
| Kyle McClellan | — | — | — |
| Guillermo Mota | — | — | — |
| Peter Moylan | Los Angeles Dodgers | 1 | Minors |
| Juan Carlos Oviedo | — | — | — |
| Vicente Padilla | Japan | 1 | $3.25 M |
| Brad Penny | — | — | — |
| Chad Qualls | — | — | — |
| Ramon Ramirez | — | — | — |
| Jon Rauch | — | — | — |
| Francisco Rodriguez | — | — | — |
| Takashi Saito | Japan | 1 | $0.35 M |
| Jose Veras | Houston Astros | 1 | $2.0 M |
| Kyle Waldrop | — | — | — |
| Jamey Wright | — | — | — |
Designated Hitters
| | | | |
| --- | --- | --- | --- |
| Name | Team Signed With | Years | Amount |
| David Ortiz | Boston Red Sox | 2 | $26.0 M |
| Travis Hafner | — | — | — |
| Nick Johnson | — | — | — |
| Luke Scott | — | — | — |
| Jim Thome | — | — | — |
| Hideki Matsui | — | — | — |
Catchers
| | | | |
| --- | --- | --- | --- |
| Name | Team Signed With | Years | Amount |
| Mike Napoli | Boston Red Sox | 3 | $39.0 M |
| Russell Martin | Pittsburgh Pirates | 2 | $17.0 M |
| Brian McCann | Atlanta Braves | 1 | $12.0 M |
| David Ross | Boston Red Sox | 2 | $6.20 M |
| Jose Molina | Tampa Bay Rays | 1 | $1.80 M |
| Dioner Navarro | Chicago Cubs | 1 | $1.75 M |
| Wil Nieves | Arizona Diamondbacks | 1 | $0.80 M |
| Carlos Ruiz | Philadelphia Phillies | 1 | $5.0 M |
| Gerald Laird | Atlanta Braves | 3 | $3.30 M |
| Geovany Soto | Texas Rangers | 1 | $2.75 M |
| Rod Barajas | — | — | — |
| Henry Blanco | Toronto Blue Jays | 1 | Minors |
| Jesus Flores | Los Angeles Dodgers | 1 | Minors |
| Mike Nickeas | — | — | — |
| Miguel Olivo | — | — | — |
| Ronny Paulino | — | — | — |
| A.J. Pierzynski | Texas Rangers | 1 | $7.50 M |
| Brian Schneider | — | — | — |
| Kelly Shoppach | — | — | — |
| Chris Snyder | — | — | — |
| Yorvit Torrealba | — | — | — |
| Matt Treanor | — | — | — |
| Bobby Wilson | New York Yankees | 1 | Minors |