UFC on Fox 5: Questions We Have About Mike Swick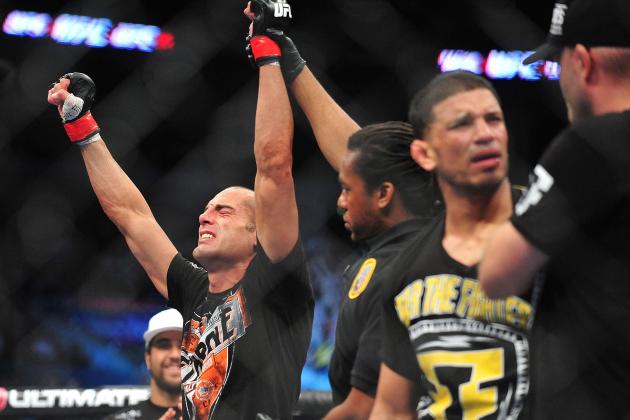 Gary A. Vasquez-USA TODAY Sports

Mike Swick will fight for the second time in roughly three months tomorrow when he collides with the aggressive Matt Brown on the main card of UFC on Fox 5. Swick spent about two and a half years away from the cage recovering from injuries before returning to action in August, and the time away from action was clearly visible. While Swick emerged victorious from his bout with DeMarques Johnson at UFC on Fox 4, he took a beating in the opening frame of the fight.
Swick looked rusty, and if there's even a hint of it left in the system of "Quick," Matt "The Immortal" Brown will knock it right off.
Will the speed and fluency of a prime Swick re-emerge tomorrow night? Will his physical and mental fortitude be put on harsh trial once more? We simply don't have answers yet. But we've got a few relevant questions.
Begin Slideshow

»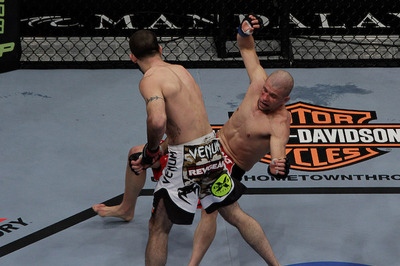 Photo courtesy of Sherdog
Swick's time away from the cage certainly wasn't beneficial to him during his collision with DaMarques Johnson. Johnson managed to put an unhealthy beating on "Quick" for the better portion of the first round before Swick rallied and put Johnson away early in the second frame.
Brown is an even more aggressive competitor, and he'll be looking to extinguish Mike's attack early by applying a strong load of pressure. He's comfortable in the pocket, dangerous with all extremities and profoundly gritty. He's going to put that in Mike's face early and often. Wherever this fight needs to go in order for Brown to secure a victory is likely where this one ends up.
Brown has big momentum and high confidence on his side. Swick has neither, and he'll be facing an uphill battle in tangling with a surging Matt Brown.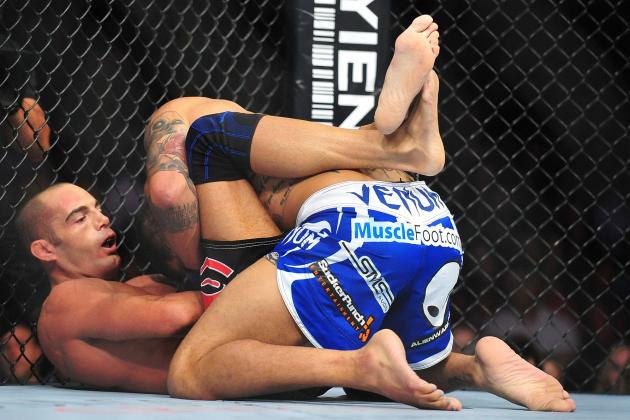 Gary A. Vasquez-USA TODAY Sports

Mike's gas tank looked solid in his return bout against Johnson, but the fight didn't see deep enough waters to get a truly accurate read on things. It's one thing to fight hard for six minutes. It's another to fight hard for fifteen.
If Brown is unable to end Swick's evening early, but able to absorb any punishment the AKA representative can throw in his direction, it's going to be long, grueling fight. Brown is relentless in his attack and he's got the cardio to fight hard for three rounds, no question.
What is in question is Mike Swick's gas tank. Can the former welterweight standout fight a full fifteen minutes at a fast pace?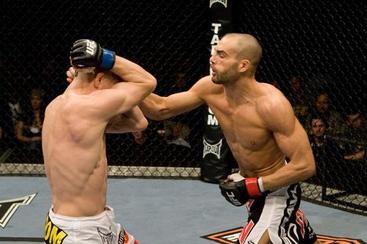 Photo courtesy of Full Contact Fighter
This is a tough question to answer, because fighting for the first time in two plus years has to be a daunting challenge: the nerves have returned, the comfort in the cage has parted ways and the impact of actual combat is a fading memory.
Judging Swick's speed showcased in the Johnson fight isn't fair, in the least bit. That said, he still looked relatively quick, and if anything suffered significantly from his time away from the cage it was his reflexes.That might be an issue he's worked out in preparation for this fight. Then again it might not be. Mike may still be just a tad stiff, which could slow his punches just enough for Brown to beat him to the shot.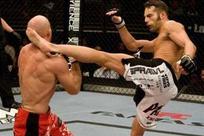 Photo courtesy of UFC
This is a must-win fight for Mike Swick. If he hopes to make a statement, and alert the rest of the division that his days as a top-flight competitor are far from over, he needs to really, really shine against Matt Brown.
A razor-thin decision will not cement his place in top 10 talks. Only a fast, dynamic finish will get fans riled up for the official resurgence of Mick Swick. Is an explosive win in Swick's favor out of the question? Absolutely not. But Brown is no push over, and a big stoppage will not be easy.
Tomorrow night's challenge will help outline the future of Mick Swick's career. We'll see if he's prepared to pass the test.
Follow Matt Molgaard on Twitter.