5 Free Agent, Draft Targets New York Jets Must Chase for 2013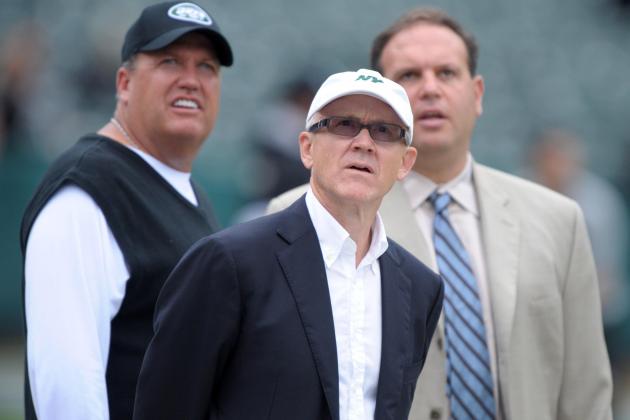 Kirby Lee-USA TODAY Sports
The Jets' brain trust has a busy offseason looming ahead.
The 2012 season has been an exhibition of publicity stunts to win over headlines and failed execution on the football field to couple the melodramatic quarterback controversy that has devolved the New York Jets (6-7) into a complete circus act.
Still, the Jets have pressing needs that stretch beyond their quarterback carousel and the dysfunctional front office.
This season tested the Jets roster's depth because of certain devastating injuries (Darrelle Revis, Santonio Holmes) but also revealed gaping issues at other key positions that ultimately depleted the team's ability to remain competitive against elite football teams.
They have the least explosive bunch of so-called "playmakers" in the entire NFL, aiding embattled quarterback Mark Sanchez into his unprecedented pitfall.
The Jets remain devoid of a threatening pass rush on defense while protection on the offensive front is spotty at best.
The Jets brain trust will be forced to be creative to improve these areas because of salary cap restraints and guaranteed contracts.
The following details five realistic free agent and draft targets that the Jets must chase to become a formidable opponent in the 2013 season.
Begin Slideshow

»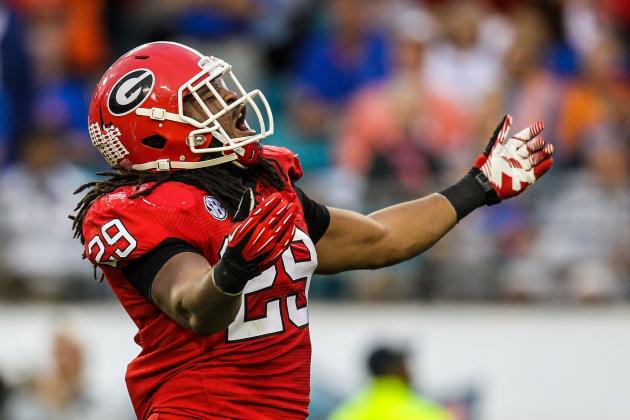 Daniel Shirey-USA TODAY Sports

Georgia outside linebacker Jarvis Jones will be an immediate impact player in the NFL and is an ideal fit for the Jets.
Jones was selected First Team-All SEC and was also a finalist for the Butkus Award as the nation's best linebacker in 2012, registering 77 tackles in his second season as a starter at the collegiate level.
He's a beastly pass rusher with the ability to break off the edge and force the opponent into committing mistakes. Jones recorded 12.5 sacks and 22.5 tackles for loss in 11 games to lead the SEC in 2012.
His brute power and closing speed enables him to crush ball carriers. Jones collected two fumbles and forced seven while also recording an interception in 2012.
He has drop-back coverage ability and could prove to be a vital weapon on a defense that prides itself in disguise-blitz coverage.
He's a strong player that has demonstrated both agility and hustle. He can run down scrambling quarterbacks before they have the opportunity to escape.
The Jets need to acquire a fierce linebacker with strong instincts and natural strength in order to revamp a core that has been mostly inept in generating force behind the line of scrimmage.
Jones is projected to be drafted in the early-to-mid first round in April's draft and should be on New York's radar.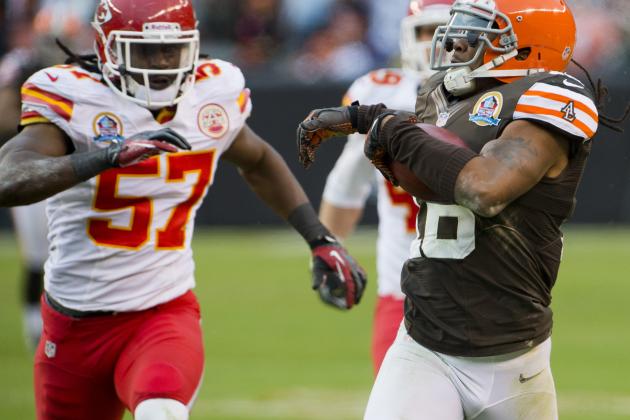 Jason Miller/Getty Images

Browns kick returner and offensive specialist Josh Cribbs is an explosive playmaker that could ignite the Jets in certain personnel packages on offense.
Cribbs has failed to develop into a consistent downfield threat, but he possesses tremendous speed and could be effectively used in creative situations on offense that generate open space and room to run.
Cribbs was targeted a career-high 67 times in 2011 while recording 41 receptions for 518 yards and four touchdowns. He's a proven veteran who has the ability to break open downfield and make big plays.
While not an every down type of player, Cribbs still supplies game-changing ability, especially on kickoffs and punt returns.
He's tallied eight career touchdowns on kickoffs to rival his three punt returns for scores and currently ranks seventh in the NFL in kick return average at 27.7 yards per attempt.
A kick return tandem of Josh Cribbs and Joe McKnight would undoubtedly be the most potent in the NFL.
The Jets need to obtain a speed-oriented player who can stretch the field and should seriously consider Cribbs as a suitable option to fill the void.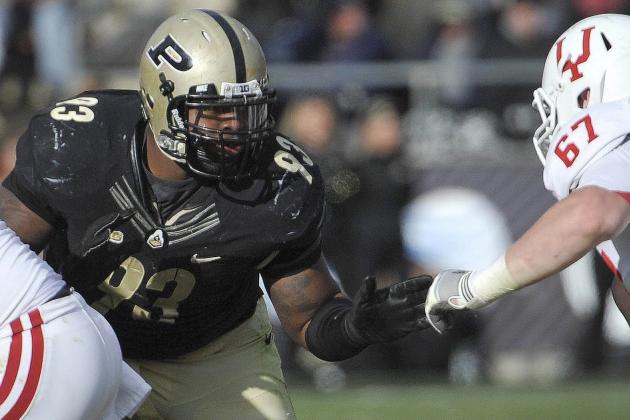 Sandra Dukes-USA TODAY Sports

Purdue defensive tackle Kawann Short is arguably the most underrated player in this year's crop of soon-to-be NFL talent and could possibly be available for the Jets to draft in the second round.
Short checks in at 315 pounds and has recorded bench presses that surpass 400.
He entered the 2012 college football season as possibly the No. 1 senior NFL prospect out of the Big Ten and has mounted a beastly collegiate career.
Short prides himself in his ability to dominate the line of scrimmage, forcing offensive lineman to fall backward in the trenches.
He was selected First Team All-Big Ten in his senior season, racking up 42 tackles and 14.5 tackles for loss while also registering six sacks, four blocked kicks and two fumble recoveries.
Short is a power player that withstands agile, lateral movement on the defensive front, enabling him to overwhelm the opposition on the offensive line.
Drafting Short would virtually admit Kenrick Ellis to be a failed project, though. Ellis has recorded no sacks and just 14 unassisted tackles in two seasons with the Jets.
Still, the Jets don't have the player personnel, or depth, on the defensive line to simply wait for Ellis to develop. They need a prominent force in the trenches that can blast through offensive lineman and pressure the quarterback.
Aging nose tackle Sione Pouha can't play forever. Kawann Short could be slotted in his spot on the depth chart next season, hopefully helping to fix a weak pass rush.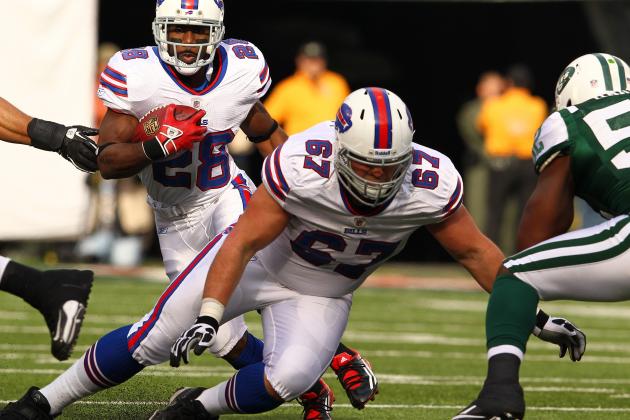 Al Bello/Getty Images

Bills offensive guard Andy Levitre is the brand of player the Jets need up front to provide support for the ground-and-pound offensive game scheme that fits head coach Rex Ryan's philosophy.
Levitre will hit free agency at the conclusion of the 2012 season. He could potentially replace veteran Brandon Moore or sixth-round pick Matt Slauson on the Jets offensive line.
Moore has been a critical component on the offensive front for the Jets, but the Jets need an upgrade. Slauson has been summoned to a platoon situation. Both are eligible for free agency.
Levitre has started every game of his career and has demonstrated supreme versatility while also remaining consistent. He's been a tremendous contributing factor to the Bills' successful ground attack.
The Jets are averaging just 3.8 yards per rush attempt in 2012 whereas the Bills are surpassing 5.1 yards per carry.
Levitre could solidify an embattled offensive line that has struggled to be consistent in both protecting the quarterback and enabling the run.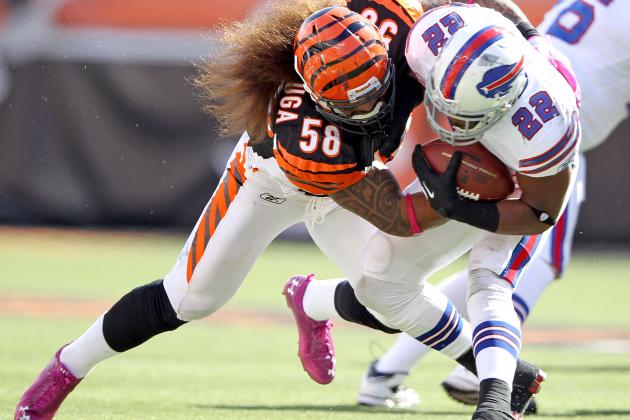 Andy Lyons/Getty Images

Bengals middle linebacker Rey Maualuga has failed to prosper into one of the best at his position in the NFL.
Maualuga has recorded 53 tackles thus far in 2012. It's likely that he won't command significant interest in the free agent market when the season ends.
Jets head coach Rex Ryan understands that bargaining chips are crucial in building a top-tier defense. Veteran Calvin Pace (53 tackles, 4.5 sacks) is a prime example.
The Jets need an upgrade over veteran Bart Scott in the middle of the field and would be wise to target Maualuga, given the strained salary cap situation the team faces next offseason.
Scott's future with the Jets became tenuous after last season when he combined for just 66 tackles, his fewest since 2004.
Maualuga seizes every opportunity to hit someone. He's combined for 105 tackles through 13 games in 2012 and ranks among the most devastating hard-hitters in the league.
His quickness up front and ability to stuff the run makes him a potential fit for the Jets. They desperately need to improve upon a defense that surrenders 136.5 rushing yards per game.
A linebacking core consisting of David Harris, Jarvis Jones and Rey Maualuga has the potential to make the Jets 3-4 base a run-stuffing machine—a staple in executing Ryan's blitz-oriented defense.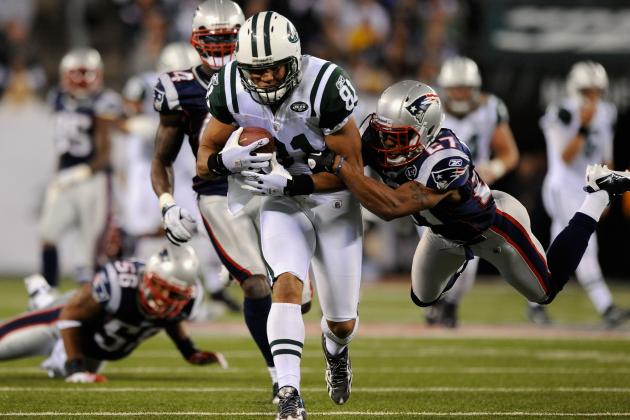 Patrick McDermott/Getty Images

In addition to chasing the five free agent or draft targets previously mentioned, the Jets need to secure new contracts for a few of their own free agents this offseason.
Tight end Dustin Keller is a key component to the Jets passing game and failing to re-sign him could prove to be detrimental to embattled starting quarterback Mark Sanchez.
Keller will command significant interest on the market and might seek a more stable quarterback situation, but it will be crucial for the Jets to retain him.
He's been limited to just eight games in 2012 due to injuries but has averaged 11.3 yards per catch, good enough to rank second in that category among the Jets receiving corps.
Starting running back Shonn Greene is next in line to be retained. Greene is en route to his second consecutive 1,000+ yard rushing season, despite failing to meet expectations in 2012.
Greene and Bilal Powell (4.0 yards/attempt in 89 carries) have emerged as a steady running back tandem and should be part of the Jets' offense moving forward.
Lastly, safety LaRon Landry is a hard-hitting defensive back that surely fits the character of Ryan's defense.
He's recorded 89 combined tackles, four forced fumbles and two interceptions through 13 games this season and is virtually irreplaceable.
In a season heavily focused upon the Jets' anaemic offense and quarterback drama, the defense should ultimately be the main priority headed into the offseason.