Houston Texans vs. New England Patriots: Report Cards, Final Grades for Houston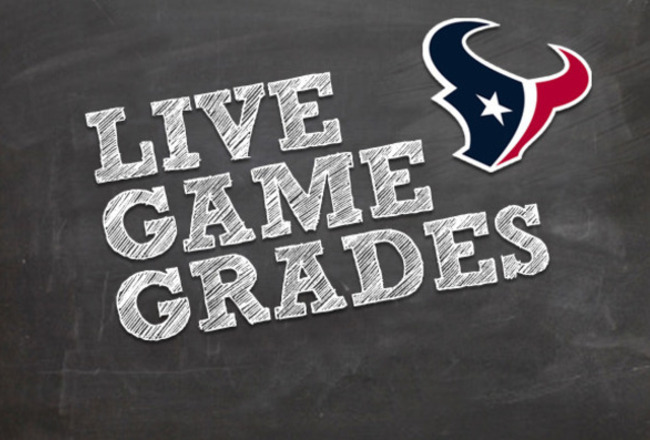 Greg M. Cooper-USA TODAY Sports
The Houston Texans have been defeated by the New England Patriots in humbling fashion by a score of 42-14.
The Texans were clearly outclassed by an organization that was familiar with this kind of moment and knew how to handle it.Houston can rightfully complain about some questionable calls by the officiating crew. But the referees were not the ones who failed to block, tackle, and cover the Patriots with any consistency at all.
Once they return to Houston, these players and coaches will have to look at this game as just their second loss of the season. But when forced to look at the replay of this fiasco, will they see themselves same Super Bowl contender that was set to win their division and fortify their position as the best team in football?
There will not be much time to ponder this question as they prepare to meet the Indianapolis Colts and try to reclaim their identity as a legitimate postseason threat.
Final reports cards on all the participants will be posted as soon as they are complete.
Final
Texans: 14
Patriots: 42
Quarterback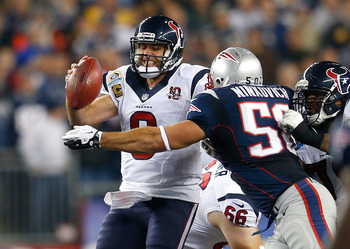 Jim Rogash/Getty Images
Matt Schaub— C-
There is not the time to statistically justify this was the worst game of Schaub's career. But anyone who watched this game would agree this ranks high on that list.
It does not all fall on his shoulders, but his only turnover seemed like the sort of mistake he never recovered from. He did not see Devin McCourty at all until the ball was in his hands.
The Patriots only recorded two sacks, but Matt was hit on eight occasions and pressured at least twice that many times. The running game did not relieve his burden, so he must have felt it was all up to him again.
This was a situation when he needed to throw as many passes as it took to beat Detroit and Jacksonville. That was 48 and 55 times, respectively. But for unexplained reasons, the calls were the same as if they were playing with a two-touchdown lead.
This was one of those short-memory games where the sooner it is forgotten, the better.
T.J. Yates— C
He was asked to take over under difficult circumstances and did the best he could. With the game out of hand, he managed to guide the Texans to a touchdown after the Shiloh Keo pick.
While not really a chance to add much game-time experience, you take what you can get.
Running Backs
Jared Wickerham/Getty Images
Arian Foster— C
Foster gained 27 yards on the first two plays, except the first did not count due to an illegal formation penalty. From there it was all downhill for the former All-Pro.
He did not have a play for more than nine yards the rest of the game and lost yardage on a third of his 15 carries. A one-yard touchdown and four receptions for 39 yards did not appreciably affect the results.
In his defense, it is hard to run when someone is meeting you in the backfield more often than not. The Patriots put eight men in the box with the intent of stopping him, and it worked better than they could have hoped.
Ben Tate— C+
Most of his numbers came in garbage time, but it is encouraging that he appears to be ready to resume his duties as the No. 2 running back. The Texans need someone who can run with power since Foster needs an opening in the line to get his motor running.
Justin Forsett— D
Forsett did not make the kind of contribution he had the last several games. On a bad night for everyone on the offense, he just played follow the leader.
James Casey— C+
One great reception to set up the first TD does not alleviate his inability to lead-block for the running game. With Garrett Graham out, Casey was put in the difficult position of having to be more tight end than fullback.
He can only block one player at a time, and the interior of the offensive line was leaking like the Titanic tonight.
Wide Receivers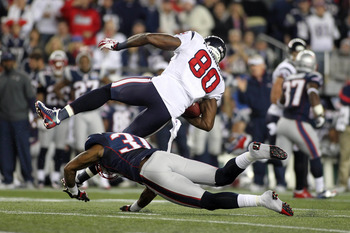 USA TODAY Sports
Andre Johnson — B
The No. 1 receiver for the Texans was good on eight of his 10 targets, but any yards after the catch were hard to come by. The tactic used against him was to close with another defender after the catch to deny any additional gains.
As the only wide receiver with more than two receptions, it was a slim night for anyone who makes his living catching the ball.
Kevin Walter — D
From his penalty on the opening play, to the interception that was not really his fault, to not a single catch under his name, this was not a night to remember for No. 83. Walter is another offender to be added to the many who did not play his usual part.
Keshawn Martin — Inc.
The game was effectively over by the time a pass came his way, and he lost yardage on it. The pass should have been thrown away, so his grade is also tossed aside.
Lestar Jean — B
His reception that almost penetrated the red zone was for naught as Schaub's interception ended the drive two plays later. The effort to get him more involved in the offense was one of the few creative moves in the game. Hopefully, this is a sign of more to come for the lanky wideout.
Tight Ends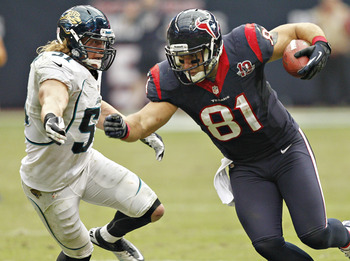 Bob Levey/Getty Images
Owen Daniels — C+
Daniel's stock in trade is the short pass in the seam on a quick timing route. His quarterback did not have enough time during the course of the game to use one of his favorite targets. New England also did a great job of taking away the middle of the field with OLB Brandon Spikes and SS Steve Gregory.
Offensive Line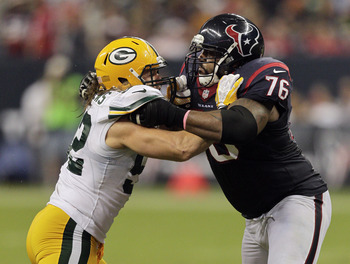 Bob Levey/Getty Images
Duane Brown — B
The best man on the line picked tonight to have one of his worst games of the season. He gave up penetration to Rob Ninkovich and Trevor Scott for a sack and a couple of QB hits.
He was the only lineman to get to the edge and seal it off for the running game, but that is not enough to compensate for getting beaten to the outside several times.
Ryan Harris — D
When your play makes us yearn for the return of Derek Newton, you can rest assured your dunce cap and corner stool are waiting. Harris was consistently overwhelmed by rookie Chandler Jones and easily handled every time he tried to turn the corner on the running game.
Chris Myers — B-
Myers has a rookie to his right and a marginal veteran to his left, and calls the blocking assignments to boot. Despite all this, he still has to be able to pick up the linebacker when he shoots up the middle.
For the last four weeks, this responsibility has escaped your grasp too often. Jerod Mayo is supposed to clean up the second level when the running backs come through. But he shot past Myers twice in this game, and could have killed Schaub the second time if Matt had not see him coming.
Wade Smith — C-
Vince Wilfork and Kevin Love tossed Smith around like a sack of packing peanuts, pushing him into the pocket whenever they felt like it. The rushing gained up the middle of the line could not have amounted more than 20 yards for the entire game. Smith is a large part of the reason why.
Ben Jones — C
Jones suffered the same assignment and the same fate as Smith and Myers. He receives a slightly higher grade because his rookie status implies a learning curve that he is trying to exceed. He has also switched from his natural position at center to fill in for Antoine Caldwell, which gives him some benefit of the doubt.
Andrew Gardner — C+
Perhaps he should not be grouped with the linemen since he was subbing as the third tight end. Gardner even had a pass thrown in his direction. It could be the first and last time in his career he sees that happen.
Defensive Line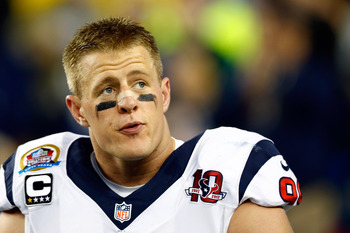 Jared Wickerham/Getty Images
J.J. Watt— B
Watt did as good a job as anyone trying to get to Tom Brady. His stat line this week was not up to his typical standards, with no sacks and three QB hits.
He was the primary force that kept the New England from scoring on four consecutive series midway through the contest. While it was major achievement for this game, it still grades out as his least impressive performance of this otherwise exceptional season.
Antonio Smith— C-
The Patriots possess a deadly passing game just because of their quarterback and receivers. Their offensive line, particularly RT Sebastian Vollmer and LG Logan Mankins, provides just enough protection to make it all work.
In this game, they came as close to shutting down J.J Watt as any team has. When it came to Antonio Smith, he was rendered ineffectual and unnoticed.
Jared Crick— C+
Crick was reasonably stout against the run, but like the rest of his teammates could not do much to get into Tom Brady's kitchen. He still has to learn how to get around the double team when he has to play the three-technique position.
Shaun Cody/Earl Mitchell— B
The NT duo may have done some of the best work of anyone on the front seven of the Texans. While they did their job of tying up whoever was blocking them, the linebackers could not do much to get between Brady and his intended targets.
Linebackers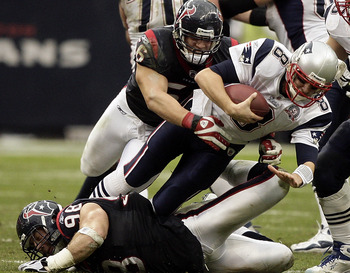 Bob Levey/Getty Images
Connor Barwin— C
The story on Barwin seems to be the same most every week. He keeps getting close, but not close enough to close the gap on his totals.
It has gotten even tougher for him now that he handles to strong side position. Tonight he had to decide whether to help out on Aaron Hernandez or go after Brady. He usually picked Brady and still did not get to him all evening.
Whitney Mercilus— B
Mercilus recorded the only sack of the game for the Texans, and brought the only consistent pressure of any linebacker.
But late in the game he was fooled on some of Stevan Ridley's runs. The outcome was decided at that point, but it is a skill he needs to acquire when he becomes the likely successor to Barwin on the weak side.
Barrett Ruud— C
Ruud was expected to spy on the running backs of the Patriots, a strategy that worked until late in the game. He has also been a big help on special teams while the Texans have been fighting through their injury problems.
Bradie James— D
How is it that James keeps drawing coverage on receivers everyone in the building knows he cannot deal with. He was victimized on the first of Hernandez' TDs, and left to handle other receivers over the middle. It cannot be intentional, just a function of circumstances that leaves him in that situation.
Tim Dobbins— C-
Dobbins was not much help except in special teams action. He is probably still doing his best to play through the various injuries picked up during the second half of the season.
Darryl Sharpton — B-
Sharpton can be counted on to get his tackles, but does he have the size to manage the inside linebacker position on a regular basis? While he does possess the quickness for coverage, he is frequently caught out of position on pass plays over the middle.
Defensive Backs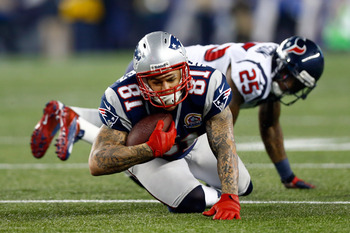 Jared Wickerham/Getty Images
Johnathan Joseph— B-
The Patriots were supposed to stay away from Joseph, and for the most part they did. The problems occurred when he was expected to help out on double coverage. He seemed a step slow, as if he was not quite over his lingering groin injury.
Kareem Jackson— D
While there is supposed to be an improved version of Kareem Jackson playing this season, he did not show up tonight. He was always a step behind his man, as was obvious on the touchdown to Aaron Hernandez.
This on-again, off-again type of play makes the doubters wonder if he is ever going to measure up as an NFL cornerback.
Brandon Harris— C-
Harris appears to be going through the same troubles Jackson did in his rookie season. At this stage, the game is moving to fast for him to make sense out of it on every play. When it comes time to review his performance versus New England, the only way it will slow down is if someone hands him the DVR remote.
Danieal Manning— C-
His pass interference penalty covering Wes Welker led to the score that put the game out of reach at 21-0. The Texans had come back from two-touchdowns deficits against inferior teams. Against the Patriots, it was obvious their sputtering offense was not going to prevail over a three TD margin.
Glover Quin— B-
Quin was all over the place, but he was not always in the right place. He often had to clean up what the other defensive backs let go, which is the job of a safety after all.
Shiloh Keo— C+
Keo finally got some real playing time other than special teams. His interception led to a face-saving touchdown by backup quarterback T. J. Yates.
Special Teams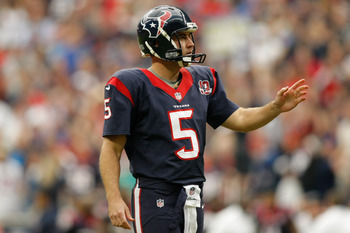 Brett Davis-USA TODAY Sports
Keshawn Martin— C-
Most of Stephen Gostkowski's kickoffs turned in to touchbacks, and Martin's two punt returns totaled just one yard. This was a game where special teams could have provided a spark, but what the Texans got was anything but special.
Donnie Jones— B+
The most consistent player for the Texans was their underrated punter. Seven punts is a busy night for Jones this year, and his 49.3 average helped as much as it could.
Shayne Graham— C+
How do you grade a kicker who only gets two extra points the entire game? When your offense scores just two touchdowns, there isn't even a chance to complain about his weak kickoff leg.
Coaching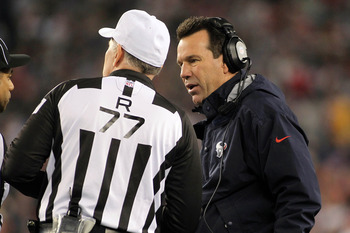 USA TODAY Sports
Coaching— D
One would expect Gary Kubiak to get schooled at the foot of an old master like Bill Belichick, but not an old salt like Wade Phillips.
What the Patriots do on offense is admittedly very hard to stop. Houston plays a lot of Cover 1, which leaves some room about 10 yards beyond the line of scrimmage. This space allows receivers to roam around and gives the quarterback a brief window to complete the pass.
Get the timing right, and it can be very successful. For New England, they complete passes at a 78 percent clip in that area. Not only is it better than a running play, it gains more yardage and gets the defense to back off the line. And it eventually sets up the run for later in the game.
That was the script, and the Texans coaching staff must have been aware of it. They must also have been aware that they might fall behind and have to adapt their methodical offensive approach. Kubiak stuck to his guns throughout, and had no contingencies when the inevitable came to pass. Or in the Texans case, they did not pass even when they were 21 points down.
A painful lesson learned by a team that is hoping for bigger things. Should these two meet again, you have to wonder what Houston can do to reach a different result.
Keep Reading

Houston Texans: Like this team?