Jets vs. Jaguars: What If Tebow Had Picked Jacksonville?
Use your ← → (arrow) keys to browse more stories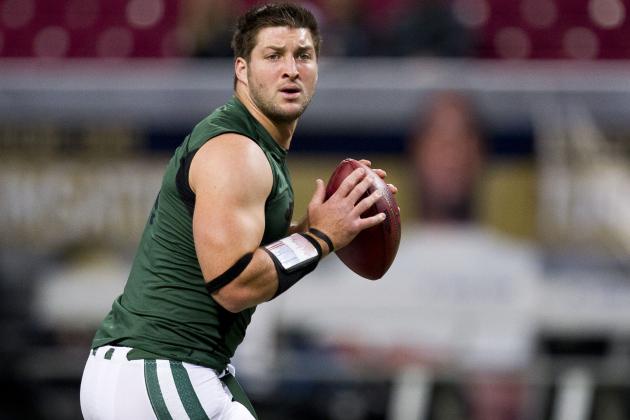 David Welker/Getty Images
What if Tebow were wearing teal?
Tim Tebow's career was at a crossroads, and he chose New York over Jacksonville.
Did the road he didn't take make all the difference?
The New York Jets and Jacksonville Jaguars square off in a meaningless Week 14 game rendered forgettable thanks to a rib injury to Jets backup quarterback Tim Tebow.
The Chad Henne-Mark Sanchez faceoff doesn't carry nearly the intrigue as a Blaine Gabbert-Tim Tebow showdown would have.
Both teams are now left lamenting the flaming wreckage of their 2012 campaigns, but the franchises are linked by more than just disappointing records and a chance encounter on the schedule.
My prediction: Jaguars 17 Jets 12.
Last March, Peyton Manning's signing with the Denver Broncos touched off a series of calls to attempt to deal the iconic and controversial quarterback.
Tebow famously chose the Jets over the Jaguars.
It hasn't worked out.
Tebow failed to unseat Mark Sanchez, despite a run of ragged play by the incumbent. The attention foisted upon Tebow has been a constant distraction.
He's only thrown seven passes on the season for 39 yards.
Needless to say both sides likely regret the arrangement, no matter what they say publicly.
If Tebow had come to Jacksonville, the result would likely have been equally messy.
There were strong indications at the time that the move was favored by ownership rather than the coaching staff or front office.
With Gene Smith's job ultimately riding on the performance of Gabbert, there's no question why he wouldn't have been excited about adding Tebow to the mix.
Gabbert eventually flamed out, illustrating exactly why so many in the media were down on him all along, but would Tebow have helped the Jaguars' chances in 2012?
It's unlikely.
The team was so committed to Gabbert, that there's little chance Tebow would have started much before the Oakland game anyway. Had he played well against the Raiders, perhaps he could have clung to the starting job.
While it's arguable that Tebow would have outperformed Gabbert, the team wasn't built for his unique talents.
Having Tebow behind him could have led to a quicker trigger with Gabbert, which ultimately would have hurt the team.
Would Tebow be such a popular figure if he was playing in Jacksonville?
Because Gabbert got a good long look, the team can move forward with the knowledge that he isn't a NFL-caliber starting quarterback. They can plan for the future accordingly.
Even had Tebow played well, a quick hook for Gabbert would have left doubt as to whether or not he could soon become a viable starter.
Tebow would have had to be spectacular as a starter to make the added attention pay off.
As counterintuitive as it seems, it's a good thing the Jaguars suffered through this season in anonymity, largely ignored by the mainstream press.
Adding Tebow to the season might have resulted in a couple of extra wins at most, but would have likely made the season far more stressful.
In other words, had Tebow gone to Jacksonville, the Jags would be the Jets.
Mike Mularkey can feel free to call up Rex Ryan and ask him how that's working out.
No matter how the contest on the field works out this weekend, the Jets, Jaguars and Tebow are all losers in 2012, and changing the trade in the past wouldn't have prevented it.