Miami Dolphins vs. San Francisco 49ers: 49ers' Week 14 Must-Win Matchups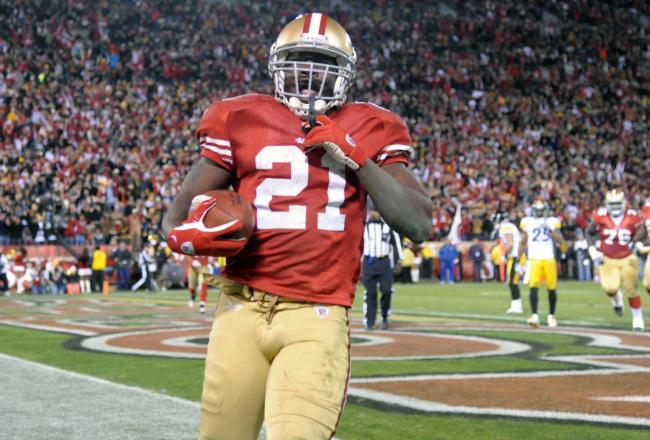 Kirby Lee-USA TODAY Sports
At 8-3-1, the 49ers are currently clinging to the No. 2 playoff seed in the NFC. Plenty of teams are eying that No. 2 seed, so San Francisco will need to finish strong over the course of the next four weeks. They finish out the season with Miami and Arizona at home and New England and Seattle on the road.
With the Dolphins being the first order of business this week, it's important that the 49ers don't overlook Miami's 5-7 record. Even though they have lost four of their last five, their record doesn't accurately represent the talent they have on either side of the ball.
Defense is the strong point for both the Dolphins and 49ers, so there are some key matchups to watch for. Let's take a look at two must-win matchups for Jim Haurbaugh's club, as we are only two days away from kickoff.
When the 49ers Are On Defense: Aldon Smith vs. Jonathan Martin
Heading into Week 14, there's one matchup that defensive coordinator Vic Fangio has to be salivating over. Sack master Aldon Smith will be taking on rookie left tackle Jonathan Martin—Martin started the season at right tackle for the Dolphins, but has been moved across the line due to Jake Long's triceps injury.
Martin was a left tackle at Stanford—so the position isn't completely new to him—but it is only his second career start on the left side in the NFL. In his first start against the Patriots last week, he didn't perform as well as he would have liked, as he surrendered a total of five quarterback pressures—one sack and four hurries.
Smith is hoping that same stat-line rings true for him, as he is currently working his way toward the NFL single-season sack record. He currently has 17.5 sacks, which means he only needs 5.5 more to surpass Michael Strahan's record.
With four games remaining, Smith needs to average a sack and a half a game to claim the single-season sack record. If he does indeed hit that mark over the next four games, he will finish the season with 23.5 sacks.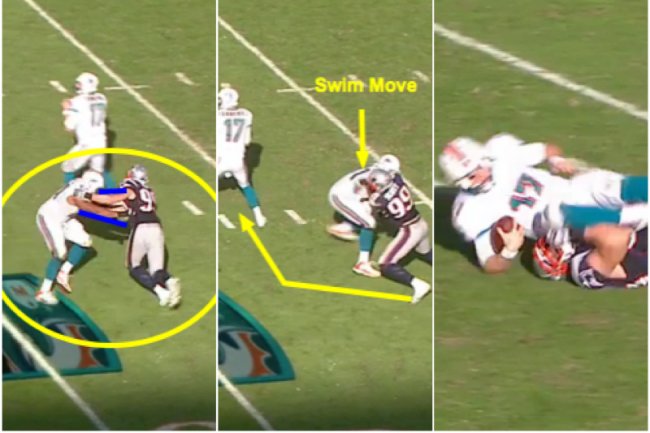 By taking a look at how Trevor Scott beat Martin in Week 13, it could give us some insight into how Smith could beat him in Week 14.
The play starts out of shotgun and the Pats are rushing four defenders total, and as Scott comes around the end, Martin does a really nice job of kicking him out wide, which allows Ryan Tannehill to step up in the pocket. At that point, he shouldn't become complacent with his blocking, but he does—and Scott gives him a swim move back to the inside.
As Scott works his way back to the inside, Martin can't recover quickly enough with his feet, and No. 99 takes down Tannehill for the sack. One thing I noticed about Martin was that he does a great job initially at the point of attack, but he often struggles off a defender's second move.
This is good news for Smith, as he usually gets a lot of second-effort sacks by using his hands in addition to his speed coming off the edge. By the looks of it, Smith is in line for a big day against the rookie left tackle.
When the 49ers Are On Offense: Frank Gore vs. Miami's Front Seven
This week's matchup against the 49ers will be Miami's fourth and final game against the NFC West. In the previous three games, the Dolphins have managed to stop three strong rushing attacks dead in their tracks.
The Cardinals, Rams and Seahawks only manged to average 3.8 yards per carry on the ground against Kevin Coyle's defense. Thanks in large part to a couple of long runs from the Rams, the yards-per-game average against the West jumped to 95.3.
However, it is telling that only one of the three teams managed to get into the end zone on the ground. Sam Bradford's one-yard quarterback sneak marked the only rushing touchdown allowed by the Dolphins against the NFC West.
Fortunately for the 49ers, they have the league's second-best rushing attack. Not to mention that at home they are practically unstoppable: during the club's six home contests this season, San Francisco is averaging 169.6 yards per game on the ground.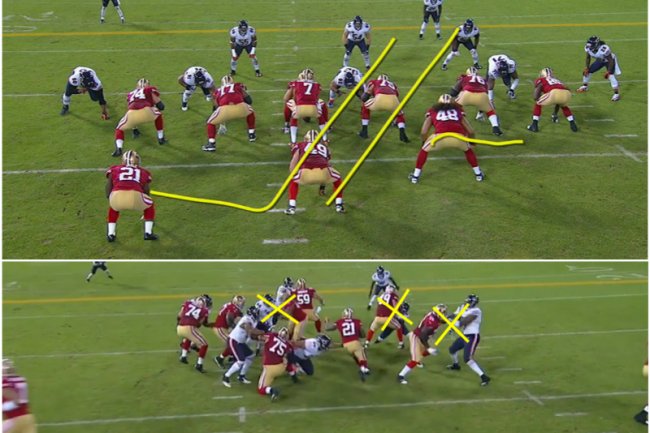 Here's a great example of how the 49ers exploited one of the best defenses in the NFL with their heavy packages and tight personnel groupings. As described best by John Gruden, this is an inside double wham play that opens up gaping holes and produces even bigger results.
As you can see in the bottom photo, all of the impact blocks are marked with an X. By maintaining and sustaining all of their blocks, it's easy to see that Gore has a good 5-7 yards of daylight in front of him because of the blocking around him.
His next job on this play is to make the defenders in the open field miss, just as he does at the end of the run. San Francisco's run game is incredibly potent when you factor in the play calls, blocking schemes and player talent involved.
For the sake of the 49ers, let's hope they can get their run game cranked up against a stingy run defense. Coach Harbaugh's club is at its best when their running attack leads the way.
Follow @TysonNFL on Twitter.
This article is
What is the duplicate article?
Why is this article offensive?
Where is this article plagiarized from?
Why is this article poorly edited?