Saints vs. Giants: Final Report Card, Grades for New Orleans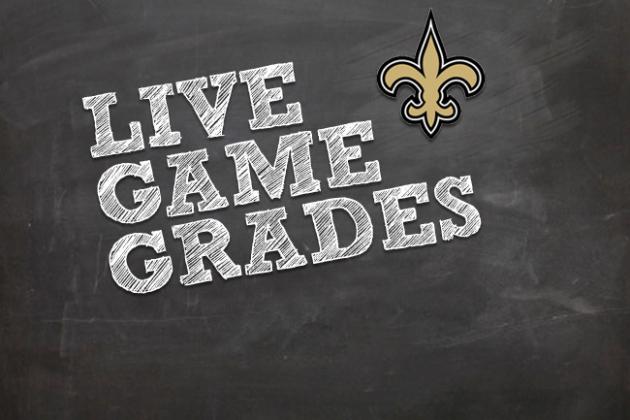 Final
New Orleans 27
It became very ugly in New York as the Giants opened up a 25-point lead on the New Orleans Saints. While the Saints continued to compete, there was zero chance this team could return to the lead on the scoreboard.
And there's zero chance the team can make the playoffs now. It's time to begin thinking free agency and draft for the Saints.
Begin Slideshow

»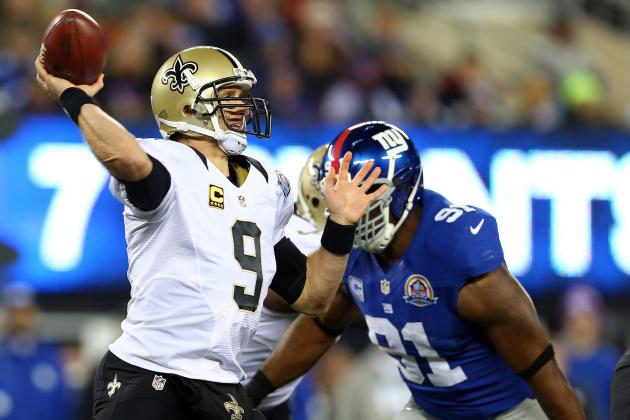 Elsa/Getty Images

Overall Game Grade--B+
Brees made some mistakes again. he really only made one noticeable mistake in the contest. Only one decision of his was questionable. That is a step in the right direction as related to previous weeks.
He also did a nice job of pushing the ball down the field. It's hard to be too hard on Brees when he clearly wasn't the problem in this contest.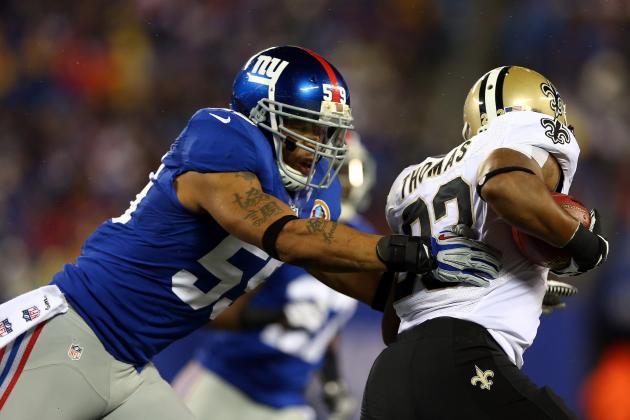 Elsa/Getty Images

Pierre Thomas—Grade—A
Pierre Thomas played so well in this game—both as a runner and receiver. His work between the tackles was matched by his efforts as checkdown option who made himself directly available in Brees' line of sight over the middle. The over-the-middle checkdowns had been missing from the Saints' offense much of this season. The return of such concept was a big reason Brees was more efficient in this contest. Thomas was scarcely used in the second half, of no fault of his own.
Mark Ingram—Grade—B+
Say what you want about Mark Ingram, but in his first half carries he looked explosive. His jump cuts and explosive burst was on full display for the entire nation to see. It was a key reason the Saints' offense had any success on Sunday evening.
Darren Sproles—Grade—A
Darren Sproles was used effectively—especially in the first half—on toss sweep plays to the edge where Sproles simply used his speed to create big plays. Unfortunately the play did not work on a third-and-short play near the end of the first half. But Sproles' speed was a key reason the Saints managed to stay close in the first half.
He was also used effectively on a delay draw in the third quarter to score a touchdown. He had another touchdown on a roll-out pass to the flat. He was used on a number of third-and-short situations, and used mostly effectively.
Chris Ivory—Grade—N/A
Chris Ivory missed the game due to a hamstring injury.
Travaris Cadet—Grade—C
Travaris Cadet had next to no impact on this football game, despite replacing Chris Ivory in the lineup. And his play as a returner was uninspired, at best.
Jeff Zelevansky/Getty Images

Marques Colston—Grade—B
The game had a bittersweet beginning for Colston as he beautifully found an opening up the seam on the Saints' initial third down opportunity. He made a wonderful catch but fumbled the ball back to the Giants right away. He found holes in the zone coverages employed by the Giants on third down. It was slightly different than the normal role he plays.
Lance Moore—Grade—B+
Lance Moore continued his role as a go-to receiver for Drew Brees. Brees has begun finding him more often on deeper routes over past few weeks. The result is that Moore will likely end up with a career-high in yards-per-reception.
Devery Henderson—Grade—C
Devery Henderson actually got open on a few occasions and made some catches. Still his impact was basically null in this one.
Joseph Morgan—Grade—B+
Joe Morgan struggled to get open against average Giants corners. That is until the third quarter when he found a hole deep, deep, deep in the Giants' zone coverage to hit a big play that led to a Saints' score. And then in the fourth he pulled his more routine circus-acrobat-style catch on a deep post route from Brees. It would be nice to see Morgan develop into a more consistent threat.
Courtney Roby—Grade—C-
Roby played, but cleary not effectively based on the horrible returns of the special teams units.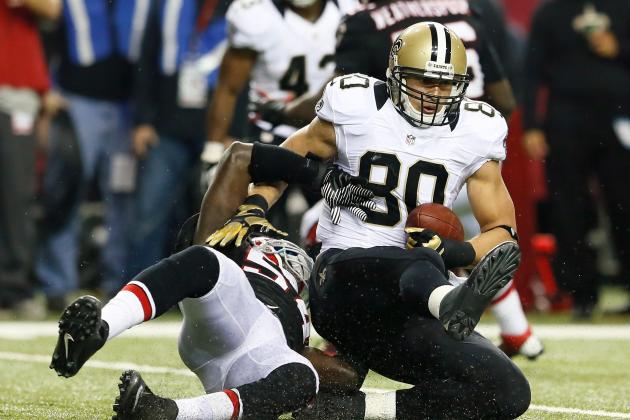 Kevin C. Cox/Getty Images

Jimmy Graham—Grade—B-
Jimmy Graham wasn't much of a factor in the first half. When thrown to, he hauled in the pass. But he wasn't getting open nearly enough in that half. His two third quarter drops pretty much eliminated any chance the team had to come back and shot them to death.
David Thomas—Grade—N/A
Thomas was hardly ever seen on the field. His effort was hard to qualify. He was flagged for a holding penalty, which seems to echo much of his season in 2012.
Michael Higgins—Grade—N/A
After playing for the first time all season one week ago, Higgins did not see action Sunday as he was officially inactive.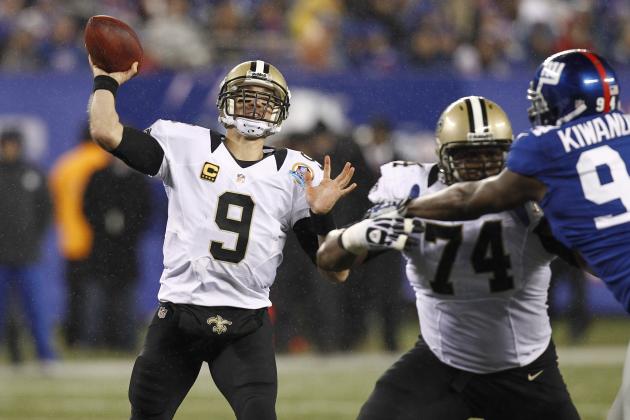 Jeff Zelevansky/Getty Images

LT Jermon Bushrod—Grade—C+
Bushrod whiffed on Sproles' toss sweep on a key third down in the first half. But his play in pass pro was more than commendable as held off a dynamic plethora of Giants' pass-rushers.
LG Ben Grubbs—Grade—B
Bushrod played pretty well for much of the game. Grubbs was a key cog in the Saints' effective pass protection. And his play on the backside of a number of zone runs created cutback lanes for Mark Ingram and Pierre Thomas.
C Brian de la Puente—Grade—B+
Brian de la Puente played his best game of the season as he regularly opened holes in the running game for Ingram, Thomas and Sproles. And the units' play in pass pro proves de la Puente did his job in that area of the game as well.
RG Jahri Evans—Grade—B
Jahri Evans helped Zach Strief out in the first half against Jason Pierre-Paul. That help was a big reason the Saints kept Brees aright most of the contest. And his work in the run game was clearly important.
RT Zach Strief—Grade—A-
Strief played probably his best football game as a starter, until he went down in the second quarter with yet another injury. He held Jason Pierre-Paul in check, with some help. And he helped open holes in the running game.
Charles Brown—Grade—N/A
Charles Brown did not play in this game.
Bryce Harris—Grade—N/A
Bryce Harris has been moved to the IR.
William Robinson—Grade—C
Robinson saw only a handful of snaps.
Eric Olsen—Grade—B
Olsen was not used nearly as often as he had been in previous games. The Saints limited their jumbo package usage in this game. The reason? Who knows for sure. When used, Olsen was more than adequate.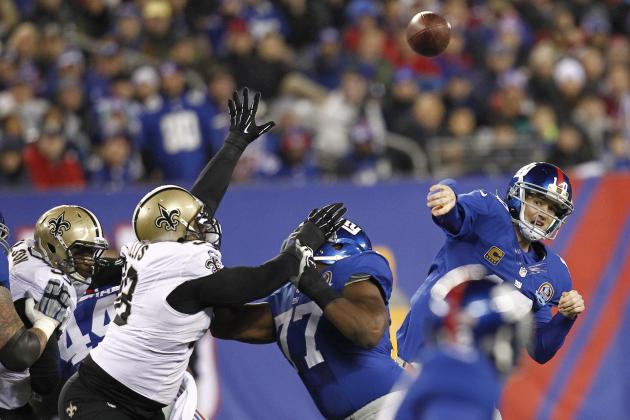 Jeff Zelevansky/Getty Images

DE Will Smith—Grade—B-
Will Smith did not appear to play a real key role in this contest. Unlike last week, that seemed to be a real indicator of the actual role he played, or lack of role that he played.
DT Brodrick Bunkley—Grade—C
Brodrick Bunkley saw a regression in his play from prior weeks, when his game had begun to equate the contract he was given this offseason. Sure, the Giants' running game was held in check. And that can certainly be attested to Bunkley. But his play did not stand out as it had in prior weeks.
DT Sedrick Ellis—Grade—C
Sedrick Ellis also regressed from the past two weeks when he seemed to be motivated by losing out on a contract offer from the Saints. In this game he looked like the same Ellis we saw in the seasons' first 10 weeks.
DE Cameron Jordan—Grade—B+
The numbers don't indicate Jordan's actual level of performance. He was regularly double-teamed by the Giants. Yet he still managed to make plays in the run game and was the only Saints' defender who even got near Eli Manning on the day.
DT Tom Johnson—Grade—B
Tom Johnson was the next best Saints defender in this game. His presence in the run game made life difficult on the Giants.
DT Akiem Hicks—Grade—B
Akiem Hicks did not make a ton of plays in this game. But his play was consistent. That's a regular theme for the rookie. That's a good sign overall.
DE Junior Galette—Grade—C
Galette's return had little impact on the defense. It didn't increase the teams' pass rush, as was hoped. And his play in the run game was nothing to brag about.
DE Martez Wilson—Grade—B
Martez Wilson saw fewer defensive snaps in this game, and the result was less production than in previous weeks.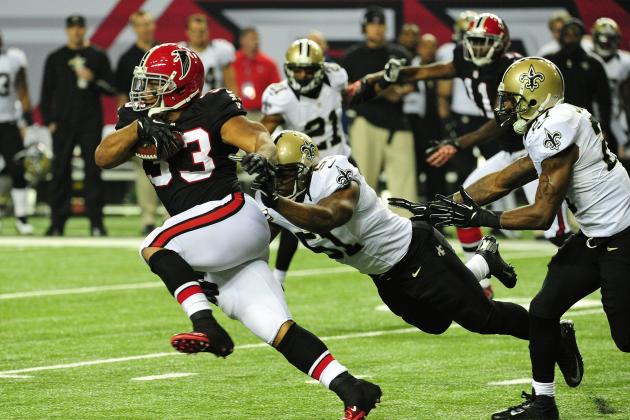 Scott Cunningham/Getty Images

MLB Curtis Lofton—Grade—B
Curtis Lofton was all over the field in this one. Unfortunately it didn't ultimately do much good. He failed to make any big plays, but did wrap up when given the opportunity.
OLB Scott Shanle—Grade—N/A
Scott Shanle did not play in this game, as he was officially inactive.
OLB Will Herring—Grade—Incomplete
Herring didn't play enough to warrant a grade.
Jonathan Casillas—Grade—B
Casillas was nowhere to be found in this one.
Jon Vilma—Grade—C+
Jon Vilma went to the locker room early in the contest, but returned even before the first quarter had ended. He made a few tackles, but his impact in this game was mostly negated by the Giants' offensive mode of attack.
David Hawthorne—Grade—B
David Hawthorne flew to the football with regularity, especially in the run game. He created some key stops behind the line of scrimmage and played well otherwise.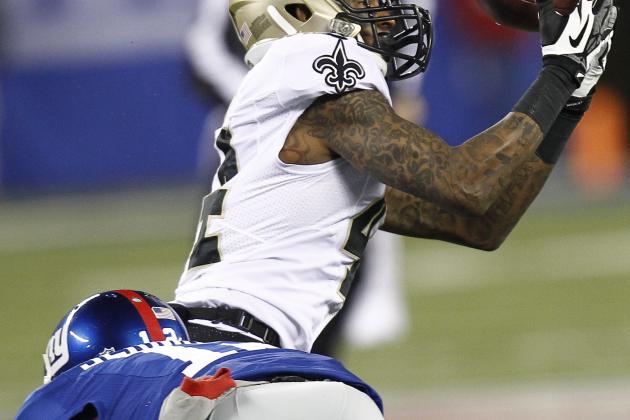 Jeff Zelevansky/Getty Images

CB Jabari Greer—Grade—B+
Jabari Greer played a third down pass perfectly on the opening possession of the game. The result was nearly an interception as he undercut a short skinny post. As the game progressed, the Giants identified Greer has a man to target in the passing game and he relented often.
CB Corey White—Grade—N/A
White is out again, due to an injury.
CB Patrick Robinson—Grade—A-
Patrick Robinson had a key pass interference penalty which led to the Giants' only offensive touchdown of the first quarter. But his coverage, overall, was strong. He has proven to be the teams' No. 1 corner over the second half of the season.
CB Elbert Mack—Grade—B
Mack immediately made amends for any wrong he may commit later in the football game when he stepped in front of a third down throw from Eli Manning and returned it 70-plus yards for the opening score of the ball game.
S Roman Harper—Grade—B-
Roman Harper was quick to come up in run support and make a tackle with his helmet on numerous occasions.
S Malcolm Jenkins—Grade—B+
Malcolm Jenkins was not the problem for the Saints' defense. That's a refreshing comment to hear, isn't it?
S Isa Abdul-Quddas—Grade—B
Quddas had a key interception that enlivened the defense and the entire team. It was by far his most notable play of the game. It was a big play, though.
S Rafael Bush—Grade—B
Bush saw more time in defensive sub-packages but did not have the same impact as in previous weeks.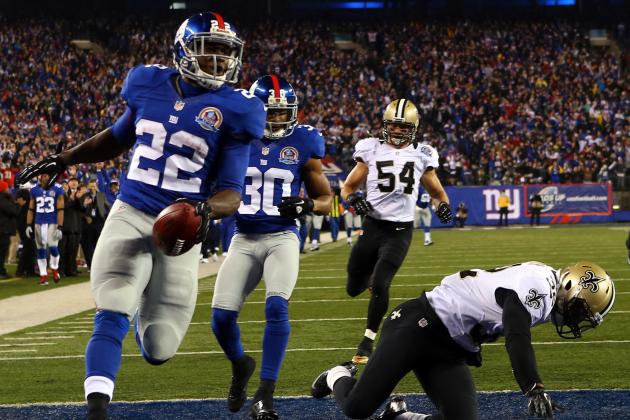 Elsa/Getty Images
The Saints saw way too much David Wilson on Sunday night in New York.
Overall Game Grade--C-
When a team sets a record for return yardage in a game against you, it was not a good day for your special teams unit. Must I say anymore?
P Thomas Morstead—Grade—C
Thomas Morstead had his worst outing of the season. His flat kickoffs, especially early in the contest, made life tough on the Saints' kickoff coverage units.
K Garrett Hartley—Grade—B+
Hartley kicked two field goals—one from close, one from long distance. He was money on both. He did the same thing last week. This week is more impressive given the wet conditions he faced in New York. Say what you will, but Hartley has been pretty consistent this season.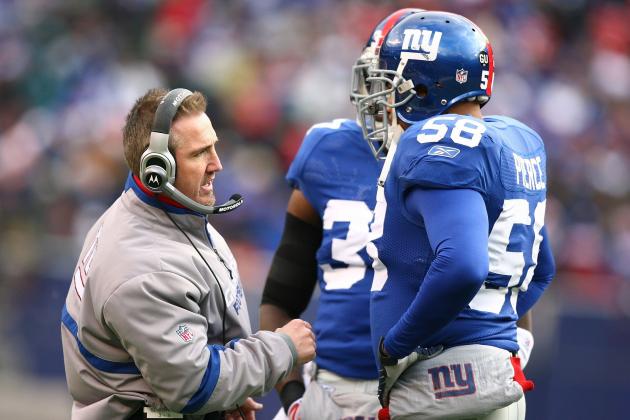 Al Bello/Getty Images

Overall Game Grade--B
Pete Carmichael stayed committed to the running game as long as was realistically possible. And his plan for the passing game was well thought out and mostly executed well.
Steve Spagnuolo's plan to slow the Giants' offense was also exceptional. Unfortunately, facing back-to-the-end-zone situations nearly every time the unit stepped on the field wore on the unit and ultimately broke its back.
The special teams' plan and execution was inexcusable. It was downright ugly, and that's probably putting it nicely.
Follow @BRwillosgood for Saints, Hornets (now Pelicans), NFL draft and other sports-related news, info, commentary and ramblings.