Scouting Reports on the Top 3 Prospects Moved During the MLB Winter Meetings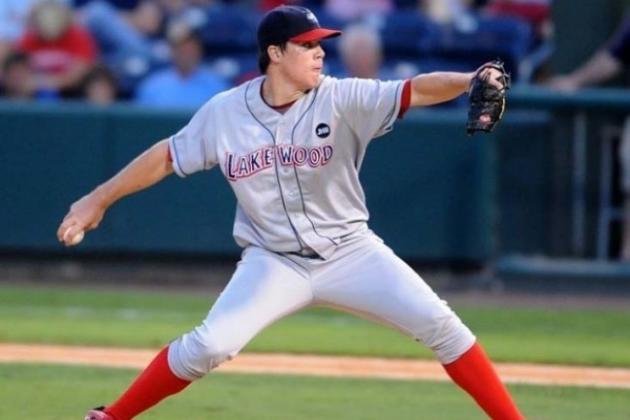 RHP Trevor May // Courtesy of MiLB.com
The Winter Meetings have come and gone, and, in general, they were a huge disappointment. Not only was there little that transpired on the free agent front, but the overall lack of trades—considering some of the monster deals that were rumored to be in the works—was especially surprising.
The one big-name prospect dealt this week was the Phillies' Trevor May, who was traded on Thursday along with Vance Worley to the Minnesota Twins. Beyond that there were a few under-the-radar acquisitions, with the Red Sox getting Kyle Kaminska from the Pirates, and the Pirates also landing Andy Oliver from the Tigers.
Here's a look at those three pitching prospects.
Begin Slideshow

»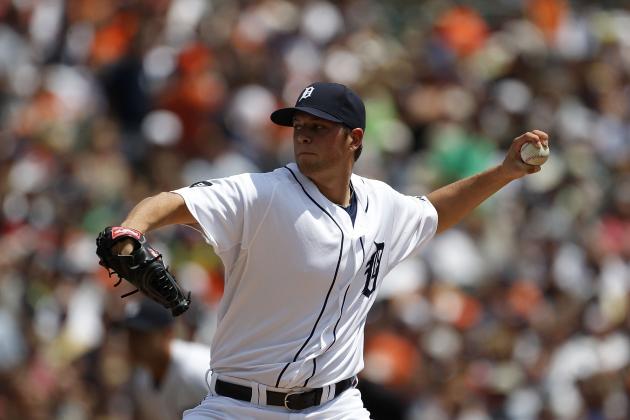 Leon Halip/Getty Images

A second-round draft pick of the Tigers in 2009, Andy Oliver was regarded as a highly polished left-hander capable of reaching the major leagues in a short amount of time. Well, he reached the major leagues in June of his professional debut in 2010, and posted a 7.36 ERA over 22 innings (five starts). However, he did pitch well in 130.1 innings (3.45 ERA, 8.2 K/9, 3.5 BB/9) between Double and Triple-A.
Oliver endured a significant regression in 2011 at Triple-A Toledo, registering a 4.71 ERA, 9.1 H/9 and 4.9 BB/9 in 147 innings. And, once again, he struggled in his lone opportunity in the big leagues with a 6.52 ERA, 2.8 HR/9 and 7.4 BB/9 over two starts.
His struggles continued in 2012, as he spent the entire season at Triple-A Toledo for the second straight year. Even though his hits allowed and home runs allowed rates decreased, the 25-year-old's walk rate shot up to a career-worst 6.7 BB/9. The excessive free passes ultimately led to a move to the Mudhens' bullpen over the second half of the season.
Oliver still has enough upside to consider using him as a starter; his fastball jumps out of his hand in the low-90s with late, arm-side action, and he still draws swing-and-misses with both breaking balls. I like this trade for the Pirates considering the Tigers clearly gave up on him last season and, therefore, made him a great change-of-scenery candidate.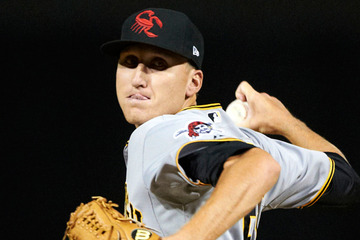 Courtesy of MiLB.com
I was pretty confident that Kyle Kaminska would change teams on Thursday as a Rule 5 draft selection. Well, I was partially right, I guess.
The Red Sox acquired Kaminska as the PTBNL from the Pirates on Thursday to complete the previous Zach Stewart trade. It's been a busy year for the 6'4" right-hander, who also was traded by the Marlins (to the Pirates) at the 2012 trade deadline.
The 24-year-old struggled as a reliever with the Marlins, registering a 5.11 ERA and 1.6 HR/9 in 49.1 innings for Double-A Jacksonville. But upon acquiring him, the Pirates put him back into the starting rotation and he posted a 1.69 ERA over three starts. Kaminska would then post a 3.00 ERA over 12 innings for Double-A Altoona.
Kaminska possesses an arsenal full of average pitches that all play up due to his excellent command. How good is his command, you ask? Well, he owns a 1.8 BB/9 rate in 488.2 career minor league innings. In my opinion, he's a great candidate for a long-relief role or perhaps even a few spot starts.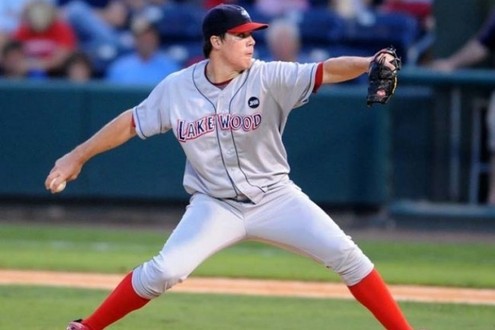 Courtesy of MiLB.com
The 6'5", 215-pound right-hander reached Double-A for the first time in 2012 after three straight seasons in A-ball. After an excellent first month of the season, May struggled to string consistent starts together and finished the year with a 4.87 ERA in 149.2 innings (26 starts).
Due to his size and release point, May throws a heavy fastball in the low-to-mid-90s and can reach back for a little extra when needed. In his three seasons across Low and High-A, the right-hander was able to blow away opposing hitters with elevated fastballs. However, said approach wasn't nearly as effective at the higher level, as reflected by his 1.3 HR/9 rate.
The command of his secondary pitches was also inconsistent. Although May possesses a hammer breaking ball, he tends to over-grip it and bury it. His changeup is an average pitch that's especially effective when he's locating his fastball down in the zone.
May's mechanics are still inconsistent and he'll lose the feel for his arm slot on occasion, but I am encouraged by the fact that the Phillies let him work through his issues at Double-A and gain valuable experience in the process.
Over the last week, the Twins have added a pair of much-needed power arms in Alex Meyer and Trevor May, both of whom possess substantial upside as a No. 2 or No. 3 starter in the major leagues.