Detroit Red Wings: Power Ranking the Red Wings' "Under-30" Forwards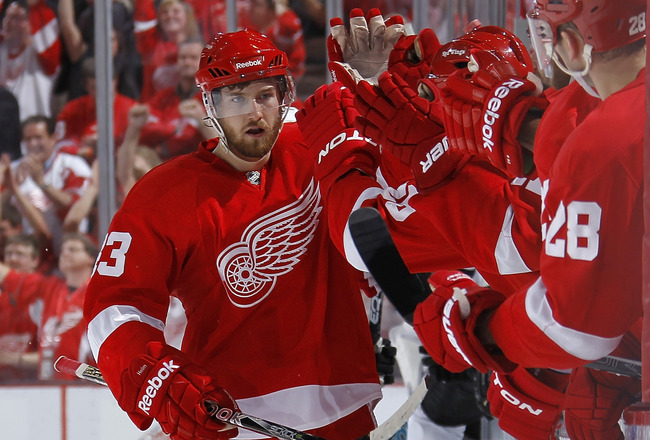 Gregory Shamus/Getty Images
The Detroit Red Wings have one of the best groups of forwards in the NHL.
Datsyuk, Zetterberg, Franzen and others highlight the roster's star players, but it is the fact that the Red Wings are so deep at the forward position that makes Detroit such a dangerous team to play against.
The depth at forward is created primarily by younger forwards on the roster, and younger in this case is under 30 years of age.
The play of the depth forwards will lead to the Red Wings' success (or failure) in coming seasons.
Here is a power ranking of the Red Wings' forwards who are not yet 30 years old.
(Spoiler alert: Tomas Tatar is not on this list as he did not play in the NHL last season.)
10th Best "under-30" Forward: Jan Mursak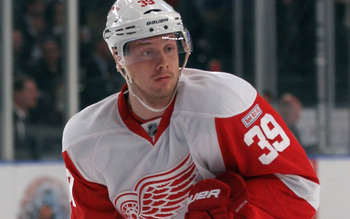 Bruce Bennett/Getty Images
Jan Mursak played just over seven-and-a-half minutes of ice time per game last year in 25 games. He also put up three points in those 25 games (via NHL.com).
Mursak was a sixth-round, 182nd overall selection in the 2006 NHL draft, but has never really bloomed into the player that the Red Wings hoped he would be.
This was no real fault of Mursak's as he broke his ankle in the preseason last year and didn't get back to playing time until January.
Mursak's size puts him at a disadvantage, especially at the left-wing position—a position where Detroit is already very deep in players.
His career with Detroit might not get off of the ground because of the other forwards who could be moved to play left wing instead of Mursak when hockey resumes.
9th Best "under-30" Forward: Cory Emmerton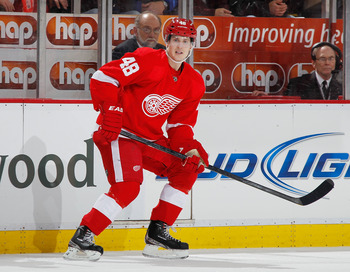 Gregory Shamus/Getty Images
There isn't really anything that jumps out off the page about Detroit's 2006 second-round selection, Cory Emmerton.
In 71 games played last year, Emmerton had six goals and four assists, averaging over eight minutes of ice time per night (via NHL.com).
Emmerton would be vying for the fourth-line center role, and if he could fill that void it would be huge as Detroit's Darren Helm could stay at the third-line center position.
Emmerton has to do a better job in the faceoff circle this season as he was just under 50 percent at home and just over 46 percent on the road.
For a fourth-liner, there's really nothing to like or dislike about the way that Emmerton player his first full season with the Red Wings, but he will have to make strides from his performance last year if he hopes to retain his fourth-line center position on a longer-term basis.
8th Best "under-30" Forward: Patrick Eaves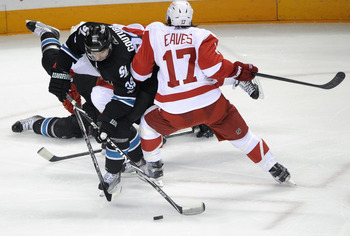 Thearon W. Henderson/Getty Images
Patrick Eaves' presence was greatly missed over most of last season. The right-handed right wing could have greatly helped on the Red Wings' third line.
Eaves took a huge slap shot to the side of the head in November of 2011 and has not played since then due to a concussion.
Eaves averaged 2.4 shots a game through 10 games last year to go along with 2.1 hits per game.
He only had one point to show for his efforts, but he was still missed last season.
Eaves has not played hockey in a while, so he falls lower on this list than he might otherwise be ranked.
7th Best "under-30" Forward: Justin Abdelkader
Gregory Shamus/Getty Images
Justin Abdelkader is listed as a "left wing" on his NHL player page, but realistically he could play center as well.
With only eight goals and 22 points last season while averaging over 12 minutes of ice time, Abdelkader's 56.42 percent home faceoff winning percentage could be a great asset to have at the fourth-line center position. Abdelkader is just under 50 percent on the road in the face-off department, but he is still worthy of consideration for a fourth line grind-it-out type of role.
Abdelkader signed a new contract extension just before the Collective Bargaining Agreement expired in September and he (and his 219-pound, big body) will cause matchup problems for opponents on the fourth line in Detroit.
6th Best "under-30" Forward: Drew Miller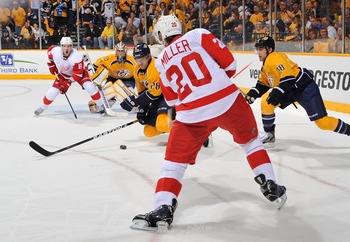 Frederick Breedon/Getty Images
Drew Miller won't show up in the score sheet that often for someone who averaged almost 13 minutes of ice time in 80 games last season.
But that doesn't mean anything when you consider the timeliness of his goals.
Miller had 14 goals and 25 points last year, but four of his goals were game winners.
The 28-year-old American also plays some stellar defense with a plus-17 in takeaways to giveaways as well as 79 hits and 66 blocked shots.
Miller is a complete player who plays a complete, but sometimes undervalued, game.
The only thing that separates Miller from being a great player instead of just a good player is that he needs to shoot more.
Fourteen goals on 131 shots on goal is higher than a 10 percent shooting percentage, but only taking 131 shots in 80 games (approximately 1.64 shots per game) means that he should be shooting more often instead of playing on the outside of the offensive zone (as shown above).
Miller is not a big guy, so it would be unreasonable to ask that he drive to the net to get his shots on goal, but every shot on goal helps the cause and Miller's shooting percentage would indicate that he needs to shoot more often than not.
5th Best "under-30" Forward: Damien Brunner
Damien Brunner's speed, shooting and deking were some of the best in the Swiss Elite League, and he put up 60 points in 45 games last year with EV Zug.
The 26-year-old center from Switzerland has a lot to offer the Red Wings organization once the NHL lockout is lifted.
Why is he only the fifth-best forward under 30 on this list?
Brunner's inexperience in North American leagues could limit him in what he can do physically. He will not be able to skate as freely in the NHL as he does in Switzerland's National League "A", and this could limit his point production.
Then again top-line forward Henrik Zetterberg and Brunner have been playing on the same line in Switzerland, and Brunner is on pace to demolish his personal record for points (60 points last season) as Brunner has 47 points in 26 games.
Can he bring that level of play back to the Red Wings if he comes over after the lockout?
That remains to be seen.
4th Best "under-30" Forward: Jordin Tootoo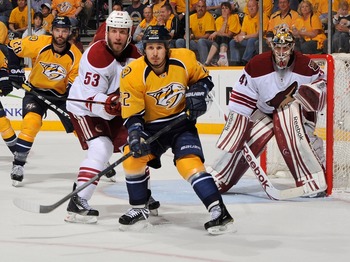 Frederick Breedon/Getty Images
The Red Wings would have struggled without Tomas Holmstrom this coming season. Holmstrom, not officially retired, will likely never play for the Red Wings again because his knees have deteriorated so much over years of hacking and whacking in front of the net.
Holmstrom not playing this season would take away a big part of the Red Wings' net-front presence, but before that happened, Red Wings GM Ken Holland was proactive and signed Jordin Tootoo on the first day of free agency (via Sportsnet).
Tootoo is an agitator and knows how to get under the skin of the opposition.
His 30 points last season are nothing to brush off, and he plays right wing, which will help out the Red Wings tremendously.
The Red Wings have a lot of skill in their lineup, but Tootoo brings some much needed grit to their organization and it will have significant consequences on their style of play going forward.
3rd Best "under-30" Forward: Gustav Nyquist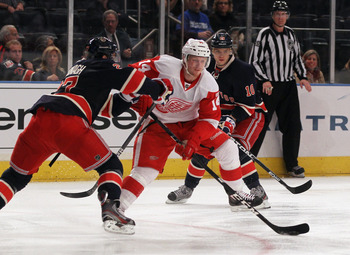 Bruce Bennett/Getty Images
The Detroit Red Wings' top NHL-ready prospect at forward is Gustav Nyquist.
Nyquist has all the offensive tools to be successful at the NHL level, regardless of whether it takes him a few years to break out and dominate the NHL.
The 23-year-old Swede has virtually his entire career ahead of him, but did contribute seven points in 18 NHL games last year.
This year, Nyquist is one of the leaders in the AHL in points, ranking 21st with 19 points in 20 games.
He is NHL-ready whenever the NHL is ready to resume play, and he will be fighting for a top-six spot amongst the forwards.
2nd Best "under-30" Forward: Darren Helm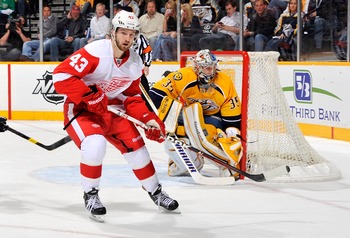 Frederick Breedon/Getty Images
Looking at what the Red Wings did without Darren Helm is all that needs to be done in order to see how vital he is to the Red Wings' success.
For the last 10 games of the season, the Red Wings were without Helm due to a knee injury. The Wings went 4-4-2 over those 10 games, looking thoroughly uninspired in the process. Helm started for Game 1 of the series against Nashville, but a freak injury after being cut by a skate ended his night and playoffs prematurely (via ProHockey Talk).
The Red Wings would go on to lose that series in five games; it was their earliest playoff exist since 2006.
Helm brings an extraordinary energy to the Red Wings lineup and fans at home games through his hitting game and ability to keep the puck away form opponents. This hitting game generates further opportunities and can change the flow of the game.
The Red Wings were both fortunate and wise to re-sign Helm to a four-year, $8.5 million contract (via Pro Hockey Talk).
Most Valuable "under-30" Forward: Valtteri Filppula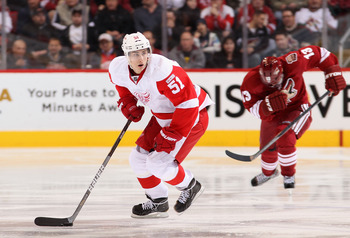 Christian Petersen/Getty Images
Filppula's breakout season last year sets him up to get paid nicely following the expiration of his contract this coming free-agency period.
He is just 28 years old, and his breakout campaign last year (23 goals, 43 assists and a plus-18 rating) was a big reason Detroit was successful for most of the season.
Filppula suffered a knee injury in mid-November (via Detroit Free Press). John Keating of Fox Sports Detroit later tweeted that Filppula had suffered an MCL injury.
The big question of sorts is whether Filppula's play will suffer.
I wrote an article earlier this year on Bleacher Report asking if his injury would damage the Red Wings' playoff chances, but by and large since the season is in doubt, the playoffs are not something that need to be thought about currently.
Filppula's return to full health will be key to a succesful season as Filppula was playing the second-line center position behind Pavel Datsyuk.
For more article updates, follow @isaacesmith91
Keep Reading

Detroit Red Wings: Like this team?