Oakland Raiders: Raiders' Biggest Winners and Losers from Week 14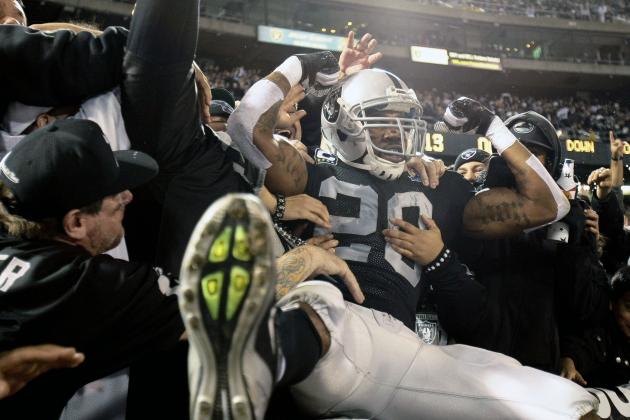 USA TODAY Sports
Darren McFadden saw his first action in over a month and scored a touchdown in Oakland's 26-13 loss on Thursday night.
The Oakland Raiders suffered their sixth straight loss of the season, losing to the Denver Broncos by a final score of 26-13 on Thursday Night Football.
The Raiders played with heavy hearts after learning about the death earlier in the week of head coach Dennis Allen's father. They were unable to slow down Peyton Manning and the red-hot Broncos.
Oakland was swept by arch-rival Denver and outscored 63-19 in the teams' two meetings this season.
The loss dropped the Raiders to 3-10 on the season, and the team continues to struggle on both sides of the football. Although Oakland lost by only 13 points, the game was close for only about five minutes in the second quarter.
The Raiders are in a downward spiral, and it's clear they will be there for a while. Let's take a look at Oakland's winners and losers from Week 14.
Begin Slideshow

»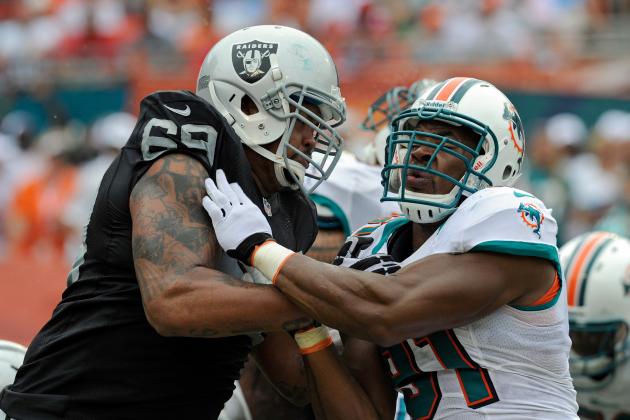 Steve Mitchell-USA TODAY Sports

Poor Khalif Barnes. He was completely lost trying to fend off Denver's Von Miller.
Barnes was beaten left and right all night long and couldn't protect Carson Palmer to save his life. When he wasn't letting defenders get to Palmer, he was picking up holding calls that stalled Raiders' drives.
Oakland has had offensive line problems all season long and it has cost them dearly.
Nobody was expecting Barnes to be able to contain Miller all night, but some sort of production would have been nice.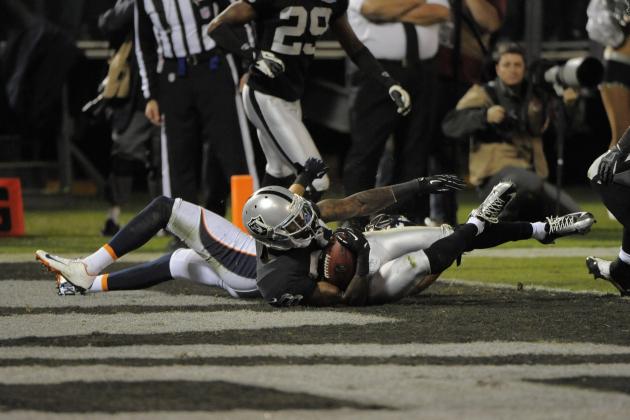 USA TODAY Sports

When Phillip Adams picked off Peyton Manning in the second quarter, it was almost as if he was playing wide receiver.
Adams leaped off the ground for the interception and gave the Raiders some life when they needed it most. He also finished with five tackles and two pass deflections.
Adams has interceptions in back-to-back games and has been one of few bright spots as of late in Oakland's defense.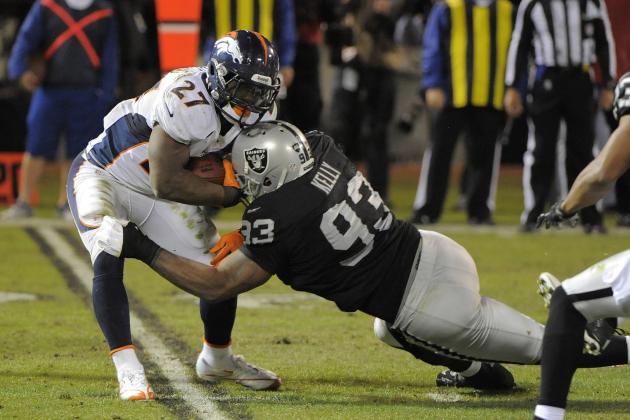 USA TODAY Sports

Once again, the Raiders couldn't contain the Broncos offense on third down.
From the opening drive when Philip Wheeler was called for holding on 3rd-and-5, Oakland struggled throughout the entire game and allowed Denver to extend its drives time after time.
The Broncos finished 7-of-14 on third down conversions, including a clutch 3rd-and-4 in the closing minutes to seal their eighth straight win.
Denver marched right down the field to generate the early momentum, thanks in part to multiple third-down conversions.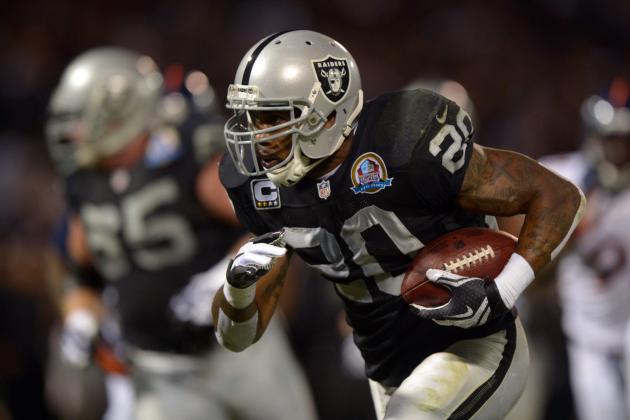 USA TODAY Sports

In the first action he'd seen since Week 9, Darren McFadden showed some signs of speed and relentlessness against the Broncos.
McFadden only had 11 carries on the night but averaged nearly five yards per carry.
He also found the end zone on a Carson Palmer dump off to bring the Raiders to within a touchdown in the second quarter.
McFadden's ankle looked fine as he turned the corner on stretch plays for nice chunks of yardage.
Once again, the Raiders were forced to play from behind the whole night and the running game never really picked up any rhythm.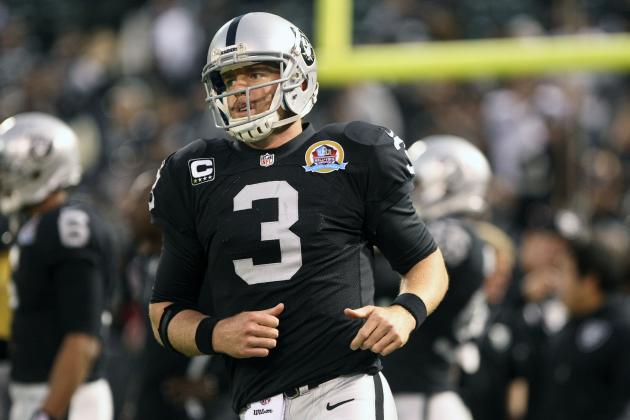 USA TODAY Sports

One of the Raiders' main problems this year has been their horrible struggles in the first quarter.
The story was exactly the same against Denver, as Oakland went three-and-out on its first drive after the Broncos reached the end zone.
The Raiders finished the first quarter with 2:55 of total possession. It was a complete early domination by Denver. Oakland won't win a game for the rest of the season if the team continues to struggle early.
Carson Palmer came into the game as one of only three quarterbacks in the NFL to have thrown at least 500 passes.
With their inability to score early plus a defense that can't stop a nosebleed, the Raiders have had to throw the ball for the majority of the game.
This is where their problems start.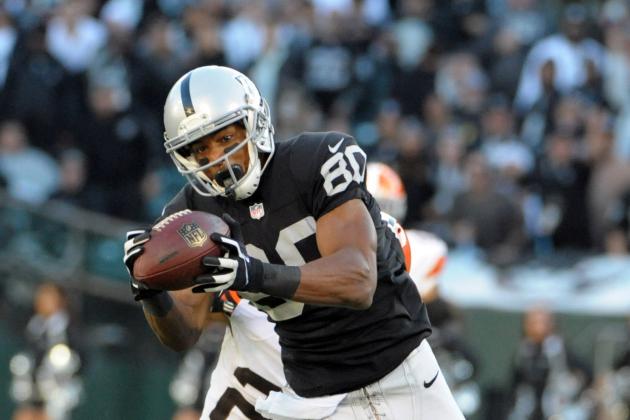 Kirby Lee-USA TODAY Sports

Oakland's undrafted rookie wide receiver has caught fire over the last weeks with a combined seven catches for 196 yards and a touchdown.
Streater was targeted a team-high seven times, and his 58-yard deep bomb from Carson Palmer gave the Raiders life when the Broncos were pulling away early.
Streater is quietly becoming a dangerous target for the Raiders. With defenses blanketing Denarius Moore and Brandon Myers, Streater will have his share of big games.
Honorable Mention: Darrius Heyward-Bey
DHB finished with five catches for 82 yards and had a huge 56-yard touchdown catch in the fourth quarter to keep the Raiders in the game.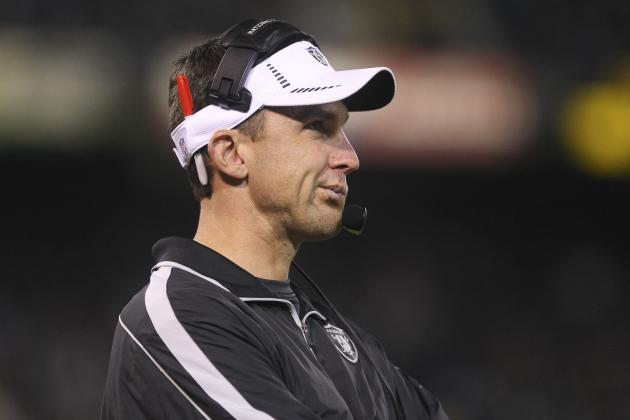 USA TODAY Sports

The Raiders are riding their longest losing streak since 2007 and were embarrassed by their divisional rivals in front of a national audience.
Denver ran 78 plays to Oakland's 47 and dominated every aspect of the game. The Raiders came out with intensity for most of the night, but once again they fell behind early and it stopped them from establishing a running game.
Speaking of the running game, the Raiders were outgained 140-61 and let Knowshon Moreno look like Arian Foster.
Oakland reverted to its old ways by getting flagged 11 times for 94 yards and failing to keep Denver off the field.