The Complete Bettor's Guide to NFL Week 14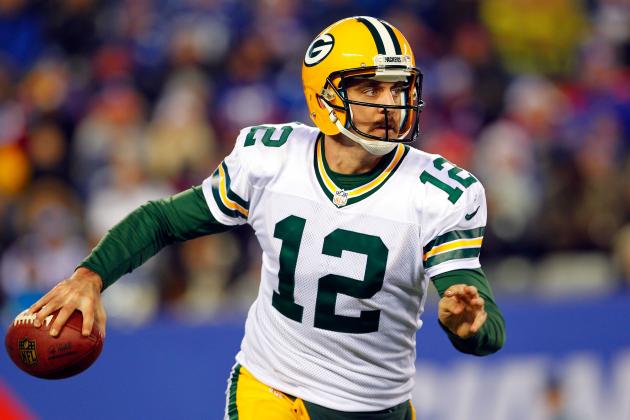 Rich Schultz/Getty Images

It's hard to believe, but there are just three weeks left to the 2012 NFL season.
Which means it's more important than ever to hit on all your bets in Week 14.
This week we see some close matchups and double-digit spreads alike. There's a wide variety of games, from defensive struggles to offensive shootouts.
And with every game, there's the always-challenging spread.
No matter how good of a bettor you are, outside opinions are always good. With the challenging picks in Week 14, this is especially true.
*All spreads come courtesy of FootballLOCKS.com
Begin Slideshow

»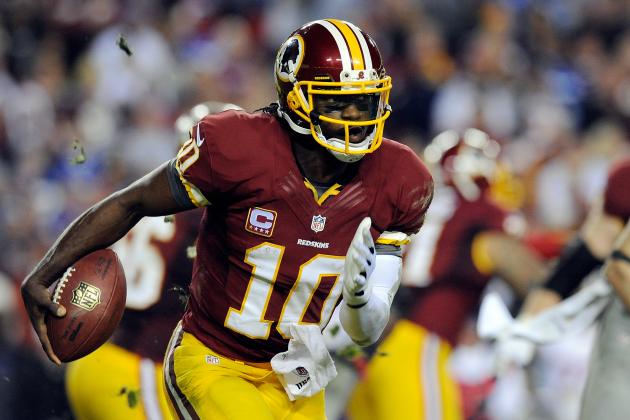 Patrick McDermott/Getty Images

Baltimore enters the contest at 9-3, but the team isn't nearly as good as its record suggests.
In fact, the Ravens are capable of losing to any team. If Baltimore can lose to the Charlie Batch-led Steelers, it can lose to the Redskins.
Robert Griffin III presents a challenge for the Baltimore defense, which has struggled to contain the pass. We saw the Redskins beat the Giants last week, and they can beat the Ravens now.
With a spread this small, you're essentially picking the winner. Washington is on a roll right now, and the Ravens are showing signs of weakness.
Pick: Washington Redskins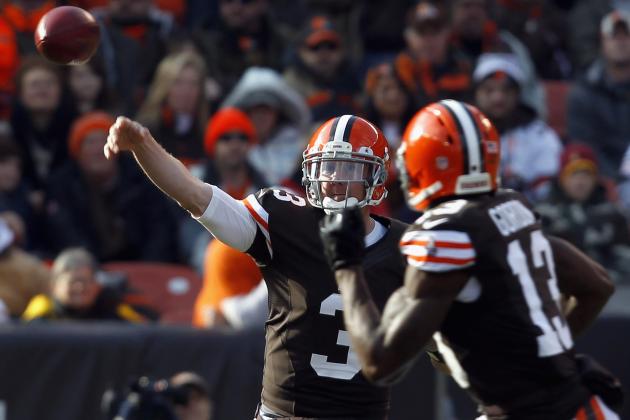 Matt Sullivan/Getty Images

Despite a win over the not-so-powerhouse Panthers last week, Kansas City is still at the bottom of the NFL.
Cleveland isn't a playoff team itself, but they're better than the Chiefs.
The Browns are coming off two straight wins, and the offense is actually moving the ball. Cleveland's defense should prove capable of stopping Kansas City's Brady Quinn-led offense.
This isn't exactly a small spread, but at home, the Browns should be able to cover. There is that big of a gap between the two teams.
Pick: Cleveland Browns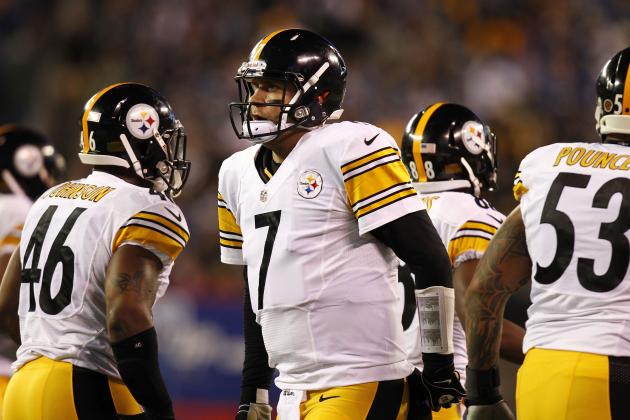 Jeff Zelevansky/Getty Images

Ben Roethlisberger is back, and the Chargers are in trouble.
Pittsburgh beat the Ravens last week with Charlie Batch at quarterback, and it should be able to topple the Chargers now.
San Diego is in the midst of a rough season, as the team has struggled to move the ball all year. Against the Steelers' top-ranked defense, the Chargers probably won't have any more luck.
Even without Roethlisberger, Pittsburgh would have a shot at the victory here. With him, it seems like a sure thing.
Pick: Pittsburgh Steelers
Jim Rogash/Getty Images

Indianapolis has shocked everyone this year and seems poised for the playoffs. Andrew Luck and the Colts continue to put up points, and the defense hasn't been as terrible as expected.
Tennessee, on the other hand, is in the midst of another disappointing season. The Titans have struggled on both sides of the ball and are clearly worse than the Colts.
This is a surprisingly small point spread, given the obvious gap between the two teams. Roll with Indianapolis here.
Pick: Indianapolis Colts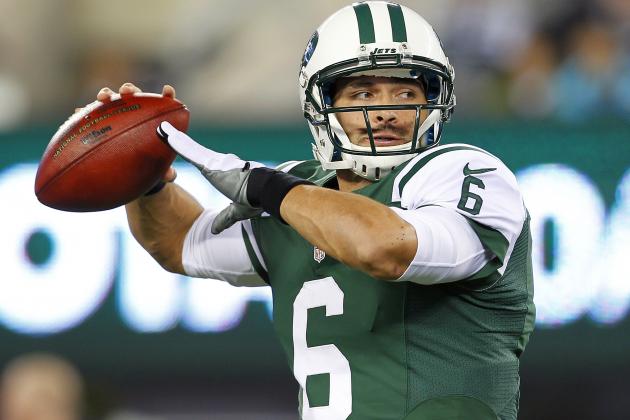 Rich Schultz/Getty Images

Here is a game between the worst of the worst. The anemic Jets against the all-around awful Jaguars. It's a battle for the ages.
Expect terrible performances from both teams, here. Neither offense will score much, so the game should come down to just a few points.
In a contest with two terrible offenses, it's best to side with the better defense. In this case, that is clearly New York.
Pick: New York Jets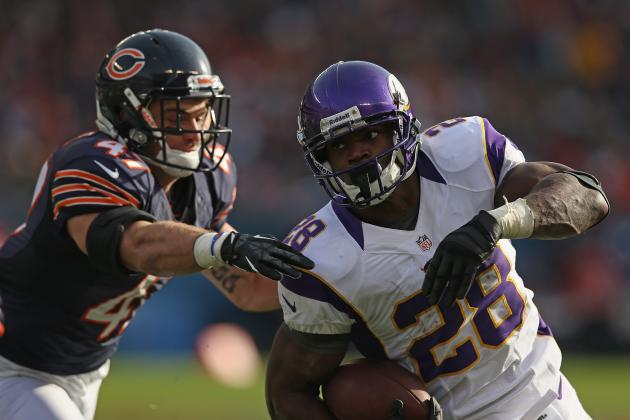 Jonathan Daniel/Getty Images

Despite having an all-around excellent defense, the Bears aren't great at stopping the run, allowing 4.5 yards per carry on the year.
Oh, and the Vikings just happen to have Adrian Peterson on offense.
That's not a mismatch or anything.
Christian Ponder's presence certainly hurts Minnesota's chances, but the team will probably run the ball quite a bit. On the other side of the ball, Chicago's offense hasn't done anything extra as of late.
This game didn't go well for the Vikings in Chicago, but they might look better on their own turf.
Pick: Minnesota Vikings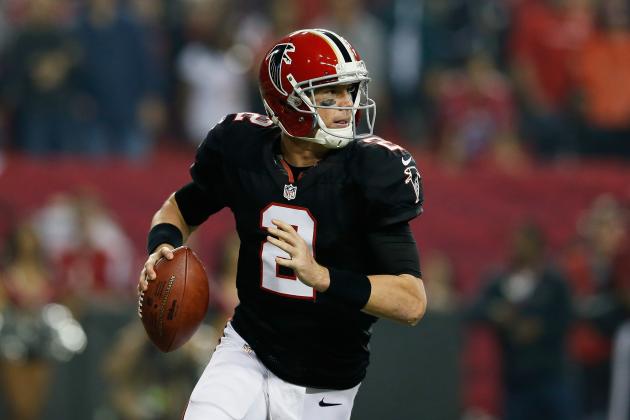 Kevin C. Cox/Getty Images

This spread seems way too small.
Carolina has had a pretty terrible season, struggling on defense and merely average on offense. Atlanta, on the other hand, is playing excellently and currently stands at 11-1.
The Falcons should be able to pass on the Panthers, though they have the No. 8 pass defense in the NFL. Carolina will struggle more on offense, going up against a decent pass defense with a much less successful offensive attack.
Simply put, Atlanta is 11-1 and the Panthers are 3-9. Don't over-think this.
Pick: Atlanta Falcons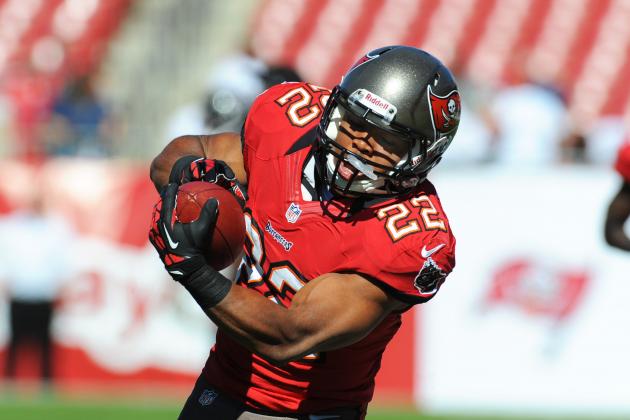 Al Messerschmidt/Getty Images

Right now, the Eagles are possibly the NFL's worst team. Having lost eight in a row, Philadelphia is in the midst of a pretty impressive streak.
Tampa Bay, on the other hand, has actually been playing pretty well, in spite of its No. 32 pass defense. The Buccaneers' offense has been rolling, leaning heavily on rookie running back Doug Martin.
Tampa Bay isn't an elite team by any stretch, but they should be able to easily defeat the Nick Foles-led Eagles.
Pick: Tampa Bay Buccaneers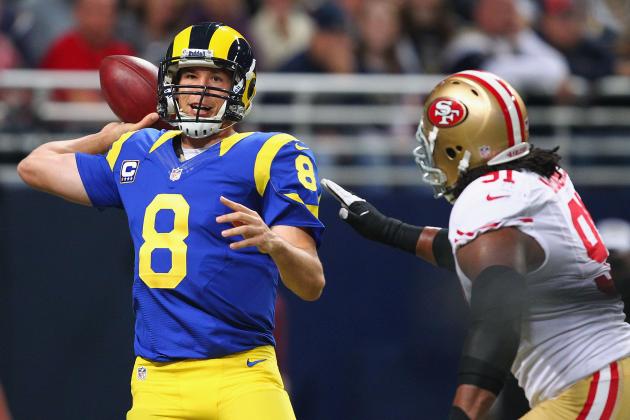 Dilip Vishwanat/Getty Images

Last week, the Rams took San Francisco to overtime for the second time this year. That alone shows how capable St. Louis is of beating good teams.
And Buffalo, if you weren't aware, isn't a good team.
Neither the St. Louis nor Buffalo is a particularly good team, but the Rams certainly have the superior defense. Also, Sam Bradford has actually been playing pretty well lately and should be able to make some plays against Buffalo's secondary.
This game could be close, as neither team is really much better than the other. However, St. Louis is slightly more talented and has been playing better in recent games.
Pick: St. Louis Rams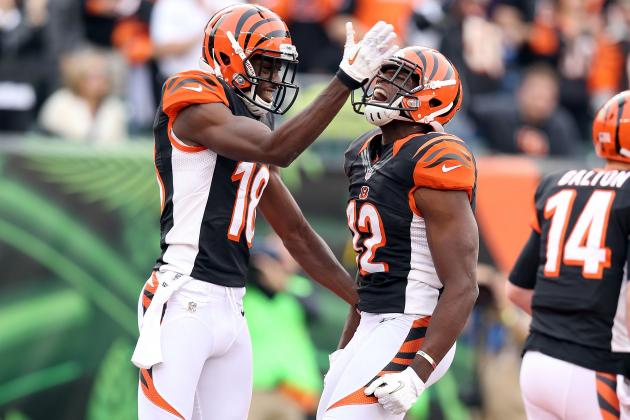 Andy Lyons/Getty Images

Here, we see two decent but far-from-great teams face off. This game could go either way, but the matchup sways slightly in Cincinnati's favor.
Dallas' biggest weakness is its interior offensive line. The Bengals just so happen to have the NFL's best defensive tackle in Geno Atkins, who looks to wreak havoc for 60 minutes against the Cowboys.
The other individual matchups sort of trade back and forth, though A.J. Green should be able to come through with a huge game. Atkins, however, just might make the difference.
Pick: Cincinnati Bengals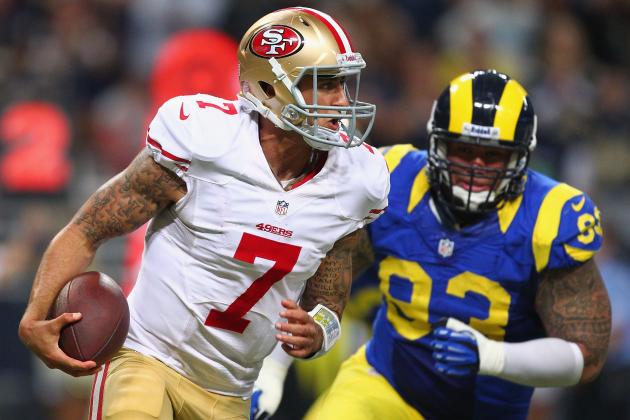 Dilip Vishwanat/Getty Images

Lately, the 49ers have proven one thing: they're beatable.
If the Rams can do it, the Dolphins certainly can.
With that said, expecting Miami to upset San Francisco would be foolish. Fortunately, there's a 10-point spread to take care of that.
San Francisco will struggle to run against the Dolphins' dominant run defense, but Miami will struggle to do much on offense itself.
The 49ers should still win this game, but the Dolphins have a good shot at beating the spread.
Pick: Miami Dolphins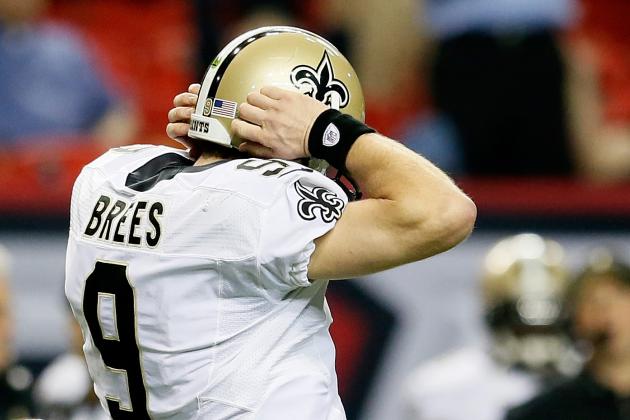 Kevin C. Cox/Getty Images

Both of these teams have dominated at times and struggled at others. Their 2012 seasons have been riddled with inconsistency.
New York and New Orleans are capable of going off for 40 or more points at any given moment, but way too frequently have failed to put up much offense at all. Because of this, it's rather difficult to predict this game.
When playing at their best, the Saints are hard to stop. New York's pass defense certainly shouldn't be able to contain Drew Brees. With the spread on their side, the Saints are the correct pick.
Pick: New Orleans Saints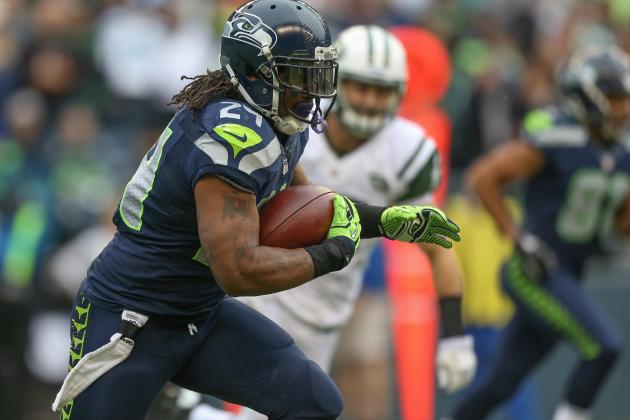 Otto Greule Jr/Getty Images

A 10-point spread is pretty huge, even here.
The Seahawks will be without cornerback Brandon Browner, which gives Arizona a slightly better shot at victory. Even now, though, John Skelton seems unlikely to lead the team to victory.
Seattle has combined a terrific rushing offense with an efficient pass game to be slightly-below-average offensively. But the team's defense makes the difference, and Arizona will struggle to score.
The Seahawks are also going against an excellent defense, however, and may struggle to gain a 10-point lead.
Pick: Arizona Cardinals
Jonathan Daniel/Getty Images

Before the 2012 season began, not many would have predicted Detroit and Green Bay would have just 12 combined wins through 13 weeks.
Both teams retained their explosive offenses, but they have been streakier, and the defenses have been bad. On the whole, though, the Packers have been considerably better.
Playing at home, Green Bay is deservedly the favorites. Aaron Rodgers should be able to pick apart Detroit's secondary, and the Packers' main defensive fault—their run defense—isn't at huge risk, due to Detroit's non-elite rushing attack.
With high-powered offenses like these, this game could go either way. However, the spread isn't too big, and the better team is playing at home.
Pick: Green Bay Packers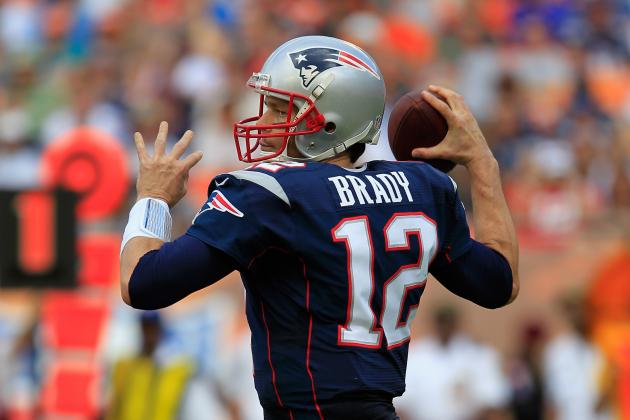 Chris Trotman/Getty Images

Houston's defense has been terrible lately, largely due to the absence of star cornerback Johnathan Joseph. Joseph may return to face the Patriots, but he still won't be at full strength, and the Texans are missing other defensive starters.
New England has been rolling lately, as its offense seems to have found its stride. With the Texans' defense in shambles, this shouldn't change.
The Patriots' defense hasn't been great by any means, but they gain an advantage with their superior offense. This game should be a high-scoring game, and it could go down to the wire, but the Patriots are the favorite for good reason.
Pick: New England Patriots