Army-Navy Game 2012: Live Score, Results and Analysis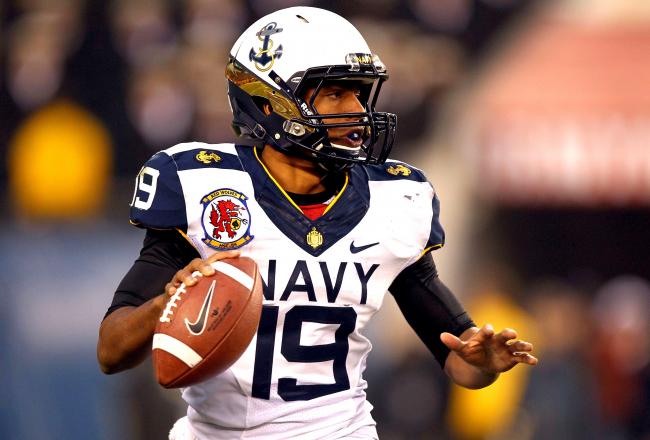 Army 13, Navy 17: Final
Navy got to have their anthem played last. They win the 11th straight year in one of college football's oldest rivalries. Army went down in one of the hardest fought games that has been played this season.
Keenan Reynolds and Trent Steelman had a triple option quarterback duel for the ages as both offenses gained over 275 yards. In the end, Reynolds was just better today as his ability to both pass and run set up a touchdown with just four and a half minutes left.
The heavy amount of turnovers and well played defense contributed to the victory. But the play that truly set it apart was the fumble at the end by Steelman that gave the ball to the Mids with just one minute left and no timeouts.
A ton of respect and love goes out to both teams, however. Because at the end of the day, they both represented what is great with American football. The drive, determination and heart shown on both sides of the field showed that every player on that field deserved to be out there.
Scott Carasik is a Featured Columnist for Bleacher Report. He covers the Atlanta Falcons, NFL and NFL Draft. He is also the Falcons analyst at Drafttek, runs the NFL Draft Website ScarDraft.com and hosts Kvetching Draftniks Radio.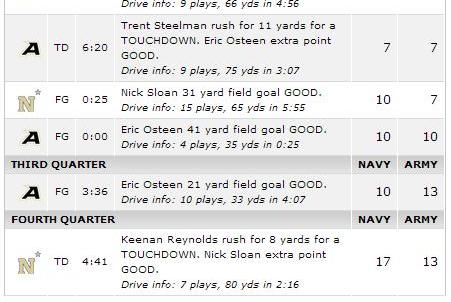 Graphic Courtesy ESPN.com
A big thank you to the players at both West Point and Annapolis. Great game and love the effort from both sides. I wish more games around college football would be able to show the effort and emotion shown today.
Amazing how each year the #Cadets and #Midshipmen teach us about true commitment and total effort. Impossible to play harder. #ArmyNavy

— Paul Kennedy (@PaulKennedyFOX) December 8, 2012
With just two minutes left and the ball on the 25, Raymond Maples brought it inside of the 20-yard line. A Trent Steelman run brings it to the 14 with just 1:18 left in the game.
Then on 1st-and-10 from the 14, Army fumbled the ball and it was recovered by Navy. Navy downs it twice to end the game.
Army 13, Navy 17: Final
Army is getting in the groove after that timeout was taken. They need to continue to grind some clock but the continued movement has been great. This is going to be a finish for the ages no matter who wins.
In what could have been a scary play, Army almost coughed the ball up to Navy on the kickoff. After a couple of miscues, Army had to call a timeout.
It's tough playing in these big games. In moments like this, resolve and intestinal fortitude are always tested. A time out helps them settle their nerves a bit.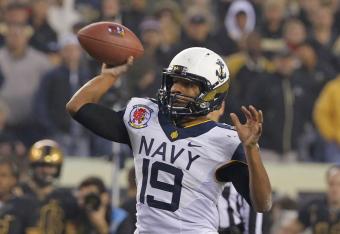 Navy went away from running again, and Keenan Reynolds had two busted plays that he turned into a rushing first down. Then, after pass protection finally got it together, Navy finally connected on that pass to Brandon Turner to set up a goal-to-go situation.
Keenan Reynolds then ran a quarterback sweep to the right for a touchdown to bring Navy ahead.
Army 13, Navy 17: 4:41 4th Quarter
A short run and a failed pass set up a 3rd-and-8, but Keenan Reynolds had an excellent pass to get the first down. This may just be a game yet.
Army definitely missed an opportunity. They could have turned it into a game where a touchdown was needed. Instead, Navy just needs a field goal to tie or a touchdown to win.
Army doesn't make it easy to watch...questionable play calling. Step up big here D! #armynavy

— Mike Davis (@Doctor__Davis) December 8, 2012
SMH... Army, you've had so many opportunities to put this one away, yet it's still just a 3 point game... #ArmyNavy

— Dennis Barker Jr (@DennisBJr865) December 8, 2012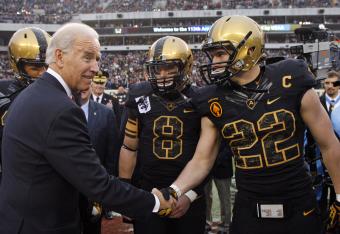 Raymond Maples, Malcolm Brown and Trent Steelman took the ball down the field and pushed hard. They ran the ball with great vengeance and furious anger. Well, really just drive and determination, but you get the point.
They brought it within the 25-yard line but couldn't capitalize and have to kick another field goal. Eric Osteen misses the 37-yard attempt.
Trent Steelman carries it like a loaf of bread. However, he is managing the offense and getting yardage on the defense. Army fans have to be asking themselves this:
Not trying to speak too soon, but is the streak finally going to end? #ArmyNavy

— Dennis Barker Jr (@DennisBJr865) December 8, 2012
After another pair of runs set up a 3rd-and-6, Navy missed a pass to set up yet another punt. Army took back over at their own 14-yard line.
Navy has to get a stop here or even force a fumble to win.
Army just has to control clock and score a touchdown on a long drive. If they can hold it for seven minutes and score a touchdown here, Army should win in an upset.
Navy is slowly driving down the field. The run-run-pass pattern of the offense beat them on the first series of downs. Another broken play allowed Keenan Reynolds to have a ridiculously good running play.
While there is an injury timeout, people have been asking all day about the Marine Corps. Don't fret, ladies and gentlemen. They are being represented.
The Marines are part of the department of the Navy and their officers graduate either from the Naval Academy or a non-sponsored military college like the Citadel, VMI, Norwich or Texas A&M's corps of cadets.
Navy has 28 seniors: 18 will be commissioned Ensigns in the Navy, 10 will be commissioned 2nd Lieutenants in the Marine Corps. #ArmyNavy

— Jonathan Lai (@Elaijuh) December 8, 2012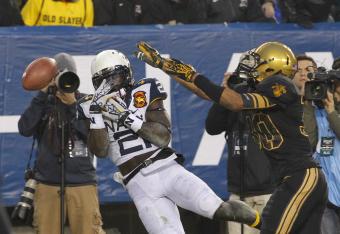 Another three-and-out forced by the Navy defense and a short run will bring us to the end of the third quarter.
Army 13, Navy 10: End 3rd Quarter
The Navy offense started out well moving the ball to their own 41, but they got stuffed short on a 3rd-and-5 play. Then a false start forced Navy's hand into a punt.
Yes, Wave Ryder is in the conversation for the best name in college football right now. It's hilarious seeing the responses on twitter.
Navy has a guy named Wave Ryder from Hawaii. Pretty much the perfect name for him on all levels #ArmyNavy

— Zach Gold (@ZG628) December 8, 2012
A defensive player for #Navy has the name Wave Ryder, that's awesome! #ArmyNavy

— Spencer Blane Ewing (@SpencerEwing28) December 8, 2012
Who would you say has the best name in college football?
Leave it in the comments section!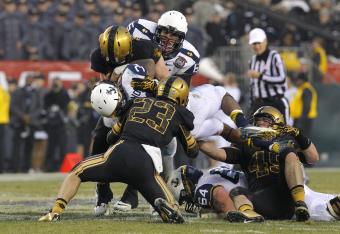 Army is continually running the ball inside then outside. It's such an obvious pattern. The Navy defense just can't stop it right now. It's time to have the defensive coordinator point it out.
Once the ball got down to the goalline, Nave stuffed Army's offense.
Eric Osteen hit the chip shot field goal to take their first lead.
Army 13, Navy 10: 3:36 3rd Quarter
After a pair of runs, Keenan Reynolds fumbled the ball again. He looks hurt. That's not good at all if Navy wants to win the game. He's the main component of the offense and is why the team has been so good.
Both teams need to stop fumbling the ball. This game is going to come down to one, and Dan Hope agrees with me there.
Judging off the first 2.5 quarters of this game, I think #ArmyNavy is going to be decided by a fumble, one way or the other.

— Dan Hope (@Dan_Hope) December 8, 2012
Navy has another great stop on the next drive forcing a long passing play and then getting a sack. They will take back over around their own
Army needs to pass the ball a little bit more. Otherwise, they won't be able to throw off the Navy defense at all.
After a couple of good run plays were stuffed by Army, another punt by Navy on the drive.
This is showing to be a close matchup and one of the few instant classics of this season. Who do you think wins this game?
Now that we're back from halftime, Navy fumbled the ball for the first time of the game, but it was recovered by an offensive lineman.
Then, an Army fumble gave the ball back to Navy around midfield. These teams have to hold onto the ball better. These hits are going to be nasty, but as a player, you can't drop that ball.
The classic matchup of these teams has had twitter abuzz about the awesome uniforms in the game. I have to agree. These uniforms are both classic and I'd love to get a No. 9 for myself in both jerseys.
The #ArmyNavy game always brings out the 2 coolest uniforms of the season, which is the way it should be. #America

— Jeff Zabrin (@JZabe) December 8, 2012
Navy's uniforms are awesome.Actually, so are Army's.Nice.#ArmyNavy #USA

— A.J. Haase (@AJ_Haase) December 8, 2012
This article is
What is the duplicate article?
Why is this article offensive?
Where is this article plagiarized from?
Why is this article poorly edited?