Winter Meetings 2012: Report Card Grades for Every Impact Deal
Leon Halip/Getty Images
Mike Napoli was one of the big signings of MLB's winter meetings.
Baseball's winter meetings for 2012 are finished, and the annual pow-wow didn't produce many splashy headlines.
There were no big free-agent signings like last year, when Albert Pujols and C.J. Wilson signed with the Los Angeles Angels or Jose Reyes and Mark Buehrle inked deals with the Miami Marlins. No big three-team deal like the one we saw in 2009 among the New York Yankees, Detroit Tigers and Arizona Diamondbacks.
This year's winter meetings were more notable for what didn't happen. Neither Zack Greinke nor Josh Hamilton signed with anyone. The multi-team trade involving the D-Backs and Texas, and perhaps the Tampa Bay Rays, Kansas City Royals or Seattle Mariners, never materialized.
Yet there were several notable transactions that were made in Nashville, Tenn., ones that help build the Boston Red Sox back up, strengthen the Washington Nationals and maintain a championship team with the San Francisco Giants.
Who made the best moves of the 2012 MLB winter meetings and which signings were curious—or even disappointing? Here, we hand out letter grades for the impact moves that were made over the past four days in baseball.
Begin Slideshow

»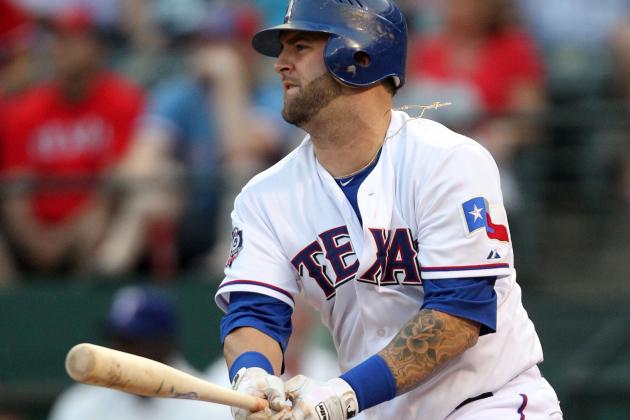 Layne Murdoch/Getty Images

The Boston Red Sox kicked off the winter meetings by signing the first baseman and a right-handed power hitter the lineup needed.
Mike Napoli will be the Red Sox's primary first baseman and will see some time at catcher with Jarrod Saltalamacchia and/or David Ross. His right-handed bat also pairs nicely with David Ortiz in the middle of the Boston batting order.
Giving Napoli a third year on his contract raised some eyebrows, since the Texas Rangers weren't willing to go over two years in a deal. But Nick Swisher likely would have cost more in terms of years and money. Napoli also won't wear down playing more at first base than catcher.
Additionally, Napoli likes to pull the ball and hit many fly balls. Fenway Park is ideally suited for that swing. He'll hit more home runs than he did with the Rangers and should put up numbers closer to the .320 average, 1.046 OPS and 30 homers he totaled in 2011.
Grade: A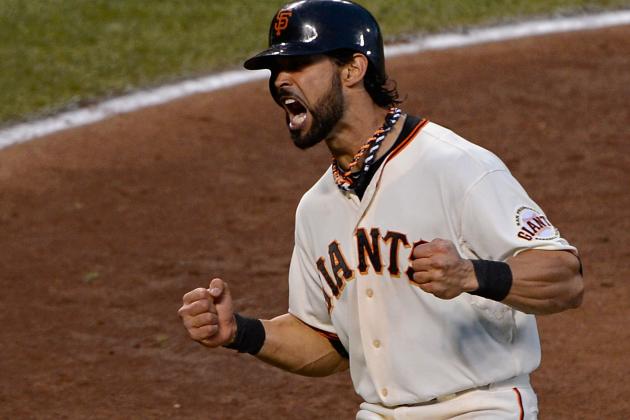 Thearon W. Henderson/Getty Images

Keeping their World Series championship team together was important for the San Francisco Giants. If general manager Brian Sabean couldn't do that at the very least, the offseason would be considered a failure.
The Giants were a better team with Angel Pagan batting leadoff and playing center field. He provided an on-base and speed threat at the top of the lineup for the big bats like Pablo Sandoval, Buster Posey and Hunter Pence to drive in.
Flashier center fielders and bigger names such as Josh Hamilton and Michael Bourn were available on the free-agent market. While those players were arguably upgrades in terms of power or speed, the Giants knew what they were getting with Pagan.
His four-year, $40 million contract even looks like a relative bargain compared to the five-year, $75.25 million deal B.J. Upton signed with the Atlanta Braves or even the three-year. $39 million package Shane Victorino received from the Boston Red Sox.
Four years might be a bit much in the contract, but that was the difference between Pagan returning to the Giants and moving to the Philadelphia Phillies.
Grade: A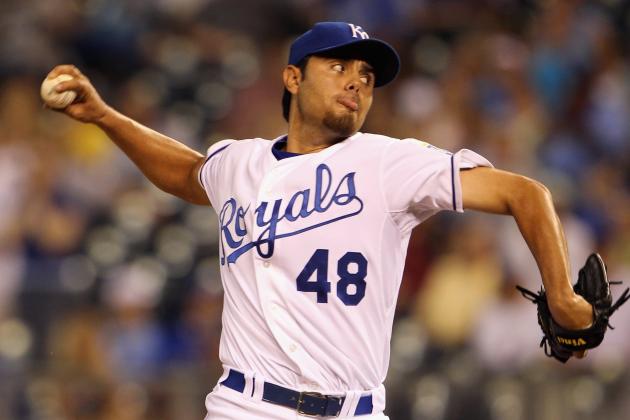 Jamie Squire/Getty Images

Joakim Soria signing a two-year, $8 million deal with the Texas Rangers was one of the quieter moves of the winter meetings. But it could turn out to be one of the most important.
The Rangers needed a right-handed reliever to replace Mike Adams and Koji Uehara while Alexi Ogando moves back to the starting rotation and Neftali Feliz recovers from Tommy John surgery.
Soria is working his way back from reconstructive elbow surgery as well, but he underwent the procedure earlier this year and is expected to be ready to pitch by May. Ideally, he'll be able to set up for Joe Nathan in later innings and should take over as the Rangers closer in 2014.
Signing Soria to more than a one-year deal was something of a surprise as he seemingly would have used this season to prove he's healthy and rebuild his value.
But the Rangers clearly think Soria will be all right, and they signed Nathan to a similar contract in 2011. That move worked out for Texas, and this one should as well.
Grade: B+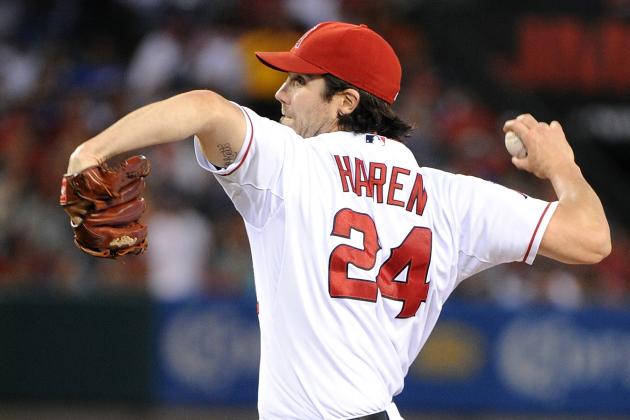 Lisa Blumenfeld/Getty Images

As it turns out, Dan Haren was fortunate that the Chicago Cubs were concerned about the condition of his hip, as ESPN's Buster Olney reported.
The Cubs had a deal in place to acquire Haren from the Los Angeles Angels in exchange for reliever Carlos Marmol, but they eventually decided to pull out of the trade.
Instead of picking up his $15.5 million option, the Angels bought Haren out for $3.5 million.
Rather than having to go to a certain last-place Cubs team, Haren could instead choose where to play next season. The Boston Red Sox were reportedly interested in Haren, but ESPN Boston's Gordon Edes reported that the price was considered too high.
The Washington Nationals needed another arm for their rotation and were happy to add Haren for a one-year contract worth $13 million.
If Haren's back and hip are healthy, he may very well be the best fourth starter in MLB, capable of 15 wins and 200 innings. That gives the Nats baseball's best rotation, one through five.
Grade: A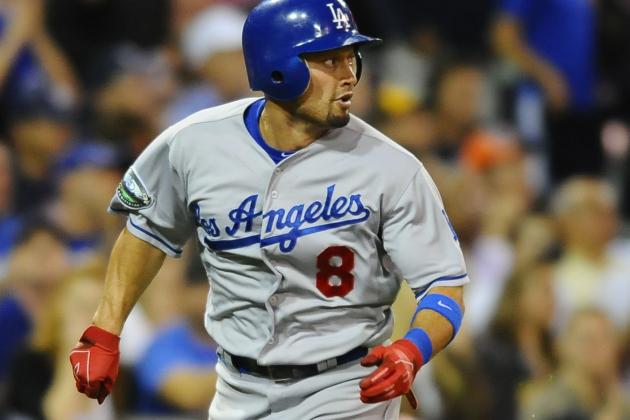 Christopher Hanewinckel-USA TODAY Sports

Outfield was a definite need for the Boston Red Sox coming into the winter meetings.
The team signed Jonny Gomes to a two-year, $10 million deal before the meetings began, but an opening remained in right field.
Shane Victorino might not have been the ideal player Red Sox fans envisioned for right field with players like Nick Swisher and Josh Hamilton on the free-agent market, along with Justin Upton available in trade.
Victorino isn't a slugger, but the Red Sox signed Mike Napoli to supply a big bat at first base. With Gomes in left field, Victorino provides more speed and athleticism to go with Jacoby Ellsbury in the Boston outfield.
A three-year, $39 million contract is risky for a player coming off the worst year of his career. The deal also looks questionable when compared to Angel Pagan's four-year, $40 million package with the San Francisco Giants. At this point, Pagan looks like the better player.
But if Victorino can get back to his 2011 form when he hit for power and speed and provided strong defense, then this signing will turn out well for the Red Sox. It's still something of a gamble, however.
Grade: B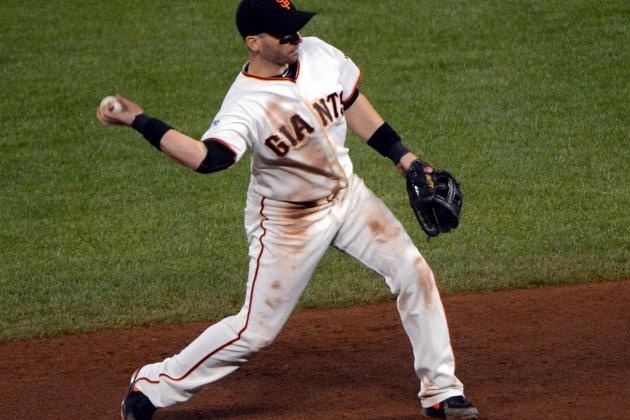 Kyle Terada-USA TODAY Sports

Marco Scutaro was an important trade deadline acquisition for the San Francisco Giants, giving them production from the middle infield that had been missing all season.
In 61 games with the Giants, Scutaro hit .362 with an .859 OPS. Scutaro was even better in the postseason. His .500 average and 1.140 OPS during the NLCS earned him the series MVP award.
To help its chances of competing for a World Series championship again next season, San Francisco had to bring back Scutaro as its second baseman. There was no better alternative available. The Giants didn't want to go through the season with Ryan Theriot playing regularly again.
San Francisco may have overpaid a bit, giving Scutaro a three-year deal worth $20 million. But the Giants had to come through with that third year to trump the St. Louis Cardinals, who had a two-year, $16 million offer on the table, according to CSN Bay Area's Andrew Baggarly.
Scutaro will be 40 by the end of this contract. But for the Giants, that's a risk worth taking.
Grade: A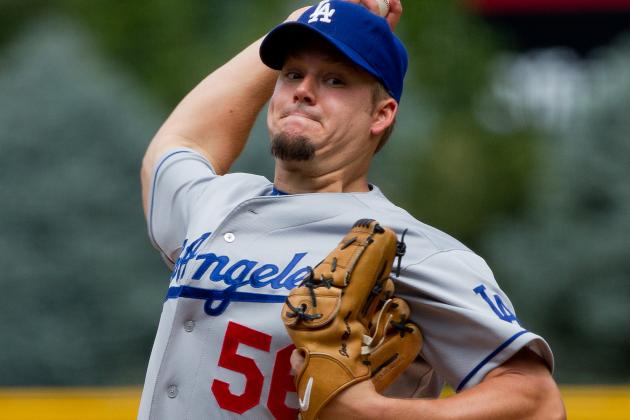 Justin Edmonds/Getty Images

Joe Blanton is not the pitcher that Los Angeles Angels fans envisioned as their team's big winter meetings signing.
Yet that's the move general manager Jerry Dipoto made in Nashville. While the baseball world waited for a club to sign Zack Greinke, the Halos found a guy for the back end of their rotation.
Blanton is the quintessential fifth starter. This season, he went 10-13 with a 4.69 ERA for the Philadelphia Phillies and Los Angeles Dodgers.
But perhaps the most important number for Blanton is that he threw 191 innings. Every team would love to have a pitcher capable of throwing 200 innings at the back end of its rotation. Blanton fills that role nicely for the Angels.
Didn't the Halos already have a fifth starter in Garrett Richards, however? Maybe this is a depth signing, but it looks more like a white flag that means the Angels are bowing out of the bidding for Greinke.
This move will look better if the Angels get Greinke. If not, it's a big letdown.
Grade: C+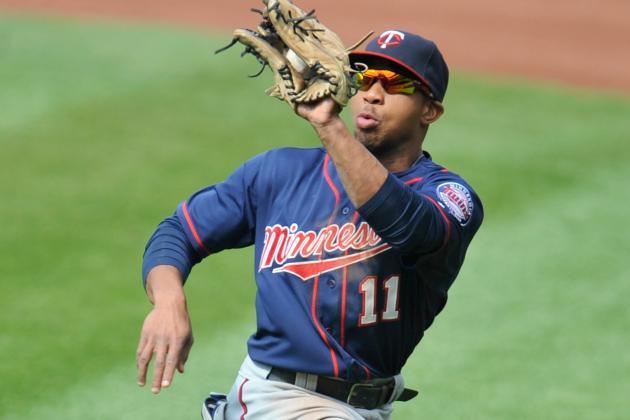 David Richard-USA TODAY Sports

The Philadelphia Phillies needed a center fielder. It was probably general manager Ruben Amaro Jr.'s top offseason priority.
But after B.J. Upton signed with the Atlanta Braves, the Washington Nationals traded for Denard Span and Angel Pagan re-signed with the San Francisco Giants, the market seemed to be moving fast on the Phillies. Would Amaro have to overpay for a player like Michael Bourn or Josh Hamilton?
The Phillies got their center fielder as the winter meetings ended on Thursday, acquiring Ben Revere from the Minnesota Twins. The price was a high one, however, as Amaro gave up pitchers Vance Worley and Trevor May.
Revere is under club control for six years and has plenty of upside at 24 years old. He brings speed to the lineup and should be a considered a candidate for the team's leadoff hitter.
This was a move Amaro had to make. But did he give up too much for Revere? Final judgment on that should probably be withheld until the Phillies make other moves with the money they saved by trading for a center fielder instead of signing one.
Grade: B+
Follow @iancass on Twitter