Falcons vs. Panthers: 10 Key Matchups for Atlanta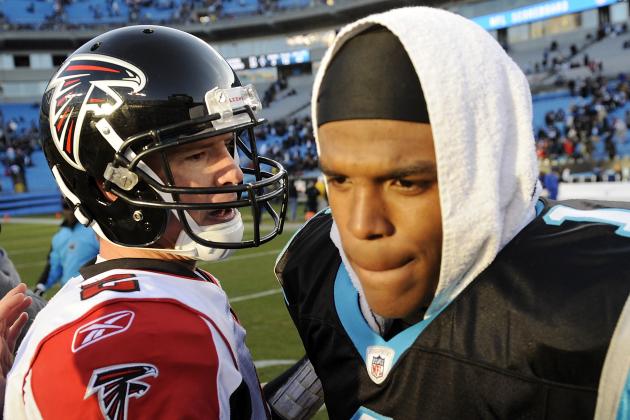 Jared C. Tilton/Getty Images

Another week, another NFC South rival on tap for the 11-1 Falcons.
The Falcons-Panthers series has not been as intense as Falcons-Saints over the last few seasons, but this "I-85" rivalry has had its share of moments.
Earlier this season, the Charlotte Observer said that the Panthers' heartbreaking 30-28 last-minute loss to the Falcons would "leave a mark on the Panthers." One could argue that these 2012 Panthers have not been the same since losing that game that they seemingly had wrapped up but for a late Cam Newton fumble and an unbelievable pass from Matt Ryan to Roddy White.
The intrigue surrounding Sunday's Atlanta trip to Bank of America Stadium centers around the Carolina defense and their sensitivity to certain postgame comments made by Ryan, who starred in an episode of the old show Candid Camera after the Week 4 Falcons win over the Panthers.
As we prepare for another exciting week of Falcons football, let's whet our appetites with a look at 10 specific matchups that will be decisive in Sunday's NFC South tilt in Charlotte.
Begin Slideshow

»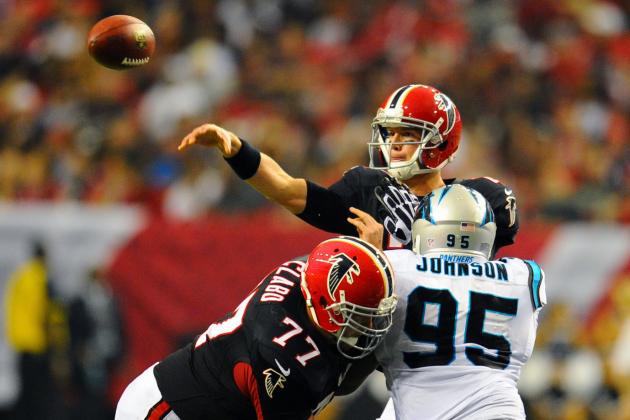 Dale Zanine-USA TODAY Sports

This matchup is first on the list for a reason. Well, really three-and-a-half reasons.
In the Week 4 meeting between these teams, Panthers defensive end Charles Johnson had 3.5 sacks, two tackles for a loss, a pass deflection and five quarterback hits. Johnson did most of his damage when he lined up against Tyson Clabo, and you can bet that the Falcons coaches didn't let Clabo forget about his poor performance during preparations for Sunday's rematch with Carolina.
Whether Johnson lines up over Clabo or Sam Baker, the Falcons offensive line can't let Matt Ryan take the kind of hits that he took in the Week 4 game against the Panthers.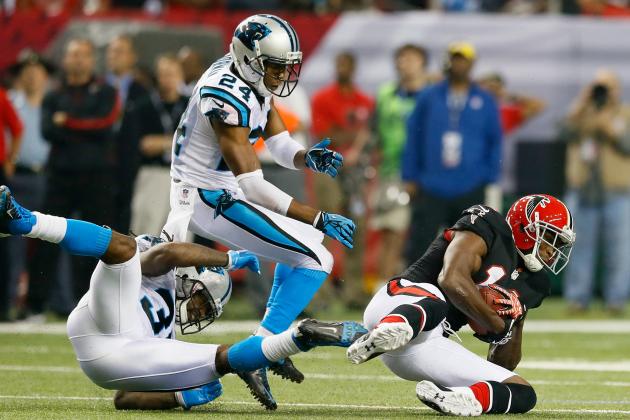 Kevin C. Cox/Getty Images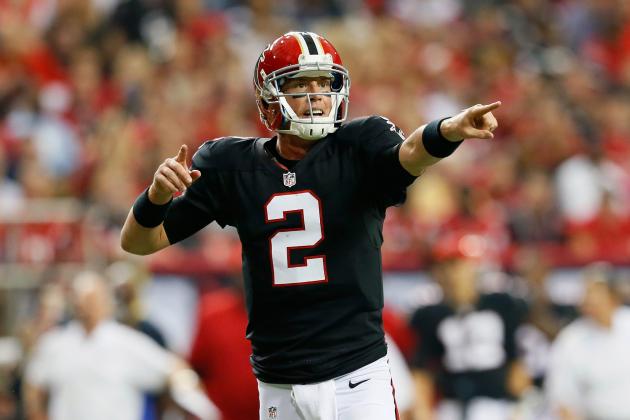 Kevin C. Cox/Getty Images

There's an argument to be made that Matt Ryan has played himself out of MVP consideration by putting up some pedestrian passing performances these last couple of weeks.
Even when he's not playing his best football, Ryan seems to find his rhythm when the Falcons offense goes no-huddle. I wouldn't be surprised if Falcons offensive coordinator Dirk Koetter used a little more no-huddle Sunday to get Ryan back in his rhythm
With linebacker Jon Beason in injured reserve, Boston College product Luke Kuechly has become the man in the middle for the Panthers. If the Falcons do go no-huddle, Kuechly will match wits with Ryan as he tries to keep the Panthers in the right defensive sets.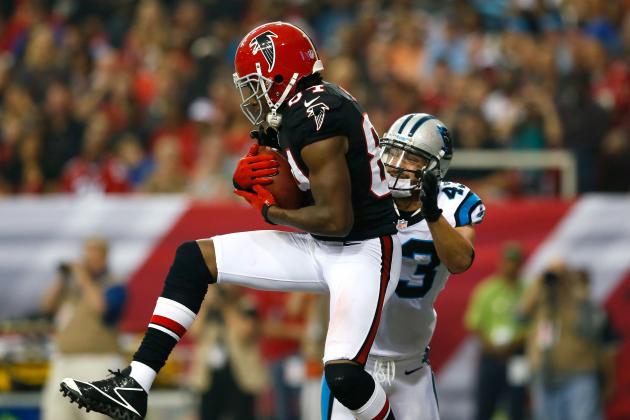 Kevin C. Cox/Getty Images

This seems like it's been a theme every week for the Falcons since their Week 10 loss to New Orleans.
Falcons fans certainly remember the way that Matt Ryan miracously connected with Roddy White to set up Matt Bryant's game-winning field goal back in Week 4 against the Panthers, but a lot of fans have probably forgotten about the fact that the Falcons may not have needed Ryan's throw and White's catch had they been able to convert red-zone opportunities earlier in the game for touchdowns.
Ryan threw a red-zone interception in the first quarter, and the Falcons had to settle for field goals after two other drives into and around the red zone stalled. If the Falcons want their offense to be clicking on all cylinders as we head into the postseason, they will need to score touchdowns in the red zone early and often.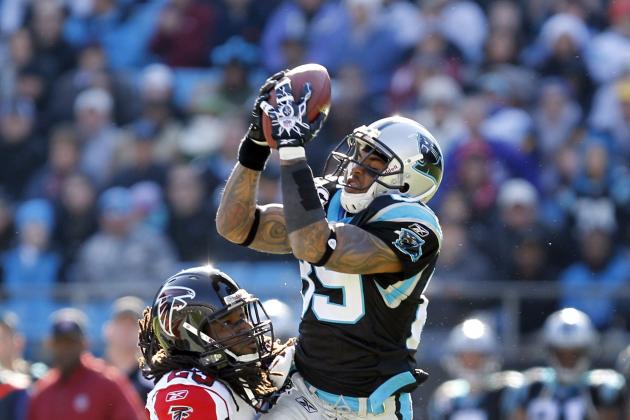 USA TODAY Sports

Steve Smith may be on the wrong side of 30 by NFL standards, but he's still got a lot of game left in his tank. Dunta Robinson matched up opposite Smith (three catches, 52 yards) for the majority of the Week 4 contest between these teams, and I would expect to see him line up across from Smith again given the Falcons' injury issues in the secondary.
Cam Newton loves to target Smith on third down, and Robinson needs to be prepared for it.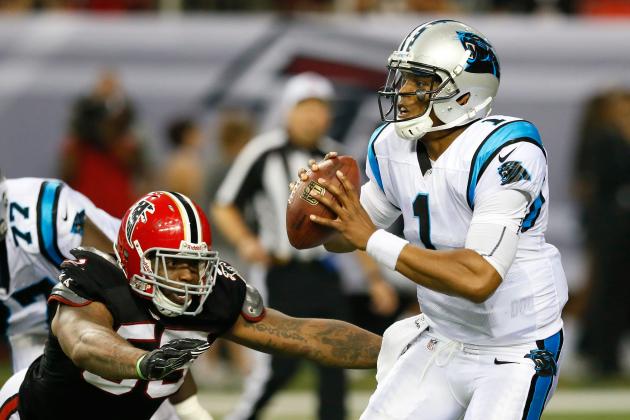 Kevin C. Cox/Getty Images

The quarterback read-option play has become a staple of the Carolina offense since Cam Newton arrived. The play is designed to allow Newton to make a decision about what to do with the ball based on his read of the opponent's play side defensive end.
If the end crashes inside, Newton usually keeps the ball and runs outside, whereas if the end keeps the outside contained, Newton hands the ball off to his running back for an inside dive play right underneath the play side defensive end.
John Abraham, Kroy Biermann and the rest of the Falcons defensive ends must be disciplined and understand their responsibilities against this play in Mike Nolan's defense while trusting their teammates at every level of the defense to do their part as well.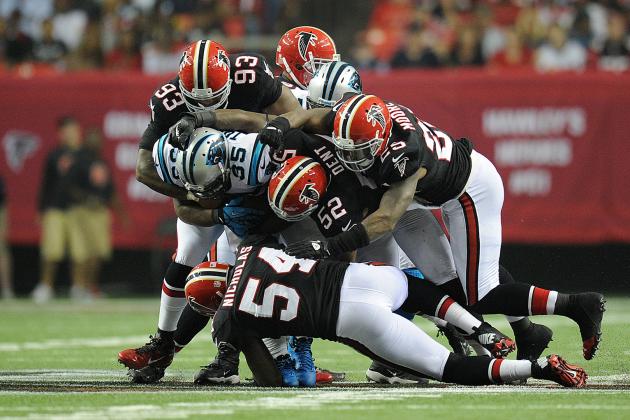 Kevin Liles-USA TODAY Sports

Carolina almost has to run a running back dive play every so often for its aforementioned quarterback read-option play to have any influence on its opponent's defense.
The key to blowing up this dive play is keeping getting penetration inside. The Falcons need to push Carolina center Geoff Hangartner back behind the line of scrimmage, because if you watch film on Carolina, you will see that Panthers running backs like to make their cuts off of the center's block on this play.
.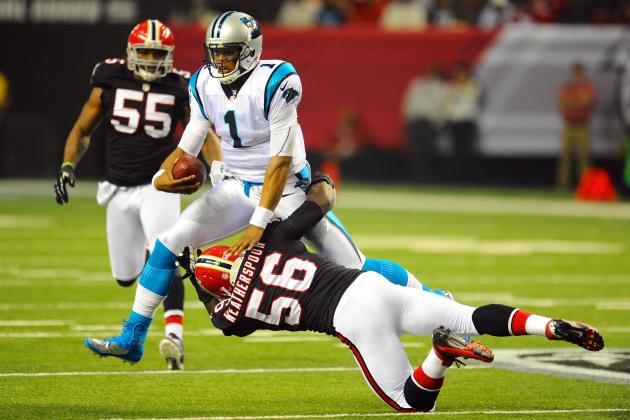 Dale Zanine-USA TODAY Sports

A big part of defending Carolina's offense involves tackling quarterback Cam Newton in space off of quarterback read-option plays and other designed quarterback runs.
Falcons linebackers Sean Weatherspoon and Stephen Nicholas need to be ready to set the edge. If Newton gets around the Falcons defensive ends and linebackers, bad things will usually happen.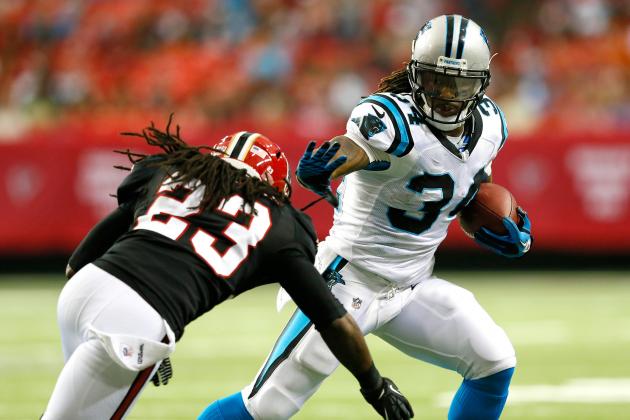 Kevin C. Cox/Getty Images

Like they do with Newton, the Panthers love isolating their running backs in space on the perimeter against cornerbacks.
Dunta Robinson is one of the most physical corners in the league against the run, but the rest of the Falcons corners can't be timid in taking on blocks and coming up in run support outside of the hashes if Atlanta wants to shut down the Carolina ground game.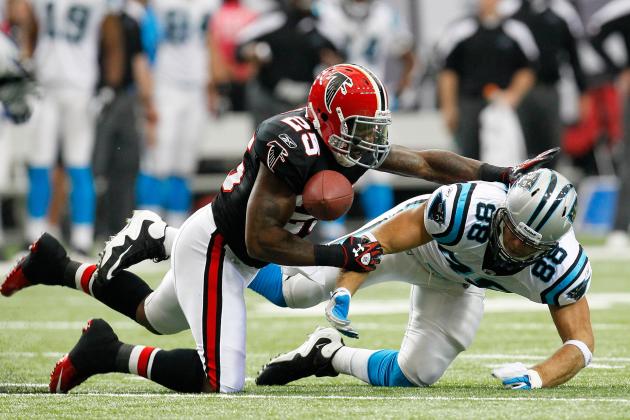 Kevin C. Cox/Getty Images

This is a big matchup on third down. The Panthers like to split tight end Greg Olsen out wide like a wide receiver on some passing downs. The Falcons countered by moving William Moore over Olsen when he split out in Week 4.
Olsen had a big day in Week 4 (six catches, 89 yards, 1 TD), and now Moore is battling a hamstring injury. If Moore isn't 100 percent, Mike Nolan will have to find a way to try and defend Newton's favorite target in the passing game not named Steve Smith.