The Atlanta Braves' Five Players in 40-Man Roster Limbo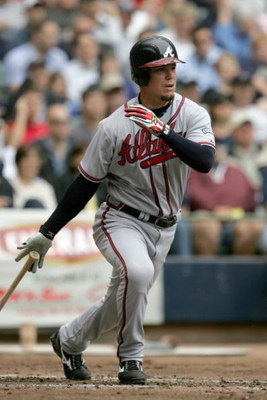 Chipper Jones is a guy that Braves' fans, going into the 2009 season, know they can count on to make a difference.
To my knowledge, he is the only player on the roster that has been a full-time player for the Braves every season since 1995. (John Smoltz would have made two).
OK. We know who is playing third-base, at least for 120-130 games that is; however, there are a few guys on the roster that I feel are in trouble going in to 2009.
We all know that the outfield is crowded with prospects and newly acquired free agents. We also know that the prospects we have for the starting rotation are making a few decisions very difficult.
Let's take a look...
Jorge Campillo (RHP)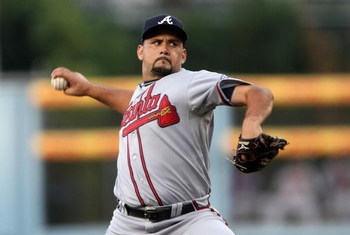 Jorge Campillo has been a quality pitcher for the Braves since his acquisition in the 2008 season. In fact, he was never really meant to be used as a starter in the rotation, but he earned his spot after a few key injuries to the Braves' starters during the 2008 season.
Here's the problem, the rotation is full. Not only is it full, but even with injury, I feel that the consensus is that prospect Tommy Hanson is a shoe-in for a starting role. The second Tom Glavine breaks a nail, the spot will be filled.
Jorge will make the opening day roster, but as a reliever. My hope is a trade to a team looking for a fourth or fifth starter in return for a quality prospect.
He deserves a starting role, even though I'd love seeing him in the sixth or seventh inning out of the bullpen.
Jo-Jo Reyes (LHP)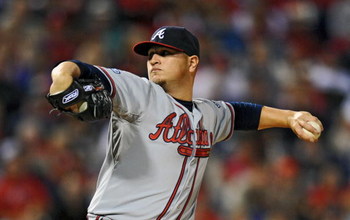 Has anyone been as disappointing as Jo-Jo Reyes? No doubt, he was supposed to be great coming out of the minors, but I feel that he has fallen way short of expectations.
So, why include him on the list?
Reyes has been huge this spring. He's holding a 2-0 record with a 2.08 ERA and a 0.92 WHIP. Similarly to Campillo, his struggle is finding an open spot where there aren't any.
With these guys in mind, I was very much against the Glavine signing. You know it is tough to see guys like Hanson and Reyes have great springs and tell them they have to start at AAA.
Greg Norton (1B/OF)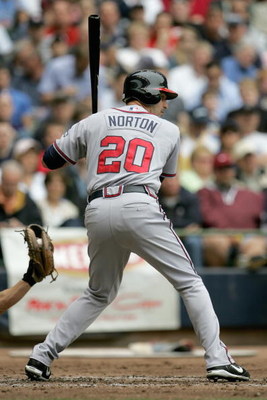 What is it with the Braves' front office and old, pinch-hitting first basemen? First Julio Franco...who I would still take, and now Greg Norton.
Resigning him was a mistake. I don't feel like he is a bad player, but given the Braves' talent in the minors, and Martin Prado's ability to backup at first base, Norton is expendable.
I don't feel like the Braves should carry more than two back-up infielders, and Infante and Prado are shoe-ins for those roles. Cutting Norton would give the Braves reasonable justification to carry five outfielders.
Matt Diaz could potentially backup at 1B if need be.
Josh Anderson (CF)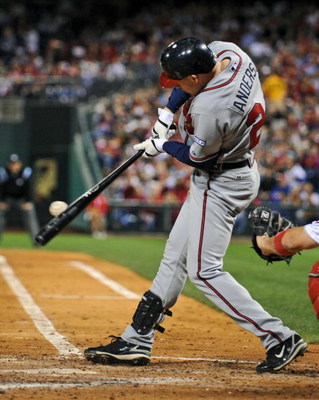 Why mention Josh Anderson and not Gregor Blanco? Blanco still has a minor league option left, Josh Anderson does not.
Anderson went from the favorite to win the job in center field, to a guy that is at best a fourth outfielder. Reasonably, I like him better in that role than as an everyday starter.
A late inning pinch-runner or hitter is a perfect role for him. He could even see a little time in left or center if someone gets injured.
Should the Braves cut him? Of course not! Should they start him? Not with Jordan Schafer as hot as he has been.
Anderson was never considered the heir apparent to Andruw Jones...only the bridge to the rightful heir to the thrown. Hopefully, Bobby Cox will decide that Schafer doesn't need a bridge and he can just jump over that river by himself.
Brandon Jones (LF)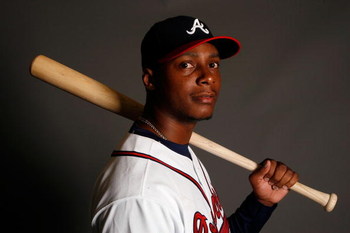 Gregor Blanco, Josh Anderson, Jordan Schafer, Jason Heyward...did I forget someone? Oh yeah! What happened to that guy that was supposed to be the every day left-fielder in 2009?
Brandon Jones sits at the bottom of a long list of players that include Garret Anderson and Matt Diaz.
Jones is an athletic, go-get-em' type of player. He still could be great, but not as great as the other Braves' prospects in the outfield.
I think he will struggle to make a Braves' roster that is likely to carry just four (but possibly five) outfielders: Josh Anderson, Garret Anderson, Matt Diaz, Jeff Francoeur, and quite possibly Jordan Schafer.
The Garret Anderson signing hurt Diaz, but it really hurt Brandon Jones.
Keep Reading

Atlanta Braves: Like this team?