Georges St-Pierre vs. Nick Diaz: Head-to-Toe Breakdown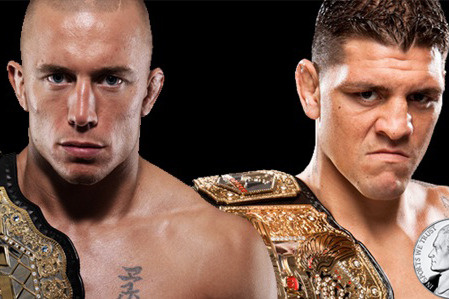 Photo: CagedInsider
Earlier today, it was announced by Dana White that Nick Diaz will be offered a fight against Georges St-Pierre (via Ariel Helwani of MMAFighting.com). If he accepts, the most famous brawler out of Stockton, CA will leapfrog Johny Hendricks and receive a title shot.
While the issue is being debated among fans over all three parties involved, there is no denying that the UFC has moved into the business of making the biggest fights they can, instead of those that are most justifiable based on the results of recent fights.
In any case, this fight is a dream come true for many fans of the sport. That is, based on the high-profile nature of both men and the fact we've never seen GSP quite as angry towards any man as he is towards Diaz.
Here is a breakdown of a potential matchup between Georges St-Pierre and Nick Diaz.
Begin Slideshow

»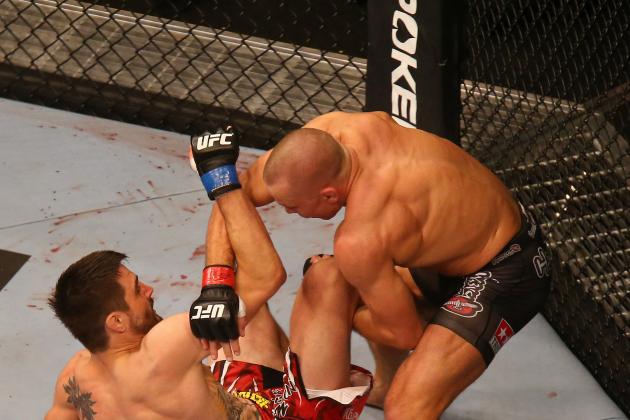 Tom Szczerbowski-USA TODAY Sports

Let's go ahead and kick things off with a no-brainer.
Georges St-Pierre has some of the best wrestling in the history of mixed martial arts, while Nick Diaz has fallen almost strictly to fighters with an outstanding wrestling pedigree, such as Sean Sherk and Diego Sanchez.
In this category, there can be no dispute. GSP reigns supreme.
Advantage: GSP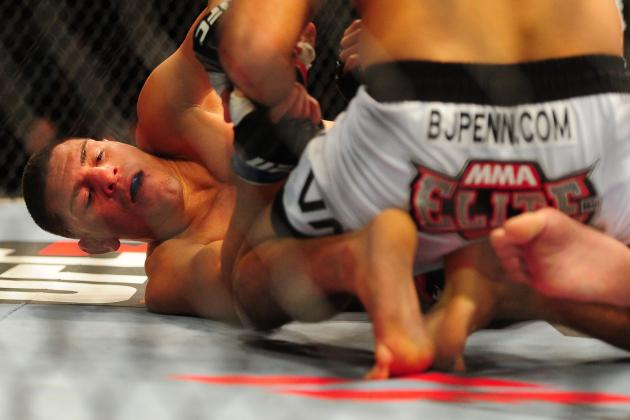 Mark J. Rebilas-USA TODAY Sports

It's not an issue of whether or not GSP can take the fight to the ground—it's whether or not he wants to.
While the smothering tactics of "Rush" have helped him earn victories against the likes of Thiago Alves, Carlos Condit and Dan Hardy, he tends to avoid going to the ground with decorated jiu-jitsu practitioners such as Jon Fitch and Jake Shields.
Diaz is a black belt in Gracie jiu-jitsu. Although he prefers to scrap, with eight submission wins to his credit, there is little doubt that the Stockton fighter is capable of finishing even the toughest opponent via tapout.
Advantage: Diaz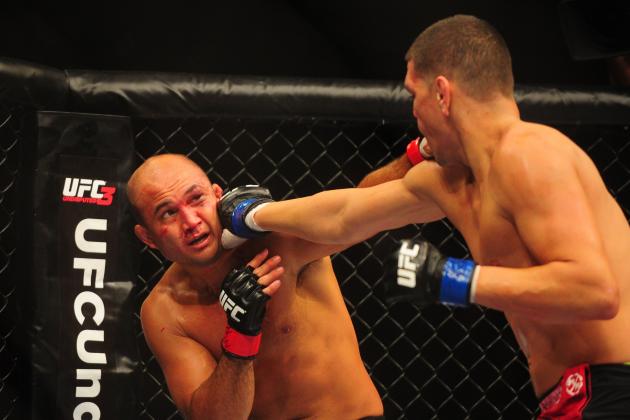 Mark J. Rebilas-USA TODAY Sports

Both GSP and Diaz are elite strikers in their own right, although each man has a starkly contrasting style of attack.
Rush prefers to use a kickboxing-centric approach that features powerful jabs and kicks, while Diaz utilizes a peppering onslaught of punches from all angles and ranges.
In terms of technical skill, I'd be inclined to give a tiny bit of an edge to the Canadian. With that being said, Diaz incorporates a flustering verbal attack while boxing that seemingly lessens the abilities of his opponents.
Advantage: Push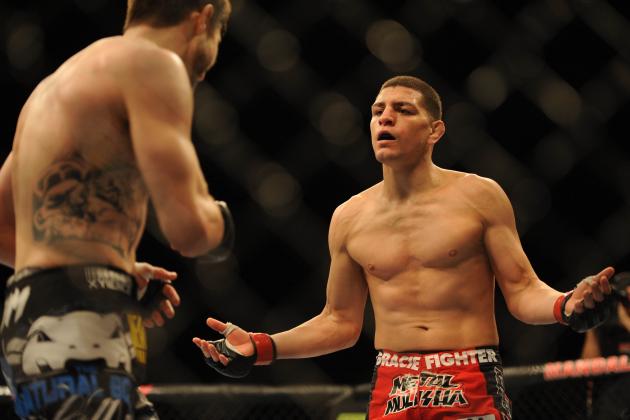 Kelvin Kuo-USA TODAY Sports

Part of the crippling attack of Georges St-Pierre includes a smothering ground attack that forces opponents to expend copious amounts of energy in an attempt to return to their feet—or at least improve position.
Considering that Nick Diaz is a frequent tri-athalon participant and prides himself on pushing his endurance level to the edge of human capabilities, this will be one of the only fights that St-Pierre finds himself with the weaker gas tank, regardless of how the action takes place
Advantage: Diaz
Eric Bolte-USA TODAY Sports

If nothing more, Carlos Condit showed the world that Nick Diaz is beatable if you stick to your game plan and don't get sucked into his world of head games.
Luckily for our Canadian champion, he has one of the best fight strategists in the business on his side in Greg Jackson.
Jackson's tutelage has helped Georges fight the smart fight against opponents who are dangerous in every avenue of the sport. Like a chameleon, he changes his appearance every time he enters the cage.
On the other hand, Diaz enters every fight with the goal of brawling as long as he can. If the fight hits the floor, he takes care of business with his jiu-jitsu.
If he is going to beat the champion, he will have to think things through and find some weaknesses to exploit.
Advantage: GSP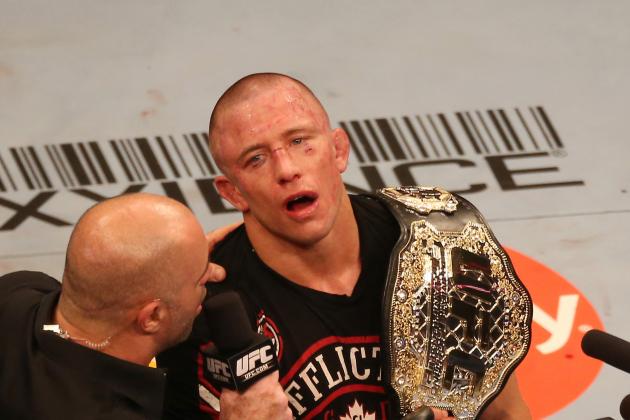 Tom Szczerbowski-USA TODAY Sports

Nick Diaz is a tough challenge for any man on the planet, but no one has been able to establish dominance over Georges St-Pierre at any point during his career.
Due to the trash talk of Diaz and his incessant taunting, there is an undeniable chance that GSP might make some rage-induced mistakes that cost him both the fight and his title.
It's difficult to predict that any man will emerge victorious, especially now that we've witnessed that the Canadian superstar didn't lose any of his speed or agility after surgery.
This fight will likely look very similar to the bout against Carlos Condit. GSP won't be afraid to strike, but when he wants to take it to the ground, that's exactly where it will be.
Georges St-Pierre wins a unanimous decision