San Diego Chargers vs. Pittsburgh Steelers: Live Score, Highlights and Analysis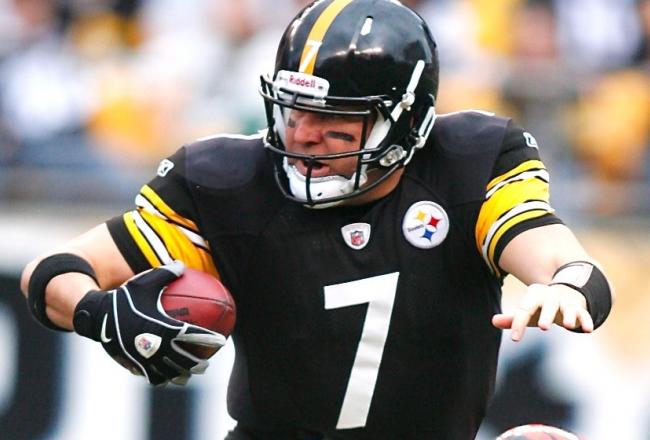 The San Diego Chargers snapped their four-game losing streak with a 34-24 stunning upset of the Pittsburgh Steelers.
Philip Rivers completed 21-of-41 passes for 200 yards and three TDs, but more importantly, he managed to throw the ball to his own players for once. The San Diego QB finished the game with zero turnovers.
Danario Alexander had seven catches for 88 yards and two TDs, leading the the team in receiving. Micheal Spurlock, who was claimed off waivers from Jacksonville on Nov. 28, was second in receiving, finishing with seven catches for 64 yards.
The San Diego defense also contributed to the victory with an impressive showing against Ben Roethlisberger in his return from injury. The Bolts held Pittsburgh's run game to just 69 yards, while Big Ben threw three TD passes for 285 yards.
As for the Steelers, the day wasn't a complete loss as the Cincinnati Bengals lost to the Dallas Cowboys, keeping the Steelers in the final AFC wild-card slot.
That's all folks. San Diego takes this one 34-24 in a stunning upset.
Thanks for reading and be sure to check out all of B/R's live blogs for your NFL action this season.
Touchdown Steelers!
Pittsburgh within 10 points but there's less than a minute left.
San Diego 34 Pittsburgh 24
Too funny:
I forgot what it's like to ask questions in a winning locker room ... #chargers

— Annie Heilbrunn (@annieheilbrunn) December 9, 2012
Two-minute warning in Pittsburgh...
San Diego leads Pittsburgh 34-17
San Diego's defensive line gets to Roethlisberger again today and Corey Liuget is pumped up.
Touchdown Steelers!
Roethlisberger hits Mike Wallace for his second TD pass of the day. Steelers have about six minutes to tie it up.
San Diego 34 Pittsburgh 17 Fourth Quarter
San Diego is a little more than six minutes away from stunning Pittsburgh at home. Who would have thought?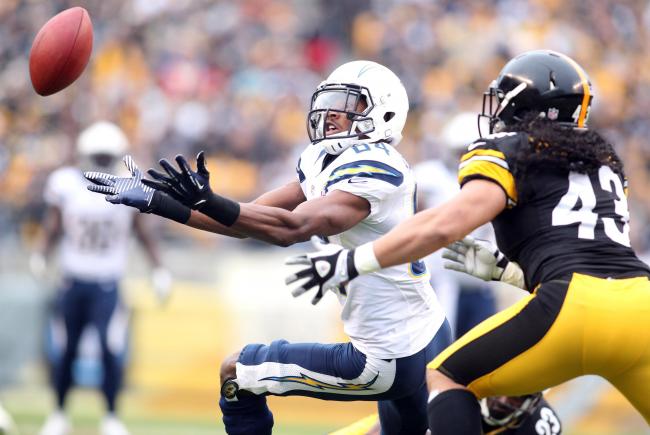 Touchdown Chargers!
That's a highlight catch by Danario Alexander. I think San Diego may have found the guy to replace Vincent Jackson. Too bad it took 14 weeks to figure that out.
San Diego 34 Pittsburgh 10 Fourth Quarter
See what I mean about these guys off the street?:
Bront Bird with an interception. What?! Bront Bird was sitting on his couch last week. #chargers

— Annie Heilbrunn (@annieheilbrunn) December 9, 2012
Nothing seems to be going right for Pittsburgh. The Steelers were supposed to run right through this beaten down Chargers team.
LB Bront Bird intercepts a bullet by Roethlisberger. He might have hurt his ankle in the process.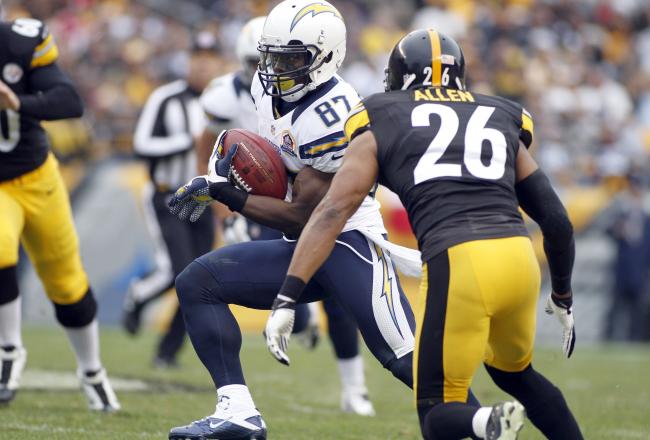 Micheal Spurlock has seven catches today. What's with all these guys getting signed off waivers or the street and becoming playmakers?
Hey now! Who says you can't celebrate with unemployment looming?:
Norv Turner and Rich Bisaccia fist bumped on sideline after Eric Weddle's 4-yard run on fake punt coverted 4th-and-2.

— Michael Gehlken (@UTgehlken) December 9, 2012
Wow! San Diego with the fake punt and they get it! Eric Weddle is quite the football player with or without the ball.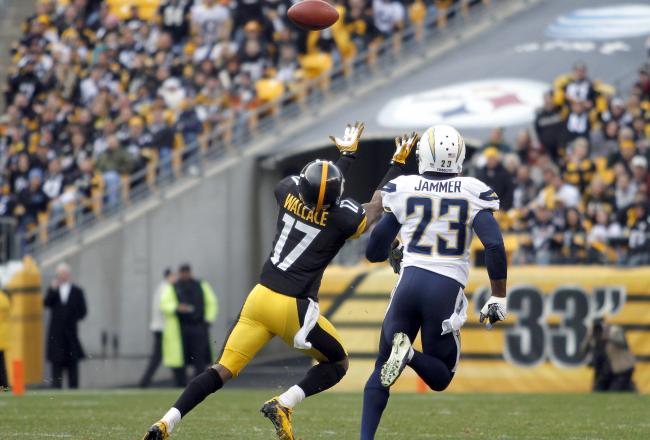 Touchdown Steelers!
Roethlisberger with a perfectly thrown ball to Mike Wallace for a 40-yard score.
San Diego 27 Pittsburgh 10 Third Quarter
Chargers LB Demorrio Williams (ankle) questionable to return.

— Michael Gehlken (@UTgehlken) December 9, 2012
A lot of people unhappy with that last call:
I'm sorry, but with the Steelers backed up deep in their own territory, that's a lousy play call that resulted in a Bolts defensive TD

— Mike Bires (@mikebires) December 9, 2012
And it stands...
Touchdown Chargers!
No evidence showing it was an incomplete pass. San Diego is now up 27-3.
San Diego 27 Pittsburgh 3 Third Quarter
If that last call holds up, the Chargers will be up 26-3. Looked like it was a backwards pass that deflected off an O-lineman.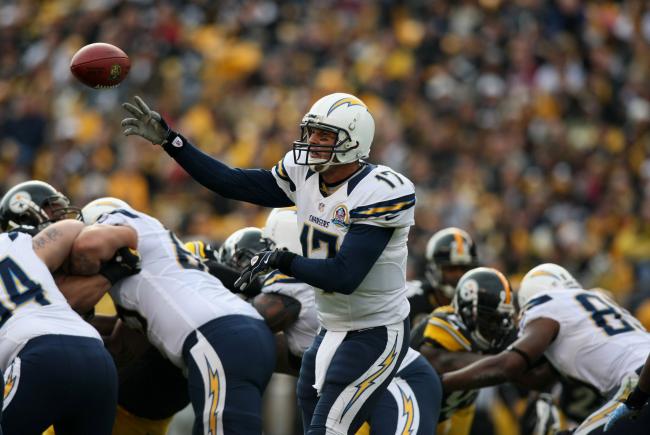 Touchdown Chargers!
Malcom Floyd catches a beautiful ball thrown by Philip Rivers. This is the Rivers we're used to seeing. The good old days.
San Diego 20 Pittsburgh 3 Third Quarter
Great graphic by CBS. Last rushing TD by San Diego was Week 5 against New Orleans.
Looking like San Diego will snap that streak as well. They're oh so close.
Good balance by the Chargers on this drive. Couple good runs by Mathews and Rivers continues to hit. They have to convert though.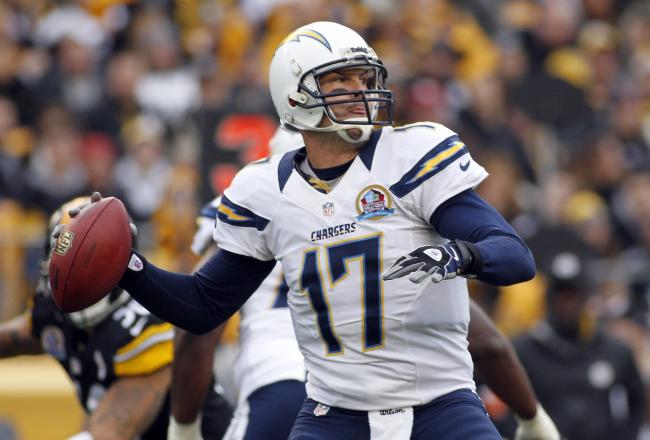 Philip Rivers is the better gloved QB today. Alexander and Spurlock have made the difference.
Pittsburgh, on the other hand, hasn't been able to drive consistently down the field. That run game has really struggled. Big Ben has making all the plays so far.
Ben Roethlisberger is 9-of-20 passing for 105 yards.
San Diego has been doing a decent job on offense, but Philip Rivers has to get his team in the end zone. Field Goals won't be enough to give the Chargers a safe lead.
Rivers is 10-of-25 passing for 114 yards and one TD. Micheal Spurlock has four catches for 39 yards and Danario Alexander has two catches for 45 yards including his TD catch.
This article is
What is the duplicate article?
Why is this article offensive?
Where is this article plagiarized from?
Why is this article poorly edited?