Auburn Football: Projecting Ellis Johnson's 2013 Defensive Depth Chart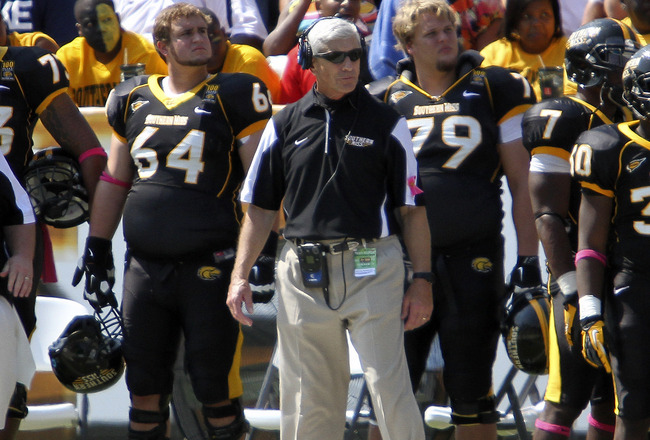 New Auburn defensive coordinator Ellis Johnson. Photo via Southern Mississippi Athletics

Auburn head coach Gus Malzahn wasted no time in putting together one of the most important pieces of his new coaching staff. Late Wednesday evening, former Southern Mississippi head coach and former South Carolina defensive coordinator Ellis Johnson accepted a position as Auburn's defensive coordinator in 2013. Auburn made it official on Thursday afternoon.
Johnson will be the third Auburn defensive coordinator in three years. He replaces Brian VanGorder, whose defense struggled mightily for the majority of the 2012 season. Auburn ended 2012 ranked 80th in total defense.
Johnson will inherit much of that same defense. Daren Bates and Jonathan Evans are the only starters from the Iron Bowl who will not be back. T'Sharvan Bell also played a significant amount throughout his career and will not return.
Johnson is a familiar face in the SEC. Along with being defensive coordinator at South Carolina, he has held the same position at Mississippi State and Alabama. He is an established defensive coach and is well-respected throughout the country as a defensive coordinator.
More importantly, Johnson fits perfectly in Malzahn's defensive philosophy.
In his introductory press conference, Malzahn said that he is looking for a defense that is attacking and multiple. "I think as a head coach you have to have a philosophy, and your offense, your defense and your special teams all have to fit into that philosophy. Like I said, we will be a fast-paced, attacking style offense and defense." (via Auburntigers.com)
If history is any indication, that is exactly the type of defense that Auburn fans will see in 2013.
With the struggles that Auburn has had defensively since 2009, Johnson's experience is a welcome sight.
A common complaint of the type of offense that Malzahn brings to the Plains is that it has a significant negative bearing on the defense. Johnson has worked with high-octane offenses before under Steve Spurrier. In his three years in Columbia, South Carolina, Johnson's defenses ranked 15th, 52nd and fourth in total defense.
A unique identifier of Johnson's defense is its base defensive formation. Johnson's base defense runs out of a 4-2-5 set instead of a 4-3 or a 3-4. While this would usually be considered a nickel package for the secondary, it is a little different. Instead of a fifth defensive back, there is a hybrid position of an LB and safety. In South Carolina, Johnson called this hybrid position the "spur."
Can we nominate this position to be called the "talon" at Auburn?
This defense fits the multiple aspect that Malzahn was looking for in a defense. It can be flexible against both run-first and pass-first offenses.
At South Carolina, Johnson's defenses were very aggressive. In 2010, the South Carolina defense ranked 10th in the country in sacks.
It's only early December, but I'm sure Auburn fans will not mind going ahead and forgetting about 2012 and looking ahead to 2013. Let's take a stab at who may crack the opening defensive lineup against Mike Leach and the Washington State Cougars on August 31, 2013.
(Hint: It's almost the exact same lineup as 2012.)
Defensive End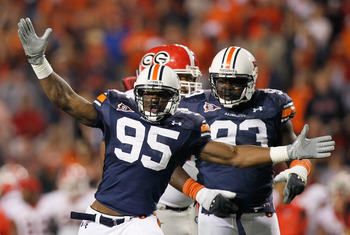 Kevin C. Cox/Getty Images
Projected starter: Dee Ford
Projected backups: Nosa Eguae, Carl Lawson
The defensive ends for Auburn should be licking their chops after hearing about the hiring of Johnson as their new defensive coordinator. Johnson coached former South Carolina standout Melvin Ingram and current man-beast for the Gamecocks, Jadeveon Clowney.
Auburn should have some decent depth at the defensive end position. Look for Ford, who will be a senior in 2013, to be one of the stalwarts on the defensive line.
Ford ended 2012 with 34 tackles (23 solo) and six sacks.
Veteran Nosa Eguae and newcomer Carl Lawson (if Auburn can hold on to him) should also see a significant number of snaps behind Ford.
Defensive Tackle
Kevin C. Cox/Getty Images
Projected starter: Angelo Blackson
Projected backup: Kenneth Carter
The interior portion of the defensive line was nothing short of a disappointment in 2012. Auburn had a hard time getting pressure on the quarterback without bringing blitzing pressure.
Angelo Blackson and Kenneth Carter will both play a significant role in trying to revamp Auburn's defense in 2013. Blackson finished 2012 with 26 tackles (12 solo) and one sack.
Carter finished with 17 tackles (eight solo).
Defensive Tackle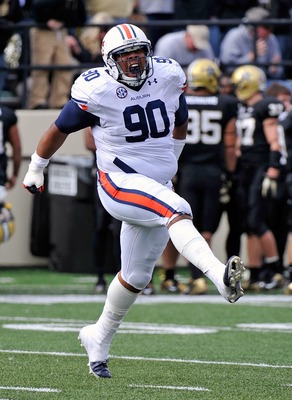 Frederick Breedon/Getty Images
Projected starter: Gabe Wright
Projected backup: Jeffrey Whitaker
At the other defensive tackle position, Gabe Wright and Jeffrey Whitaker will once again be in the lineup for Auburn next fall.
Auburn fans are still waiting for Wright to break out and become the force that Auburn has been missing in the interior portion of the defensive line since Nick Fairley in 2010. He will be a junior in 2013.
Wright finished 2012 with 19 tackles (12 solo) and he recorded one sack. Whitaker finished with 12 tackles (five solo).
Defensive End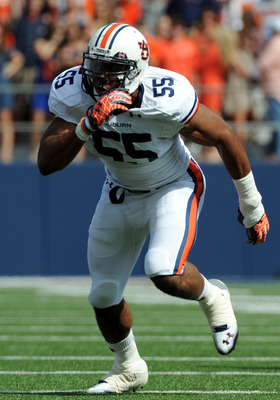 Chuck Cook-USA TODAY Sports
Projected starter: Corey Lemonier
Projected backups: LaDarius Owens, Dee Liner
Auburn fans are crossing their fingers and toes that DE Lemonier returns for his senior season on the Plains. After his productivity regressed in 2012 after a strong 2011 season, Lemonier would be smart to return for one more year.
Owens and 2013 commitment Liner will likely play significant snaps as well in 2013.
Lemonier will likely be a preseason All-SEC selection should he stay. He finished 2012 with 34 tackles (18 solo) and six sacks (five solo). Lemonier would likely be used the same way that Jadeveon Clowney was used by Johnson at South Carolina.
Linebacker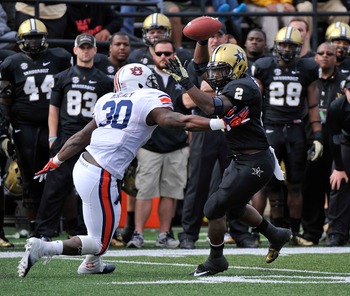 Frederick Breedon/Getty Images
Projected starter: Cassanova McKinzy
Projected backup: Jake Holland
Here is where things get a little weird in Johnson's scheme. In a 4-3, you'd see a "Mike," "Will" and "Sam" linebacker. Most of the time in 2013, you'll see two linebackers who fit the mold of a middle linebacker.
McKinzy came on last fall and made his first start at middle linebacker against Vanderbilt. He and Holland both made starts throughout the remainder of the season. While McKinzy showed flashes of potential, he did not see the field nearly as much against spread offenses because of trouble grasping VanGorder's defense.
If he can adjust to Johnson's defense quickly, he should see a starting role as a linebacker in 2013.
Holland will bring his experience to help McKinzy and will see snaps at both linebacker positions.
Linebacker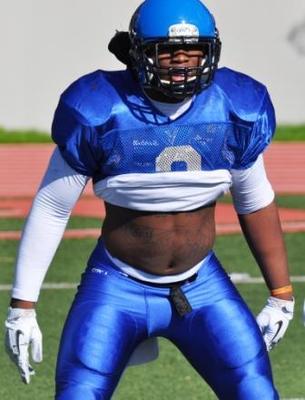 Photo via 247sports
Projected starter: Reuben Foster
Projected backup: Justin Garrett
If, and that's a big if, 2013 5-star signee Foster keeps his commitment to Auburn, he will most likely see the field early and often at the linebacker position.
With the news that Foster's commitment may follow former WR coach Trooper Taylor and Malzahn's decision to not retain the assistants from Gene Chizik's staff, Foster may not be as firm of a commitment to Auburn as he once was.
If he does not stay, Garrett or Jake Holland will be the other linebacker beside McKinzy in Johnson's defense.
Update (December 2, 11:55 a.m. EST) : Foster has decommitted from Auburn, according to multiple reports.
Talon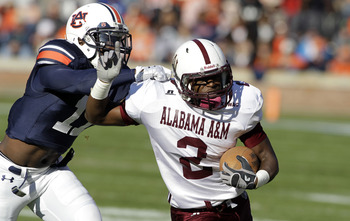 John Reed-USA TODAY Sports
Projected starter: Kris Frost
Projected backup: Trent Fisher
The "talon" position will be the hybrid linebacker and safety position on the field in the 4-2-5. Sophomore Frost will be a perfect fit for this position with his size and speed.
As a redshirt freshman in 2012, the former 5-star signee played sparingly due to an inability to adapt to VanGorder's defensive scheme. If Frost can get a handle on Johnson's scheme quickly, this job will be his to lose.
Another possible player at this position is SS Trent Fisher. He recorded the Auburn secondary's only interception in 2012. Fisher is big enough to assist in run support and fast enough to help out in coverage against pass-happy teams.
Cornerback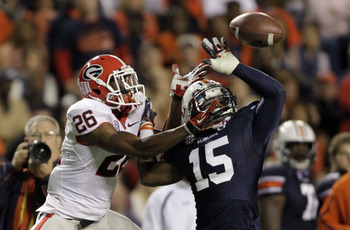 John Reed-USA TODAY Sports
Projected starter: Joshua Holsey
Projected backup: Jonathon Mincy
As a freshman, Holsey turned into one of the most reliable defenders in man coverage for Auburn in 2012. Auburn will count on him to be the same in 2013. If Johnson can feel comfortable enough leaving his cornerbacks on an island, he can bring extra pressure to attack the quarterback.
Auburn's secondary should be a strength in 2013, with all of the starters returning from 2012.
Holsey finished 2012 with six pass breakups and 30 tackles (22 solo). Look for Holsey to become a shutdown CB by the time he becomes a seasoned veteran.
Mincy will also play a significant number of snaps at the CB position. He had a solid 2012 season. Mincy recorded 57 tackles (41 solo), four pass breakups and one forced fumble.
Free Safety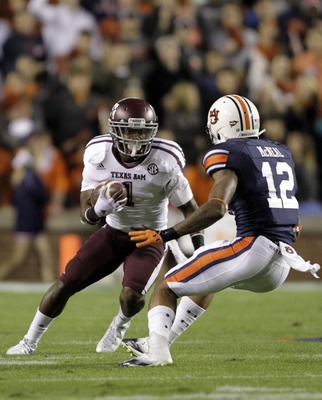 John Reed-USA TODAY Sports
Projected starter: Demetruce McNeal
Projected backup: Erique Florence
McNeal's name was consistently at the top of the box score. He led the Auburn defense in tackles numerous times in 2012. He will be back in his familiar spot once again in 2013. McNeal finished 2012 with 90 tackles (53 solo), one sack, four pass breakups and a forced fumble.
Florence was a bit of a mystery this past season. What Gene Chizik called "personal issues" kept him off the field more often than not. Florence may also be a good fit for the "talon" position in Johnson's defense.
Strong Safety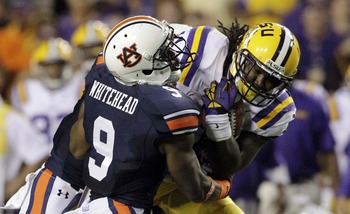 John Reed-USA TODAY Sports
Projected starter: Jermaine Whitehead
Projected backup: Trent Fisher
Whitehead will return in 2013 as Auburn's starting SS. Whitehead has a reputation of being a big hitter, and his Auburn career should continue its upward trajectory in 2013. Whitehead finished 2012 with 86 tackles (40 solo), a sack and five pass breakups.
Fisher will serve double-duty as a backup to both the "talon" and SS positions.
Cornerback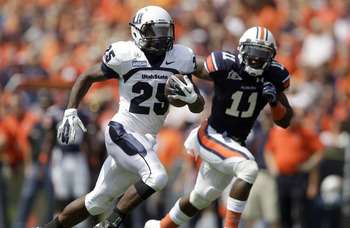 John Reed-USA TODAY Sports
Projected starter: Chris Davis
Projected backup: Jonathan Jones
Chris Davis will be the senior leader in the Auburn secondary in 2013. The aggressive CB has dealt with the injury bug (especially concussions) in his Auburn career. If he can stay healthy and have a good 2013 season, Davis could see his possibilities of being drafted in the 2014 draft increase.
Davis saw game action in only nine games in 2012. He recorded 46 tackles (25 solo) and had three pass breakups.
Behind Davis is Jones. Jones, much like Joshua Holsey, came on in 2012 as a freshman and saw his playing time increase significantly. Jones has a lot of upside and will learn from playing behind guys like Davis.
Keep Reading

Auburn Football: Like this team?