Multiple Finishing Moves in WWE: Why Sheamus Epitomizes the Need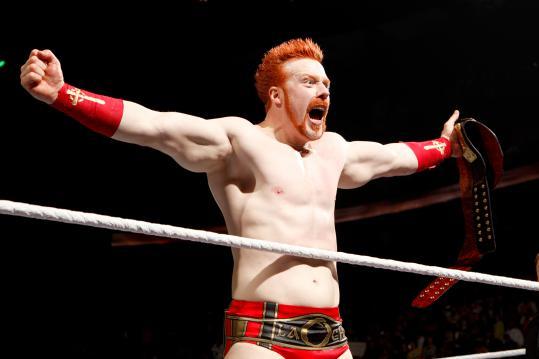 courtesy of WWE.com
Most WWE superstars have one finishing move that they rely on to win a match. This makes their matches much more predictable than superstars who have more than one finisher. When watching a match with Sheamus, for example, the audience does not know which finisher Sheamus will use or if one of them will win him the match.

A variety of finishing maneuvers adds a layer of surprise to Sheamus' matches; no one knows how he will win a match or try to win a match exactly. The performance that Sheamus gives is also more diversified depending on what kind of finisher he can physically perform on his opponent.

Thus, the viewer will never know what finisher Sheamus will use in a match. Subsequently, one never knows if his opponent will kick out of one finisher but get pinned by another.

When WWE superstars have more than one or two finishers, it does not diminish the value of any one of them but adds a value to the overall surprise factor a match may have. Overall, Sheamus has the most diverse set of finishing moves in WWE.

Each of these finishers adds a new layer of depth and intrigue to Sheamus' matches.
Begin Slideshow

»
The Brogue Kick is arguably Sheamus' most famous finishing move. Using this move for most of his WWE career, Sheamus has made a career of "kicking his opponent's head off." This devastating finisher is so impactful because Sheamus is no small man, and the Brogue Kick requires quite a bit of flexibility to pull off.
Similar to the Diamond Cutter or RKO in its speed, the Brogue Kick can be used literally at any point in a match with the only condition that Sheamus and his opponent are on their feet. The Great Khali even felt the wrath of the Brogue Kick. Sheamus was able to pull the move off while Khali was trying to rise from his knees.
Building the Brogue Kick into one of WWE's most formidable finishers, Sheamus has been able to use this move to provide added excitement to his matches. The mere attempt of a Brogue Kick will bring a crowd to its feet and usually Sheamus' opponent crashing to the canvas.
Not just a powerful move, the Brogue Kick displays Sheamus' ability to be more than just another "big man" in the ring.
In recent professional wrestling history, "The Man of a 1,000 Holds," Dean Malenko, has made the Texas Cloverleaf a popular submission finisher. It has not really been used as a finisher in WWE since Malenko's run in WCW and WWE over 10 years ago.
Using a submission maneuver as a finisher is not what WWE fans are accustomed to from a larger superstar. When Sheamus first started to use this as a finisher, I was surprised because strong hitting style pro-wrestlers in WWE usually do not use submissions.
This finisher, more so than any others of Sheamus, shows the added dimension that multiple finishing moves can have for WWE superstars. Submissions add drama to matches naturally, because when a submission hold is locked in, the audience actively invests itself in the wonderment of whether the hold will be escaped from or not.
The Texas Cloverleaf is a perfect finisher for Sheamus to have in his repertoire; it adds an unexpected move for a larger pro-wrestler that can be used to added drama to a match.
One of Sheamus' most powerful finishers is the White Noise. This move has been used prominently in Sheamus' recent feud with the Big Show. Showcasing the strength of Sheamus, this maneuver is particularly impressive when used against superstars larger than Sheamus.
While the Brogue Kick and Texas Cloverleaf are not power moves, White Noise is definitely a finisher that requires strength. A finisher that effectively puts down an opponent with a powerful slam, White Noise is used as a finisher when Sheamus and his opponent are standing near or in a grapple position.
This is the typical type of finisher that a WWE fan would expect from a superstar with the height and size of Sheamus. When Sheamus pulled this move off on the Big Show, it made a definite impact because of how much larger Big Show is than Sheamus.
White Noise is probably Sheamus' most powerful and impressive finishing move.
Briefly using the Irish Curse as a finishing move, Sheamus has relegated it to a signature move leading to another finisher. This is another power move that Sheamus can employ in a match to demonstrate his size and strength.
Essentially, this is a side slam turned into a backbreaker. Although, this move is not as unique as some of his other finishers, it does give Sheamus another move that can potentially be called upon as a finisher. When done to a smaller opponent, this maneuver looks devastating.
The Irish Curse is similar to White Noise in that it is a strength requiring move. Even if this move is not performed as a finisher currently, one never knows when it could be used as one again. This is the power of a WWE superstar having multiple finishers—the audience never knows when the Irish Curse could once again win Sheamus a match.
The High Cross was first made famous in WWE by Scott Hall (Razor Ramon) in the early to mid-1990s as the Razor's Edge. It was quite a pleasant surprise to see Sheamus bring this fantastic move back to prominence in 2009. Although Sheamus does not currently perform this finishing move, one never knows when it could be brought back as a surprise during a match.
Much more impressive than a mere powerbomb, the High Cross delays the impactful fall Sheamus' opponent takes to the mat. This makes the High Cross a very dramatic maneuver for the fan in the front row or the fan in the nosebleed section.
Requiring an incredible amount of strength to perform correctly, the High Cross is an impossible finisher on superstars who are much larger than Sheamus. The High Cross is the type of finisher that makes WWE superstars need multiple finishing moves, because it cannot be performed on everyone.