10 Offseason Coaching Hires That Would Shake Up College Football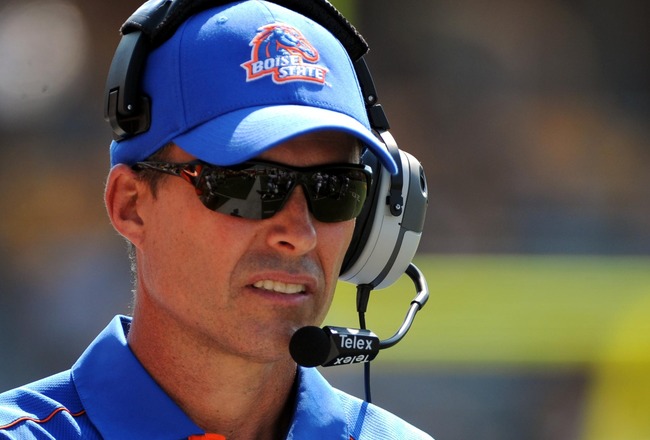 Chuck Cook -USA TODAY Sports
As the coaching carousel continues to turn in college football, some hires have already shaken up the national landscape.
For example, Bret Bielema's sudden move from Wisconsin to Arkansas has dramatically changed the landscape in the SEC and the Big Ten.
So in that spirit, what other coaching hires would make a similar impact on the game?
Not every scenario here is likely, but all of these would make quite a splash in the college football world.
What are they? Read on.
Larry Fedora to Tennessee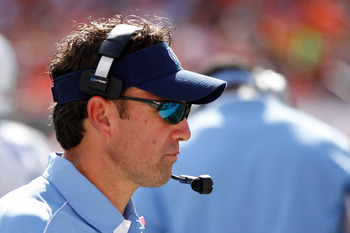 Joel Auerbach/Getty Images
People didn't realize how good of a job Larry Fedora did at Southern Miss until the Golden Eagles had to try to make do without him and failed miserably.
It was shocking to see a team that won 12 games last season under Fedora fail to a single game this season after Fedora went to North Carolina.
Tennessee's been told no by a lot of the coaches it's talked to thus far, so getting a guy like Fedora would be a great coup for this struggling program.
Mike McIntyre to Colorado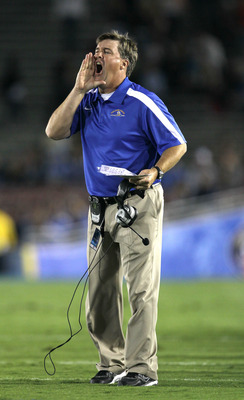 Stephen Dunn/Getty Images
If Colorado wants to get a coach that's capable of rebuilding its sorry program, I'd say that it should give San Jose's Mike MacIntyre a call.
Taking the Spartans to a bowl game is no small feat. Besides that, San Jose State won 10 games this season.
Those who look at the WAC may try to play that down, but you really can't do that when you look at where San Jose State was before MacIntyre took the job.
Butch Jones to Wisconsin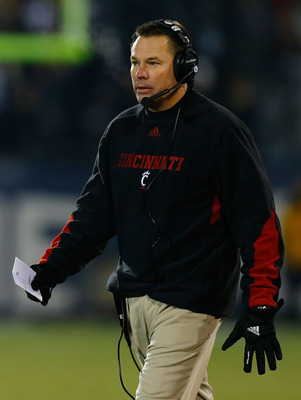 Jared Wickerham/Getty Images
Cincinnati has turned into quite a developing ground for up and coming coaches. Former Bearcats head coach Brian Kelly is leading Notre Dame to its first national championship game since the 1980s.
Now, Butch Jones is a hot coaching commodity as well.
Jones reportedly looked closely at the Colorado job, but the lure of a big-time program like Wisconsin may be enough to induce Jones to make a move.
Besides, this infusion of young coaching blood into the Big Ten may be exactly what this slumping conference needs.
Bobby Petrino to Anywhere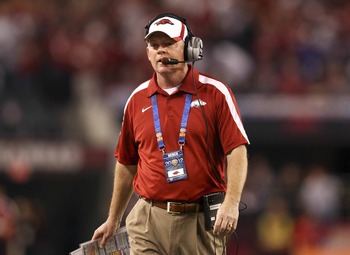 Kevin Jairaj-USA TODAY Sports
It doesn't matter if Wisconsin, Tennessee, South Florida or even FIU picks up Petrino.
He's going to make quite a splash wherever he goes.
Of course, he'd get the most interesting reception if he were to take the job at Tennessee and come back to the SEC. I've got a feeling that coaches all over the conference would rather have Petrino go elsewhere rather than deal with his high-powered offenses.
Petrino may need to wait a year to come back to coaching, but whenever or wherever Petrino gets hired, it is going to make a big splash.
Kirby Smart to Tennessee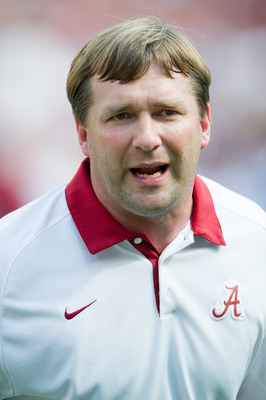 Michael Chang/Getty Images
Kirby Smart won't be going to rival Auburn, but there's a chance that the Alabama defensive coordinator could be going to another rival of the Crimson Tide.
Namely, the Tennessee Volunteers.
This would represent quite a shift in philosophy from recent coaches as Lane Kiffin and then Derek Dooley, who are both primarily offensive coaches. The Vols were No. 23 in scoring offense, but their abysmal defense led this once-proud team to a 1-7 record in the SEC.
I'm not sure that this is the job Smart is waiting for, but he has a lot of potential as one of the best coordinators in college football. That doesn't always translate to being a great head coach, but still...
Paul Chryst to Wisconsin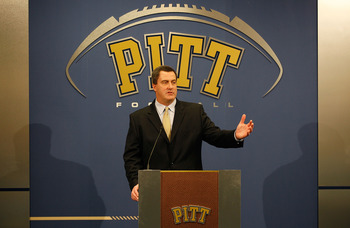 Jared Wickerham/Getty Images
Poor Pitt. Ever since it fired Dave Wannstedt, Pitt has been a revolving door for coaches.
Chryst is the fifth head coach or interim head coach since the end 2010. Now, the Wisconsin job has unexpectedly come open and Chryst is a natural choice as he was the offensive coordinator under Bret Bielema.
Wouldn't that be a mess?
While I have little doubt that Chryst would do well at Wisconsin, reports have come out that Chryst is staying at Pitt.
Bronco Mendenhall Leaves for Colorado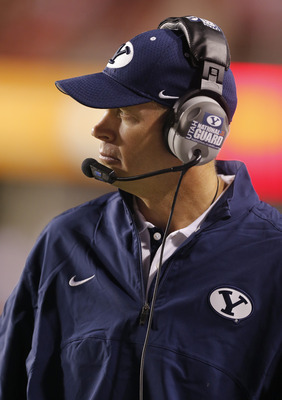 George Frey/Getty Images
The Denver Post's Woody Page recently wrote that Cincinnati's Butch Jones and BYU's Bronco Mendenhall were the top two candidates for the Colorado job. However, Jones today has reportedly declined to leave Cincinnati for Colorado.
Which leaves Mendenhall.
Now, Mendenhall has denied that he's been contacted or expressed any interest in coaching the Buffaloes. However,for the fun of it, let's say that Mendenhall did leave the Cougars for Colorado.
For one, Mendenhall would bring a good defensive mind. I would give him 2-3 years and the Buffaloes would be going to bowl games again.
As for BYU, Cougar fans just may learn that the grass isn't always greener with another coach on the sideline.
Chris Petersen Finally Leaves Boise State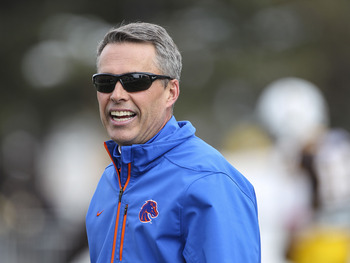 Troy Babbitt-USA TODAY Sports
Chris Petersen's name seems to come up year in and year out as many top programs across the country would love to have him turn their teams around. After all, Petersen is an expert at making a place with such limited resources and recruiting as Boise State into a national power.
However, year after year Petersen has remained as immovable as ever at Boise.
However, what if a program like a Tennessee or a Wisconsin finally succeeds in stealing Petersen away?
I guarantee that Petersen would make a splash even in the likes of the SEC. However, the greater impact may be on Boise State as it would scramble to replace him. Also, the Big East, or at least what's left of it, may depend on the Broncos' continued success.
If/when Petersen decides to take another job, the impact is going to be felt across the nation.
Phillip Fulmer Returns to Tennessee
Kevin C. Cox/Getty Images
You know what would really stir things up at Tennessee (and not in a good way...) is if Lane Kiffin were to suddenly repent and leave USC to come back to Knoxville.
Don't worry, Vols. That certainly won't happen as the bridge is well and truly burned.
However, Tennessee is having a bit of a hard time it seems in replacing the recently fired Derek Dooley. Jon Gruden is rumored to be looking at another NFL job rather than take his talent to Rocky Top, and Louisville's Charlie Strong has decided to remain as the Cardinals' head coach.
Let's face it: Even though Tennessee is traditional a prime coaching location, the mess left by Kiffin that Dooley wasn't able to clean up has made it less so.
So, what if Phillip Fulmer did a Kansas State and came back?
Critics point to the program started falling off a bit toward the end of Fulmer's tenure, but one thing you can say about Fulmer is that he never had a period where Tennessee won only one SEC game in two years.
Some may say that Tennessee could do better than crawling back to Fulmer, but I challenge the Vols to find a coach with such a track record as his.
Barry Alvarez Takes the Wisconsin Job Back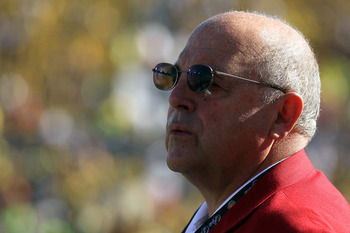 Jeff Gross/Getty Images
Barry Alvarez has already been a successful coach at Wisconsin as he's won three Rose Bowls and at least a share of the Big Ten thrice. After 16 seasons as head coach, Alvarez stepped aside and took the job as athletic director.
One of his first actions was to hire Bret Bielema as his successor, and that has for the most part worked out well. Wisconsin is going to its third Rose Bowl in a row after taking the Big Ten title game. But Bielema has decided to take off for Arkansas, so Alvarez himself has decided to coach the team against Stanford in this year's Rose Bowl.
So, what if Alavarez wins his fourth Rose Bowl and decides he wants to coach full time again?
Such a move would probably be a solid one, particularly if Wisconsin can't convince Paul Chryst to abandon Pitt after just one season there and come back to where he was the offensive coordinator.
Besides, the Big Ten needs some power coaching these days after such a hard year for the conference.
Keep Reading