7 Things We Learned from the MLB Offseason (So Far)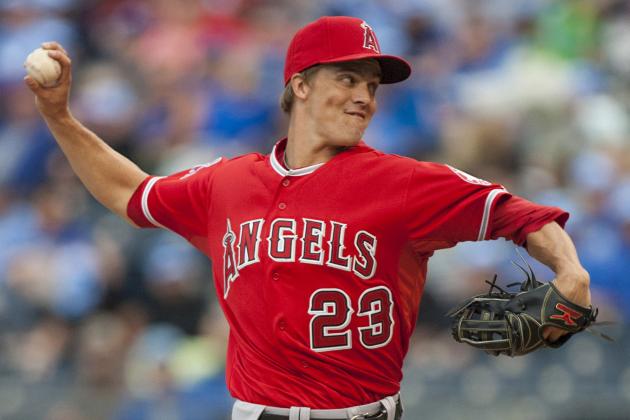 Tim Umphrey/Getty Images
Greinke patiently awaits one of the most expensive contracts for a pitcher.
The conclusion of the MLB winter meetings on Thursday does not mean the end of swirling rumors and big signings this offseason.
In fact, the past week in Nashville, Tenn., has set the stage for some of the biggest deals yet to come.
The two most talked-about free agents, Josh Hamilton and Zack Greinke, are inching closer to lucrative deals, and a multi-team trade circling around Justin Upton seems imminent.
But let's take a step back and breathe for a moment, for a lot has happened since those chilly October nights in San Francisco and Detroit.
Here's what we have learned so far during this creative offseason.
Begin Slideshow

»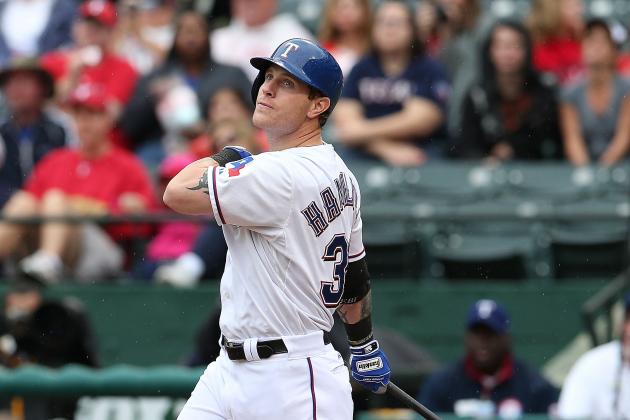 Ronald Martinez/Getty Images
Hamilton would like to remain in Texas, but the Rangers may have other plans.
Allow me to be blunt: Any team that claims it does not want Josh Hamilton in their lineup is lying.
Sure, there are teams that do not have room for the lifetime .304 slugger, but if they did, be sure that they would be involved in the rumor mill.
The Mariners, Rangers, Red Sox, Phillies and Brewers have all been linked to Hamilton this offseason, with those first two teams remaining as the front-runners.
Hamilton hit .285 with 43 home runs and 128 runs batted in 2012 despite a midseason slump in which he batted .223 in June and an even worse .177 in July.
What many analysts suspected for Josh Hamilton this offseason has come true: a long-term deal is easier wished for than crafted.
According to Jon Heyman of CBS Sports, while Hamilton desires a contract of seven years or more, many believe the slugger may have to settle for a deal of five years or less.
At 31, the Raleigh native is no young pup, and his history of substance abuse is a heavy concern. However, Hamilton is the owner of one of the prettiest and most devastating swings in baseball and is just three seasons removed from an MVP award.
In this day in age, players of his caliber receive nine-figure, multiyear contracts. That is just how it goes.
If the Rangers settle on someone else (possibly Zack Greinke), the Mariners will need to step up to the plate quickly and forcefully before a dark-horse team swoops in and steals the five-time All-Star.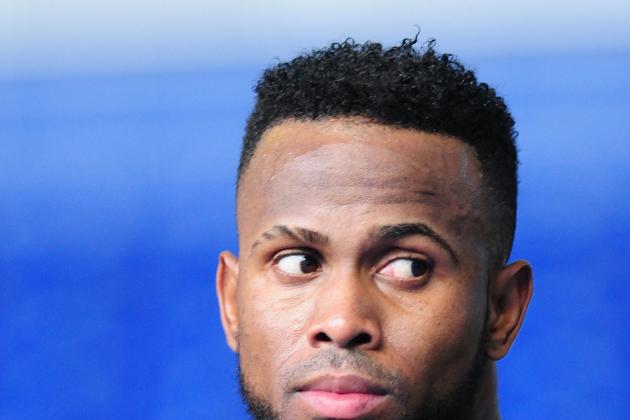 Jason Arnold/Getty Images
Reyes is relocating from South Beach after just one season in Miami.
For anyone stricken with the habit of procrastinating, talk to Toronto Blue Jays GM Alex Anthopoulos.
According to Toronto Star writer Richard Griffin, Anthopoulos entered the offseason with a wish list: two starting pitchers, a second baseman, a left fielder and a leadoff man.
A few very special days in November checked all those needs off the list, allowing Anthopoulos to arrive late to the winter meetings and leave early, even before the Rule 5 draft Thursday morning.
The Jays finalized their 40-man spring training roster after signing catcher Eli Whiteside and are poised to make a serious impact on the hierarchy in the AL East.
New manager John Gibbons will have some molding to do in order to produce an effective lineup, but with new offensive weapons such as Jose Reyes and Melky Cabrera to join Jose Bautista and Edwin Encarnacion, the Rogers Centre in Toronto should be flooded with fans—and hopefully wins.
While the Blue Jays took a significant payroll increase and are exercising a two-year risk on Cabrera, Anthopoulos demonstrated that his team is ready to win now after a 20-year absence from postseason play.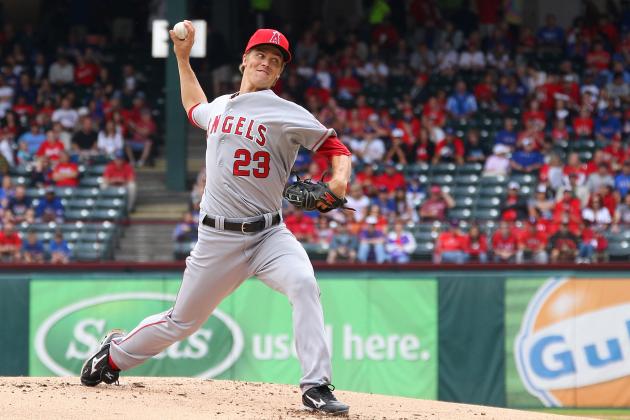 Rick Yeatts/Getty Images
The Greinke deal could reportedly exceed Sabathia's $161 million deal.
Much of the baseball world awaits the destination of Zack Greinke.
At 29, Greinke is in the prime of his career and expecting to sign a contract upward of $160 million, which eliminates the Los Angeles Angels from the bidding, according to Danny Knobler of CBS Sports (h/t MLB Trade Rumors).
With a nine-digit figure looming over Greinke's contract, it is amazing that the Dodgers, along with the Rangers, are one of the two teams remaining even after adding the contracts of Adrian Gonzalez, Carl Crawford and Josh Beckett.
However, Scott Miller of CBS Sports reports that the Dodgers are feeling less and less positive about reeling in Greinke, citing that if he wanted to play in Los Angeles, he would have signed already.
After Greinke strikes a deal, the second-tier starting pitchers will begin to drop like flies, beginning with Anibal Sanchez and Edwin Jackson. Shortly after, Ryan Dempster and Kyle Lohse will follow (via Jeff Passan of Yahoo! Sports).
As the Rangers close in as Greinke's top suitor, a deal could be reached as soon as early next week.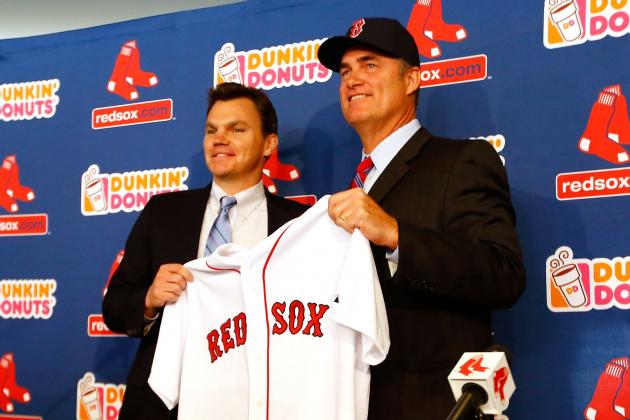 Jared Wickerham/Getty Images
New manager John Farrell hopes to return the Red Sox to their winning ways.
The Boston Red Sox got to business quickly at the winter meetings, signing catcher/first baseman Mike Napoli and outfielder Shane Victorino to three-year deals in consecutive days.
Paired up with three other free-agent signings—catcher David Ross, outfielder Jonny Gomes and relief pitcher Koji Uehara—and with a new manager, John Farrell, the 2013 Red Sox will have an entirely new face.
They won't be looking back.
It remains to be seen whether GM Ben Cherington is seeking to deal center fielder Jacoby Ellsbury this offseason, stating on Wednesday, "That's not our intent" (via Peter Abraham of The Boston Globe).
The Sox may not be done remodeling, leaving the door open for another outfielder (potentially re-signing Cody Ross), a starting pitcher (Ryan Dempster is a possibility) and a shortstop if the team feels defensive guru Jose Iglesias is too much of a liability at the plate.
Cherington has money to spend, even after throwing nearly $80 million at Napoli and Victorino, so don't count the Sox out in the coming months.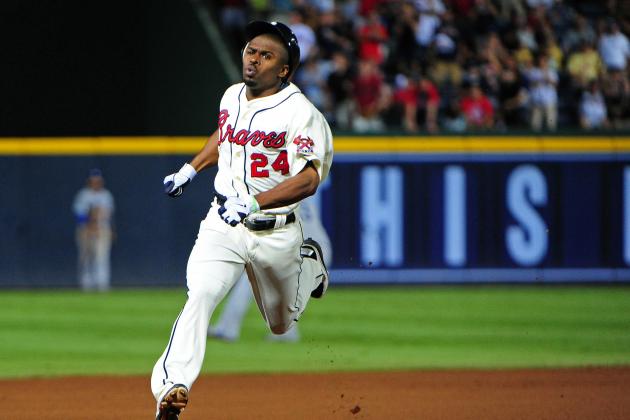 Scott Cunningham/Getty Images
Bourn can fly on the basepaths and has won two Gold Glove awards.
Michael Bourn earned a base salary of $6.85 million last year as the Atlanta Braves center fielder.
The Braves made a big splash signing (and arguably overpaying for) B.J. Upton to a five-year, $75.25 million. While Upton's home run totals have steadily increased since 2008, he has not hit over .250 during that same span.
The Philadelphia Phillies, another possible suitor for Bourn, recently traded for former Minnesota Twin Ben Revere rather than signing Bourn to an expensive contract.
Unfortunately for the two-time All-Star, he may have to play the waiting game until Josh Hamilton ends up somewhere and a Justin Upton or Jacoby Ellsbury trade goes down.
Bourn is a productive leadoff man who is capable of stealing 50 to 60 bases a season and also has a terrific glove.
The Mariners and Rangers are both interested in the center fielder but will deal with other priorities first.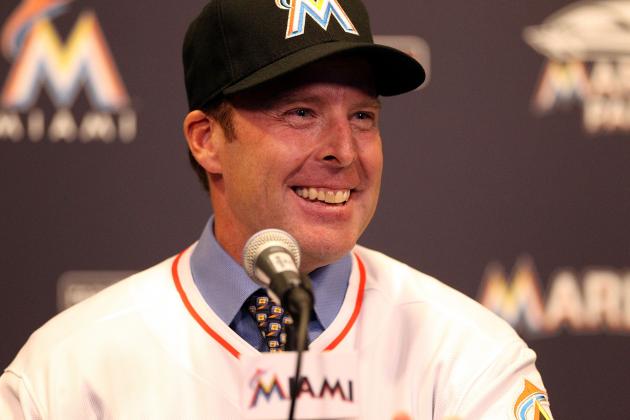 Marc Serota/Getty Images
New manager Mike Redmond may not have much to smile about come next season.
Like a toddler punished for coloring on the wall, the Miami Marlins need to be watched by babysitter Bud Selig.
After their megadeal with the Blue Jays, commissioner Selig promised to "monitor this situation with the expectation that the Marlins will take into account the sentiments of their fans" (via The Sun Sentinel).
The Marlins' purge, including the contracts of Heath Bell, Omar Infante, Hanley Ramirez and recently arrived and now departed Yunel Escobar, exceeds $240 million. Jorge Ortiz of USA Today called the team the "remaining carcass of the Miami Marlins."
For an organization that was so busy at last year's winter meetings, the Marlins have surrendered and returned to a rebuilding phase—a position they hoped to avoid last offseason.
Now, new manager Mike Redmond must accept the impossible task to escape the basement of the NL East for the third consecutive year.
Moreover, the Marlins have aggravated their own fans (who, by the way, are funding 80 percent of the new stadium), not only by gutting the team, but also by leaving a team so hopeless that even players like Giancarlo Stanton and Ricky Nolasco don't want to be there.
It's amazing the difference one offseason can make.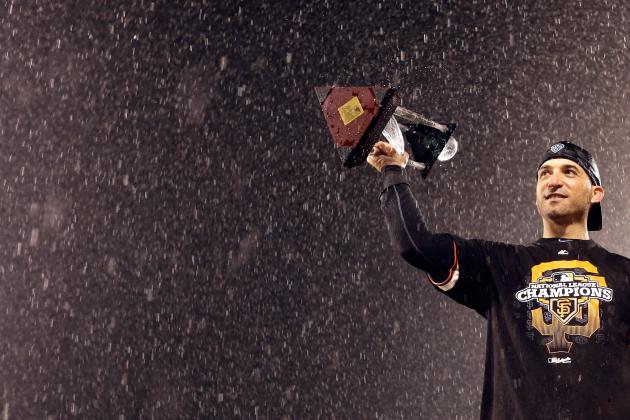 Pool/Getty Images
It was a no-brainer for the Giants to re-sign Scutaro.
The San Francisco Giants are not an exhilarating offensive team.
In fact, Buster Posey, the 2012 NL MVP, is the only regular starting position player to eclipse 12 home runs or hit more than 65 RBI. Other than Melky Cabrera, who was suspended 50 games for PED use, and Marco Scutaro, who joined the team at the trade deadline, Posey was the only player on the team to hit over .300.
However, the Giants' starting pitchers combined to win 71 of 94 games in 2012 and have been the key to two World Series championships in the past three years.
The key to the offensive side has simply been role players. In 2012, the Giants found two of those in Scutaro and Angel Pagan.
In order to keep the championship team intact, Scutaro, Pagan and relief pitcher Jeremy Affeldt were all re-signed as free agents.
No deal was more surprising than Scutaro's three-year, $20 million contract that will expire when he is 39 years old. The second baseman certainly deserved it, hitting .362 in his short stint in San Francisco and providing a spark in the playoffs, but a one-year deal was expected.
The Dodgers prove to be the only real threat to the Giants' playoff run in 2013, and if the pitching remains strong, team chemistry should carry the defending champions to another postseason.