All eyes will be on the Green Bay Packers (8-4) when they host the Detroit Lions (4-8) for some Sunday Night Football action at Lambeau Field.
The Lions will be attempting to snap a dreadful four-game losing streak that includes a heartbreaking 24-20 loss to the Packers at home and back-to-back close losses against the Houston Texans and Indianapolis Colts. The Lions have been competitive but haven't been able to put it all together recently.
The Packers will need to make sure that the Lions don't find a way to put it all together Sunday night. At 8-4 they appear to be a lock for the playoffs, but with the Bears tied for the division lead, there's still plenty at stake for the Pack.
A win over Detroit would sweep the season series, which would be huge for ultimately winning the division. A win for Detroit and a gloomy season would have a glimmer of hope. Here's the latest information on this big NFC North matchup.
When: Sunday, December 9, at 8:20 p.m. EST.
Where: Lambeau Field in Green Bay, WI
Watch: NBC or NBCSports Live Stream
Listen: 730 AM in Detroit and 1360 AM in Green Bay
Spread: Green Bay -7 (via Bovada)
This is a tough line to call, it should be just about right.
Given the Lions recent trend for close games, it's evident that this offense is capable of putting points on the board. The question is if the defense can stop anyone.
To this point it hasn't, so the Packers and their dangerous offense should have a bit of a field day against the Lions defense. This spread seems about right.
Over/Under: 51 (via Bovada)
When Matthew Stafford and Aaron Rodgers are involved, it's always a good bet to take the over.
These two teams only combined for 44 point last time they played against each other, but it should be expected that both teams will adjust and counter to the defenses that stopped them last time.
With two explosive offenses and mediocre defenses involved, this one could and should be a shootout.
Injury Report (via CBS Sports as of 12/7/12)
Detroit
Green Bay
Fantasy Big Plays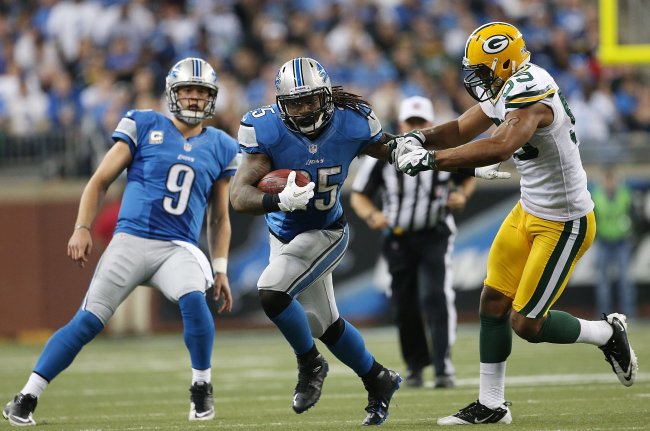 Leon Halip/Getty Images
Detroit: Mikel Leshoure
It's been a long time since Detroit has had a dependable back in fantasy football. Leshoure may not be all that effective in actual games, but he makes for a good RB2 because of his ability to find the end zone.
Leshoure isn't the most effective back, Joique Bell offers more explosiveness, but he's scored double-digit fantasy points in three straight weeks now. That's largely thanks to a three-game touchdown streak that should be extended on Sunday Night.
The Packers defense is much improved this season but still struggles to stop the run at times. Leshoure scored 14 standard points against this Packers defense just three weeks ago, so he should at least be able to match that production.
Projected stats: 20 carries, 80 yards, 2 TD's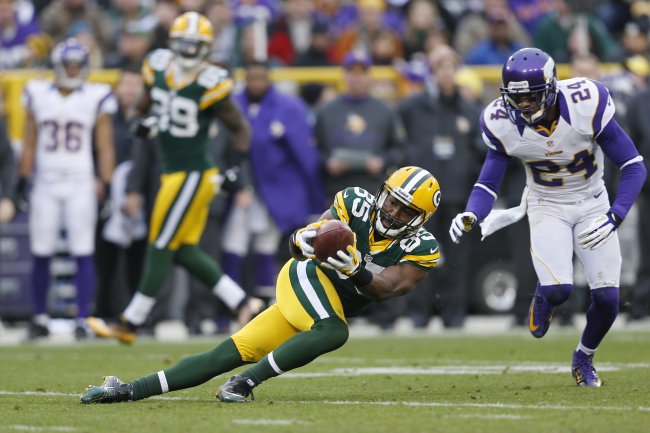 Joe Robbins/Getty Images
Green Bay: Greg Jennings
Jennings made his return to the lineup last week and should be ready to start scoring big points against the Lions.
With Jordy Nelson still dealing with nagging injuries, he'll either see limited targets or he'll sit out the game completely, so Jennings should receive plenty of targets for himself.
Fellow wide receiver Randall Cobb had a big day the last time the Lions played the Packers, so he could put up big numbers, but you'd have to think that the Lions defense will keep an extra eye on him. With all that extra attention, Jennings should have even more opportunities to rack up the points.
Projected stats: 6 receptions, 80 yards, 1 TD
Key To Victory
Running Game
Both teams are known for their dynamic passing games. Stafford leads the league in passing yardage this season. Rodgers is still one of the most efficient passers in the game when he's on. However, this one will come down to whichever team can run the football.
Both teams are averaging just barely over 100 yards a game and have struggled to find the team's best running back all season. With James Starks hobbled, Green Bay has had to switch to Alex Green with mixed results. Joique Bell and Mikel Leshoure have been the duo in Detroit, but neither have shown they are capable of putting up big numbers as starters.
Whichever team can get the running game in line is going to have a huge advantage in this one.
Prediction
The Lions have been playing much better the last few weeks, they've been close to tasting victory on many occasions. However, this isn't a good matchup for them.
The Packers are a veteran team who know how important it is to win this time of year. The Lions have the offense to make it close, but they won't be able to stop Green Bay from pulling this one out.
Final Score: Green Bay 31, Detroit 24