NFL Week 14 Predictions: Can't Miss Picks and Complete Matchup Guide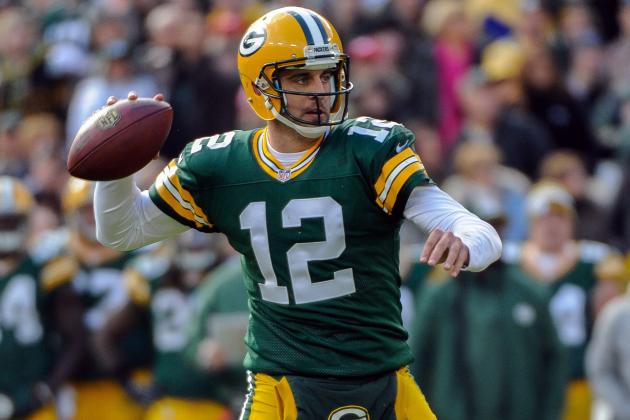 Benny Sieu-USA TODAY Sports
Aaron Rodgers and the Packers are a lock for Week 14.
Week 14 is one fascinating slate for NFL picks and predictions.
One game we'll feature ahead is Aaron Rodgers and the Green Bay Packers vs. the Detroit Lions.
In short, it's a can't-miss pick because the Packers are a lock to win on Sunday. The Lions remain in dire straits with a 4-8 record, whereas the Packers got an impressive response victory in Week 13.
Plus, the NFC North is still on the line for Green Bay with a game remaining at the Chicago Bears.
That said, let's breakdown this weekend's locks as the postseason is closing in fast.
Begin Slideshow

»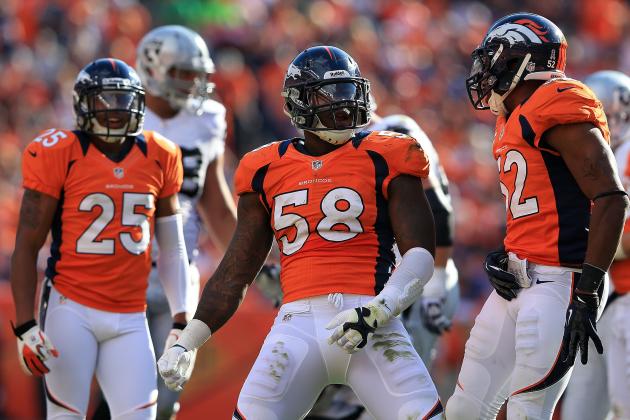 Doug Pensinger/Getty Images

Can't Miss Pick
The Denver Broncos enter Week 14 on a seven-game winning streak, having still yet to hit their peak.
On the other hand, the Oakland Raiders sit at 3-9 and are only playing the spoiler role on Thursday.
Previously in Week 4, the Broncos bulldozed the Raiders at home, 37-6. There, Denver was able to neutralize Oakland's running game and got impressive pressure on Carson Palmer.
Well, expect a similar result this week.
Von Miller and Co. are capable of applying pressure from every angle and Denver also allows a mere 3.6 yards per rush. Factor in Peyton Manning and the Broncos offense against Oakland's No. 28 ranked defense and it's a simple mismatch.
Not to mention, the Raiders give up a league-high 31.3 points per game.
Broncos 35, Raiders 13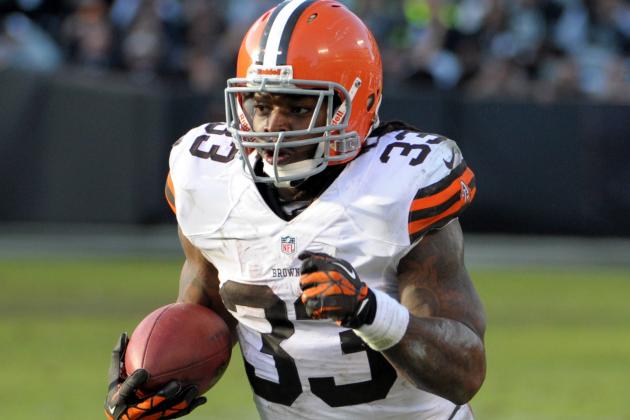 Kirby Lee-USA TODAY Sports

With a victory over the Carolina Panthers in the midst of unfortunate circumstances, the Kansas City Chiefs enter Week 14 after showing some impressive mental toughness and confidence.
As for the Cleveland Browns, Trent Richardson has Pat Shurmur's team riding a two-game win streak.
Needless to say, both teams have increased confidence coming into this Sunday's contest.
One major difference, though, are turnovers. Kansas City still remains turnover-prone and the Browns defense is capable of providing its offense with additional possessions. As a result, Cleveland's improving offense controls the tempo throughout.
Browns 21, Chiefs 10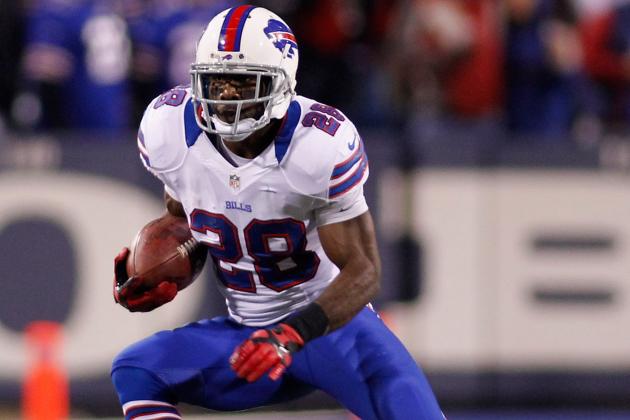 Rick Stewart/Getty Images

The St. Louis Rams and Buffalo Bills are an intriguing matchup.
For one, St. Louis played well against the San Francisco 49ers and yet lost to the New York Jets.
Unfortunately for Buffalo, it also fell to the Jets in Week 1 and has been just as inconsistent. Here, the disparity resides in each offense's ground game.
C.J. Spiller averages 6.6 yards per carry while Steven Jackson averages only four per attempt. Although that's solid for St. Louis, the Bills present a better pass protection to remain balanced and then set up the run in advance.
Bills 20, Rams 7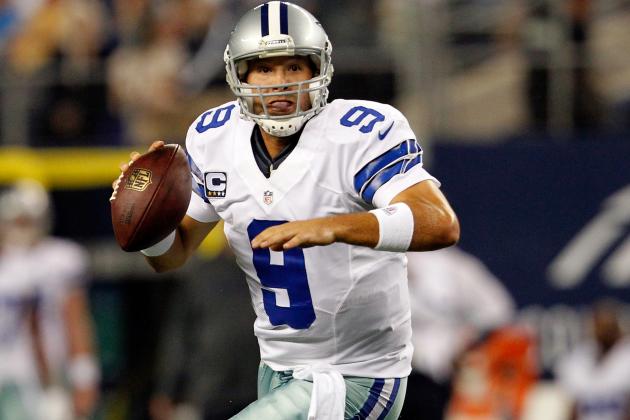 Tom Pennington/Getty Images

This is a game presenting two teams in the middle of roller-coaster seasons.
The Dallas Cowboys began 3-5, but are 3-1 since and the Cincinnati Bengals are riding a four-game winning streak after losing four consecutive.
If there's one concern here, though, it's the Cowboys' inability to stop the run. With Dallas currently allowing 4.3 yards per carry, the Bengals will steamroll through the trenches and set up receiver A.J. Green downfield.
On the flip side, Dallas has been explosive on offense before. However, Cincy's defense possesses a better pass rush to fluster Tony Romo. In turn, the Bengals force turnovers and let their efficient offense takeover.
Bengals 27, Cowboys 16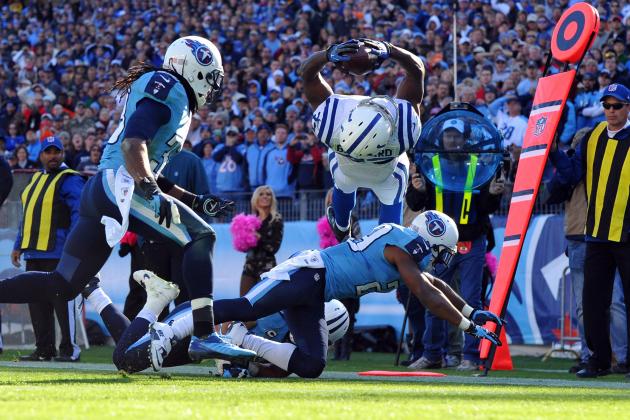 Don McPeak-USA TODAY Sports

Can't-Miss Pick
The Tennessee Titans rank No. 27 in total defense and give up an average of 30 points per contest.
So expect Andrew Luck and the Indianapolis Colts to grab a ninth win in Week 14. Indy's passing attack will eviscerate Tennessee's suspect coverage, because the Titans also allow a 69.5 completion percentage.
In addition, despite not running the ball often, the Colts get efficiency from Vick Ballard to field balance. Tennessee's offense, on the other hand, has unfortunately been inconsistent even when Chris Johnson is in a rhythm.
The passing attack has been unreliable at best, because turnovers have been a huge concern of late. Although the Colts don't specialize in being opportunistic, their pass rush is capable of creating enough pressure to make Tennessee become one-dimensional.
Colts 24, Titans 3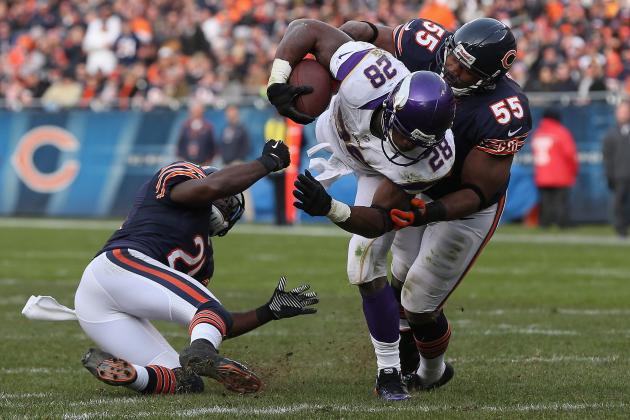 Jonathan Daniel/Getty Images

It's only getting worse for the Chicago Bears.
According to Vaughn McClure of the Chicago Tribune:
Multiple sources told the Tribune that [Brian] Urlacher won't play for the next three games at a minimum after suffering a Grade 2 right hamstring strain during Sunday's 23-17 overtime loss to the Seahawks. An MRI confirmed the severity of Urlacher's injury.
To make Week 14 even tougher, Chicago hits the road and faces the hungry Minnesota Vikings.
Adrian Peterson continues to prove why he is the NFL's best running back, and the Bears have struggled defending the ground game in 2012 as well. Minnesota definitely lacks a passing attack, but slamming with Peterson will keep Chicago's offense off the field.
And when on the field, the Bears offense must deal with a sound pass rush featuring Jared Allen. In a low-scoring defensive slug-fest, the better ground game belongs to Minnesota.
Vikings 14, Bears 9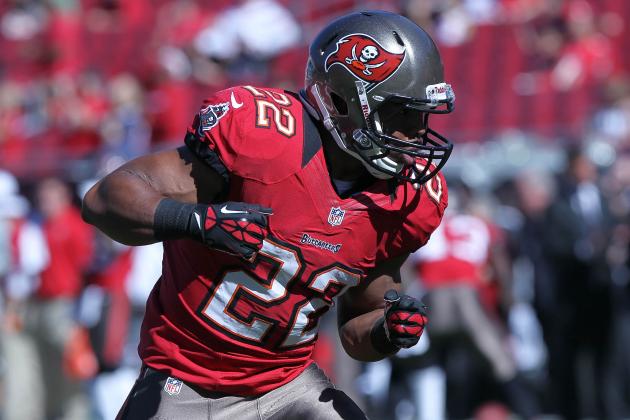 Kim Klement-USA TODAY Sports

Can't-Miss Pick
The 2012 season is not getting any better for the Philadelphia Eagles. Week 14 also doesn't offer any glimmer of hope.
According to Jeff McLane of the Philadelphia Inquirer:
[Michael] Vick, who has missed the last three games, still needs to reach baseline in the ImPACT test and be cleared by the Eagles doctor and an independent neurologist to return to play. The same holds for [LeSean] McCoy, who has missed the last two games.

Reid said that McCoy still had symptoms. Bryce Brown has started in McCoy's place and will likely start again on Sunday.
Now yes, Bryce Brown has done a great job for Philly on the ground. Still, his fumbles have been costly and the Tampa Bay Buccaneers rank No. 1 in rush defense.
Flip to Tampa's offense and we see impressive balance between Josh Freeman and Doug Martin. Defensively, the Eagles continue to underachieve and the Bucs are too efficient to be stopped.
Buccaneers 30, Eagles 14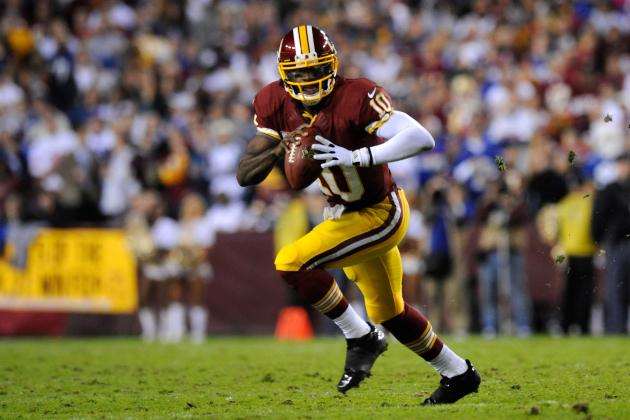 Patrick McDermott/Getty Images

The Baltimore Ravens are an interesting matchup for Robert Griffin III.
After all, the Ravens run a 3-4 front and that's just how the Pittsburgh Steelers isolated RG3 in Week 8.
There, Griffin was limited to 177 yards passing and only eight rushing yards. Unsurprisingly, Washington fell 27-12.
Here, the Ravens provide a similar scheme. The downside is the injury concern of Terrell Suggs. Per the Associated Press via ESPN.com:
Baltimore Ravens linebacker Terrell Suggs doesn't intend to let a torn right biceps keep him out of Sunday's game against the Washington Redskins.

"We kind of live by the creed of, if you can breathe then you can play," Suggs said Wednesday. "We just got to check it out. We got to see how it holds up throughout the week. (It will) definitely be a game-time decision on Sunday."
So, can Baltimore keep RG3 in check to let its offense exploit Washington's defense? No, because the Ravens struggled defensively even when healthier earlier in the season.
Redskins 21, Ravens 17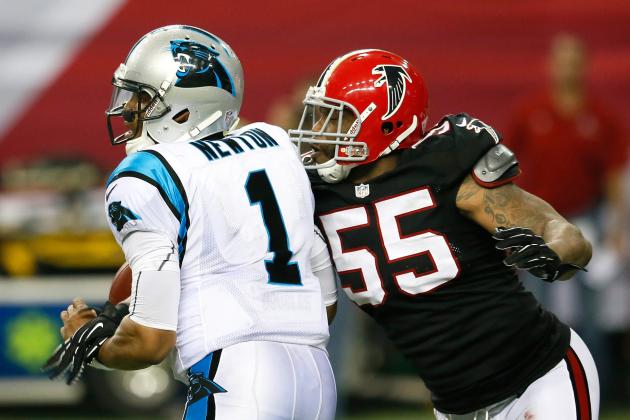 Kevin C. Cox/Getty Images

This matchup was close earlier in the season, but the Atlanta Falcons have since added much confidence.
For one, the Dirty Birds have improved against the run and remain opportunistic in coverage—five picks of Drew Brees in Week 13 serve as a prime example.
Secondly, the Carolina Panthers struggle to stop anyone on defense as they allow 24.3 points per game.
Looking at how explosive the Falcons are, Matt Ryan and his array of receivers will get 24-plus without blinking. Include Cam Newton's inconsistent pass protection, and Atlanta will win the battle up front as well as the game.
Falcons 31, Panthers 14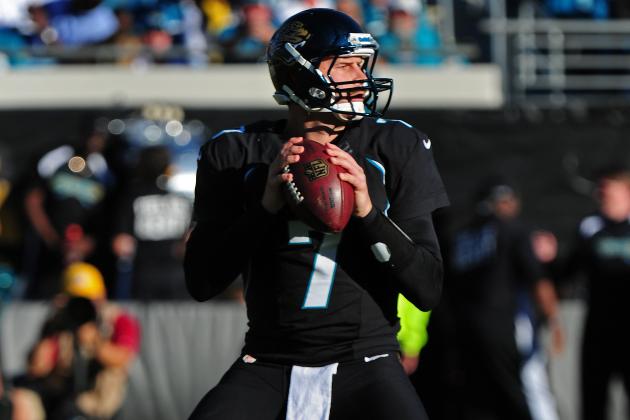 Scott Cunningham/Getty Images

Believe it or not, the Jacksonville Jaguars are on the upswing.
Courtesy of Chad Henne and the passing game, Jacksonville nearly upset the Houston Texans and got a victory over Tennessee.
The New York Jets, however, remain pro football's drama club with a polarizing quarterback situation. Regardless of who is under center, though, Gang Green struggles everywhere offensively and the defense fails to stop the run (allowing 4.3 per carry).
Even though the ground game is not Jacksonville's forte, Henne's passing threat will get New York to back out of the box. Doing so opens more running lanes en route to a Jaguars' victory.
Jaguars 23, Jets 13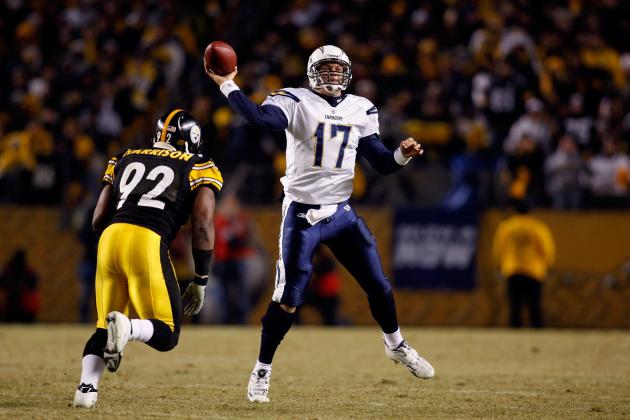 Chris Graythen/Getty Images

Can't-Miss Pick
After the upset victory over Baltimore, the Pittsburgh Steelers are one of pro football's most confident teams right now.
Even better is the return of quarterback Ben Roethlisberger. Via Teresa Varley of the Steelers' official website:
Quarterback Ben Roethlisberger will start against the San Diego Chargers on Sunday, returning to action after missing the last three games with a shoulder injury.

Roethlisberger practiced for the second straight day on Thursday, and Coach Mike Tomlin was comfortable enough with what he saw to say Roethlisberger will start this week.
So expect Pittsburgh's offense to move the ball well and see a significant reduction in turnovers. Switch to Philip Rivers and the San Diego Chargers offense and it's quite the opposite.
The Bolts simply turn it over way too much and Pittsburgh's defense will suffocate against the run and pass. In short, this game will be over before halftime.
Steelers 28, Chargers 0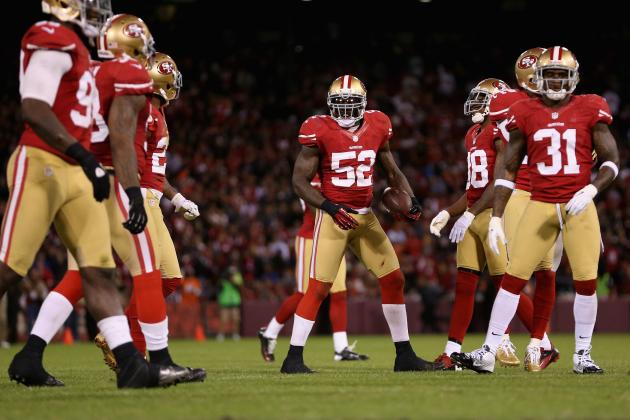 Ezra Shaw/Getty Images

Don't fall asleep on the Miami Dolphins.
This team nearly upset the Patriots last week after upsetting the Seattle Seahawks in Week 12.
Include wins over the Rams and Bengals, and Miami is a tough matchup for the San Francisco 49ers. It starts in the trenches, because the Dolphins have a great pass rush that will assist the coverage in tougher down-and-distances.
Miami is also better at running the rock to take pressure off Ryan Tannehill.
As for San Francisco, the 'Niners defense will have to totally blanket Miami's offense. It's not overly explosive to push the pace, so stuffing the run per usual and getting to Tannehill will provide an advantage.
Offensively, per the 49ers' official Twitter feed:
Harbaugh confirmed Colin Kaepernick will start Sunday against the Dolphins.

— San Francisco 49ers (@49ers) December 3, 2012
So, Jim Harbaugh has to let Colin Kaepernick take chances downfield. The Dolphins are suspect in coverage and keeping them honest will let the ground game control the tempo.
49ers 24, Dolphins 16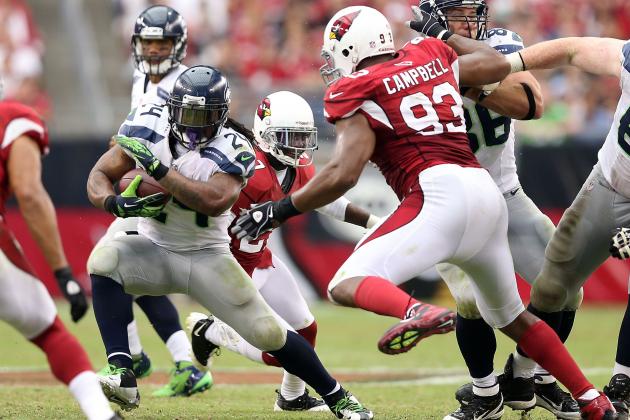 Christian Petersen/Getty Images

Can't-Miss Pick
The Arizona Cardinals and Seattle Seahawks game will get out of hand quickly.
Because the Cardinals lack any sort of pass protection or ground game, anticipate the Seahawks dominating from the opening kickoff. To this point, Arizona has allowed 48 sacks and Seattle has accumulated 29.
No, that's not an extensive amount compared to some teams. Nonetheless, don't bet on the Cards blocking whatsoever.
Factor in Seattle's offensive balance, and Arizona will be on its heels early. Russell Wilson minimizes turnovers and Marshawn Lynch will slam up front between the tackles. Also, Arizona turns the ball over far too much, which will give Wilson and Co. extra possessions to extend their lead.
Seahawks 30, Cardinals 10
Ronald Martinez/Getty Images

Drew Brees vs. Eli Manning is going to be one fun contest.
By that token and because of each quarterback's impact, the New Orleans Saints and New York Giants will be decided by defense.
Unsurprisingly, turnovers will be at the core of this game's victory.
Brees tossed five against the Falcons and it cost New Orleans on the road. Eli Manning may not be as turnover-prone, but New York's lack of offensive explosion warrants concern.
We know the Saints will push the pace, because that's how NOLA rolls.
Big Blue, though, presents more balance and Ahmad Bradshaw does average 4.5 yards per carry. Since the Saints still lack in the trenches, Manning doesn't turn the ball over because of a better ground game.
New York snags one pick of Brees, and it's enough with the pass rush to fend off the Saints.
Giants 27, Saints 21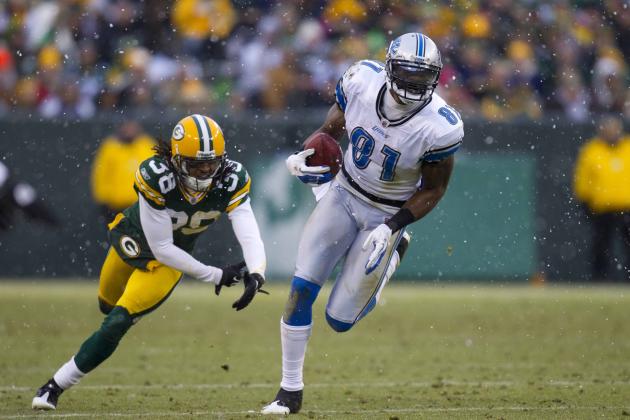 Jeff Hanisch-USA TODAY Sports

Can't-Miss Pick
For as much as the Green Bay Packers have struggled on defense recently, the Detroit Lions are still marginally worse.
On the year, Detroit allows an average of 353 total yards per game and Green Bay allows 349. Obviously, not much disparity in this regard.
The difference resides in points allowed per game: The Lions give up an average of 26.3 to Green Bay's 21.6.
Now, look at the offenses and it's going to be a rather high-scoring affair. A duel between Aaron Rodgers and Matthew Stafford is to be expected. However, another competitive advantage to Green Bay are turnovers.
Not only are the Packers more opportunistic in pass defense, Stafford has tossed three more interceptions than Rodgers thus far in 2012. Therefore, Green Bay logs another win over Detroit by winning the turnover battle and giving Rodgers additional possessions.
Packers 34, Lions 20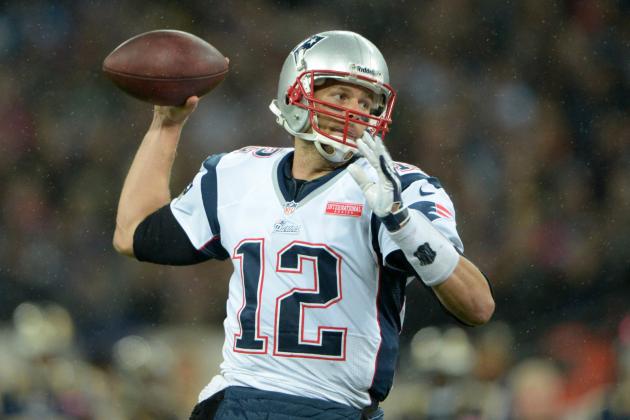 Kirby Lee-USA TODAY Sports

Easily the game of the week, the Houston Texans and New England Patriots battle for AFC supremacy.
The end result also will have an impact on the playoff picture as well, because home-field advantage is always crucial.
The push-pull matchup of this game, though, won't be one offense against the opposing defense. It's the manner in which each offense operates. Meaning: Houston's offense vs. New England's offense.
Houston fields more balance, ball control and possesses big play capability. New England rightfully relies on Tom Brady, but still presents a strong ground game to keep defenses honest.
In short, the competitive advantage goes to who can win the possession battle.
Undoubtedly, the Texans feature a better rushing attack, but the Pats will stack the box and force Matt Schaub to outplay Tom Brady.
Well, based on evidence from Houston's transparency against Aaron Rodgers (338 passing yards, six touchdowns), Chad Henne (354 passing yards, four touchdowns) and Matthew Stafford (441 passing yards, two touchdowns), Brady will dice up Wade Phillips' defense.
Patriots 38, Texans 31
Follow John Rozum on Twitter.