World Football, League Races Outside of the "Big Five" That Deserve Attention
Use your ← → (arrow) keys to browse more stories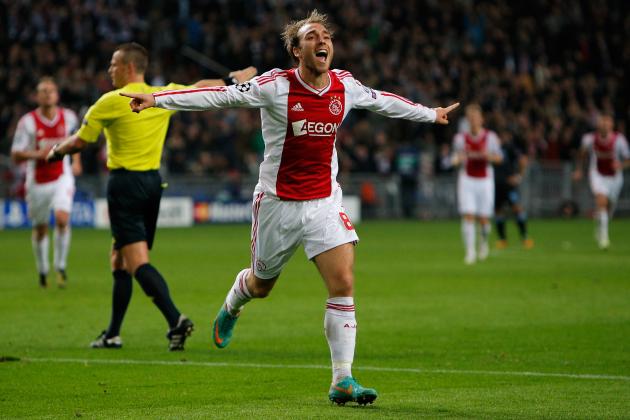 Dean Mouhtaropoulos/Getty Images
Christian Eriksen and Ajax have work to do in the Eredivisie if they want to defend their Dutch title.
England, Germany, France, Italy and Spain have a lot in common on the world soccer stage. They each have won a World Cup and developed their own "brand" of how football should be played. They have produced some of the greatest footballers to ever play the game including Bobby Moore, Franz Beckenbauer, Zinedine Zidane, Paolo Maldini and Carles Puyol.
And they have what most football fans would call the best domestic leagues in Europe, if not the world: the Premier League, La Liga, Ligue 1, Serie A and the Bundesliga…the leagues where the best come to hone their skills and make a name for themselves.
Year after year, tournament after tournament, teams from these five countries make themselves heard. Their domestic leagues garner most of the worldwide media attention, and their top
squads rival for what a national team makeup would be like.
Occasionally a team will have a masterful season on the pitch and blow away their league counterparts (Juventus in 2011-2012 and Arsenal in 2003-2004), but for the most part the races are close and usually come down to the wire because of the skill of the teams from top to bottom.
Because of this, a lot of the smaller domestic leagues in Europe don't get the publicity or the coverage like the "Big Five." That does not mean their races aren't as hotly contested, and it does not mean there is no good football being played.
So here is a look at a few of the league races outside of the "Big Five" in Europe that are gearing up for a tight finish and the most exciting league play in years.
Dutch Eredivisie
Champion Prediction: Ajax
Although not considered by many to be a "lesser league," the Dutch Eredivisie is one of the top leagues that often gets overlooked on the international stage.
Some of the greatest Dutch players to ever compete have come from the Dutch league, and the talent level in the league is unquestioned. While Ajax have ruled the Eredivisie with 31 domestic league titles dating back to 1917, their road to the title of late hasn't been easy. Ajax has only managed two titles in the last eight years, much of that because of the recent revival of PSV Eindhoven.
Much like their Amsterdam counterparts, the Red-Whites from Eindhoven have dominated Dutch football at times. Their most recent run came from 2004-2008 when the team won four Eredivisie titles in a row. But both look to have their hands full in the hotly contested league this year, as the two Dutch giants sit just a few points off the pace at the midway point of the season.
Atop the table in the Eredivisie are FC Twente, which has their fair share of top-level talent, including Belgian international Nacer Chadli and Dutchman Leroy Fer. Twente have enjoyed early success at home winning six out of their first seven at De Grolsch Vest, but have struggled on the road, forcing them to be tied with Vitesse at 34 points.
After the leaders, there is hardly separation amongst the next clubs, so Twente and Vitesse have to look forward, but watch behind them as well. PSV sit third, one back of the pace set by the leaders, while Ajax and Feyenoord are tied for fourth place with 30 points.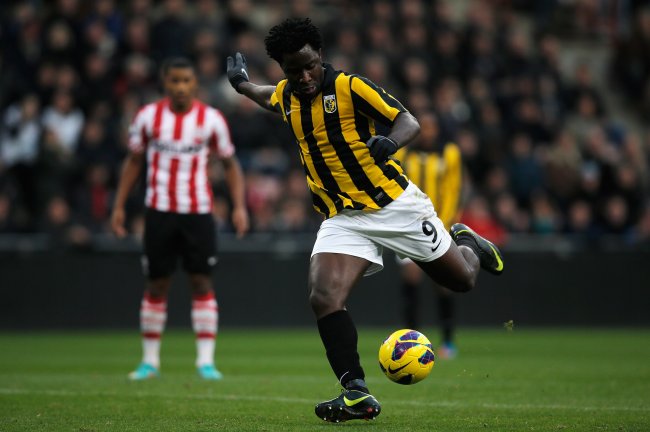 Dean Mouhtaropoulos/Getty Images
These five teams seem to set themselves apart from the rest of the league.
But with only half the season complete, the title of Dutch Champion is still up for grabs. The surprise here is Vitesse, who have a magnificent away record with seven wins in seven tries. No matter the league, this is a feat to celebrate.
Much of their early season success can be credited to Ivorian striker Wilfried Bony, who leads the league with 15 goals. Vitesse still have plenty of work to do though, as they surely will need to improve their 3-4-1 record at home if they want to vie for a title and secure a place in European competition next season.
Although it is unfamiliar territory for Vitesse to be this high in the standings at this point in the campaign, their goal-scoring talent is unmatched in the Eredivisie with Bony and Brazilian Jonathan Reis (seven league goals) leading the way. The goals will be scored; it will just be a question of how well Vitesse can defend in their quest for a top league spot.
PSV had a chance to put some distance between them and rival Ajax over the weekend, but failed to do so in a 3-1 loss. The win for Ajax, coupled with the end of their Champions League campaign this week, should give them the momentum and focus to take the Eredivisie by force.
Both PSV and Twente have the skill to compete with Ajax for a full season, but it will be hard to keep Ajax and their well-balanced attack from winning their third straight Dutch league title.
Turkish Super League:
Champion Prediction: Galatasaray
If there was ever a tightly-packed table at the midway point in the standings, it would be the Turkish Super League.
While it rarely happens in the Turkish Super League, each of the 18 teams are within three points of the team directly ahead of them in the table. The battle for the title figures are coming down to the wire and so will the battle for survival.
Traditional powerhouse Galatasaray are leading the way with 26 points. Besiktas are one point off the pace, and Fenerbahce sit fourth, just two points back. Considering that these three clubs have won 49 of the 58 Turkish League titles, it is a safe bet to say that this year the trend will continue.
But there is a threat looming to these traditional winners in the form of Antalyaspor, who sit tied atop the league with Galatasaray.
Only five teams have ever won the Turkish League, and Antalyaspor will have opponents and history against them as they try to become the sixth team to win the title. With a subpar road record midway through, it seems safe to say that Antalyaspor will be fighting it out for a place in Europe rather than the crown in Turkey.
Teams 5-7 in the standings (Eskisehirspor, Kasimpasa SK and Trabzonspor AS) are only four points back, so anything can happen. But there is still more to play, so don't be surprised to see Beskitas, Galatasaray and Fenerbahce start to separate themselves from the pack.
Leaders Galatasaray have a meaningful game this week in the Champions League when they face Portuguese side Braga. Galatasaray sit tied with CFR Cluj from Romania in second going into the final match day, so this is going to be a big week for the Turkish side.
If they can pull the points they need against Braga, their Champions League ride will continue. That can either be a good thing or a bad thing. The longer Galatasaray stay in the Champions League, the more likely it is that their league form may deteriorate. With teams hot on their heels in pursuit of a domestic league title, Galatasaray won't have too much room for error.
The good news for Galatasaray is that Fenerbahce (two points back) have a poor away record. In seven away games, Fenerbahce have sunk to a 1-5-1 record. Playing on the road is a hard feat to overcome, but the Yellow Canaries have the talent to win. Look for Senegalese striker Moussa Sow to continue his hot start to his Fenerbahce career, as well as goalie and captain Volkan Demirel to improve his play .
EuroFootball/Getty Images
That leaves Besiktas as the remaining title chaser in Turkey. With a favorable schedule the next few weeks, Besiktas can pull away from the field if they can take all three points from the matches they are
projected to.
Although it's not their strongest squad in the last few years, the men from Istanbul look to be in it until the end. It looks as if it's going to be another three-team race in Turkey, which will make for a very exciting finish.
Swiss Super League:
Champion Prediction: FC Basel
The Swiss League made headlines last year when top club FC Basel knocked off Manchester United to advance into the knockout round of the UEFA Champions League.
Although FC Basel fell in that round to eventual finalist Bayern Munich after their thrilling victory over the Red Devils, fans thought they were witnessing the start of a Swiss-club dynasty in the Super League. FC Basel have won three titles in a row, and seven of the last 11 to elevate themselves to the top of Swiss football.
But after losing key parts of their team including Swiss youngster Xherdan Shaqiri to Bayern Munich, they knew this year was going to be a greater challenge.
The Swiss league only has 10 teams in the top flight, but the separation from top to bottom is usually high. This year, the standings aren't arguing anything different.
BSC Young Boys and the team with arguably the best name in football Grasshopper FC, are the top contenders for FC Basel as usual. The most prolific club in Swiss history, Grasshopper, sits atop the league with 37 points. FC Basel is right behind them with 33 points, and FC St. Gallen and FC Sion are close on their heels with 33 and 32 points respectively. BSC Young Boys sit in fifth place with 24 points.
The top four seem to have separated themselves from the rest, but BSC is beginning to show their stuff and make an impact, even if it turns out to be a spoiler. The 11-time Swiss champions won a key game against fourth place FC Sion over the weekend, and have now won two in a row. Although the momentum might get them into a spot to challenge for a European place, BSC seems to have dug themselves too big a hole to get out of at this point in the season.
EuroFootball/Getty Images
When it is all played out, though, the strength and depth of Grasshopper and FC Basel will be too much to overcome.
FC Sion figure to be the team that squeezes into third over St. Gallen because of higher profile players like former Italian international Gennaro Gattuso. FC Sion are not usually a suspect at the top of the Swiss table, but a third place finish in 2012-13 will reinforce that they want to be there.
That leaves the title contenders to FC Basel and Grasshopper.
While the race figures to be close, FC Basel have the stronger team and have recent history on their side. Grasshopper have performed well both at home and away this season with almost identical records for each.On the other hand Basel, who have starred at home, have struggled on the road.
Look for veterans like Alexander Frei and captain Marco Streller to lead this team in the second half of the season as they aim for their fourth straight title. If Streller the league's leading goal scorer at the midway point can keep his goal-scoring run in form (72 goals in 150 appearances), FC Basel should defend their title.
If they can start to pull more wins from draws, FC Basel will be atop the Swiss League for a 16th time come end of the season.