Cowboys vs. Bengals: 10 Keys to the Game for Cincinnati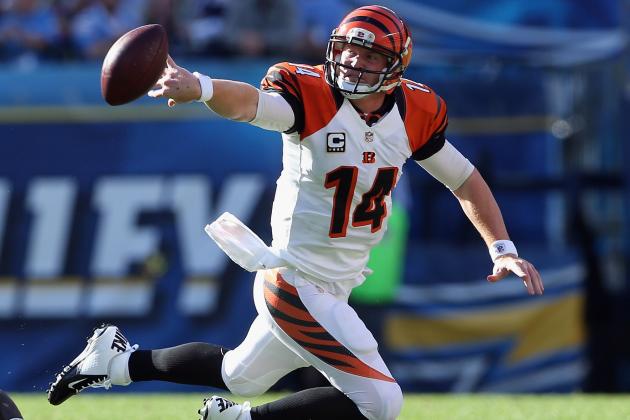 Jeff Gross/Getty Images

Monday Night Football—Cowboys fans found themselves oddly rooting for the Redskins to beat the Giants, and help narrow the gap for the NFC East division lead.
RG3 came through, and beat the Giants with the help of sensational rookie running back, Alfred Morris. Now the Cowboys are tied for 2nd with the Washington Redskins, but only one game behind the New York Giants.
If the Cowboys win out, the odds are in their favor to make it to the playoffs. Last year, the NFC East champion was at 9-7, and rode a hot streak all the way to a Lombardi Trophy. If the Cowboys look to do the same, they must take the remaining four games on the schedule one at a time.
It starts this Sunday at noon (CST) at the Cincinnati Bengals.
Here are you keys to victory.
Begin Slideshow

»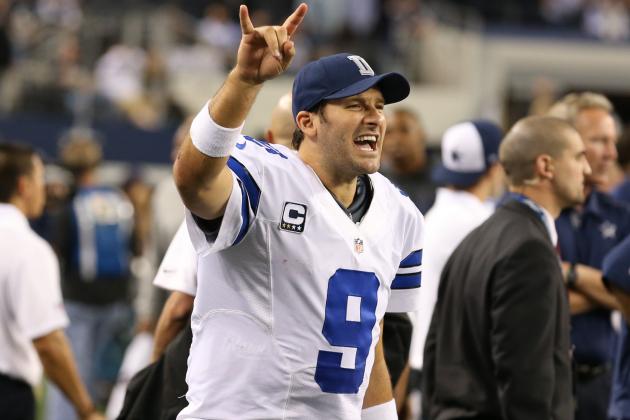 Matthew Emmons-USA TODAY Sports

Romo is the No. 1 key to victory in this game. DeMarco Murray is back, but don't look at him as a workhorse. Look at Romo as the workhorse, with Murray in to keep the defense honest and for a change of pace. This offensive line has seen better days, but if Tony Romo can have a few clean seconds to operate throughout the majority of the game, he can pick apart the Bengals defense.
Through the last five games, Romo has a 5:1 TD-INT ratio (which is excellent, by the way). He is rising up to the calling of wearing the star on his helmet, and the playoff hopes for this Dallas Cowboys team rest almost entirely on Tony Romo's right arm.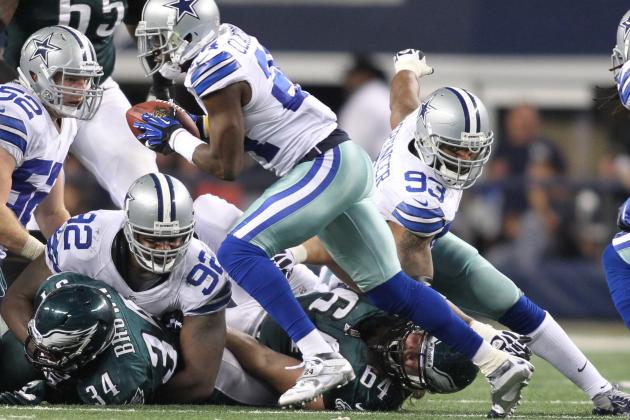 Tim Heitman-USA TODAY Sports

Nick Foles gave the Dallas Cowboys a run for their money last week, but an excellent force fumble by Josh Brent, and the subsequent return for a TD by Morris Claiborne opened the game up.
That play took over the game, and the Dallas Cowboys need "take-overs" desperately.
Andy Dalton has had his fair share of interceptions this year. With a pass rush that is less than potent, the secondary that is headlined by the 50 million dollar man (Brandon Carr), the top defensive pick in the 2012 draft (Morris Claiborne) and a former first round pick AND Pro Bowler (Mike Jenkins) they should be able to generate some.
Don't look for the "law firm" (Ben Jarvis Green-Ellis) to fumble. You almost have a better chance of winning the lottery.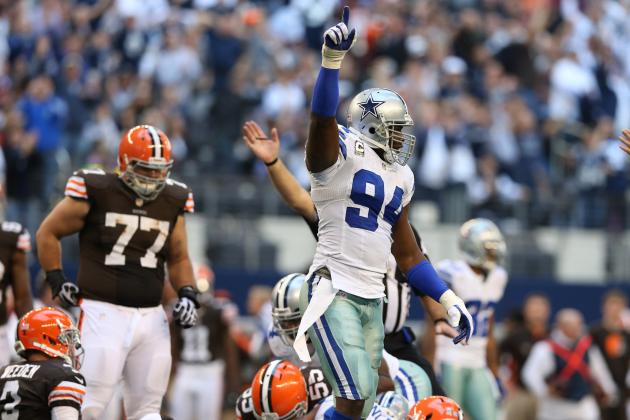 Matthew Emmons-USA TODAY Sports

Anthony Spencer has been on fire this year, and is showing the Dallas Cowboys front office why he deserves a long-term contract.
DeMarcus Ware has been almost invisible in some games. Last week versus the Eagles, Ware started off hot with a hit against Foles, but disappeared the rest of the night. Ware needs to be a presence from a pass rushing stand point and harass the 'Red Rocket" early and often.
Andy Dalton has thrown his fair share of picks this season, and pressuring him into errant throws will be the key to victory. Sacks are a mystic statistic—the Cowboys could have none against the Bengals, but a consistent pressure will help seal this victory.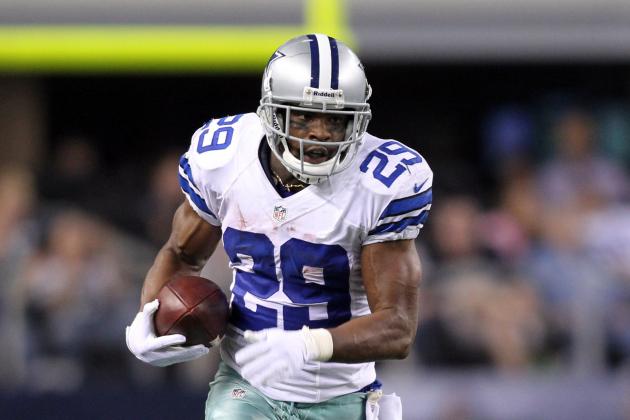 Tim Heitman-USA TODAY Sports

In recent history, the Cowboys have had success when DeMarco Murray carries the ball 20+ times a game. This doesn't mean the Cowboys should blindly feed Murray the ball, however they should feed him often enough to keep the defense (especially the pass rush) honest.
Many words can be said about Murray's toughness and ability, but ESPN's Jean-Jaques Taylor hits it right on the head.
The part I particularly like is where Murray can make something out of nothing. Same with Romo. There may be "nothing" all day against Cincinnati led by former Cowboys coach Mike Zimmer. But these Cowboys are going to have to make something out of it.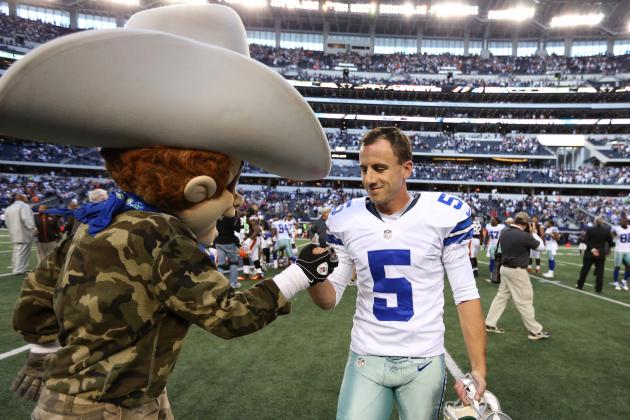 Matthew Emmons-USA TODAY Sports

It's funny how only sheer numbers count in the NFL. Dan Bailey has been the epitome of consistency for the consistently inconsistent Dallas Cowboys.
Along with Derek, Dan Bailey is one of my favorite Cowboy players too.
If with the game on the line, or with a stalled drive from 45+ yards out, Jason Garrett needs to trust in Dan Bailey to make the kick. He does so, more often than not. In fact, he's No. 2 on the accuracy chart for career field goals.
Pretty impressive?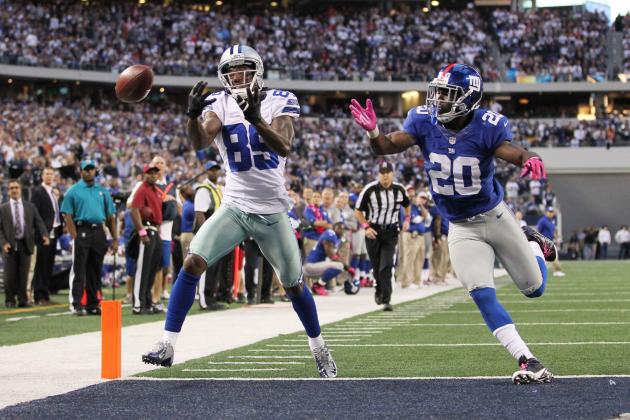 Tim Heitman-USA TODAY Sports
Oh no, yet another missed opportunity from K.O.
This isn't so much about Kevin Olgetree than it is about Dwayne Harris and Cole Beasley. K.O. has had his many chances, and for a while he looked like a bright young star (mostly his rookie year).
But several years have come and gone and even with all of his knowledge of the system, Ogletree can't seem to make that leap to the solidified third wide out.
Dwayne Harris and Cole Beasley need more playing time, and chances to shine. They won't disappoint.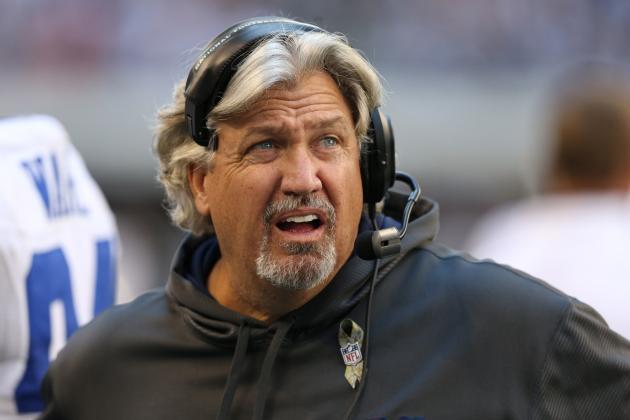 Matthew Emmons-USA TODAY Sports

Rob Ryan need to amp up the pressure. Plain and simple. If four and five man pressures can't get there on key downs, send six. Send seven. Heck, send everyone.
Oh wait, sorry. I thought I was Wade Phillips for a sec there.
The Cowboys went from blitzkrieg Wade Phillips to eccentric conservative Rob Ryan. We need some middle ground, and Rob Ryan has to figure out what is going wrong, or his name won't be included in possible head coaching openings.
I'd like to see Claiborne get his chance at a corner blitz. Jenkins has proven he is a legitimate outside corner—let the rookie make plays. He only returned a fumble for a touchdown last week.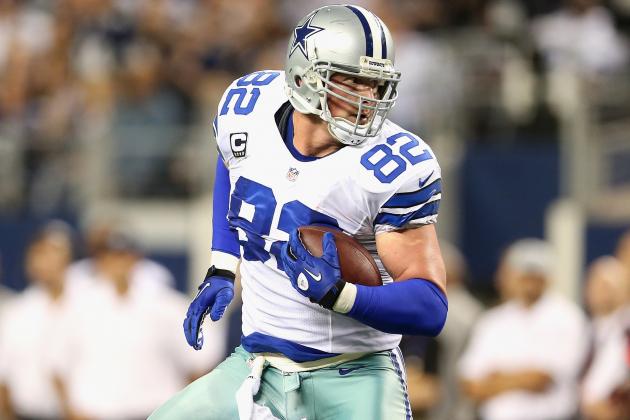 Ronald Martinez/Getty Images

There are few words that can surpass what has already been said about the future Hall of Fame tight end, Jason Witten. So here is a small rhyme.
Enjoy.
The Bengals secondary can't cover him, no one can. Try to stop him—he's the "no helmet" man.
No helmet, no problem. No spleen, no fear. Only one game missed in over 10 years.
Feel free to bash my horrible attempt at poetry in the comments below:
Back to business: Witten is going to be there for every critical third and fourth down play. Romo cannot forget his favorite security blanket if these Cowboys are going to win.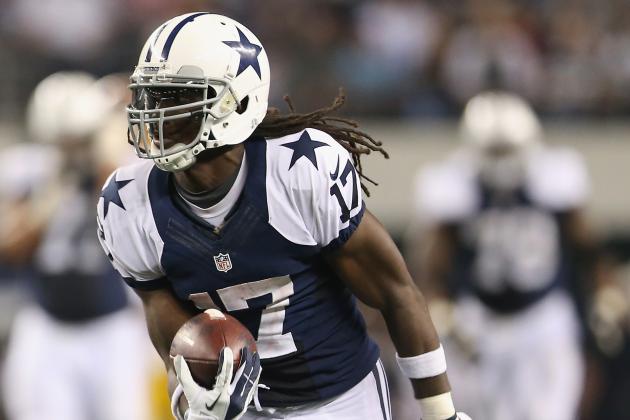 Ronald Martinez/Getty Images

Lets hope that the long locks of Dwayne Harris' hair give the Cowboys an extra 15 yard bonus because someone tackles him by the hair. (Anyone else infuriated by that call against the Browns?)
Don't be surprised if you see Dez Bryant return a clutch punt. He seems to be getting the hang of the whole "wide receiver" gig, and has put up monster numbers.
Maybe as a reward Garrett will let him take one to the house.
As important as offense and defense are, special teams could be the determining factor. If this is a battle for field position, Brian Moorman has done an excellent job at pinning opponents inside the 20. I don't have the stats, but just from watching the games, it is extremely impressive.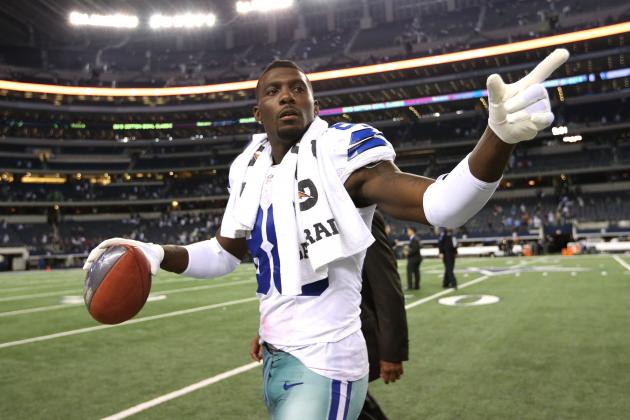 Matthew Emmons-USA TODAY Sports

Dez Bryant needs his looks. He has shown through the past four games that he has a level of comprehension on the football field that is needed to pair with his freakishly athletic body.
I, personally, would like to see Dez Bryant bulldoze over Terence Newman for a touchdown (similar to how he did last week against Dominique Rodgers-Cromartie).
Whether it's a fade jump ball, a quick slant or a bubble screen—each time that Dez Bryant touches the football the Cowboys have a chance to score.
Get your popcorn ready. No. 88 is about to put on a show.