Kobe Bryant Wins NBA Player of the Night After Eclipsing 30,000-Point Barrier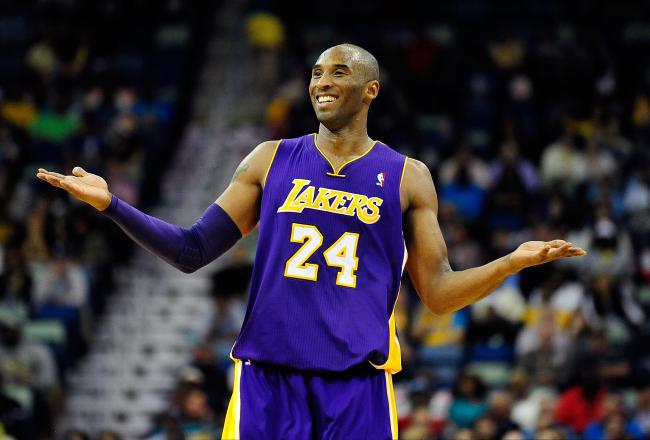 Stacy Revere/Getty Images
Kobe Bryant never ceases to remind us why he is one of the greatest players to grace the hardwood of all time. Just ask the New Orleans Hornets.
On a night when J.R. Smith won the game for the New York Knicks at the buzzer and Klay Thompson exploded for the Golden State Warriors, Bryant made history, and nothing else mattered.
At 34, Kobe became the youngest player in NBA history to eclipse the 30,000-point barrier. He is just the fifth player overall to reach such a milestone, joining the ranks Kareem Abdul-Jabbar, Karl Malone, Michael Jordan and Wilt Chamberlain, further solidifying his status as one of the best scorers in NBA history.
And he did so while leading the Los Angeles Lakers to a much-needed victory in New Orleans.
Stat Line: 29 points, six rebounds, four assists and three steals on 58.8 percent shooting.
The basket that made history for Kobe.
For a fraction of a second, Bryant's groundbreaking accolade was enough to allow the Lakers to forget about their struggles, to forget that they were under .500. For that fraction of a second, nothing else mattered.
But the moment came and went, and Los Angeles was then left to win a game away from home, a feat they had accomplished just once coming into New Orleans.
Once the appreciation of what Bryant had just accomplished wore off, though, it become increasingly obvious that everyone outside of the Black Mamba was having issues scoring for the Lakers.
Los Angeles totaled just 20 points in the first quarter and found itself down by one heading into the half.
But Kobe wasn't about to lose this one, not after what he had just accomplished and not when his team needed a victory.
Bryant fueled a 13-0 run by the Lakers early in the third, and Los Angeles never looked back, securing their ninth victory of the season that, more importantly, brought them within one victory of reaching .500 once again.
Two more of Kobe's 29 points.
Sure, this win came against the Hornets, a team now tied for the worst record in the Western Conference, but that doesn't matter.
What matters is that the Lakers appeared ready to fold the way they have done so often this season in the first half, but Kobe wouldn't let them. What mattered is Bryant not only eclipsing the 30,000-point plateau, but reminding us all of how he got there, and how he also won five championships along the way.
Win or lose, this night was going to mean something to Bryant. It was a night where he found himself side-by-side with some of the best talents to ever play the game. It was a night that he further distinguished himself from the rest of the basketball world.
It was a night he would remember not just for the rest of the career, but the rest of his life.
But it was also a night that he wasn't willing to lose. No matter the outcome, this night would have always have meant something to him, yet his individual success would have been tainted by the failure of the collective had the Lakers lost the game.
And Bryant wasn't going to let that happen.
More of Kobe showcasing why he reached 30,000 points in the first place.
He was the one that helped open this game up. He was the one that made most forget the Hornets hung around far longer than they should have.
Who was the NBA's top performer Wednesday night?
He was the one that ensured this night would go down in history as the night he broke records while also putting Los Angeles on his back and carrying it to victory, like he had done so many times before over the past 16-plus years.
He was the one that dropped his 30,000th point, and then immediately got back to business.
Simply put, on this night, he reminded us all of what makes Kobe Bryant, Kobe Bryant.
And that meant more to both the Lakers and the game in general, more than his 30,000 points ever could.
All stats in this article are accurate as of December 6th, 2012.
This article is
What is the duplicate article?
Why is this article offensive?
Where is this article plagiarized from?
Why is this article poorly edited?

Los Angeles Lakers: Like this team?