6 Key Premier League Battles to Watch This Weekend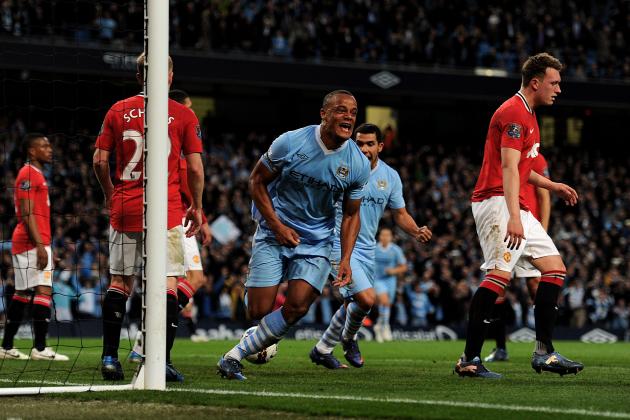 Michael Regan/Getty Images
Vincent Kompany wheels away after heading the winner against Manchester United in April.
After a pretty dreadful set of results for English clubs in the Champions League this week, it's back to Premier League business this weekend.
Manchester United, Manchester City and Arsenal all lost in midweek, with only Chelsea sparing Premier League blushes, but even their 6-1 win couldn't stop them from crashing out of the competition at the group stage.
In doing so, Chelsea became the first reigning European champions to go out at the group stage and City's loss condemned the current Premier League champions to finish bottom of their group.
Pretty humiliating, right?
There are some great Premier League fixtures to look forward to this weekend though, including the Manchester derby.
The last time that the Manchester giants went head to head, City skipper Vincent Kompany headed the winner for his side and set them on course to win their first Premier League title.
Let's take a look at the six matches I'll have a keen eye on.
Begin Slideshow

»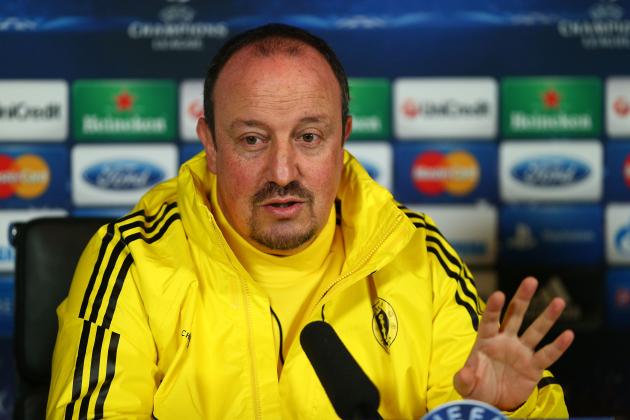 Clive Rose/Getty Images
Rafael Benitez is a hate figure for some Chelsea fans
I genuinely pity the new(ish) Chelsea boss Rafael Benitez.
It gives me no pleasure at all to say that I predicted Chelsea's defeat to West Ham last week in this very column, which you can read here if you haven't done so already. I said:
I firmly believe that West Ham United will build on Wednesday's performance against Manchester United and come away with all three points on Saturday, winning 3-1.
Benitez is on a hiding to nothing at Stamford Bridge and I suspect that, even if he wins the Premier League this season, he still won't win over the Chelsea fans or keep his job.
Imagine what it must be like to be in that position. I doubt anyone reading this, or who watches football, would want to be Benitez right now.
It was reported via bbc.co.uk Thursday that, in an interview with Radio 5 Live, former Chelsea boss Avram Grant believes that Benitez needs support in his role. Grant said:
What Rafa needs now is good victories and good football to convince the supporters that they need to support him, but I think more than this, that the club need to support him, and then it will be more easy for him because it is not an easy time for Chelsea - first time out of the Champions League next stage, and the gap between them and the first place in the league is huge, so I think he needs it.
There's only so much that Benitez can do.
Chelsea's Champions League future was already out of their hands before Rafa took over and he did all that he could do last night.
A 6-1 win against FC Nordsjaelland Wednesday night wasn't enough to see them get through to the knockout stage.
I've said it for the last couple of weeks and I'll say it again.
The Chelsea fans should be directing their anger toward their trigger-happy chairman and underperforming players, because Chelsea's problems started well before Benitez came on the scene.
They go into Saturday's match at the Stadium of Light looking for their first Premier League win since October 20. Their opponents, Sunderland, are also struggling for form and this week, Martin O'Neill celebrates his first year in charge. It'd be fair to say that Sunderland's progress under O'Neill has been steady and unspectacular.
He made a great start with The Black Cats, but since the tail end of last season, they've been struggling to find some form.
O'Neill's sides are typically hard-working and well-disciplined, but their lack of goals this season will be a concern. After starting his Sunderland career with a bang, the goals have dried up of late for Scotland striker Steven Fletcher. He's a proven Premier League goal scorer and he'll be looking to get back on the goal trail as quickly as he can, starting this weekend.
Sunderland have only won twice this season, and ahead of this weekend's match with Chelsea, there's two schools of thought.
Either it's the perfect time to play Chelsea, considering their capitulation over the last two months or Chelsea will come out and make a statement.
Sadly, I think the former is more likely and Sunderland will pick up a well-earned point against the struggling Blues.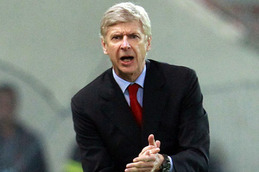 Image courtesy of football365.com
To say it's been a bad week for Arsenal boss Arsene Wenger would be an understatement.
Two words sum up their Premier League result from last weekend: coupon buster.
I doubt that even the most ardent Swansea fan would've predicted that they'd win 2-0 at the Emirates. If that result wasn't bad enough, then the Gunners went to Greece midweek and squandered a single goal advantage to lose 2-1 to Olympiakos.
After starting the season so strong defensively, Arsenal have looked all over the shop lately. It's as if they don't know what they're doing, and because of recent results, they find themselves 10th in the table.
Arsenal are struggling for confidence right now and their task won't get any easier when Steve Clarke brings his West Brom side to the Emirates on Saturday.
Undoubtedly the surprise package of the season, the Baggies find themselves fifth in the table, level on points with Chelsea and Tottenham. If they hadn't have lost to Stoke last weekend, they'd have been third in the table, with only the two Manchester giants above them.
West Brom have already taken the scalp of Chelsea this season and they ran Manchester City close, so if Arsenal think they'll have things their own way on Saturday, then they're in for a rude awakening.
They would be crazy to underestimate Steve Clarke's side, who will be looking to further cement their place at the top end of the table. Shane Long will harass and chip away at the Arsenal defenders all day long and they won't get a minute's peace.
It's a safe bet that Arsenal will dominate possession, but will they convert their chances?
Time will tell, but I think West Brom will be far more ruthless than the Gunners and they might just come away with at least a point on Saturday.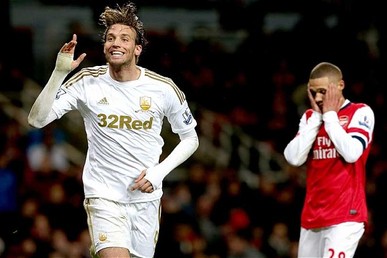 Michu stuns the Emirates last week, leaving Kieran Gibbs with his head in his hands. Image courtesy of telegraph.co.uk
Two of the league's form teams go head to head on Saturday when Swansea host a resurgent Norwich.
The shock result of last week had to be Swansea's 2-0 win at the Emirates, courtesy of a couple of late goals from Michu. It's hard to argue against the Spaniard's record since signing for Swansea in the summer. Ten goals in 15 league games is a hell of a return, and Michu is definitely up there for signing of the season so far.
It wouldn't be fair to give him all the credit for Swansea's great start to the season, but he's played a huge part. Wayne Routledge has also been in great form lately and Swansea have lost just one of their last six matches.
It's conceivable that, if results go their way this weekend, they could be in the top four. That's an astonishing achievement for a team who were tipped by many, including me, to struggle this season.
Like I said earlier, they play Norwich this weekend and Chris Hughton deserves a tremendous amount of credit for the way he's turned around the Canaries' fortunes lately.
They're unbeaten in their last eight matches, stretching back to the beginning of October. In that time, they've beaten Manchester United, Stoke and Arsenal at Carrow Road and taken points from Everton. That's four incredibly tough fixtures and they came out of them unbeaten, which is an amazing achievement.
They've tightened up at the back and you can see that they're growing in confidence with every game they play. The only thing that might concern Hughton is the lack of goals they're scoring.
A lot of the points they're picking up are a result of narrow wins and he might feel that his players deserve more goals than they've got to show for their performances of late.
This could actually be the sleeper match of the weekend.
I don't think anyone's expecting anything great from it, but there will be plenty of good football and Michu might just be the key to Swansea extending their recent good run.
It'll be a tight, well-contested match, with Swansea just coming out on top.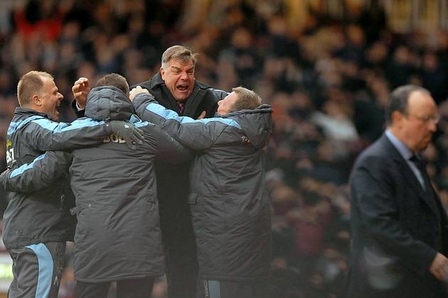 Sam Allardyce celebrates sinking Chelsea with his backroom team. Image courtesy of hackneygazette.co.uk
Sam Allardyce pulled off one of the greatest wins of his managerial career last weekend when his West Ham side beat Chelsea 3-1.
Few people would've predicted it, but Big Sam did what he always does: beat the odds.
West Ham built on their good performance at Old Trafford to beat the European champions and you'd be hard pushed to find anyone who thought that they didn't deserve to beat Chelsea last weekend. In football, you get what you deserve and last week, West Ham deserved their three points.
This Sunday, they've got another tough test in the form of Liverpool, but that won't faze Big Sam or his players.
They've pushed both Manchester clubs hard already this season and beat Chelsea relatively comfortably in the end, so Liverpool won't scare them.
I said last week that Andy Carroll was just getting into his stride at West Ham, but he's gone down with another injury and will be out for the next six weeks or so. When one door closes, another one opens and Carlton Cole might just get an extended run in the team because of Carroll's misfortune. Cole caused problems for the Chelsea defence last week, but he might find it tougher against Daniel Agger and Martin Skrtel.
I'm just speculating on the Liverpool side this weekend, but if Brendan Rodgers goes with Stewart Downing at left-back again, then West Ham's best chance of success is down the right with Matt Jarvis. He could exploit Downing's defensive naivety and prove to be the difference-maker.
Talking of Liverpool, one thing you can say about them this season is that they've been solid.
They've lost just four games, but they've drawn seven and they've only managed to win away once, when they beat Norwich 5-2 at Carrow Road.
In Luis Suarez, Liverpool always have a threat. The Uruguayan has really stepped up when Liverpool have needed him and without his goals, they'd be in serious trouble. It's vital for Liverpool that Suarez remains fit, because without him, there's no obvious replacement.
Liverpool need some of their midfielders to start chipping in with goals, and the return of Lucas Leiva from injury should see Steven Gerrard and Joe Allen play in more advanced positions. Raheem Sterling has got pace to burn and he'll need to be watched as well.
This is a tough one to call because my heart says Liverpool, but my head says that the club will be lucky to draw this match.
If I was pushed to choose a winner, I'd go with West Ham to continue their recent good form by picking up all three points.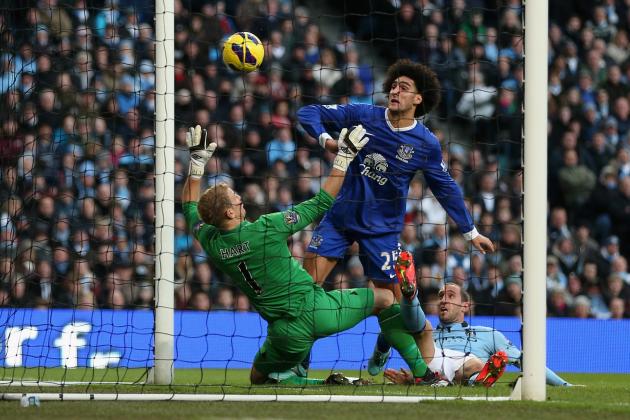 Clive Brunskill/Getty Images
Marouane Fellaini finds the net against Manchester City.
This is one of the games that I'm most looking forward to this weekend when Spurs travel to Goodison to take on Everton.
David Moyes will be unhappy at the fact that his side have drawn seven of their last nine games. You could argue that they should've won at least six of those, including last week at the Etihad against Manchester City.
Speaking to BBC Match of the Day after the game last week, Moyes was frustrated with the penalty that was awarded to City, saying:
It is not a penalty kick. You can't be giving ones like that. There'd be a penalty every time there's a corner kick. The fourth official told me that it was given for a foul by Leon Osman, so I've got my doubts if the referee saw the incident. But even if it was Fellaini, it's not a penalty kick, nowhere near.
Not for the first time this season, everything Everton did last week seemed to involve Marouane Fellaini.
Whether it was the elegant Belgian scoring the opener (above) or conceding the penalty, Fellaini plays a huge part in everything Everton do.
It must be worrying for Moyes that, for all their possession and dominance, they can't quite seem to get that second goal when they need it, which wasn't a problem earlier in the season. I still think they're missing Kevin Mirallas down the left-hand side and when he gets back, Everton will start motoring again.
There was more good news for Everton punters this week, when England full-back Leighton Baines spoke to Sky Sports and distanced himself from a move away from Goodison amidst rumours of interest from Manchester United.
The Toffees have a tough task ahead of them on Sunday when Andre Villas-Boas brings his ever-improving Tottenham side to Goodison. Three wins in a row have catapulted Spurs into joint third place in the table alongside Chelsea and West Brom.
Jermaine Defoe has been nothing short of outstanding so far. He's rattled in 12 goals already and he looks like he's going to score every time he plays.
There's nothing like a striker with confidence, and Defoe is capable of getting all kinds of goals. He'll have to work had to get much change out of Everton's back four on Sunday though.
Phil Jagielka, Sylvain Distin and Baines in particular are excellent defenders, and without Gareth Bale's supply from out wide, Defoe might have limited chances this weekend.
Bale's hamstring injury, which you can read more about here on the BBC Sport website, looks like it'll keep him out of action for a couple of weeks. Even without Bale, Spurs are more than capable of causing Everton problems at the weekend, and it's just a shame that this game isn't on live TV.
As far as a winner goes, it's close to call. Everton have only lost one of their last nine and Spurs have won their last three on the bounce.
I'll sit on the fence and go for a score draw. I'll say 2-2 or something like that.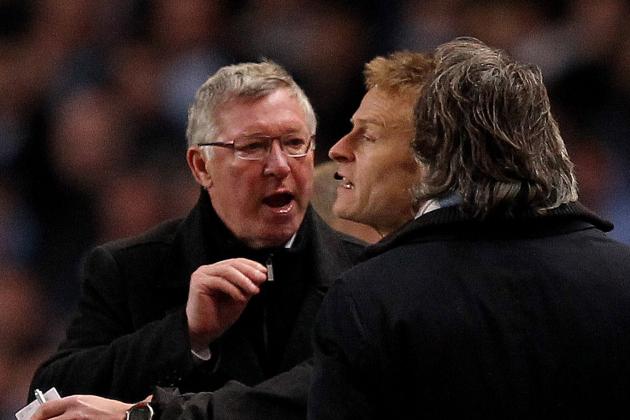 Alex Livesey/Getty Images
Sir Alex and Roberto Mancini in a "debate" last season.
I couldn't round off this week's fixtures with any other match than Sunday's lunchtime derby between Manchester City and Manchester United.
When they met in the same fixture last season, they were both locked together at the top of the table with nothing to separate them. Fast-forward almost eight months and they're in the same position.
Being honest, both of these teams are so far ahead of any other side that there's no way the title will leave Manchester this season and possibly not even in the foreseeable future.
I know that, generally speaking, form goes out of the window in this kind of match, but both sides aren't in great form anyway.
Let's start with the home side, Manchester City.
Roberto Mancini's side crashed out of the Champions League in humiliating fashion during the week. They failed to win a single match in the group stage, which (for a club with their resources) is quite remarkable.
However, they're still the only unbeaten side in English league football and they've won 29 of their last 31 league matches at home, although they were somewhat lucky to beat Everton last time out.
The last time they lost at home in the league was against Everton in December 2010. That's an impressive feat at any level, and City will be confident that their unbeaten league and home records will stand them in good stead when their neighbours come calling for Sunday lunch.
I would not have wanted to be in the Manchester United dressing room last night after they lost 1-0 to CFR Cluj in the Champions League. Sir Alex Ferguson will have been fuming at the result and the performance because he'll have wanted to go in to the derby with some momentum.
Even United's win against Reading last weekend, when they won by the odd goal in seven, was fortuitous. With the array of attacking talent at his disposal, Sir Alex will expect a reaction from his players on Sunday.
Sunday's match is mouth-watering.
Both sides will want to assert their dominance heading into the busy festive period, when it's important for clubs to pick up as many points as possible.
What happens over the festive period normally shapes how the rest of a club's season will go.
Considering there's a fair chance that we'll see Mario Balotelli, Edin Dzeko, Carlos Tevez, Sergio Aguero, Javier Hernandez, Wayne Rooney and Robin van Persie all play a part at some stage, you'd probably think there'll be a lot of goals in the match, but I don't see it that way.
The result is likely to come down to either one team taking their eye off the ball (no pun intended) or a set piece.
I genuinely can't wait to see who'll come out on top in this one.
City won both encounters last season 6-1 and 1-0, so while he wouldn't admit it publicly, I'm sure Sir Alex Ferguson would take a point if you offered it to him right now.
For me, this game goes with the side that's still unbeaten, and City will come out on top with the bragging rights until these two rivals meet again in April.