NASCAR: 5 Rule Changes That NASCAR Has to Make Before the Start of 2013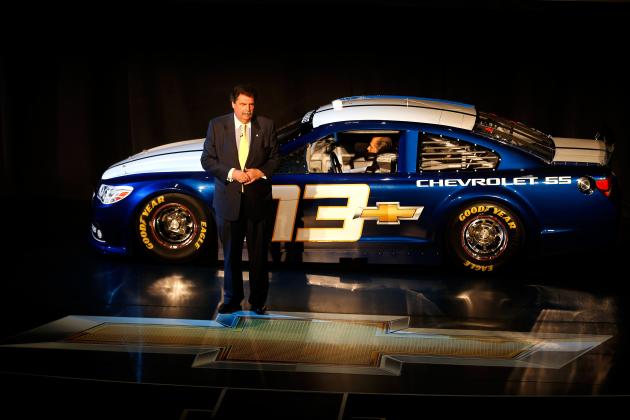 Chris Graythen/Getty Images

When new NASCAR champion Brad Keselowski accepted his award in last week's Sprint Cup Series Awards at the Wynn Las Vegas, he delivered a gracious, off-the-cuff speech that implored the sport to continue pushing forward its on-track product in 2013.
Included in those comments were an affirmation of faith in the powers that be. "I hope as a sport we can continue to find common ground to unify," Keselowski said. "We have some of the smartest people that can solve any problem."
The negative of Keselowski's statement, however, is that NASCAR does still face problems outside of declining attendance, TV viewership and sponsorship participation. In fact, many of the sport's biggest issues still lie with its on-track product, which has suffered somewhat in the Chase era across all three of its national series.
While 2012 produced three compelling championship finishes and eventually climbed out of the caution-free rut that marred the early parts of the season, there are still improvements to be made.
The end of the top 35 rule is a step forward, while a new car and the return of testing to develop it should provide for exciting Sprint Cup racing.
With that in mind, however, here are five more rules that could make the on-track product even better at all three national levels in 2013.
Begin Slideshow

»
Tyler Barrick/Getty Images

Yes, this is already a rule—sort of.
NASCAR's feasibility tests at Tony Stewart's Eldora Speedway earlier this year suggested that the track need not install SAFER barriers before the debut of the Camping World Truck Series at the dirt track next year. But whether you trust the studies or not, it's simply a bad public relations move for NASCAR not to have made that requirement.
If some driver has an incident at Eldora in which they get injured, it doesn't matter whether it was a huge hit or a freak thing—the immediate question raised will be "would the SAFER barrier have prevented this?"
In the first year of an event with so much potential, that occurrence could halt any positive momentum the track and series had built, and it might even prevent it from happening again in 2014. For what could be a signature NASCAR event in as soon as a couple of years' time, that's not a necessary risk.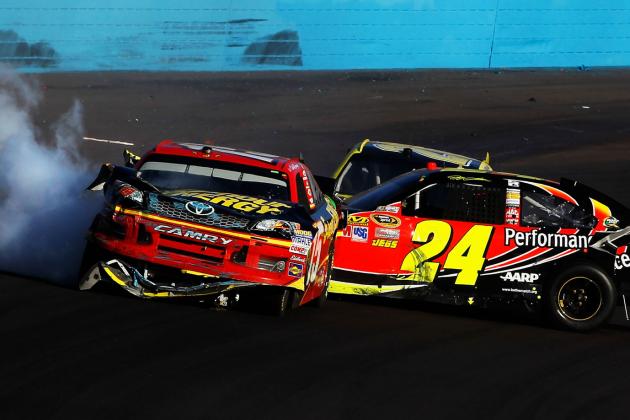 Tom Pennington/Getty Images

The reason why Kyle Busch was suspended one race for wrecking Ron Hornaday under caution at Texas last year and Jeff Gordon wasn't for wrecking Clint Bowyer at Phoenix this year is simple: Busch's body of work is much more significant than Gordon's.
Busch had been on probation in 2011 for his pit road incident with Kevin Harvick at Darlington, while Gordon has almost always upheld a high standard of professional conduct.
That shouldn't have mattered.
What Gordon did—slowing in the middle of the racing line and turning Bowyer at speed into the innocent car of Joey Logano—needlessly endangered other drivers on track. There's no way Busch wouldn't have been suspended for that; there's no way that almost any other driver wouldn't have been either.
On-track incidents of that magnitude need to be reviewed without considering who committed them.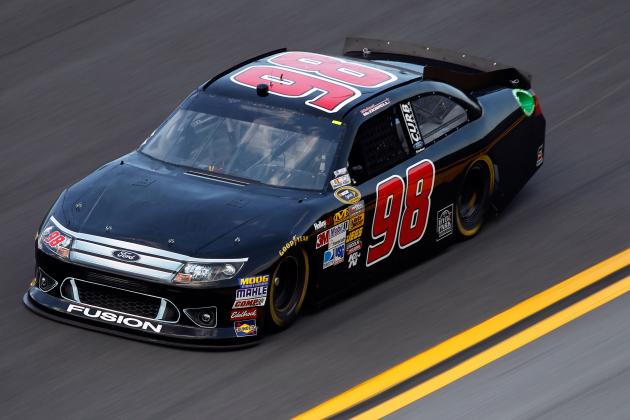 Todd Warshaw/Getty Images

On one hand, there's something to be said for start-and-park teams keeping both drivers and crew members employed.
They both get to go to the track 36 weekends a year, attempting to get their name out to better teams with consistent performances in practice, qualifying and the few events a year that pay enough to merit full competition.
Sometimes that persistence pays off: Front Row Motorsports has gone from a start-and-park operation to a legitimate Ford-backed squad, while Inception Motorsports will become Swan Racing in 2013 and attempt to run every race.
But tradition aside, there's no reason to put 43 cars on track every week when seven or eight aren't planning to run more than a few laps. If that's all they're going to do, don't pay them.
The benefits are twofold: First, fans are promised that every driver on track will give an honest effort to run the full race. Secondly, the extra prize money spread around encourages those teams to try to be competitive in a limited schedule, much like the Wood Brothers have done in recent years.
As such, withholding purse money from start-and-park teams—at least at the Sprint Cup level—promotes a higher level of on-track competition.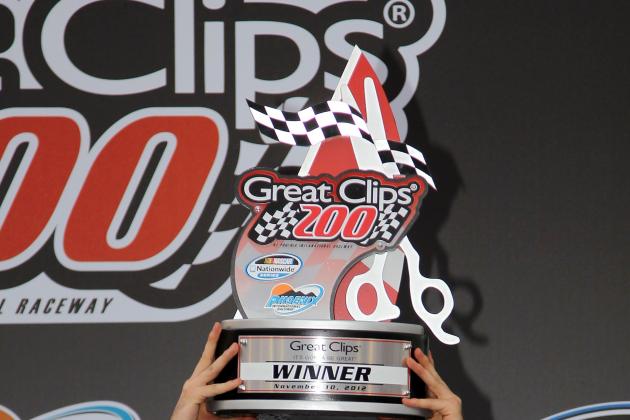 Todd Warshaw/Getty Images

Only 18 of 33 Nationwide races this year were won by full-time Sprint Cup drivers, a major decrease from last year (28 of 34) and more in line with the heyday of the series as a proving ground for young drivers.
Still, Joey Logano won a ridiculous nine times in 22 starts, leading the series. With 17 Top 10 finishes, he would've challenged for a spot in the series Top 10 had he been eligible for points in the series—proving that limiting drivers to points in only one series isn't enough.
Though sponsors and promoters argue that Cup drivers bolster the Nationwide Series, their unchecked commitment to the level in the mid-2000s all but shut off the driver development pipeline when sponsors saw it as a cheaper way to license a big name. But the racing is now competitive enough without them involved, with enough talented drivers to draw in crowds on their own.
In the same way that lower-level drivers can only run a limited Cup schedule to retain future rookie status, Cup drivers don't need to run more than seven races apiece. This frees up more races for young drivers while forcing Cup drivers to pick and choose when they run at lower levels.
Rainier Ehrhardt/Getty Images

No, the Chase isn't going away anytime soon, but it can still be improved upon. In August, points leader Greg Biffle admitted that he had concerns about how the top driver before Chase reseeding wouldn't get any bonus points.
"One guy's not going to be better than the next when we start the Chase out," Biffle noted. "I thought that was a little bit odd. I'm surprised that one, they don't give the leader going into the Chase a three point bonus, like what a win would be, to reward the guy that's won the points for the first 26 weeks of the season."
The solution lies in a hybrid system that Biffle went on to suggest, combining the old seeding method and the new one.
Drivers in the Top 10 still get bonus points for wins, but they should also get bonus points based on their regular-season ranking. The regular-season winner would get 20, second place would get 18, and so on throughout the Top 10.
This way, the wild cards would have to have a significant Chase to earn their way into the Top 10, while the top regular-season drivers wouldn't lose the entirety of any cushion they'd built.
For more from Christopher Leone, follow @christopherlion on Twitter.