Mark Sanchez: 5 Best Things About Rex Ryan Starting Him for Jets vs. Jaguars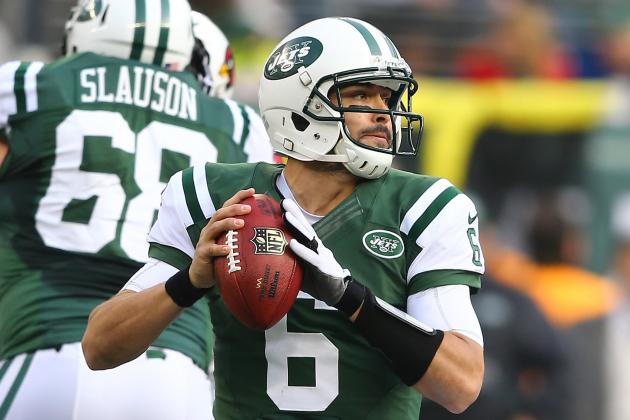 Al Bello/Getty Images
Mark Sanchez
In a decision that no doubt has Jets fans everywhere popping the champagne corks a few weeks early, Mark Sanchez has been named Sunday's starting quarterback by Rex Ryan.
For a couple of agonizing days, it appeared that Ryan might choose to go with the inexperienced Greg McElroy against the Jacksonville Jaguars.
Although McElroy led the Jets to a fourth-quarter comeback victory following Sanchez's benching against the Arizona Cardinals last game, now was not the time for Ryan to roll the dice with him again. With four games remaining on the schedule to make the playoffs, the Jets probably need to win them all.
Ryan, with has back pinned to the wall, decided to go with his main man, Sanchez. Here are the five best things about Ryan's decision to start his veteran quarterback on Sunday.
Begin Slideshow

»
Rob Carr/Getty Images
Mark Sanchez and Rex Ryan
If anyone has any doubts about Mark Sanchez's ability to play under pressure, now is the opportunity to find out for sure.
The next four games can decide whether Sanchez will have a long-term career as a starting quarterback. It is no longer about just one game or one season. His reputation and future is on the line this time.
Also, if Sanchez fails to perform, it could drag Rex Ryan down the drain with him. This all makes for must-see television for the fans.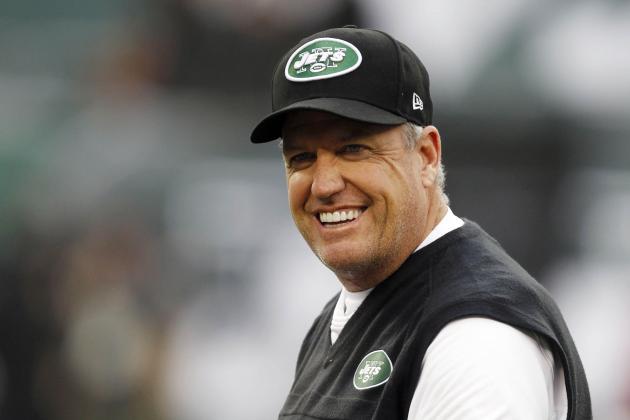 The Star-Ledger-USA TODAY Sports
Rex Ryan
Rex Ryan told us that money had nothing to do with his decision to start Sanchez. When push came to shove, Ryan went with the quarterback who (he thinks) gives the Jets their best shot of winning.
It comes as a breath of fresh air to see principles coming before paychecks. In this case, winning the next football game has come before Sanchez being guaranteed $8.25 million in 2013.
Ryan deserves to be applauded for putting the team first.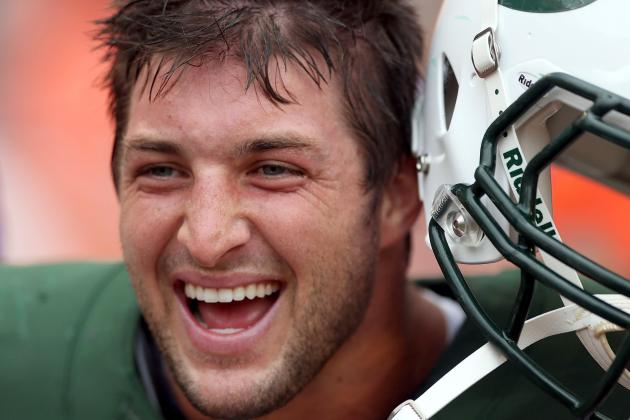 Marc Serota/Getty Images
Tim Tebow
Tim Tebow can no longer be used as an excuse for Mark Sanchez's failures. The benching of Sanchez, followed by Greg McElroy leading the Jets to victory and the ensuing quarterback controversy, removed Tebow from the picture.
Last Sunday's benching no doubt spooked Sanchez, who called it "the worst and best" experience of his life (per Lisa Zimmerman for CBSSports.com).
Now, the job is Sanchez's to win or lose. Ryan's decision made it evident that Tebow and McElroy are non-factors for the Jets quarterback position.
Set and match—Tebow is history in New York. Thanks to Ryan, so are all the Tebow-related distractions to Sanchez.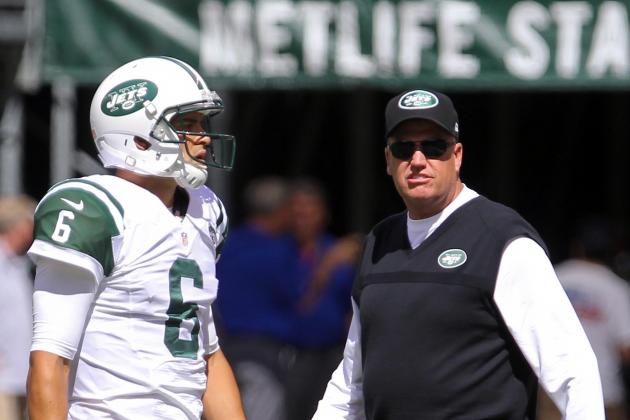 Ed Mulholland-USA TODAY Sports
Mark Sanchez and Rex Ryan
The days of treating Mark Sanchez like a maturing kid are over. So, too, are the ones where Rex Ryan has a few years to tinker around building a championship team. They have both had more than enough time to gel.
Sanchez and Ryan have been together for four seasons now. The last two years they have regressed and failed to improve.
The debacle of this season has served notice to both Sanchez and Ryan. What comes with that is instant accountability and shorter leashes on the two of them—and a better chance of winning some football games (or else).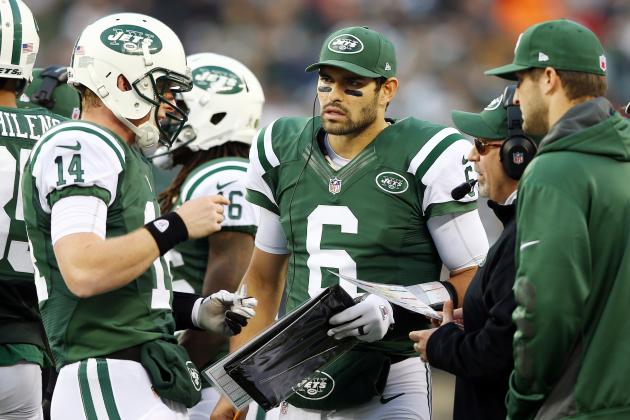 Elsa/Getty Images
Greg McElroy, Mark Sanchez, and Tim Tebow
Let's face it, how many people couldn't have cared less about watching the 5-7 New York Jets do battle with the 2-10 Jacksonville Jaguars on Sunday?
Mix in an unhappy Mark Sanchez fighting for his job, the emotionally charged Rex Ryan trying to prove he made the right quarterback decision and the Jets clinging to a thread of hope to make the playoffs.
On the sideline, we have a long-faced Tim Tebow and an eager Greg McElroy, both wondering if they will get a shot.
Now, we have a game worth watching.
Perhaps not top-notch football, but the drama is unbeatable.