UFC on Fox 5: Full Fight Videos from Benson Henderson and Nate Diaz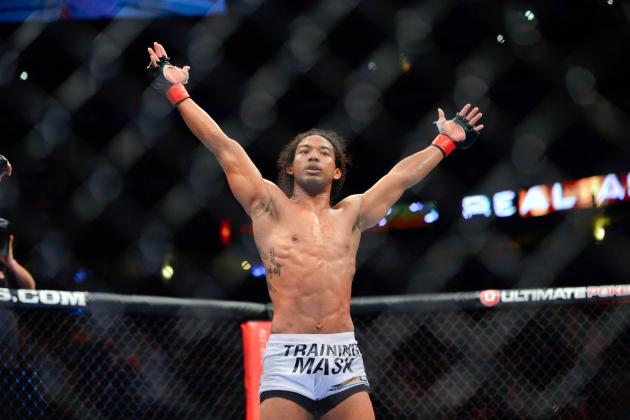 Ron Chenoy-USA TODAY Sports

The UFC has out on a lot of fight cards during 2012, leaving some fans felling overwhelmed and others fully sated. For those that need a little help getting pumped up for this weekend's UFC on Fox 5 fight card, the UFC has given fans a little something extra to get them excited for what is expected to be the best free fight card the promotion has broadcast on the Fox network.
That's right, fight fans, the good folks at the UFC have provided eight full fight videos for your viewing pleasure, four fights each from Saturday night's main event combatants, UFC lightweight champion Benson Henderson and his opponent Nate Diaz.
Take some time out of your day to watch these and then tell me you aren't looking forward to the main event of Saturday's fight card.
Begin Slideshow

»
Benson Henderson debuted with the WEC in January 2009 with a second round submission victory over Anthony Njokuani.
For his second bout with the promotion he stepped into the cage against Shane Roller and it was in this fight where we saw started to become accustomed to the style that would lead to him eventually becoming WEC and later UFC champion.
The win over Roller would lead to a shot at the interim WEC lightweight title in his next fight.
Donald Cerrone had experience on his side when he stepped into the cage on October 10, 2009 to face Benson Henderson.
When the fight came to its conclusion after 25 hard-fought minutes, we learned a few things. First, experience doesn't always come into play. Second, Henderson has one of the best gas tanks in the lightweight division and maybe in the sport and the Henderson had what it takes to become champion.
What's the next step after capturing an interim crown? Why unifying the titles, of course and that is exactly what Benson Henderson accomplished at WEC 46, when he forced the reigning lightweight champion, Jamie Varner to tap out in the third round of their meeting.
Henderson would defend the crown once, defeating Donald Cerrone in a rematch at WEC 48. He would lose the title to Anthony Pettis at WEC 53 in a fight that is widely seen as the best fight in WEC history.
It was also the final fight in WEC history.
Benson Henderson made his UFC debut sans WEC title on April 30, 2011, defeating Mark Bocek by unanimous decision. He would then earn wins over Jim Miller and Clay Guida, earning another shot at a title, at THE title—the UFC lightweight title held by Frankie Edgar.
Like Henderson's four previous fights, this one would go the distance and like three of those previous four battles this one would see Henderson's hand raised in victory.
It was a closely contested battle and Edgar was granted a rematch at UFC 150. The rematch saw Henderson walk away with the split decision win, but many felt the win could have just as easily been rewarded to Edgar.
Can Henderson put a statement victory together against Nate Diaz? We'll find out on December 8.
Nate Diaz earned his way into the UFC by claiming victory during the fifth season of The Ultimate Fighter.
His first two fights following that win ended quickly, as Diaz stopped both Junior Assuncao and Alvin Robinson by submission in the first round.
Diaz's next fight, against Kurt Pellegrino, would last until the second round, but would end in the same manner with a submission win for Diaz, however it should be noted that this one had a little flourish at the end, mainly the double bird to bicep flex.
All good things must come to an end. As such Nate Diaz saw his streak of four straight stoppage victories come to an end at UFC Fight Night 15. Diaz still won his three round main event battle against Josh Neer, but it went to the judges and it was a close call, with Diaz taking home the split decision victory. The win was the first decision victory of Diaz's career.
It should be noted that Diaz has only ever gone the distance in one other winning effort, his UFC 141 "Fight of the Night" battle against Donald Cerrone, the rest of his wins have come by knockout (three) or submission (11).
Nate Diaz tired of the year round grind that was required for him to make the lightweight limit and so he decided enough was enough and moved on up to welterweight.
He found success in his first fight at the 170 pound limit, stopping Rory Markham by TKO in the first round of their bout at UFC 111.
In his next appearance at welterweight he would meet Marcus Davis. This fight would take a little longer, but would end the same way, a stoppage victory for Nate Diaz.
Nate Diaz saw his welterweight experiment come to an end once he met up with top level competition in the heaver weight division, dropping decisions to Dong Hyun Kim and Rory MacDonald.
Following the loss to MacDonald, Diaz would drop back to lightweight and run off two straight victories that also saw him pocket "Fight Night" bonuses for each win.
In his third fight back at lightweight, Diaz clearly had momentum on his side.
Diaz rode that momentum, delivering what many view as the best fight of his 23-fight professional career, a third round submission win over Jim Miller that saw him earn another "Fight Night" bonus as well as a shot at the UFC lightweight crown.