Jack Butland to Liverpool: Rubbishing the Transfer Rumour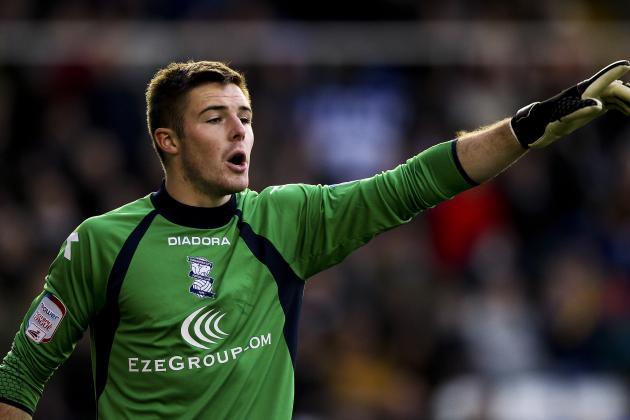 Ben Hoskins/Getty Images

As the transfer window approaches, there are plenty of players linked with moves to Liverpool as Brendan Rodgers continues to rebuild the Premier League side. One position that has received a certain amount of attention in the press is that of the goalkeeper.
The Reds have been linked with several different players in the past few weeks. One name that keeps cropping up is that of young English stopper Jack Butland.
Currently playing for Birmingham City in the Championship, Butland has one full England cap to his name and appeared for Team GB at the 2012 London Olympics.
He was first linked with a move to Anfield in the summer, and now is again a reported target.
Butland is a quality young keeper, but Liverpool doesn't need to make this move at this stage.
Here are the reasons why it is unlikely to go ahead in January.
Begin Slideshow

»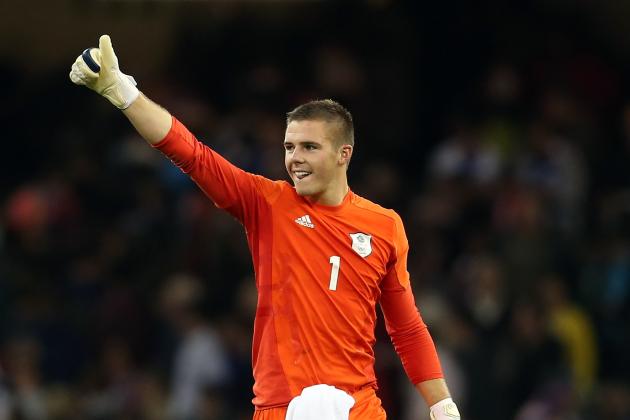 Julian Finney/Getty Images

This isn't your usual throwaway transfer rumour, so it is worth looking at why Butland would be a good signing for the Reds.
For a goalkeeper still in his teens, Jack Butland has acquired an exceptional amount of experience.
Two separate loan spells at Cheltenham Town and his current spell as Birmingham's No. 1 have amassed the stopper almost 50 league games so far. In addition, he has represented England at youth level from Under-16 level through to the Under-21s, before finally making his full-team debut against Italy in a friendly earlier this season.
He was the first-choice goalkeeper for Team GB at the Olympics and also travelled to Euro 2012 with England, though he did not feature.
A highly rated young goalkeeper, Butland needs to continue playing as regularly as possible and be allowed to make mistakes as well as having great games, without the pressurised environment of the Premier League's top sides relying on him.
Playing in the Championship provides him with this at present, and will be a good stepping stone in his career.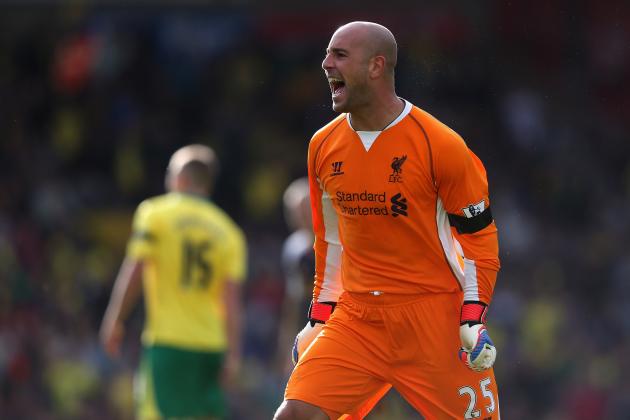 Julian Finney/Getty Images

Now onto why Butland isn't perhaps necessary or likely right now.
First and foremost, Liverpool have an established goalkeeper at their disposal.
Sure, Pepe Reina's form this season—or for the past two seasons—hasn't been great. He has made individual errors, has been out injured for a period and has generally not looked as assured on the ball or in his handling as when he was at his best.
Regardless of that, Reina has shown himself capable of being one of the very top goalkeepers in world football. He hasn't entirely lost that ability.
Managerial (and therefore playing and defending style) changes have not helped him, nor has a succession of rapidly-changing goalkeeping coaches.
The hope must be that the Reds' goalkeeper settles back to his best form, where he was imperious and domineering in his penalty area and an asset to the Reds on the ball.
He certainly has the technical attributes to be a key part of Brendan Rodgers' team.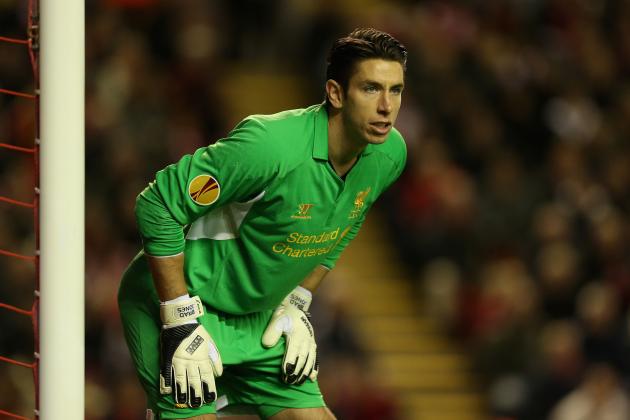 Clive Brunskill/Getty Images

Liverpool have not just one but three substitute goalkeepers at present.
Brad Jones has gone from third-choice reserve to something of a fan favourite after an emotional and unexpected Wembley appearance last season. He had his longest run in goal for the Reds this term, when he played seven consecutive games to cover for Reina's injury.
Jones is dependable and has his strengths, though overall he is not technically good enough or with enough of a presence to really threaten Reina's place.
Alexander Doni has been missing for much of the season, away on leave in Brazil, but remains a Liverpool player and was the preferred backup for Reina last season.
It is possible that he will leave the club permanently, but at the moment he is still a member of the squad.
Finally, Hungarian youngster Peter Gulacsi is also at the club and would be hopeful of pushing Jones for at least the No. 2 spot.
Gulacsi has yet to make his competitive debut for the Reds but has been on the bench a number of times as well as appearing in friendly matches.
Butland would therefore have his work cut out to even make the matchday squad, never mind fight his way into a starting role.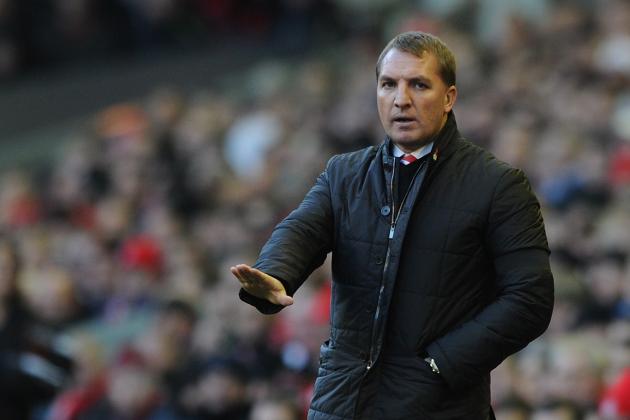 Chris Brunskill/Getty Images

Several times since taking over as Liverpool boss, Brendan Rodgers has had to face the media to either refute or confirm supposed transfer stories regarding his club.
The latest rumours have centred around Pepe Reina being replaced, which Rodgers told the BBC was clearly inaccurate:
I don't like to talk about speculation as I know in my time at Liverpool the names we have been linked with has been incredible. But what is worth putting on record is that I'm not looking for another goalkeeper. We have been linked with lots of goalkeepers. I have two very good goalkeepers - Pepe Reina and Brad Jones, who is a very loyal and capable number two. Any areas we look to improve will be elsewhere.
Pretty emphatic talk from the manager who clearly rates Reina and appreciates his abilities, starting but certainly not ending with his composure when the ball is at his feet.
Reina has been a world-class goalkeeper. If he can get back to the form which helped him keep 100 clean sheets in the league in record time, then Rodgers will have saved himself millions in the transfer market.
Coming to Liverpool to sit on the bench isn't going to improve Butland's game, nor is it likely to appeal to him when he has just nailed down a first-team spot and gotten himself on the radar at international level.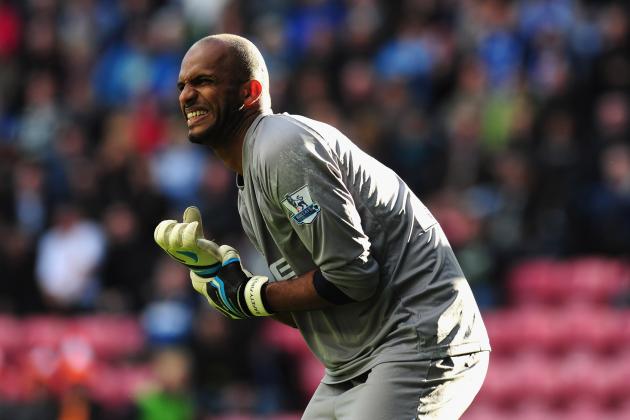 Stu Forster/Getty Images
Al-Habsi: a great shot-stopper but should he really be Liverpool's new goalkeeper?
Perhaps Rodgers is looking for a new goalkeeper. Maybe, despite his own words, Reina hasn't impressed him as much as hoped or Jones isn't solid enough as a backup.
Maybe Rodgers simply wants a younger player to be ready in a couple of seasons to replace Reina in due course.
The problem is, Liverpool aren't just being linked with Jack Butland. At least four other goalkeepers have had their names in the press next to the words "transfer" and "Liverpool."
The most recent Butland article even mentioned another stopper, Ron-Robert Zieler, as a possible target for Rodgers. Michel Vorm and Ali Al-Habsi from the Premier League and another promising German, Marc-Andre ter Stegen, have all also been linked with a possible move to Anfield.
It certainly seems as though there is no definite deal in line for any of them, including Butland.
Brendan Rodgers and Liverpool might end up bringing a goalkeeper to Anfield in the next few transfer windows, but these names are all merely rumours right now.
Reina should expect to continue steadily improving and remain as the Reds' No. 1 goalkeeper.