Daniel Sturridge to Liverpool: Why the Transfer Makes Sense for All Parties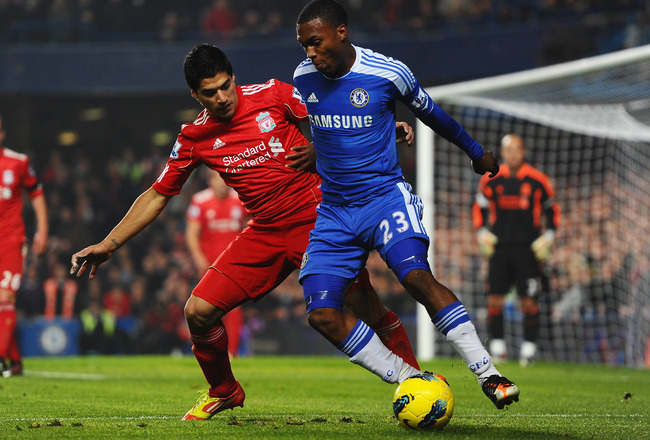 Mike Hewitt/Getty Images
Liverpool has been linked with plenty of strikers and seem set to sign at least one new one during the forthcoming transfer window. One of the most frequently linked names has been Chelsea's Daniel Sturridge.
Originally a loan target during the summer window, the most recent developments on the story comes from the Independent who claims the Reds are now looking at bringing him in on for a permanent deal.
Transfers are fraught with reasons to fall through of course, and indeed the rumours remain exactly and only that until they are signed and sealed.
This is a transfer, which from some points of view makes sense for all parties: player, selling team and buyer. Here are the reasons why.
Lack of Playing Time for Sturridge at Chelsea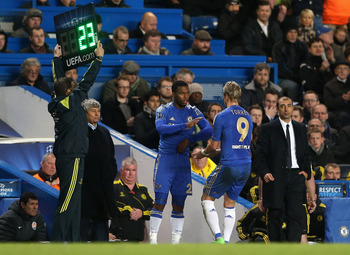 Scott Heavey/Getty Images
We might as well start with the player.
Daniel Sturridge left Manchester City in 2009 because he was concerned that with the large number of incoming players he would not be given the chance to impress and further his career.
He moved to Chelsea, where he spent a year and a half trying to establish himself before going on loan to Bolton Wanderers—a highly successful spell, where he scored eight times in 12 games.
2011-12 was the most prolific season of his career to date, where he reached double figures with ease, but he has still not been able to nail down a regular starting role in his favoured centre forward position—most recently because of the presence of Fernando Torres.
Now at 23 years of age, Sturridge needs and wants to get himself into a position where he is playing regularly, being relied on to score goals and locking in a chance to make himself a bigger player on the continental and international stage.
Quite simply, his two starts this season for Chelsea—one in the league, one in the League Cup—is no longer sufficient.
Liverpool can give him the platform to play regularly in an attacking role and he will certainly be asked to score goals.
The Repeating Contract Situation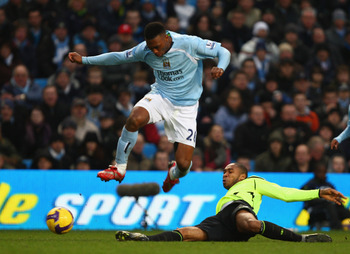 Mark Thompson/Getty Images
When Sturridge joined Chelsea after the expiration of his Manchester City contract, his age meant that City was entitled to a fee settled by a tribunal, with add-ons for additional league games, international caps and a sell-on fee.
By the time his Chelsea contract ends in 2014 (via transfermarkt.co.uk) he will be 24 years old, meaning the London club would be entitled to nothing at all—Sturridge would leave on a Bosman free transfer.
Of course, they could still sell him in the summer for a reduced fee, but this January would see Chelsea able to still ask for somewhere around £8-10 million for him—more than making their money back from when they originally signed him—and being able to put the profits towards a replacement.
Liverpool would likely be happy to pay that kind of fee for a relatively young player, knowing that he will have both a sell-on fee and his peak years ahead of him.
Liverpool Need Attacking Reinforcements
Michael Regan/Getty Images
Fabio Borini and Luis Suarez are currently Liverpool's only two senior players capable of playing as a centre forward.
Adam Morgan and Samed Yesil have been handed cameo roles from time to time but are still too young and not quite at the required level to be considered for league action, while Jonjo Shelvey will likely play out of position as a false nine in the next league game.
The Reds desperately need further numbers to play in the final third, but in particular they need a minimum of one more player who can play as a central striker.
Suarez has excelled in the role this season and is not likely to be moved away from it any time soon, but he does need both support and cover.
A couple of times, Brendan Rodgers has also played with two forwards through the middle, which could feasibly see Sturridge and Suarez link up very well.
"Playing Through the Middle"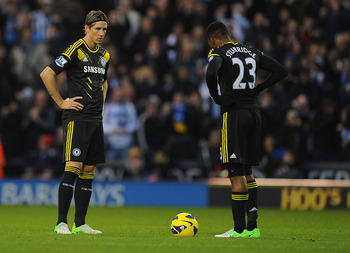 Michael Regan/Getty Images
Supposedly one of the problems that Daniel Sturridge has with staying at Chelsea is that he has not been given a chance to play centrally.
One of the concerns Rodgers harboured last August was the former Manchester City striker publicly stated preference to play in a central role.

If Luis Suarez is to remain as the Reds' centre forward, how does the move to Liverpool suit Sturridge?
It suits him because it matters not where the player's name is written down on a piece of paper, on a Sky Sports visual showing the tactical line-up, nor even on the managerial tactics board in the dressing room.
What matters is whereabouts on the pitch Sturridge does his work, whereabouts he can make his runs and receive the ball, and how often he can get into goalscoring positions, centrally.
Liverpool's attack is based on possession and movement. Crucially, that second element has not been perfected yet—Rodgers simply doesn't have the personnel for it.
From the middle, Suarez will drop deep, work the channels, link with midfielders and, sometimes, even work off the shoulder of the defenders.
When he moves wide, drifts between the full-backs and centre backs or drops into deeper areas, Suarez leaves a gap in the middle of Liverpool's attack. This should be filled by either runners from midfield or else the wide forwards making up ground and using their off the ball ability to take up scoring positions when coming infield.
Daniel Sturridge might start games "on the right" for the Reds, but his big role in the team will be to move central and be a threat through the middle as often as possible, thereby giving him the chance to score goals and affect games in the centre.
Keep Reading

Liverpool: Like this team?