Where Army vs. Navy Ranks Among College Football's Greatest Rivalries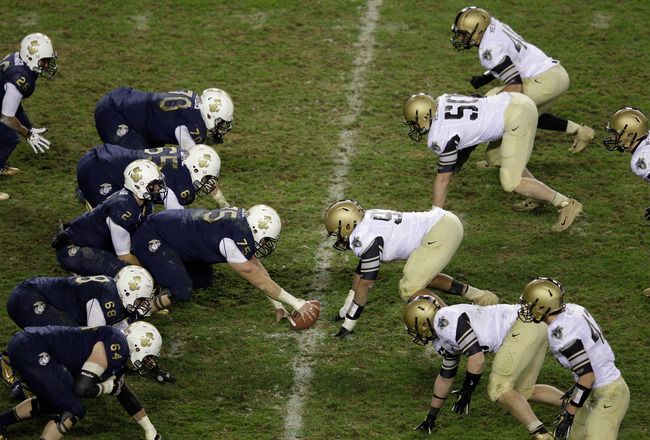 Rob Carr/Getty Images
A college football regular season is never over until the Army-Navy game takes place. While most teams in the country are preparing for their bowl game, the Black Knights and Midshipmen are getting ready to add another year to an already historic rivalry.
This weekend's matchup at 3:00 p.m. ET on CBS will officially put an end to the 2012 college football season. It is another installment of a rivalry that goes back over a century and one that has earned a special spot in college football history.
But where does this game rank among the all-time great rivalries?
Let's take a look.
Note: Rivalries are based on a combination of history, relevance and overall importance to the sport.
Other Rivalries That Deserve Credit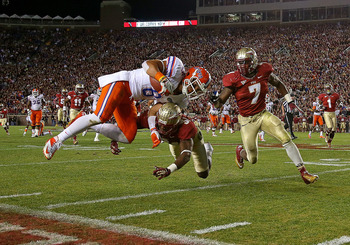 Mike Ehrmann/Getty Images
Cal vs. Stanford
Florida vs. Florida State
USC vs. UCLA
Oregon vs. Oregon State
Georgia vs. Florida
Florida State vs. Miami
Utah vs. BYU
Clemson vs. South Carolina
Harvard vs. Yale
Michigan vs. Michigan State
Washington vs. Washington State
Georgia vs. Georgia Tech
5. Texas vs. Oklahoma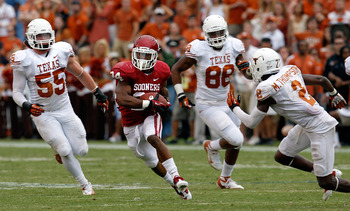 Tom Pennington/Getty Images
This rivalry has lost some of its luster due to Oklahoma beating Texas like a redheaded stepchild the last two years. But even with that said, the Red River Rivalry is still one of the better meetings in college football.
One of the few rivalry games that aren't played on the last week of the regular season, this game between these two teams has been played over 100 times. Many times, the winner of this game has gone on to win the Big 12 title and compete for a national championship.
There also aren't many matchups between these two programs that have been played when both aren't featured in the AP Top 25 Poll.
Even with Texas going through a rough patch at the moment, this is still a game during the college football season that everybody circles on their calendars.
4. Army vs. Navy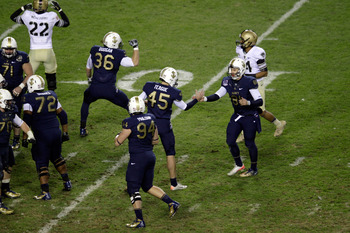 Rob Carr/Getty Images
The reason the Army vs. Navy game is so high on the list is because of everything it stands for. It is the golden standard of sportsmanship and shows a whole different side of things to the game of football. There isn't the typical hate and anger that you see in most rivalries, as this meeting shows great respect between both schools.
This rivalry has taken place 112 times since 1890 and is by far one of the more historic matchups in all of sports. You simply know that you are part of something special when you are involved in the game that closes out the regular season every year.
Sure, this game won't feature outstanding talent or tons of NFL prospects. There isn't going to be shutdown defense or many fireworks on offense. But the history and tradition of these two teams still manage to grab your attention once a year.
That's special.
3. USC vs. Notre Dame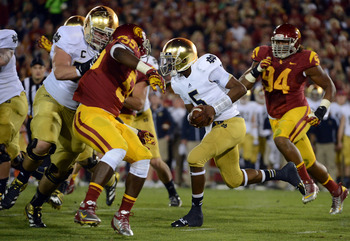 Harry How/Getty Images
Rivalries mean much more when both programs have accomplished so much success on their own. There aren't many programs that have had more success than USC and Notre Dame.
Combined, you have over 20 national championships, 14 Heisman Trophy winners and well over 150 All-American players.
Then you add the fact that three of the last four games have been decided by single digits, and you end up with a terrific meeting. There have been tons of memorable matchups between these two schools, and with the Irish getting back in the national spotlight, things only look to improve moving forward.
If you like tradition and well played football, this is certainly the rivalry game for you.
2. Michigan vs. Ohio State
Jamie Sabau/Getty Images
The rivalry between the Michigan Wolverines and Ohio State Buckeyes has determined many Big Ten Championships and several national championships. The Game has been played 108 times throughout its history and has also produced many NFL players and close matchups.
In fact, six of the last eight meetings have been decided by less than two touchdowns.
The rivalry between Michigan and Ohio State is so intense that a coach is judged solely on his record against the opponent. If either team is struggling, all can be well in the world once again with a win in this game at the end of the year.
With two new promising coaches in Urban Meyer and Brady Hoke, this is a rivalry that will remain towards the top in college football for years to come.
1. Alabama vs. Auburn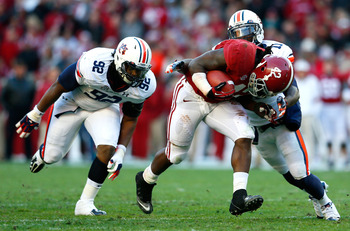 Kevin C. Cox/Getty Images
Alabama vs. Auburn is still the rivalry that every heated matchup should thrive to be like. With both teams sharing a state and a short car ride from being in the other team's territory, it goes without saying that no love is lost between these two.
You know that whenever the Iron Bowl is set to take place, you can throw the records out the window. There is also a guarantee that you will see some smashmouth football that includes a few bone-crunching hits.
I was considering moving this rivalry game down a couple of notches, as the Crimson Tide have owned the Tigers the last two seasons.
However, with Gus Malzahn taking over at Auburn, it shouldn't take long before this meeting hits new heights and remains the top college football rivalry in the sport.
Keep Reading