Forecasting Where the Top Remaining MLB Free Agents Will Land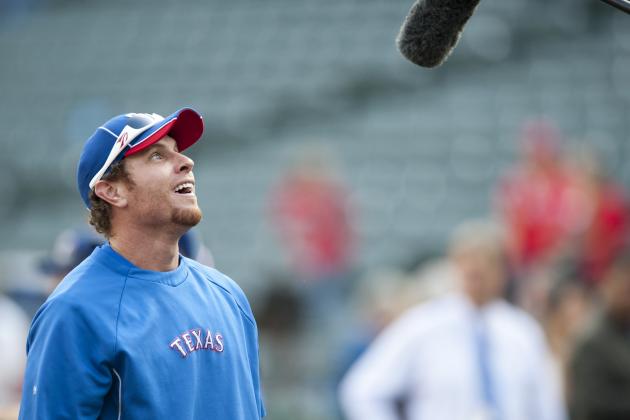 Cooper Neill/Getty Images

The MLB offseason is off to the races and key players are starting to find new homes.
Some of the top free agents that were on the market, like Shane Victorino, BJ Upton and Mike Napoli, have already inked new deals. However there are still a lot of things that have to be done and holes that teams need to fill before the MLB season sneaks up on us again.
It is always fun to try and predict things in sports, so here are my predictions for where the top remaining free agents will land.
Begin Slideshow

»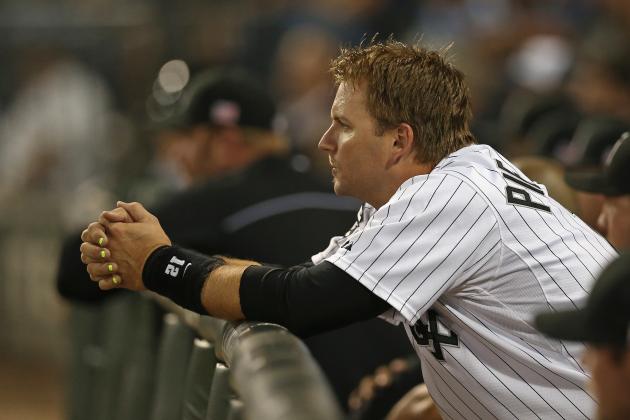 Jonathan Daniel/Getty Images

After Russell Martin signed with the Pittsburgh Pirates, the Yankees were left with a hole at the catching position.
They could opt to go with a combination of Chris Stewart, Francisco Cervelli and Austin Romine behind the plate, but that would be a big downgrade offensively.
It has been reported lately that they Yankees are in talks with long-time Chicago White Sox catcher AJ Pierzynski. I love this move for the Yankees as it gives them some pop in their lineup, a solid defensive catcher and a player that, as Nigel Gruff from the Replacements puts it, is "wirey."
Team: New York Yankees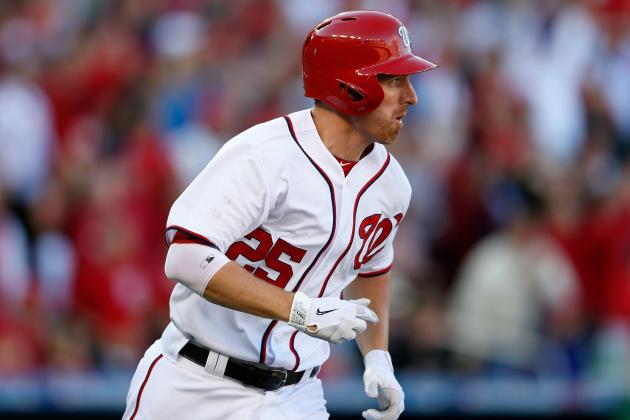 Rob Carr/Getty Images

I don't know what it is, but Adam LaRoche is not a very exciting player at first thought. However, if you look at the season he had last year and his career so far, most teams would kill for a player of his caliber.
LaRoche hit .271, with 33 HR and 100 RBI last season. Throughout his career, he is a .268 hitter and has averaged 22 HR and 76 RBI a season.
The market for LaRoche is very slim. The Nationals are reportedly more comfortable offering him a two-year deal and LaRoche wants a three-year deal.
Other teams interested in the 33 year old first baseman include the Seattle Mariners and Texas Rangers.
I expect LaRoche to pretty much settle on a two-year deal with the Washington Nationals.
Team: Washington Nationals
Dark Horse Team: Baltimore Orioles.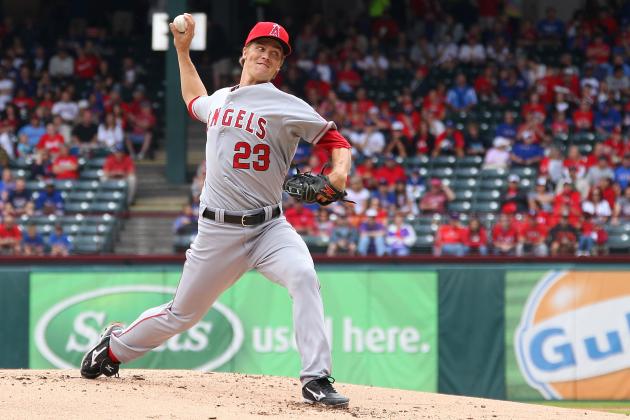 Rick Yeatts/Getty Images

The top pitching free agent on the market is Zack Greinke. Talks have been that he could potentially sign a massive contract that makes him the highest paid pitcher in baseball.
There are only a few teams in baseball that could afford Greinke. Among those teams are the Los Angeles Angels, Los Angeles Dodgers and the Texas Rangers.
I think the Dodgers will end up being the team that has to pay the "anxious" pitcher upwards of $175 million.
However, if the Rangers end up signing Greinke, I think that Josh Hamilton's return to Texas will be unlikely.
Team: Los Angeles Dodgers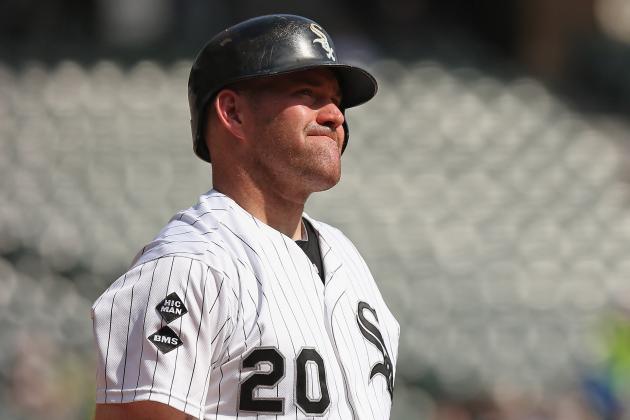 Jonathan Daniel/Getty Images

With players that were on the Yankees radar dropping like flies to other teams, their options for a temporary third baseman are disappearing.
One player that makes sense for the Yanks is their long time rival, Kevin Youkilis.
"Youk" had a down year in 2012, which also included a trade to the Chicago White Sox. He still is a career .283 hitter, with a .384 OBP.
Youkilis is also very versatile and could play third, first and the outfield, which makes him very valuable for when Alex Rodriguez returns.
Team: New York Yankees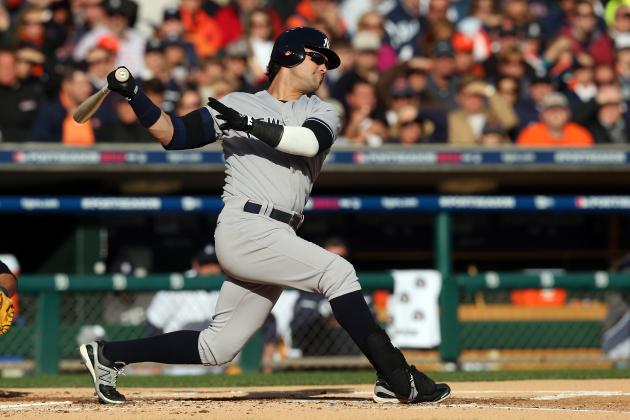 Jonathan Daniel/Getty Images

Nick Swisher found a nice home in New York playing for the Yankees the last four seasons. The one issue was in the postseason.
Over his last four seasons, Swisher has averaged 26 HR and 87 RBI, while hitting .268. However, he is a career .169 hitter in the playoffs, with only four HR and eight RBI in 46 postseason games.
Swisher should be able to still get a decent three to four year contract worth around $10-15 million a year.
And I see that coming from the Philadelphia Phillies. The Phillies traded away Shane Victorino and are in need of an everyday outfielder. Swisher is their guy.
Team: Philadelphia Phillies
Scott Cunningham/Getty Images

Michael Bourn was probably the best available free agent hitter this offseason not named Josh Hamilton.
He is coming off a season in which he hit .274 and stole 42 bases. He has two Gold Gloves in his career and is one of the best base stealers in baseball.
The Chicago Cubs are currently rebuilding, but at some point they are going to have to spend money on solid free agents. That could start with Bourn.
The market and price range for Bourn has yet to really be determined. He could get somewhere near the five-year $75 million deal that BJ Upton signed with the Braves.
Bourn would give them a legitimate leadoff hitter and defensive centerfielder. If the Cubs could find a taker for Alfonso Soriano, it would increase their chances of signing Bourn.
Team: Chicago Cubs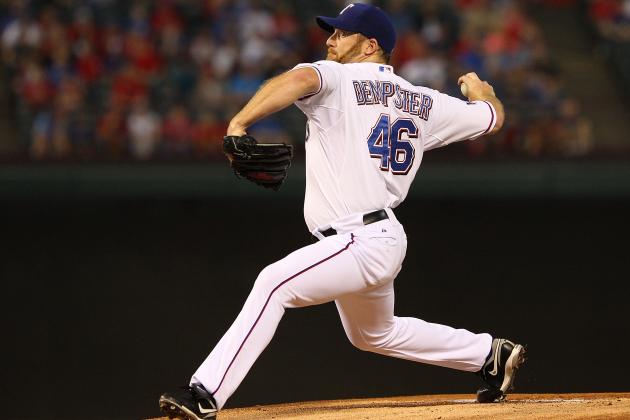 Rick Yeatts/Getty Images

Ryan Dempster is a serviceable starting pitcher who has put together a decent career so far.
With the Red Sox' injuries and struggles at starting pitching last season, they should have gone into the offseason with the mindset of "you can never have too much starting pitching."
Dempster is a veteran starter they can throw in their rotation to compete every fifth day. And there is just something about Dempster that just makes him look like he belongs on the Red Sox.
Team: Boston Red Sox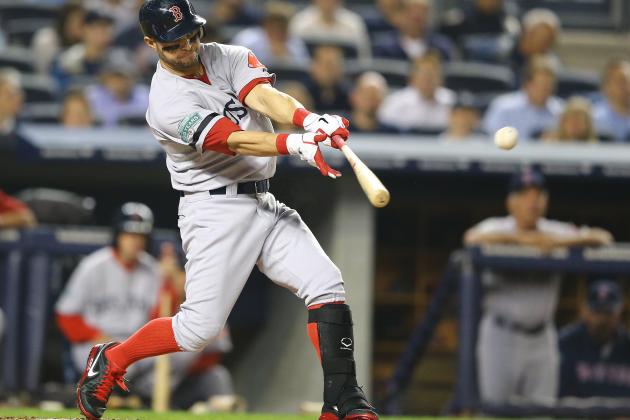 Al Bello/Getty Images

I think one of, if not the most underrated player on the free agent market is Cody Ross.
Ross had a solid year last season, playing for the Boston Red Sox. He hit .268, with 22 HR and 81 RBI. Ross has consistently had those numbers, every season throughout his career.
Another intriguing stat for Ross is his success in the 2010 playoffs. In 15 games, he hit .294, with five HR and 10 RBI.
Ross might not be a bad replacement for Nick Swisher in the New York Yankees right field. He has similar statistics to Swisher during the regular season. The only difference is, Ross actually had success in the month of October.
That being said, the other team in New York desperately needs everyday outfielders. The Mets should bring in Ross to give them a legitimate outfielder and a solid hitter in their lineup.
Team: New York Mets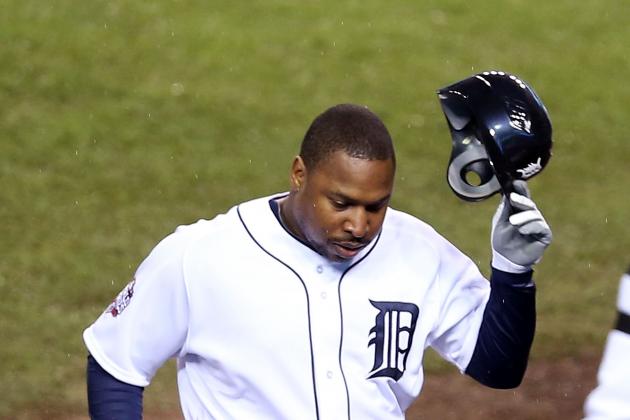 Christian Petersen/Getty Images

This one I'm going to keep plain and simple. The Seattle Mariners need offense. Delmon Young equals offense.
It is reported that the Mariners are interested in Josh Hamilton. While that would be very interesting, I do not see it happening.
The Mariners are going to try and find some offense from wherever they can. I think after they miss out on Hamilton and Nick Swisher, they will settle on Young. Which in my opinion is not a bad settlement.
Young is only 27 years old and over the last three seasons has averaged 17 HR and 83 RBI, while hitting a combined .278.
Not to mention, Seattle is almost as far away from New York as you can get!
Team: Seattle Mariners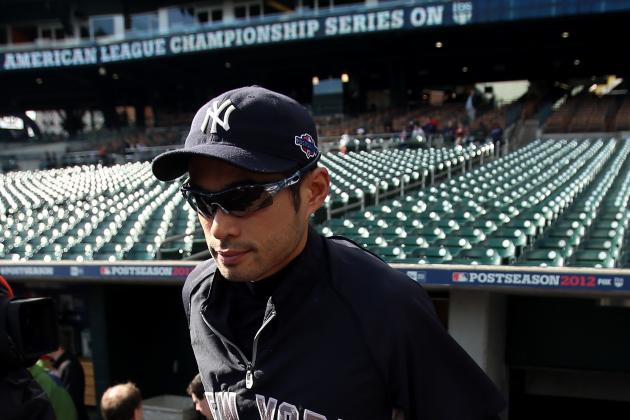 Jonathan Daniel/Getty Images

Ichiro Suzuki joining the New York Yankees last season seemed like the perfect marriage.
He was on a championship-caliber team in the end of his career. Being in meaningful games, around players closer to his age, gave Ichiro a little revival.
For the Yankees, Ichiro hit .322, with five HR and 15 SB.
The Yankees got a player with speed and consistency at the plate, which they desperately needed.
While talks may have started to get a little ugly between both parties, I fully expect Ichiro to be back in pinstripes next season on a one-year, $5-10 million contract.
Team: New York Yankees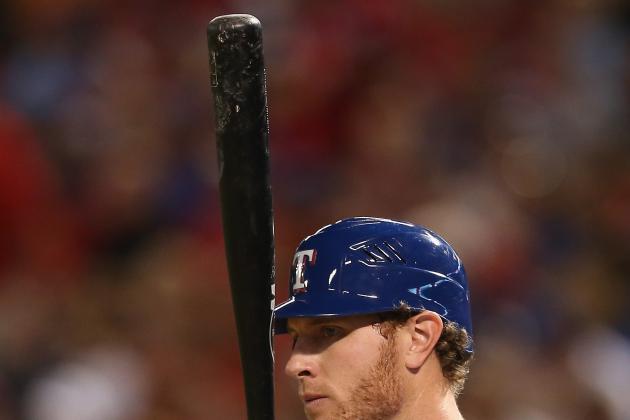 Ronald Martinez/Getty Images

Let me start off by saying I could definitely see the New York Yankees coming in and signing Josh Hamilton. While he is the top free agent on the market, there has not been a lot of talk about him.
The Yankees have shown in the past that you cannot count them out of anything (Alex Rodriguez, Mark Teixeira). Also, it is usually when things are quiet and there is no talk about them in a situation that the Yankees come in and make a big splash.
What is also interesting, is to see what Hamilton will get. Could a five-year, $115 million deal be enough to sign Hamilton, who is reportedly looking for somewhere near a seven-year, $175 million contract.
Because the market is relatively low this offseason, players have been getting big contracts that they might not necessarily deserve. BJ Upton, who is a career .255 hitter and is known for being a lazy player, signed a five-year, $75 million deal with the Atlanta Braves. Shane Victorino got a three-year deal from the Red Sox worth $39 million.
So what does that mean for Hamilton? Will his ugly past play a big role in the length of his contract.
After all is said and done, if I had to put my money on it, I see Hamilton re-signing with the Texas Rangers. But I would not be surprised if he ends up in the Bronx.
Team: Texas Rangers
Dark Horse: New York Yankees