10 Reasons NY Knicks Must Use Miami Heat as Measuring Stick for 2012-13 Success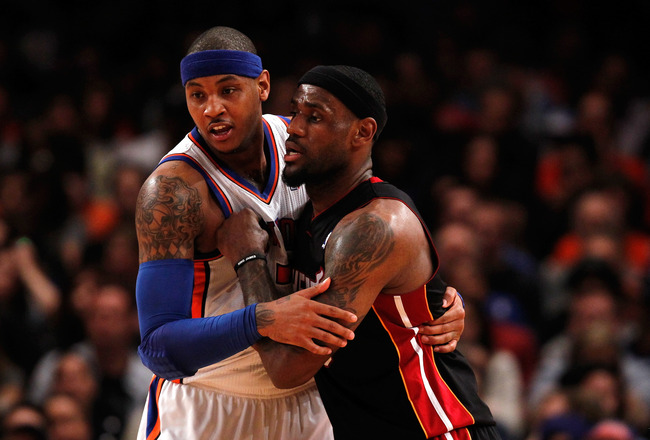 Jeff Zelevansky/Getty Images
When the 2012-13 NBA regular season began, very few people expected to hear this phrase: Tied atop the Eastern Conference are the Miami Heat and New York Knicks, each with a record of 12-4.
In order to maintain and gauge their 2012-13 success, the Knicks must use those Miami ballers as a measuring stick.
The Knicks presently stand alone at the top of the East due to their 104-84 victory over the Heat on November 2nd. While that is certainly inspiring, the Knicks are also a team prone to falling short of the expectations set out for them.
Much like the Heat were when the Big Three came together. Just one of the 10 reasons the Knicks would benefit from using the Heat as their comparative tool.
As long as they don't forget to continue playing their brand of basketball.
10. So You Say You're Elite?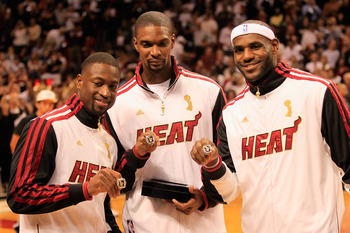 Chris Trotman/Getty Images
If the New York Knicks want to be considered amongst the elite teams in the NBA, why aim any lower than the reigning and defending NBA champions?
The one trait in common for all of the game's elite teams is that they have recently made trips to the Conference Finals or NBA Finals. That's the Miami Heat, Los Angeles Lakers, San Antonio Spurs, Oklahoma City Thunder and Boston Celtics.
If the Knicks want to be considered in that same class, what to do seems rather self-explanatory: Win as those teams win and reach the plateaus that they have previously achieved.
If they fail to do so, why even have the conversation of how good this team may be?
9. Responding to Losses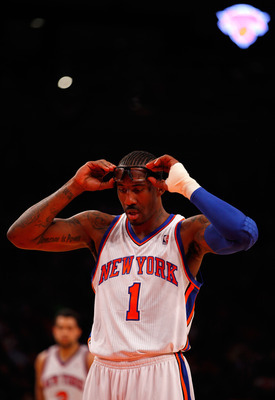 Jeff Zelevansky/Getty Images
Although every fan believes their team can win every game, neither the New York Knicks nor the Miami Heat will do that. In fact, each team will be susceptible to consecutive losses and strings of split victories and defeats.
That's just how an 82-game schedule plays out.
What Erik Spoelstra and the Heat have done an excellent job of, however, is responding to losses in a positive manner. The proof is in the numbers, as the Heat are 28-17 coming off of losses since the Big Three came together in 2010-11.
The Knicks, meanwhile, are 9-1 in similar situations under coach Mike Woodson. Although his tenure is young, the Knicks have also lost two consecutive games just once under Woodson.
It's this type of reactive confidence which the Knicks must display in order to keep pace with the Heat during the regular season and postseason.
A confidence the Heat undoubtedly have.
8. Remember 2003?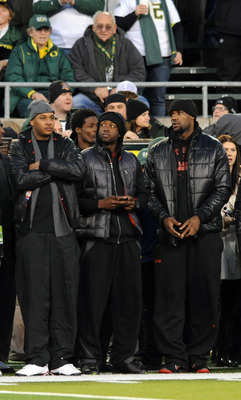 Steve Dykes/Getty Images
Like it or not, Carmelo Anthony will forever be intertwined with the Miami Heat's Big Three. After all, Anthony was in the legendary 2003 NBA Draft with the likes of LeBron James, Dwyane Wade and Chris Bosh.
The only difference between 'Melo and the Miami trio is that Anthony has never won a ring.
Although Anthony must be committed to playing his own game and not comparing himself to his counterparts, this is another reason for using their success as a measuring stick.
After all, 'Melo's pursuit of an MVP award will only hold value if he adds another piece of hardware.
A ring to match that of LeBron, D-Wade and Bosh.
Fortunately for Carmelo, he is not alone in his pursuit of a title. Along with him are Tyson Chandler and Jason Kidd, who played key roles in defeating these very same Miami Heat during the 2011 NBA Finals.
Does anyone else want to fast forward to an Eastern Conference Finals showdown with these two teams?
7. Losing the Rebounds, Winning the Game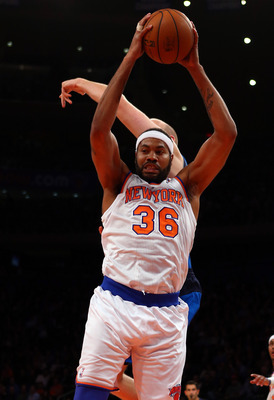 Elsa/Getty Images
When you evaluate the Miami Heat and New York Knicks as collective units, there is one area where they share a common flaw. That, of course, is the offensive and defensive glass, where both teams are rather poor.
The Knicks rank 26th in said area while the Heat place 28th. Horrendous might be a fitting word.
Even as the two teams lose the rebounding battle, both the Knicks and Heat have dominated opponents on the scoreboard. In fact, the Knicks' average margin of victory is 14.9 points per game.
The Heat are securing wins by 10.1 points per contest.
So how are the two teams doing it? For Miami, the answer is rather simple. They're spacing the floor and relying on their surplus of three-point shooters and slashers to score enough to overcome their poor defense.
As for NY, the formula is similar yet different at the same time. New York is playing world-class defense but also spreading the floor with elite three-point shooters.
As long as New York follows Miami's pattern and continues to win despite their poor rebounding, they'll be on pace for greatness.
6. Winning When They Should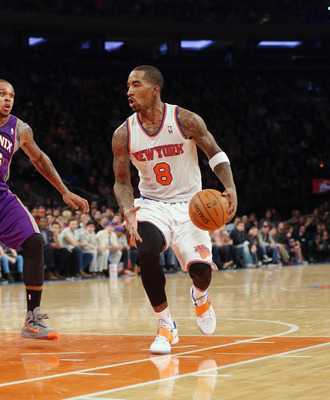 Bruce Bennett/Getty Images
Many will jump the gun and cite an individual loss to the Washington Wizards as proof that the Miami Heat are illegitimate. The truth of the matter is that the Heat have achieved regular season success via a certain consistency.
The Heat win the games that they are supposed to win.
In order for the Knicks to rank atop the Eastern Conference, they must do the same. This is yet another example of where New York can measure their success by that of their elite counterpart in Miami.
So far, so good.
Thus far in 2012-13, the Knicks are 6-1 against teams with a record under .500. That accounts for half of their victories, and is a change from the D'Antoni-era Knicks who played down to the level of their opponent.
Maintaining the "win when we should" mentality that Miami displays will be key.
5. Miami's Defensive Woes Are NYK's Gains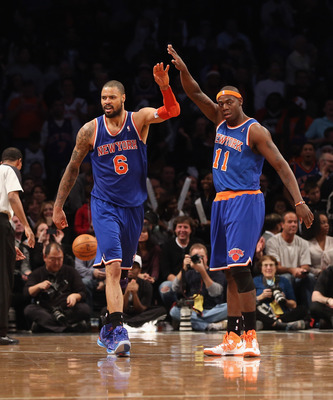 Bruce Bennett/Getty Images
The Miami Heat have started at 12-4 with averages of 104.4 points scored and 99.9 points allowed per game. The New York Knicks, meanwhile, sit at 12-4 with numbers of 102.9 points for and 94.7 points against per game.
In other words, both teams are dominating offensively. The difference between the two is that the Knicks are taking control on defense, as well.
So why follow Miami?
As the Heat struggle, the Knicks must turn up the pressure. Although Miami is proving that defense is not a necessity for winning regular-season games, the Knicks must not allow that to blur their own game plan.
As soon as the Heat cure their defensive woes, they will be an even more unstoppable force. Which is why New York must maintain their current level of play in order to keep pace with the Heat.
If they're unable to, they'll fall short of Miami's bar.
For those who believe these were fluke performances by NYK, not so fast. In 40 games under head coach Mike Woodson, the Knicks are allowing an average of 92.8 points per contest.
As the Heat win games in spite of their poor defense, NYK
4. Winning Close Games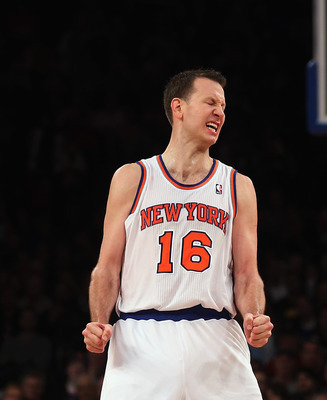 Bruce Bennett/Getty Images
The New York Knicks may be dominating during the regular season, but there is no way around what has come to be fact in the NBA: When the playoffs roll around, the blowouts end.
Which is why the Knicks must prove that they can win close games.
Setting aside their debacle against the Washington Wizards, the Miami Heat have been one of the top close-game teams in the league. Eight of their 12 wins have come by single digits, with three coming by one possession.
Their victory over the Milwaukee Bucks also came in overtime.
Although some have chalked this up to the Heat performing poorly, winning close games is the perfect way to build team unity. Considering that they have Ray Allen as their late-game shooter, it's fair to say they'll thrive in similar scenarios on future occasions.
Which is where the Knicks must improve.
Carmelo Anthony is one of this generation's great clutch scorers. Unfortunately, his late-game efforts have fallen short so far in 2012-13 as the Knicks dropped a three-point game to the Dallas Mavericks.
They also lost in overtime to their rival Brooklyn Nets.
Should the Knicks pattern themselves after the Miami Heat and look to their sharpshooters to benefit from elevated levels of defensive pressure on 'Melo, they may discover more success.
Sometimes clutch plays are best made by the unsung heroes.
3. Starting Slowly, Closing Brilliantly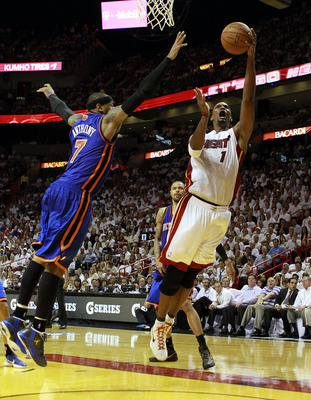 Marc Serota/Getty Images
The New York Knicks are not the only team that have underachieved with a strong cast of superstar players. The Miami Heat may have reached the 2011 NBA Finals, but they lost while there and actually had a rather lackluster regular season.
In fact, Miami has not finished as the top seed in the East in either of their seasons with the Big Three.
Even so, the Heat have displayed an uncanny ability to overcome the odds and achieve victory. No matter how slow they may start, they've bounced back and overcome adversity by exceeding expectations.
The Knicks must adopt and measure their success by this mentality.
2. Epitome of Selflessness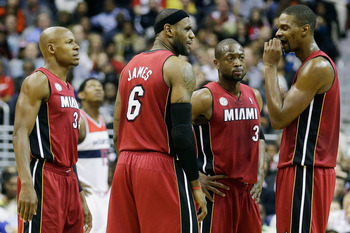 Rob Carr/Getty Images
When the Miami Heat first came together during the 2010-11 NBA season, we witnessed their greatest deficiency. No matter how talented they may have been individually, the Heat hadn't the slightest clue how to play as a cohesive unit.
They made progress, but it was too little, too late as the Dallas Mavericks dismantled them in late-game situations during the NBA Finals.
During the 2011-12 season, however, we witnessed the individual stars playing as one, thriving off of each other's strengths and covering up one another's weaknesses.
As a result, the Heat won the 2012 NBA Championship.
This has also occurred thus far in 2012-13 with the New York Knicks' stars playing as one. Although Carmelo Anthony remains the team's leading and go-to scorer, the ball is being moved around on offense as opposed to last season's deference to 'Melo isolation plays.
As long as the Knicks maintain this style of play, they will be on pace to match the Heat, step for step. If they fail to remain committed to a selfless approach, however, the dominant defense and overpowering offense will wither.
And that would mean they'd fall off of Miami's pace and miss out on winning a title.
1. Title or Bust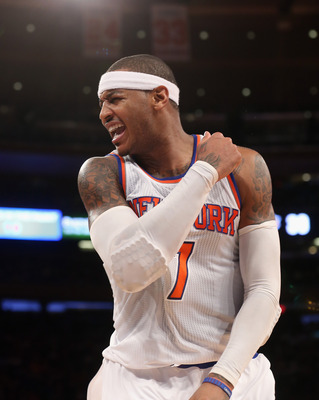 Bruce Bennett/Getty Images
The New York Knicks may be surprising fans with how well they're playing, but that doesn't mean they weren't expected anyway to win an NBA championship.
In fact, if they don't win a title in 2012-13, there will be only one word to describe their season.
Bust.
The Knicks are not an organization with title aspirations but no means to realize them. They have superstar scorers, dominant defenders, crafty veterans and the athletic youth to defeat any opponent.
Most importantly, they're from the Mecca of Basketball.
40 seasons removed from their last NBA championship, the Knicks have experienced more disappointment than any other franchise in professional sports. Well, except the Chicago Cubs, but that's a given.
The Knicks cannot become the Cubs of the NBA. They must win a title now, or start from scratch.
Don't forget, five key players are over 35: Jason Kidd, Marcus Camby, Rasheed Wallace, Pablo Prigioni and Kurt Thomas.
Win now or be considered a bust. Those are the Knicks' only options, which is why they must use the Heat as a measuring stick.
Keep Reading

New York Knicks: Like this team?