3 Obstacles Each Potential Playoff Team Needs to Overcome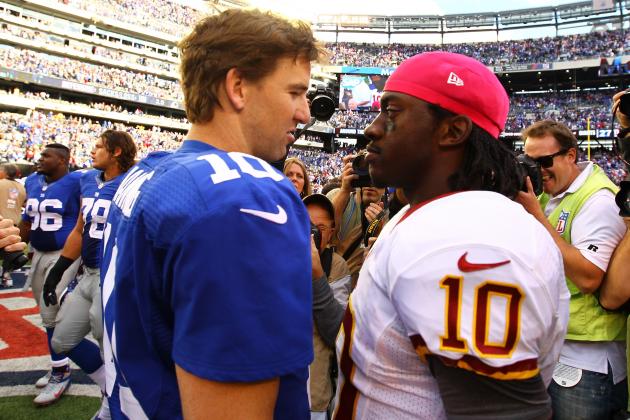 Al Bello/Getty Images

There isn't a single team vying for a spot in the playoffs without its fair share of challenges to overcome.
The road to the Super Bowl isn't paved with smooth cobbles; rather it's a treacherous path requiring much determination and skill.
With that in mind, we'll take a look at all 13 teams with legitimate playoff aspirations as we head into Week 14 and break down the top-three obstacles standing in the way of their Super Bowl dreams.
Note: We're leaving out the Atlanta Falcons, Houston Texans, Denver Broncos and New England Patriots, as all four teams are already assured a playoff spot.
Begin Slideshow

»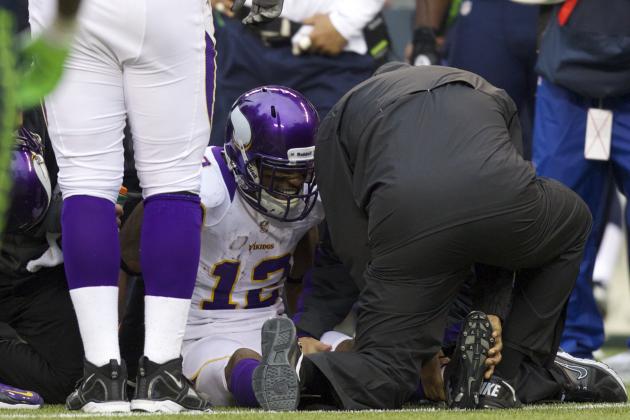 Stephen Brashear/Getty Images

Obstacle No. 1: Percy Harvin's Health
If the Minnesota Vikings have any hope of making it into the postseason, Harvin must return to action. The offense hasn't been the same since he left a month ago, and it's not yet known when he'll return.
Frazier says Jared Allen will be limited today. Percy Harvin is NOT practicing after all. Is Harvin's season over? "Hard to say." #Vikings

— Tom Pelissero (@TomPelissero) December 5, 2012
Obstacle No. 2: Christian Ponder's Regression
Ponder started the season with four promising starts in a row, throwing four touchdowns and zero interceptions during that stretch.
Since then, the second-year quarterback has regressed to last year's mistakes, as he's thrown 10 touchdowns and 11 interceptions in the past eight games.
Obstacle No. 3: Playoff Picture
The Seattle Seahawks currently occupy the No. 6 seed with a record of 7-5.
The Vikings are tied with three other teams at 6-6, and it's going to take a lot to go right for this team to make it into the postseason.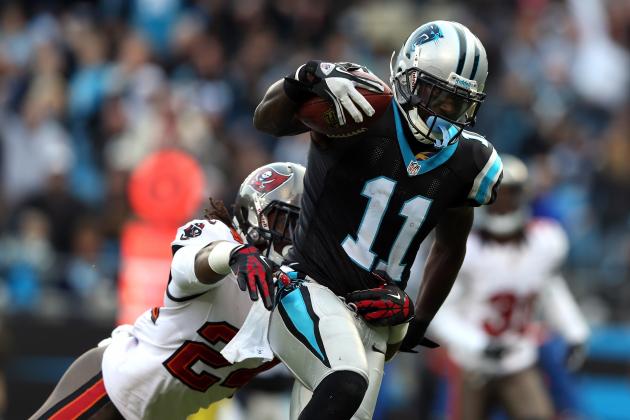 Streeter Lecka/Getty Images

Obstacle No. 1: Weak Secondary
OK, maybe weak isn't the right word, here. How about atrocious?
The Tampa Bay Buccaneers feature the NFL's worst passing defense, allowing 309 yards per game. This kind of defense doesn't win championships.
Obstacle No. 2: Lack of a Pass-Rush
Undoubtedly, the Bucs' secondary would be a bit better if they had a front four that put consistent pressure on opposing quarterbacks.
The Buccaneers have only tallied 18 sacks in 12 games—the third-worst mark in the NFL.
Obstacle No. 3: Playoff Picture
The Bucs are in the same boat as the Minnesota Vikings. They need to win out and hope that they get help from the other four teams vying for the No. 6 seed in the NFC to get into the playoffs.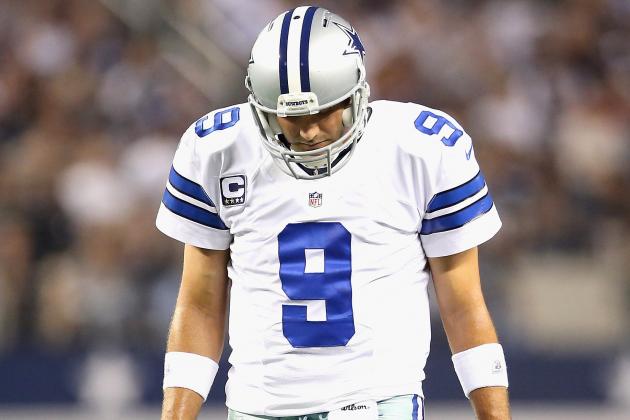 Ronald Martinez/Getty Images

Obstacle No. 1: Which Tony Romo Will Show Up?
Romo has put forth abominable efforts at times this season, but at other times he's been phenomenal.
He's like a box of chocolates...
Obstacle No. 2: Lack of a Running Game
Perhaps one of the reasons Romo has struggled this year is that he's been forced to carry the offense, due to a lack of production from his running backs.
Only the Arizona Cardinals and Jacksonville Jaguars have posted worse seasonal averages in the running game, and if the Cowboys are to make a late-season push, DeMarco Murray needs to step up and produce like he did last season.
Obstacle No. 3: Playoff Picture
The Washington Redskins are currently above the Cowboys, though both teams are 6-6, due to the fact that they beat them earlier in the year. The Cowboys are also behind the Seahawks, who have a record of 7-5.
It's going to take a few different things going the Cowboys' way for Dallas to get into the playoffs.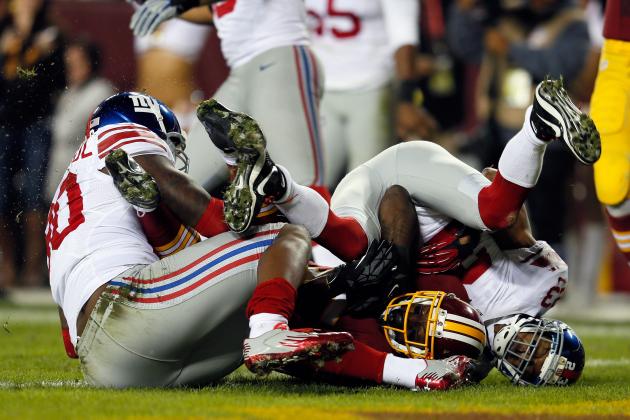 Rob Carr/Getty Images

Obstacle No. 1: Can RG3 Stay Healthy?
Robert Griffin III has revitalized the Washington Redskins this season and has a chance to take his team to the playoffs.
But, boy, has he taken some big hits this season, or what?
If RG3 can't stay on the field, the Redskins won't make the playoffs.
Obstacle No. 2: Secondary Woes
Only the Tampa Bay Buccaneers have a worse secondary than the Redskins this season.
Teams with elite offenses will be able to shred the Redskins defense unless the secondary tightens things up.
Obstacle No. 3: Playoff Picture
The Redskins currently occupy the No. 7 seed, having an edge over the other three 6-6 teams by virtue of head-to-head battles.
They need the Seattle Seahawks to falter and they need to keep winning in order to make it into the postseason tournament.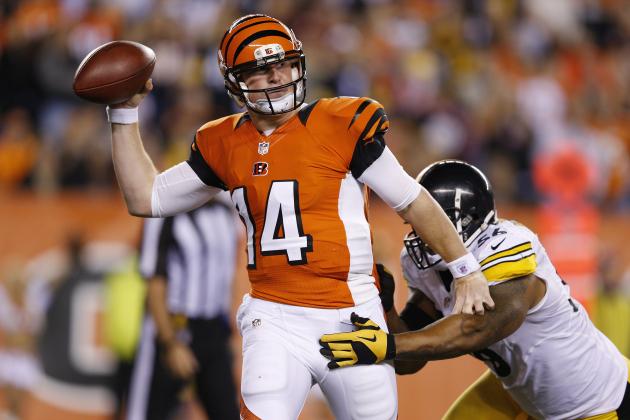 Joe Robbins/Getty Images

Obstacle No. 1: Andy Dalton's Road Woes
Dalton is not the same quarterback on the road as he is at home.
He's thrown eight interceptions in six road games, compared to five at home. He'll need to cut down on the turnovers on the road for the Bengals to have a chance to get into the playoffs.
Obstacle No. 2: Little Brother Syndrome
The Cincinnati Bengals haven't figured out how to beat the Pittsburgh Steelers and Baltimore Ravens yet. They lost to both teams earlier in the year—getting blown out by the Ravens in Week 1 and losing by a touchdown in Week 7 to the Steelers.
Guess which two teams are looming in the last two weeks of the season?
Obstacle No. 3: Playoff Picture
The Bengals have the same 7-5 record as the Steelers; but since the Steelers won their first matchup, they occupy the No. 6 seed.
The Bengals need to keep winning, because a single loss could doom their playoff hopes.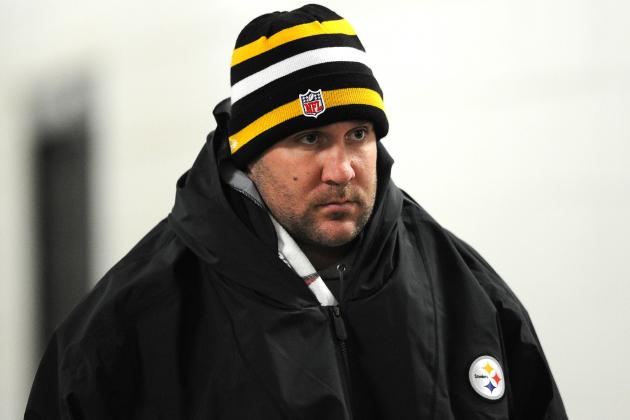 Patrick Smith/Getty Images

Obstacle No. 1: Can Ben Roethlisberger Get/Stay Healthy?
The Pittsburgh Steelers just aren't the same team when Big Ben's on the sideline.
Sure, Charlie Batch engineered a spectacular victory in Week 13 against the Baltimore Ravens, but he can't be counted on to perform at a high level every week.
And when Roethlisberger returns, his offensive line needs to step up and protect him, or it won't be long until he's out again.
Obstacle No. 2: Lack of a Running Game
Rashard Mendenhall demoted, all four running backs losing fumbles in one game—these are problems that may haunt the Steelers in 2012.
The Steelers haven't been able to generate a consistent rushing attack, which is one of the reasons Big Ben's constantly getting hurt. The team needs to amend this as soon as possible, or the Steelers may miss out on the postseason.
Obstacle No. 3: Playoff Picture
The Steelers currently occupy the No. 6 seed in the AFC, but one slip and they're suddenly on the outside looking in.
With games against the San Diego Chargers, Cleveland Browns, Dallas Cowboys and Cincinnati Bengals, winning out isn't out of the question; but it's no picnic, either.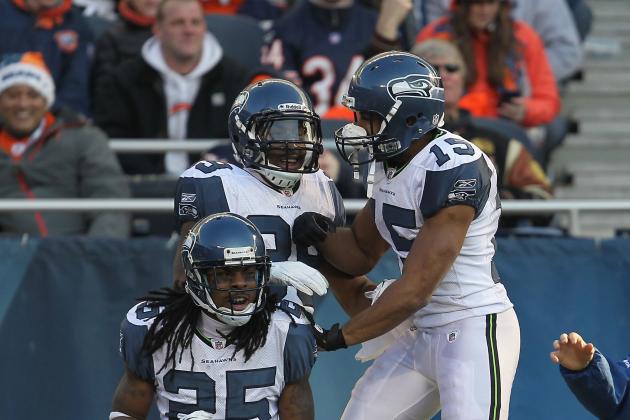 Jonathan Daniel/Getty Images

Obstacle No. 1: Potential Loss of Richard Sherman and Brandon Browner
Browner isn't fighting his suspension and will begin serving his four-game punishment this week against the Arizona Cardinals, per Jason La Canfora.
Sherman's appeal hearing is set for next week, and he may end up missing the team's first playoff game, should the Seattle Seahawks get in.
Browner and Sherman are the cornerstones of the Seahawks' top-ranked pass defense, and without the two of them on the corners, it's going to be tough for this team to continue playing at the high level we've come to expect.
Obstacle No. 2: Road Woes
Of the seven road games played by the Seahawks in 2012, they've lost five.
If they make it into the playoffs, every game they play will likely be a road test, and it'll be interesting to see how they respond to the challenge.
Obstacle No. 3: Remaining Schedule
Three of the Seahawks' four remaining games are against division rivals, and all three won their previous matchups.
With four teams one game behind the Seahawks, it's do or die time for Seattle.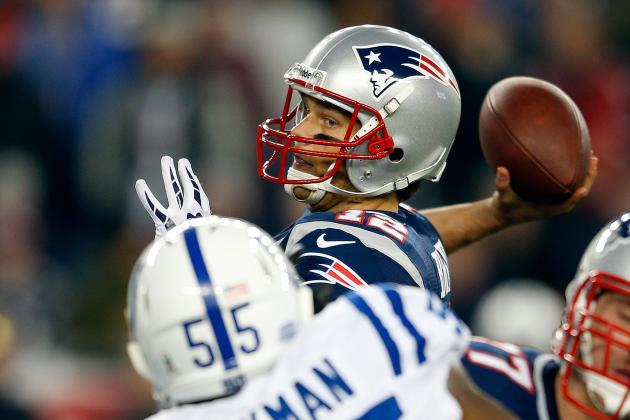 Jim Rogash/Getty Images

Obstacle No. 1: Defensive Woes
The Indianapolis Colts have allowed 30-plus points four times this season and they give up an average of 25.5 points per game.
Elite offenses have been able to exploit this unit, and if Andrew Luck has a bad game, the Colts lose.
Obstacle No. 2: Interceptions
Luck has thrown 16 interceptions through 12 games, and though he has the ability to overcome his mistakes more often than not, this trend will be a problem in the playoffs.
Obstacle No. 3: Schedule
Whoever drew up the schedule for the Colts this season didn't do them any favors.
Two of their last three games are against the Houston Texans.
If the Colts get dominated in both those games, it could set a bad tone heading into the postseason—should they get in, of course.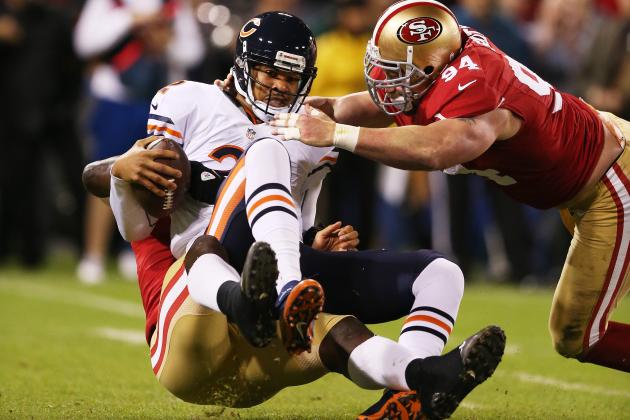 Ezra Shaw/Getty Images

Obstacle No. 1: Offensive Line Woes
Jay Cutler has been sacked more than any quarterback in the NFL besides Aaron Rodgers and Philip Rivers, and he missed the game against the San Francisco 49ers due to injury.
If that doesn't worry you, then I'm betting you're the most optimistic fan the world has ever seen.
Obstacle No. 2: Trending Down
The Chicago Bears have lost three of their last four games.
That's the opposite of what you're hoping for at the end of the season, and with only four games left, there isn't much time to turn things around—especially considering the recent news that Brian Urlacher may be out the rest of the season and Tim Jennings may miss considerable time.
Obstacle No. 3: Schedule
The Bears remaining schedule isn't easy, as three of their final four contests will be road games—their other being a home game vs. the Green Bay Packers.
Even though their road opponents all have worse records, the Bears don't have an easy task in front of them.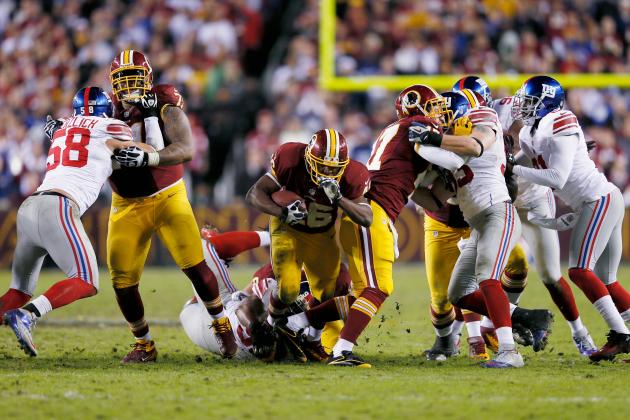 Rob Carr/Getty Images

Obstacle No. 1: Defensive Woes
The New York Giants feature a defense that can dominate at times, but when things don't go just right, opposing offenses can exploit it with deadly efficiency.
Ranking in the bottom half if the league in both rushing and passing defense, the Giants can be beaten with the right game plan.
Obstacle No. 2: Lack of Production From Eli Manning
Manning has struggled in 2012.
He's only thrown 16 touchdowns in 12 games—good for No. 17 in the NFL—while throwing 11 interceptions.
Part of the problem has been Hakeem Nicks' health issues, but losing Mario Manningham may have hurt Manning more than the Giants thought it would.
Obstacle No. 3: Schedule
The Giants don't have an easy schedule the rest of the way in 2012.
With games against the New Orleans Saints, Atlanta Falcons, Baltimore Ravens and Philadelphia Eagles, 2-2 seems like a plausible outcome.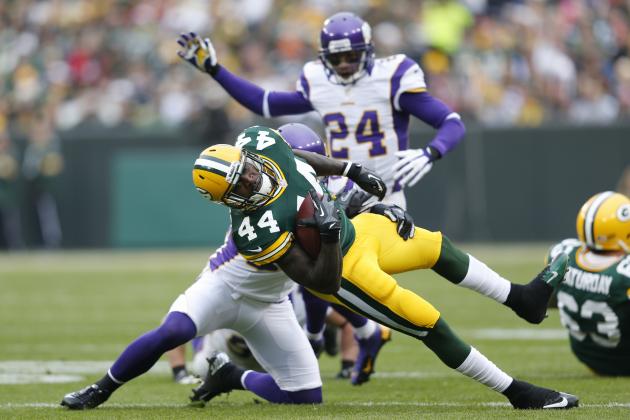 Joe Robbins/Getty Images

Obstacle No. 1: Injuries
The Green Bay Packers have been beset by injuries all season long.
The list is extensive, so I'll just name a few key players who've missed significant time: Greg Jennings, Clay Matthews, Charles Woodson, Jordy Nelson, James Starks, Cedric Benson, etc.
It's tough to win consistently in the NFL with a full contingency of players—let alone with half your impact players on the sidelines.
Obstacle No. 2: Offensive Line Woes
No quarterback has been sacked more this season than Aaron Rodgers.
Furthermore, the Packers' rushing attack has barely been passable; and as good as Rodgers is, even he can struggle when faced with these conditions.
Obstacle No. 3: Mason Crosby
Crosby can't be counted on. He's hit on just 63 percent of his kicks this season, and he's already cost his team at least one game—the Week 5 loss to the Indianapolis Colts.
Rodgers and his offense need to make sure to score enough points so that Crosby doesn't have to kick the game-winning or game-saving field goal at the end of games.
Christian Petersen/Getty Images

Obstacle No. 1: Quarterback Controversy?
The San Francisco 49ers have two excellent quarterbacks, and it remains to be seen whether or not Jim Harbaugh's decision to roll with Colin Kaepernick will come back to bite him or pave the way to a Super Bowl.
Obstacle No. 2: David Akers
Akers has already cost his team two wins in 2012—both coming against the St. Louis Rams.
He's hit on 21-of-30 attempts this season, which is a far cry from the 84.6 percent he hit last season. He needs to get better or risk being the goat who costs the 49ers a playoff game in January.
Obstacle No. 3: Overcoming the Loss of Kendall Hunter
Hunter evolved into an integral part of the 49ers offense this season before getting injured in Week 12. The team struggled to find that explosive element in the running game without him in Week 13 against the Rams, and it'll be interesting to see which player steps up in his absence.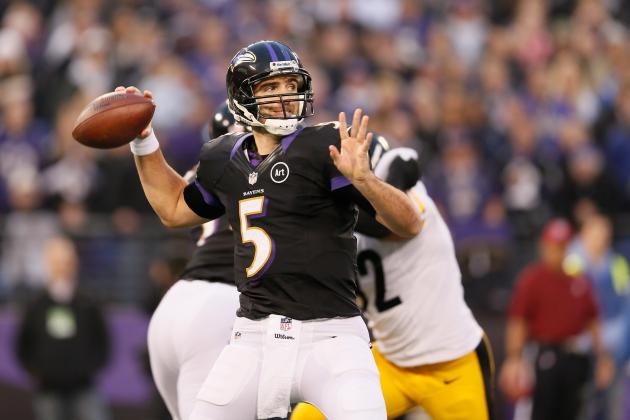 Rob Carr/Getty Images

Obstacle No. 1: Joe Flacco
Flacco has proven to be an explosive quarterback at times, but he's also capable of putting together some head-scratching performances.
He also can't be counted on to win big games on the road, where he's more susceptible to bad interceptions at the worst possible times.
Accuracy is a big issue for Flacco, who is completing less than 60 percent of his passes this season.
Obstacle No. 2: Cam Cameron
Baltimore Ravens offensive coordinator Cameron doesn't know what he's got on his roster.
Ray Rice, one of the top-five running backs in the NFL in terms of talent, often gets left out of the game plan in the second half. He's averaging just 16.5 carries per game—an insufficient amount, considering his game-breaking qualities.
Cameron will be the doom of the Ravens in 2012.
Obstacle No. 3: Defense
Long gone are the days when the Ravens featured the most dominant defense in the NFL.
This team features the No. 25-ranked defense in the league in 2012, allowing over 372 yards per contest.
Even more disturbing is the fact that the defense is allowing almost 126 yards per game on the ground.
Follow me on Twitter @JesseReed78 and check out my weekly NFL picks at Pickfactor.com