Ranking Every Pro Wrestling Video Game for the SNES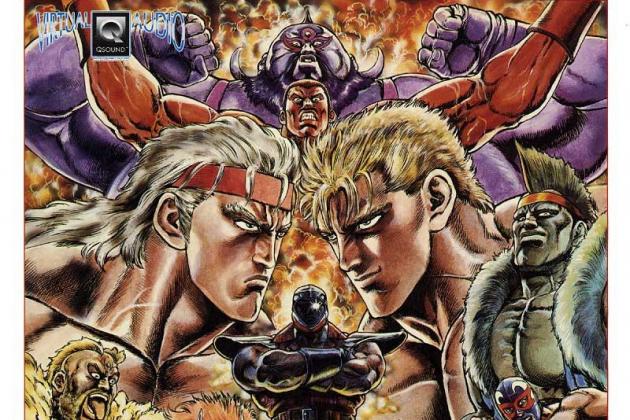 Illustration by Tetsuo Hara, property of Capcom
In the early '90s, digital versions of men like Bret Hart and Sting along with fictional wrestlers like Jumbo Flapjack burst into the homes of many a gamer, some with spectacularly fun results, others testing our patience.
Just two years after the Super Nintendo (SNES) video game system debuted, LJN developed the first wrestling game for the new system.
Gamers could now put on their own slobberknockers, 16-bit style.
1994 was a year crowded with SNES wrestling options. WCW put out its own game as did WWE. On top of that, three games featuring created wrestlers hit the shelves during that year.
Using hindsight and finger-muscle memory, let's look back at SNES' most horrid and most awesome offerings.
Note: Japanese-only games such as Super Fire Pro Wrestling Special are excluded here.
Begin Slideshow

»
FCI, 1994
WCW: World Championship Wrestling on NES puts WCW: Super Brawl Wrestling to shame. It's not that the WCW's NES contribution was all that good; it's that its successor was a load of junk.
The graphics make gamers' favorite WCW wrestlers unrecognizable.
Everyone from Rick Rude to Sting, Ric Flair to Barry Windham have unnaturally elongated limbs and what look to be melted faces. Vader looks like a guy from Bum Fights. Scott Steiner's head looks like something a Mayan potter would have made.
The game opens with a quick trip to the WCW control room and a snazzy intro before heading to the oddness that is the character selection screen.
While a player tries to decide which wrestler to choose, guys like Ron Simmons shout out randomly and quiver uncontrollably.
The 3/4 overhead view of the ring is a unique touch.
Unfortunately, it's the game's best feature. There is no music to speak of. The controls are confusing and seemed to be designed to irritate.
Aside from the finisher, the wrestling moves are exactly the same regardless if you choose Brian Pillman or Vader. Trying to perform those moves feel impossible at times, delivering a Sisyphean gaming experience.
Acclaim, 1995
Take Mortal Kombat, remove all the bloodshed and gore, replace guys like Raiden and Sub-Zero with WWE wrestlers and you basically have the blueprint for WWF WrestleMania: The Arcade.
Considering WWE games today have rosters of more than 100 wrestlers, it's unfathomable to think that this game had only six superstars to choose from.
Your choices are Bret Hart, Undertaker, Lex Luger, Razor Ramon, Shawn Michaels and Doink the Clown. That's it. Acclaim's decision to so severely limit the roster is compounded by making Doink one of the six men included.
Wouldn't have just about anybody made a better addition? Fans might have settled for Jeff Jarrett or Mabel rather than Doink.
WWF WrestleMania: The Arcade features the most realistic-looking characters of the SNES options and one of the most unrealistic gameplay experiences.
The wrestlers benefit from similar graphic technology that made Mortal Kombat's fighters look so real.
Most complaints stem from the stripped down wrestling that the game is built on. There are far more strikes than grappling moves and the game includes supernatural moves.
Doink's hand enlarges and shocks his opponents. Undertaker does some soul-tossing thing.
Even with its flaws, the game is a decent play.
Wrestling purists will scoff at the action. Serious gamers will prefer Mortal Kombat, but a few hours can be spent making Razor Ramon one's virtual punching bag.
LJN, 1992
LJN put out three WWE games for the SNES, each one being progressively better.
WWF Super WrestleMania was the first of the trilogy and a good starting point.
Players could choose from single, tag team or Survivor Series matches. The addition of the traditional elimination matches improves the game in a big way.
Today's gamers are spoiled with every kind of match imaginable available on their consoles. This marked the first time they could play this type of match.
The SNES version differed dramatically from the Sega Genesis version.
SNES's edition didn't have the signature moves that the Genesis one did, but boasted a better roster than Genesis.
Randy Savage, Ted DiBiase and Hulk Hogan are on both versions. Only the SNES owners can play as The Legion of Doom, Jake Roberts and The Undertaker.
The photos of the wrestlers on the select screens and various stills look good and overall the graphics are solid.
The wrestlers' likenesses aren't spot on, but are far better than any of the NES predecessors.
The controls are at times, unresponsive, sluggish even. Grappling is a button-mashing chore, but there was a bit of fun to be had here for sure.
Jaleco, 1994
Credit Jaleco for refusing to stick with the standard two-dimensional side view of a ring. The result for some may be overstimulation and an epileptic fit, for others a rich, visual experience.
HammerLock Wrestling adds a close-up view of the action to the top and bottom of the screen.
Here, made-up wrestlers such as Great Max, Sam Warhammer and Spud Marmoset are seen through an anime-inspired lens, using close-ups and slow-motion. It adds a cinematic touch to the game, but for some players, it may be distracting to have so much going on.
Match options include exhibition, champion league, tournament and Top Ranking Match which is fighting everyone on the roster one at a time, much like you'd get with any arcade fighting game.
The action can be slow at times as these wrestlers sell better than Dolph Ziggler and Ric Flair combined.
Some moves will leave dudes on the mat for extended periods of time.
The controls aren't either fantastic or dreadful, just average which can be said for much of the game. Had HammerLock Wrestling come out in a year not overloaded with wrestling games, it might have received more attention.
As it stands, there are much better games of the era that overshadow this one.
LJN, 1993
Beyond updating the roster, LJN Improved the music, the overall sound and the realism from Super WrestleMania.
The graphics are a touch better as well. So Mr. Perfect, Lex Luger, Ric Flair, Randy Savage and gang look a bit more like the real thing.
Were you to purchase the Sega Genesis version instead you'd be unable to play as Flair, Perfect, Tatanka, Yokozuna or Ted DiBiase. Genesis gamers got Hulk Hogan instead, along with Jim Duggan, Rick Martel, Papa Shango and I.R.S.
WWF Royal Rumble has much of the same controls as WWF: Super WrestleMania. The most noticeable addition is the grapple meter which lets you know how well the button-mashing is going.
An excellent subtle addition is the ability to bump the referee.
Once the ref is down, wrestlers are free to perform illegal moves like choking and eye gouging. That nice touch, along with wrestlers performing signature poses and gestures throughout the match, up the realism and level of fun.
Choose between a standard match, a six-man tag, a brawl (a match sans ref), a tournament or the game's namesake, the Royal Rumble.
Natsume, 1994
Wrestling purists' best bet on the SNES is a difficult game without a bunch of bells and whistles, but an impressive variety of moves.
Whether players choose Big Ape, Python, M. Roach or someone else, they will find out quickly that this isn't a game where one just smashes all the buttons and sees what happens.
The grappling system is a bit tricky to get into initially. It'll take at least a few matches before most players find they can master the many moves. Once they do, the experience is rewarding.
In many ways, Natsume Championship Wrestling feels like actual pro wrestling.
All those moves of the weak, medium and strong variety look fluid with solid animations. The graphics may remind some fans of games like Streets of Rage.
The wrestlers don't look fantastic, but the visuals don't take away from the experience.
What will get the majority of gamers to toss their controllers at the screen is the sheer difficulty of playing against the computer. John Cena-like comebacks are a regular occurrence.
The computer seems to have the advantage far too often. Be prepared to do a ton of sticking and moving.
The music may come off as dinky or nostalgia-inducing. The ring is touch oversized. One of the announcers seems to be shrugging no matter what you do to your opponent.
Those details aside, this is a game that did well for its time and offers a few hours of throwback fun to folks interested in that sort of thing.
Especially considering that Natsume Championship Wrestling is basically an Americanized translation of Zen-Nippon Pro Wrestling Dash: Sekai Saikyou, the results were pretty impressive.
LJN, 1994
WWF Raw is the best of LJN's wrestling efforts.
The company built on the successes of the first two games and tweaked the formula masterfully.
Of the three, this game offers the biggest variety in terms of match types. Players can jump into tag team matches, Survivor Series elimination matches, a 12-man Royal Rumble as well as a match called a Bedlam Match.
WWF Raw's roster boasts some impressive names from Shawn Michaels, to Bret and Owen Hart, The Undertaker and as a bonus, Luna Vachon, who will get right in there and fight with the men.
The graphics look nearly identical to WWF Royal Rumble and WWF Super WrestleMania.
That means the wrestlers look decent but some better than others. Both Bam Bam Bigelow and Yokozuna look far skinner than their real-life counterparts.
Gamers have a set of more distinct offensive moves to work with than in previous games.
Some of the animations are odd-looking. Bret Hart's sharpshooter looks as if he's just grabbing his foe's legs and bouncing up and down.
Mostly though, those are minor annoyances that get lost in the experience of the game.
If you played this when it came out, it was far and away the best licensed wrestling game ever made. Now it's a fun, nostalgic ride, a flashback to WWE in the early '90s.
Capcom, 1994
By no means is this a realistic game, but boy is it fun.
Where WWF WrestleMania: The Arcade made the wrestling version of Mortal Kombat seem like an unenthused rip-off, Saturday Night Slam Masters felt like a wrestling-themed extension of Street Fighter.
The Street Fighter Influence makes sense, considering Capcom made both games.
The Russian character, Biff Slamkovich makes a Zangief reference when he loses. King Rasta was reportedly the original design for Blanka.
One of the biggest strengths of the game is its interesting, vibrant characters, imitations of others or not. Oni-Kabuki is a Kabuki-style warrior. El Stingray is a luchador.
Haggar from Final Fight and a fake Vader character appear as well.
Saturday Night Slam Masters is far more fighting game than wrestling game, but it certainly has the spectacle of the business down.
Lasers shoot down from the ceiling. Smoke billows up, the crowd roars.
The graphics feature exaggerated bodies and a stylized look that epitomizes the dynamism that throbs throughout the game.
Of all the SNES pro wrestling games, this is the one to come back to today.