College Football Recruiting 2013: The Top 15 Recruiting Battles Being Waged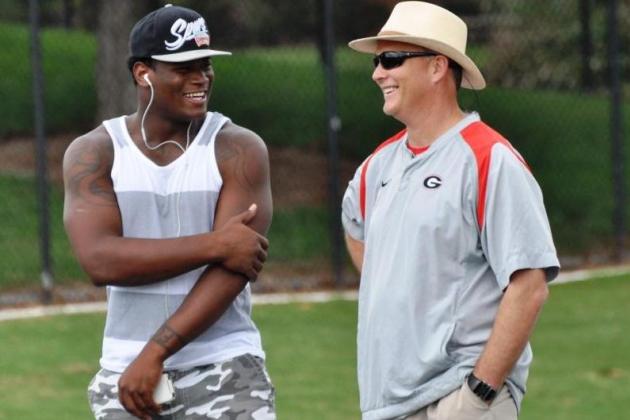 247Sports.com
I'm sure, as true recruiting fans, you all realize the intense competitiveness that lies in the world of recruiting. When programs all are going after the best recruits at the same time, things can get really passionate, fiery and tense between all programs involved.
This 2013 cycle is not any different. There are some extremely fierce recruiting battles being waged throughout the country and this read will focus on the top fights for the nation's best prospects.
Several powerhouse programs are involved in heavyweight slugging matches and the battles are basically going to come down to who wants the recruit more. Here are the top 15 recruiting battles right now.
Begin Slideshow

»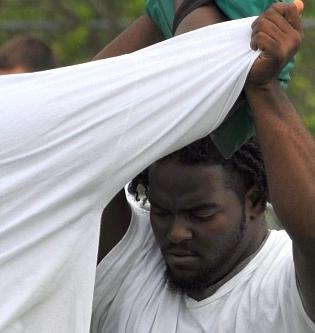 247Sports.com
Crowder is one of the best OG prospects in the country. Hailing from North Carolina and standing at 6'2", 235 pounds, he shows a mean streak and excellent play strength.
Scout.com lists his top three as Georgia, UNC and Clemson. So as one can imagine, a big time fight has ensued between the three.
The Tar Heels would love to keep him home, while Georgia wants to beef up their OL even more. Dabo Swinney also clearly wants Crowder in Clemson, and this battle should heat up quite a bit in the next few weeks.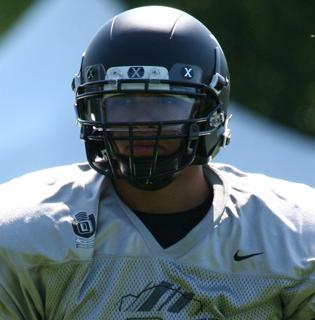 247Sports.com
At 6'5" and 241 pounds, Bower is a strong DE prospect from New Jersey. Kyle Flood is the leader of Rutgers now and he wants to close his fence off as the new sheriff in Jersey.
Bower is committed to Auburn, but Scout.com says Flood and his assistants are basically working around the clock to try to convince him to stay home. I'm sure Gus Malzahn is not going to just let Bower get away so easily, though.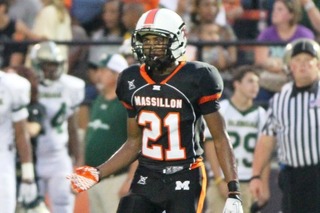 247Sports.com
For most of this recruiting cycle, Conley was committed to Michigan. He's a long 6'1" CB that weighs about 170 pounds. Instinctive and athletic, he's a DB with a ton of potential.
Conley must be feeling some state pride because the Ohio native has backed off his pledge to UM and is now seriously looking at Ohio State, according 247Sports.com.
However, Michigan is still in the mix and I highly doubt they want to lose anyone to their arch rivals.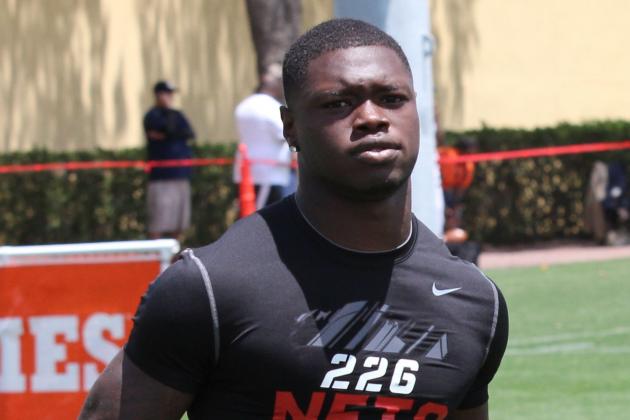 247Sports.com
The theme of Bryant's recruitment since he de-committed from Oklahoma has been that he wants to play in the SEC. At 5'11" and 205 pounds, the RB from Florida has the strength and toughness to do so.
Chris Nee of 247Sports.com reported yesterday that Bryant says Auburn is out of the race. It seems that would leave South Carolina as his top choice.
I think Jimbo Fisher at Florida State will continue to make a run at him, however.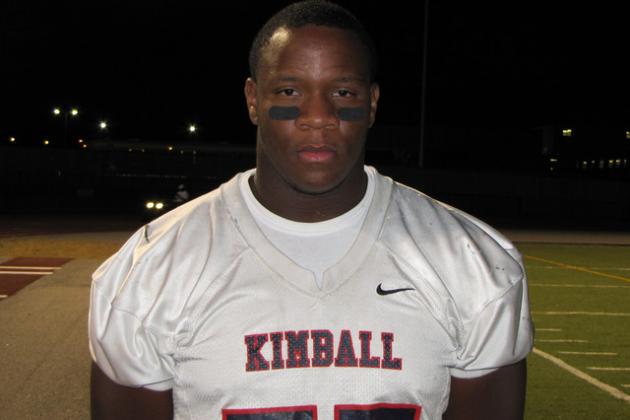 247Sports.com
Manning is a 6'2", 275-pound DT that has the ability to play some strong-side DE too. He's pretty athletic, explosive and quick in the trenches.
Scout.com lists his final three schools as Oklahoma, Texas A&M and TCU. Manning is from Dallas so the Horned Frogs are working hard, he has family ties to OU and the Aggies are a growing hot program.
All three schools are really battling for Manning.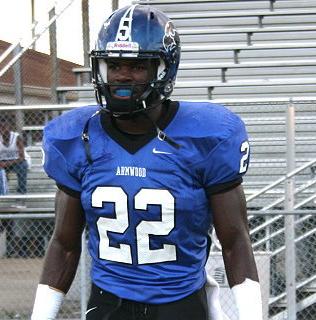 247Sports.com
At 6'2" and about 185 pounds, McQuay is a natural at FS where he shows good range, instincts, route recognition skills and athleticism.
His recruitment has been a very methodical process. Audio Engineering appears to be what McQuay would like to pursue academically and professionally.
247Sports.com shows Florida State, USC, Vanderbilt, Oregon and Michigan as the top five schools for McQuay. This is one of the more interesting battles this year.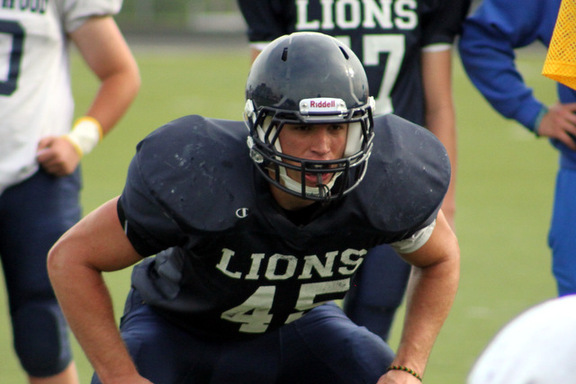 247Sports.com
Mitchell's recruiting has taken off like a rocket since the spring and now the 6'4", 222-pound LB is close to being a 5-star prospect. He's athletic, tough and shows great straight-line speed.
247Sports.com shows that Ohio State is slugging it out with Oklahoma, Oregon, Texas A&M and Florida State for Mitchell.
All five programs would like to add another LB to their roster and getting Mitchell would ensure landing a future starter.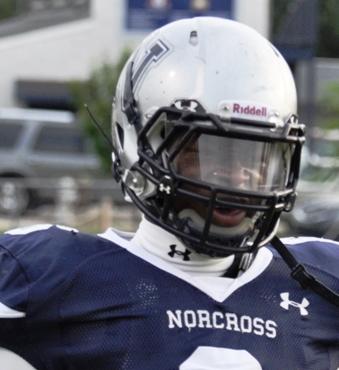 247Sports.com
The Dawgs may have lost on the final drive to Alabama last weekend, but they are still in a heated race for Kamara.
Mark Richt is trying to keep the Peach State product in-state, but Nick Saban has become a great collector of RB's lately.
I think Kamara will end up in Athens, but Alabama will continue to put the press on.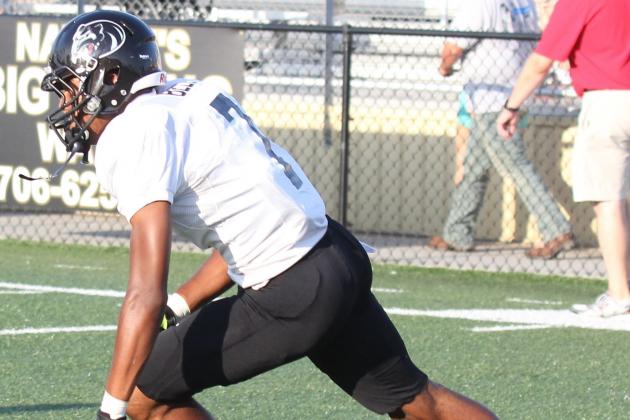 247Sports.com
The consensus top three schools for Bell continues to be Ohio State, Alabama and Tennessee. The Vols don't have a coach right now, but they are a childhood favorite of Bell's.
Urban Meyer is one of the best recruiters ever, so anytime he's in a prospect's mind he's a big threat to other schools. The same can be said for Nick Saban.
This one could go down any path.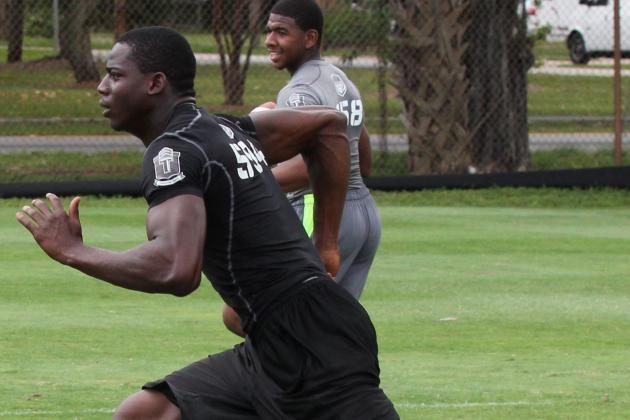 247Sports.com
Following Thomas' recruitment, it seems his family may prefer he stay home and go to Miami. But he feels leaving home isn't so bad.
He's a 6'3", 210-pound OLB that would probably see extensive snaps in Coral Gables right off the bat. Al Golden's program is working hard to convince him of that because Florida State and Alabama could be prime options for Thomas.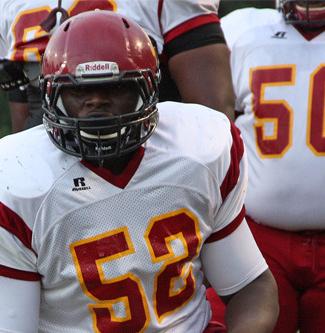 247Sports.com
Adams is a great DT from Georgia that goes in the 6'3", 310-pound range. He has a high ceiling and is an explosive player at the point of attack.
Pretty much the entire SEC wants Adams, yet I think Clemson is also in the mix. A dark-horse team could be USC, as the Trojans are working their numbers and Adams could choose to take a trip to Los Angeles.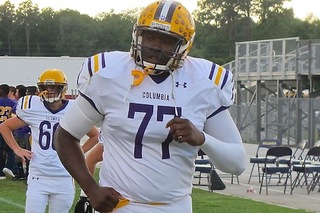 247Sports.com
By now, you should know that it's going to come down to a decision amongst four schools for Tunsil: Georgia, Alabama, Florida and Florida State.
Florida would really feel the sting if they didn't land him, as Tunsil is from an area that is pretty close to Gainesville. Georgia has been in the race since the start, but Alabama and Florida State are also outstanding options for Tunsil.
Decisions, decisions.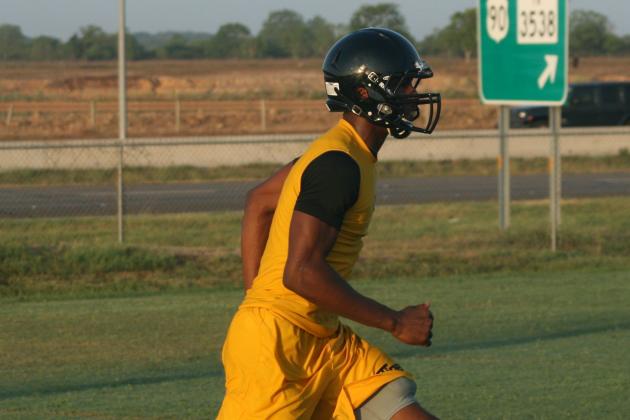 247Sports.com
Seals-Jones is another prospect that we pretty much know who the major players are. It has been a Texas A&M vs. LSU race for him for quite some time.
There are signs that he is leaning to both schools with equal strength, so this is one that I can't really call. I just know that both programs are locked in one of the top recruiting battles being waged right now.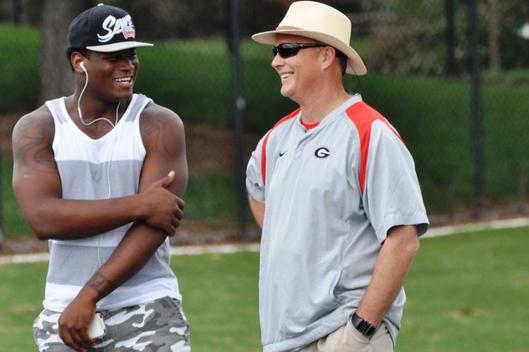 247Sports.com
Foster is committed to Auburn, but will he like the Gus Malzahn hire? We're still waiting to hear an official word from Foster to gauge his reaction.
Yet, what we do know from Scout.com is that Mark Richt is personally recruiting Foster to come play in Athens. Foster seems to like Richt and is friends with UGA commit Tray Matthews.
Auburn will do all it can to fend Richt off for their prized LB recruit.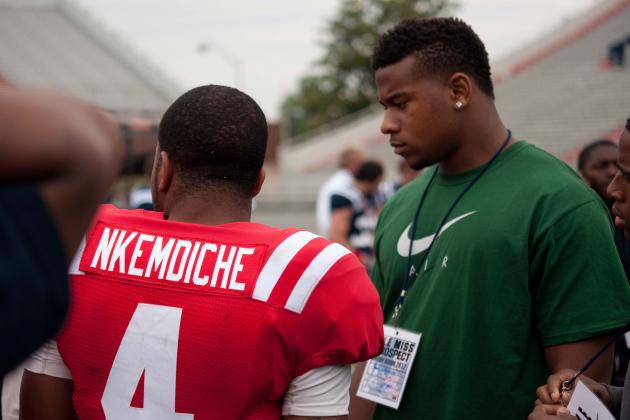 247Sports.com
Hugh Freeze is working on perhaps the biggest recruiting coup for Ole Miss in program history. Landing Robert Nkemdiche would be bigger than signing Eli Manning or Michael Oher.
Freeze, however, does have to deal with excellent programs like Alabama, LSU, Clemson, Georgia and others for the nation's best prospect.
I'm sure he's selling the fact that Robert can play with his brother in Oxford, but the other programs are likely making strong pitches too.
Freeze is in the middle of the nation's biggest recruiting battle.
Edwin Weathersby is the College Football Recruiting Analyst for Bleacher Report. He has worked in scouting/player personnel departments for three professional football teams, including the New York Giants, Cleveland Browns and the Las Vegas Gladiators of the Arena League. He spent a year evaluating prep prospects and writing specific recruiting and scouting content articles for Student Sports Football (formerly ESPN Rise-HS). A syndicated scout and writer, he's also contributed to WeAreSC.com, GatorBait.net and Diamonds in the Rough Inc., a College Football and NFL Draft magazine.