Notre Dame Football: Why Irish Will Prove in Title Game They're More Than Lucky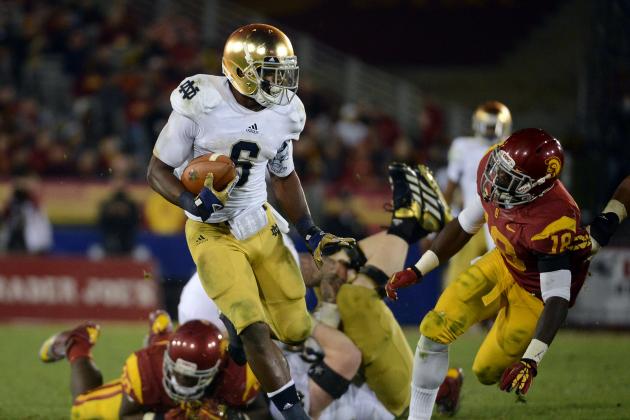 Harry How/Getty Images

Notre Dame and Alabama are set to square off in the BCS National Championship Game on Jan. 7 at 8:30 p.m. ET with ESPN broadcasting the game from Miami.
The Irish have been on an amazing undefeated run with a number of lucky bounces and calls that have landed in their favor. There was the goal-line stop against Stanford, and the Pitt game that was littered with favorable nods to Notre Dame.
The Irish remember those strokes of luck, but they are set to prove they are more than just lucky this year.
Alabama is the obvious favorite in the game, with the Crimson Tide having experience and overall talent on their side. Notre Dame is not short on playmakers, but Brian Kelly has a few more years of recruiting before the Irish are as complete as Alabama.
That being said, this team is heading into the title game with a great shot at a win and heading back to South Bend with a 12th national title. Here are the five ways the Irish prove they are more than just lucky against the Tide in Miami.
Begin Slideshow

»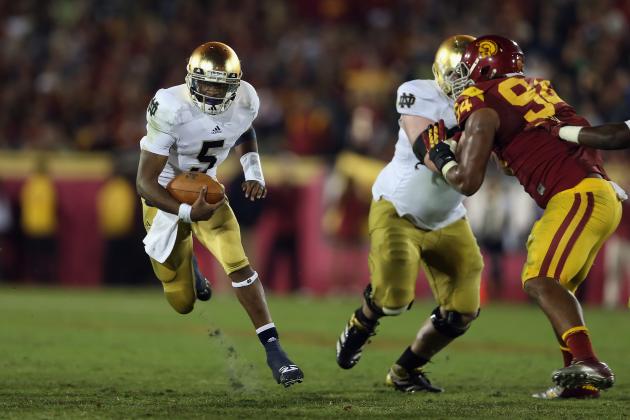 Jeff Gross/Getty Images

Alabama has fielded one of the most potent defenses in the country this season, but there have been struggles against talented quarterbacks this fall.
The most memorable quarterback performance against Alabama was by Johnny Manziel, when he stormed into Tuscaloosa and handed the Crimson Tide their only loss of the season. Everett Golson is not having the same type of season as Manziel, but his skill set is similar.
Golson will be able to make plays with his feet that will open up passing lanes in the Alabama zone defense. It won't take an All-American performance to turn out a huge day for him.
If Golson sticks to the Irish game plan and makes three or four plays with his feet early, his day will be huge and Notre Dame will walk away with a title.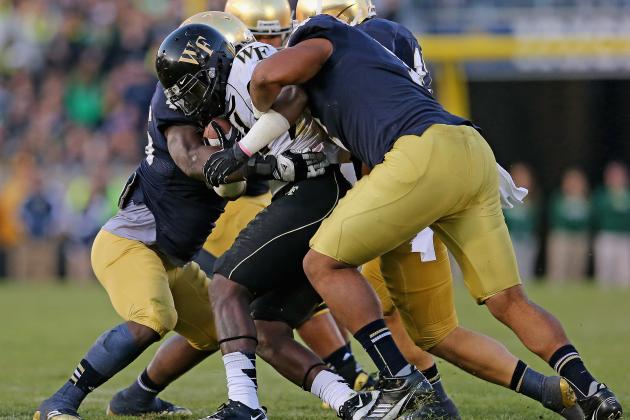 Jonathan Daniel/Getty Images

Alabama was able to shred the Georgia defense for over 300 yards on the ground in the SEC title game despite Georgia fielding one of the most respected defensive squads in the country.
Notre Dame will have the task of trying to stop the double-headed monster of a backfield that Alabama employs, but they should have more success than Georgia.
LSU was able to stop the Alabama ground attack, as was Texas A&M, and Notre Dame will pull from those games to build an attack that will slow down the Tide rushing game.
The Irish have the talent along the front to hold this offense to minimal yards, forcing the Tide to rely on A.J. McCarron's arm to win the game.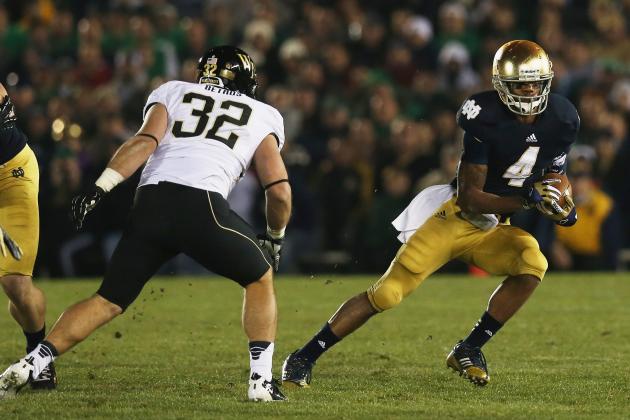 Jonathan Daniel/Getty Images

Alabama has given up consistent rushing yards to strong ground attacks consistently this fall.
Against LSU, Texas A&M and Georgia they allowed 100-yard rushers. Those teams relied on one producer; Notre Dame will rely on three.
The Irish have three different backs that will be able to step in and make a major difference in this game. If George Atkinson III, Theo Riddick and Cierre Wood can combine for over 150 yards, the Tide are in trouble.
These backs have combined for 14 touchdowns and 1,981 yards on the ground for Notre Dame so far this season. They will continue that production in Miami.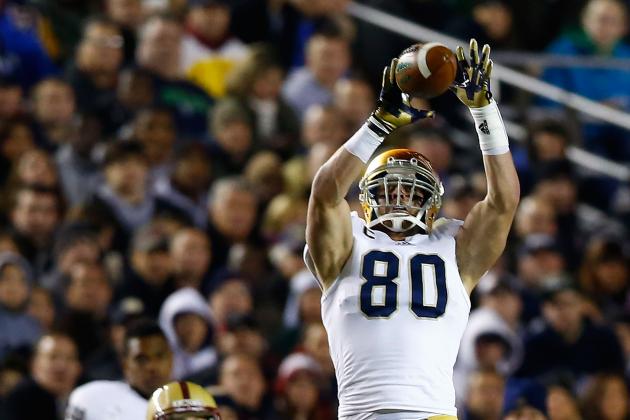 Jared Wickerham/Getty Images

Tyler Eifert is a finalist for the Mackey Award for a reason. The guy is a stud tight end and is one of the toughest bodies to cover on the Notre Dame offense. Alabama doesn't have an answer for this dynamic playmaker.
A linebacker would traditionally drop to cover Eifert, but the Tide will have trouble containing him with any linebacker that is currently on their roster.
The Tide may try and shift down a safety to cover the talented Irish pass-catcher, but that would leave Alabama vulnerable to the deep pass. Eifert adds an unseen dimension for Alabama at this point in the season.
Without solid containment, Alabama will struggle to stop the Irish offense.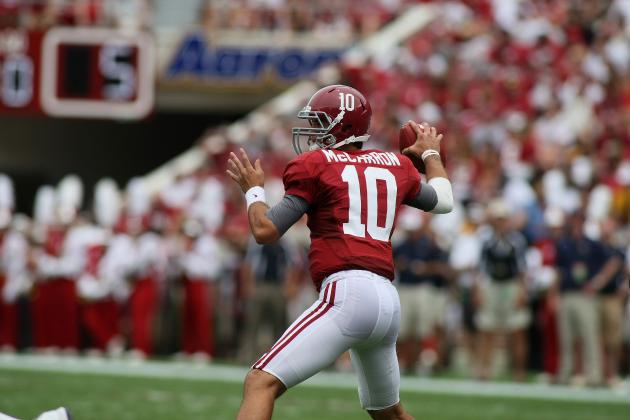 Greg McWilliams/Getty Images

A.J. McCarron is the most efficient passer in the country this season, but when pressured he has issues finding targets consistently.
The Tide have been very good along the offensive front this year, but they have struggled to produce solid pass protection. Against solid fronts, they have failed.
The Irish will look to employ multiple blitz scenarios to bring heat on McCarron. It only takes one successful throw from the Tide signal-caller to take over a game. If Notre Dame can get consistent pressure, his chances at hitting Amari Cooper deep will drop exponentially.