How Current Celtics Match Up with Every Boston Team of Past Decade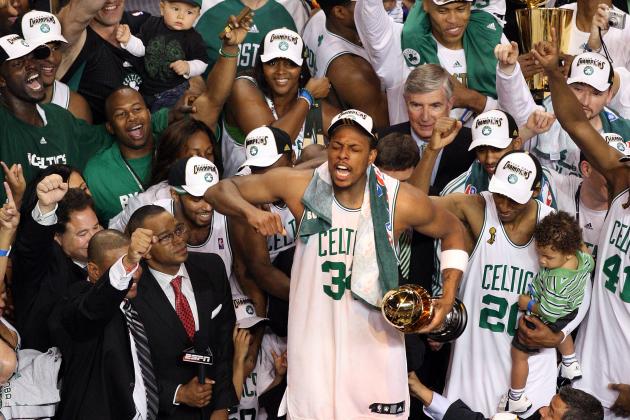 Kevin C. Cox/Getty Images

It has been a very lopsided decade for the Boston Celtics.
Virtually all of the team's success has come from 2007-08 on. The year or two leading up to the Ray Allen and Kevin Garnett trades were quite dismal.
With the 2012-13 team in a questionable state, 18 games into an up and down season, this is a good time to line up each team of the roller coaster decade Boston has endured. Here we'll take a look at what has changed and how the matchups would be created in this fictional universe.
Much like the 10-8 Celtics, the franchise has had high and low points throughout the past 10 years. Quite literally the only constants have been Paul Pierce and General Manager Danny Ainge, who was hired in the spring of 2003. Doc Rivers came on in 2004-05, while Rajon Rondo was not far behind. Then came the big trades, followed by numerous smaller deals and free agents.
From 2003-04 to 2012-13, it has been an exciting 10 seasons in Boston. While the Celtics hope the recent years are more of a harbinger for the future, perhaps they could learn a couple things from the pre-Big Three era teams.
Begin Slideshow

»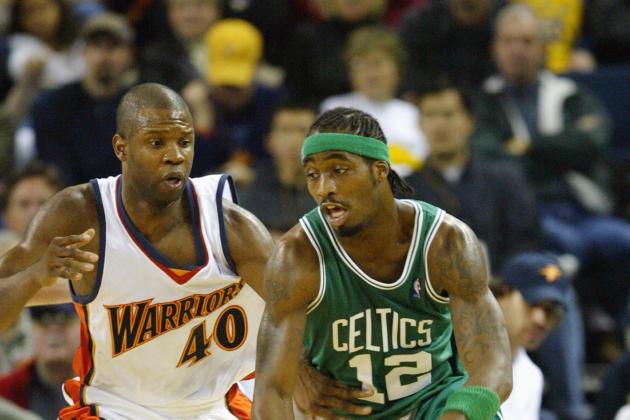 Jed Jacobsohn/Getty Images

2003-04 Celtics Record: 36-46
2012-13 Celtics Record: 10-8
The 2003-04 Boston Celtics made the postseason, but not on their own merits. Finishing 10 games under .500 shouldn't be deserving of a playoff appearance, but that is what the Celtics got.
Paul Pierce was entering his prime and posted 23 points, 6.5 rebounds and five assists per game, but only three other Celtics even made it to 80 games. Those names; Mark Blount, Jiri Welsch and Marcus Banks, weren't exactly tearing up the league. Ricky Davis was the second-leading scorer for Boston, putting in 14.1 points per game.
Positionally, some of these spots are no contest. Chucky Atkins ran the point most of the time, with the rookie Banks behind him. The two of them would have an impossibly hard time stopping Rajon Rondo.
At shooting guard, there might actually be some decent competition. 2003-04 was actually one of Davis' better seasons. He shot 49 percent from the field, but only played 57 games. Actually it was Mike James and Welsch that saw most of the starts for Boston. With still no Avery Bradley, it is tough to say definitively, but there is decent competition with Jason Terry and Courtney Lee.
On the frontcourt, obviously a younger Pierce was more impressive back then. However, the combination of Brandon Bass and Kevin Garnett is far more formidable than Blount and Vin Baker ever were.
Throw in the current team's solidifying bench over the likes of Walter McCarty and Raef LaFrentz, and you have a victory for the 2012-13 Boston Celtics.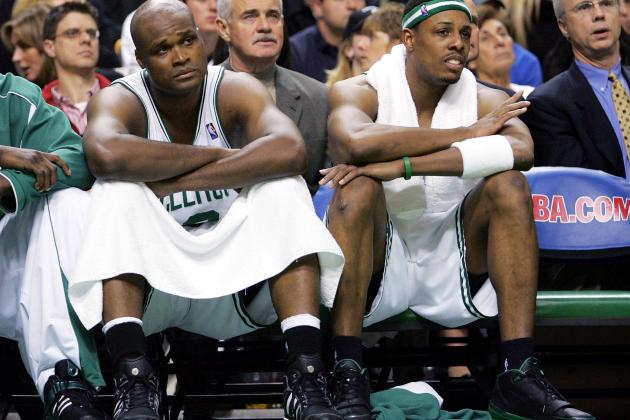 Jim McIsaac/Getty Images

2004-05 Celtics Record: 45-37
2012-13 Celtics Record: 10-8
Boston surprised a lot of people in 2004-05 by putting a very competitive team on the floor.
Paul Pierce continued to be one of the better players in the league, with 21.6 points, 6.6 rebounds and 4.2 assists per game. The Celtics also got a full season out of Ricky Davis, who dropped 16 points per game mostly in a reserve role. Boston brought in Gary Payton in a preseason trade to run the point.
The 2004-05 team made some solid in-season moves as well. They managed to deal Payton and change to the Atlanta Hawks in exchange for Antoine Walker and subsequently re-acquire Payton after he was waived a few days later.
Payton started 77 games for the Celtics, averaging 11.3 points and six assists. Walker contributed to the late season push into the playoffs, starting all 24 games he played and providing 16 points and 8.3 boards a night.
Of course, a more important thing happened this season. The Celtics drafted Al Jefferson just outside the lottery, the player that would be the future centerpiece in the deal to bring Kevin Garnett to town.
This team actually matches up pretty well with the 2012-13 Celtics. Payton, while definitely on the downswing, would still provide solid defense and floor management against Rajon Rondo. Tony Allen, also a rookie, was a part of a trio of solid shooting guards (Davis and Jiri Welsch) that could rival the current group.
The 2004-05 team also had quite a bit more size than the 2012-13 unit, especially with Walker. The issue would still be Pierce, who was just in his seventh NBA season and could take over games better than his current doppelgänger.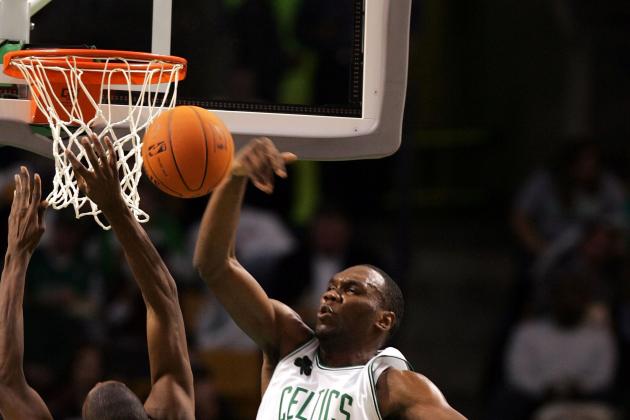 Elsa/Getty Images

2005-06 Celtics Record: 33-49
2012-13 Celtics Record: 10-8
Often forgotten about, the 2005-06 Boston Celtics were just that; forgettable.
Outside of this being maybe Paul Pierce's best individual year, there wasn't a whole lot going on in Boston. Pierce scored 26.8 points per game, but the team was not very well put together and were just playing a waiting game with young hopefuls like Al Jefferson and Delonte West.
The Celtics made a midseason trade, dealing Ricky Davis, Mark Blount and sides to Minnesota for Wally Szczerbiak. The move proved to be entirely lateral, as Szczerbiak didn't provide anything the Celtics weren't getting from Davis. Blount's removal opened the door for Jefferson to improve rapidly behind Raef LaFrentz and Kendrick Perkins started showing seeds of a quality big man.
Overall, this team wasn't hard to figure out and the 2012-13 Celtics would have no trouble shutting them down. The current Celtics could throw multiple looks at the high-scoring Pierce and shut down the rest of the Celtics. With Jefferson not quite ready to play big minutes, Kevin Garnett would still feast the 2005-06 bigs.
Since Gary Payton proved to be just a one-year rental, it was actually West who spent the most time at point. In his second season in the league, West posted 11.8 points and 4.6 assists. Those are decent numbers, but would be dwarfed by the current Rajon Rondo.
The advantages of the quality height before have pretty much evaporated, or are too young to inflict much damage on the current small team. This one is a pretty easy game for the 2012-13 Boston Celtics.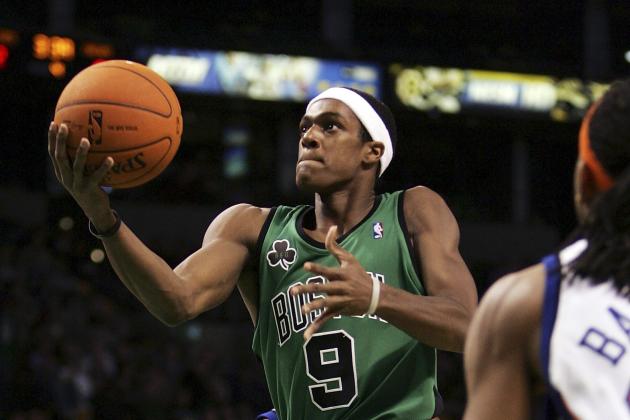 Elsa/Getty Images

2006-07 Celtics Record: 24-58
2012-13 Celtics Record: 10-8
Here we arrive at the rookie year of Rajon Rondo and the birth of Al Jefferson as a quality NBA big man.
Those were the only two positives to take away from a dreadful 2006-07 Boston Celtics season. The Celtics got only 47 games out of Paul Pierce due to a foot injury. Jefferson really emerged as a force in the paint, averaging 16 points and 11 rebounds a game. He and Kendrick Perkins began to show what kind of future they would have in the NBA.
Rajon Rondo saw sporadic minutes early in the season, but as injuries mounted he began to get more time. He started 25 games as a rookie and it was evident even then that he had the all-around skills to become a special player.
Outside of those players there were some minor surprises like Tony Allen and Gerald Green, but nothing that would help in a game against the 2012-13 Celtics.
Rondo was still very raw and had virtually zero outside shooting. The player he has become is vastly improved and infinitely more polished.
Jefferson was really becoming something, but that was only something that turned into Kevin Garnett. We've seen these two match up currently a few times now and it has been fairly even. Younger Jefferson still had a lot to learn and could still be stunted by elite defenders.
At the other positions you are looking at decent upgrades with the current team, with Ryan Gomes-Brandon Bass and Wally Szczerbiak-Jason Terry. The bench is a huge win for the current roster and with them goes the matchup.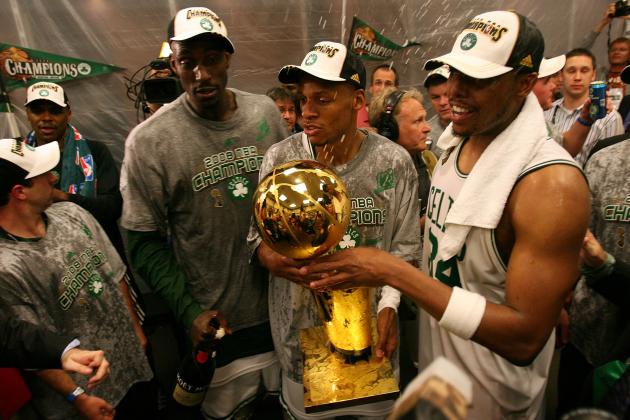 Elsa/Getty Images

2007-08 Celtics Record: 66-16
2012-13 Celtics Record: 10-8
Here we have the greatest competition with the current roster. The 2007-08 team is the best of the past 10 years.
The formation of the Big Three brought out the best of the whole team, which was expertly crafted by Danny Ainge. Paul Pierce and Kevin Garnett were both slightly more potent than they are in 2012-13, but Rajon Rondo has taken on a much greater role than his sophomore campaign.
The battle between 2007-08 Ray Allen and 2012-13 Jason Terry would be a good one, but I'd have to go with Allen. At that age, Allen could still do a whole lot offensively and proved such during the Celtics playoff run.
For a complete positional breakdown, I previously compared these two rosters. While there are similarities, the 2007-08 Celtics were one of the best overall teams of the past decade. The way this current roster has played through 18 games gives me little faith they could hang with a team as complete as that unit from the past.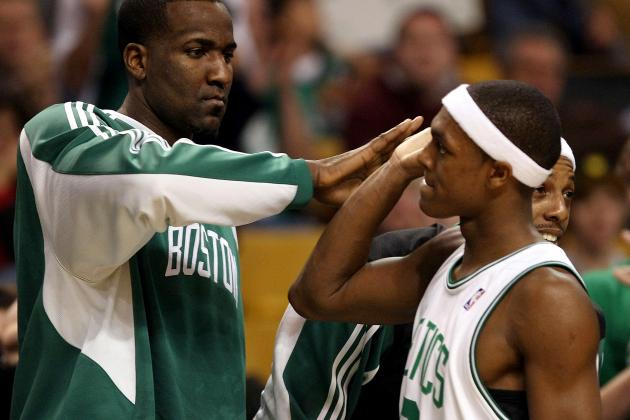 Elsa/Getty Images

2008-09 Celtics Record: 62-20
2012-13 Celtics Record: 10-8
The 2008-09 Boston Celtics set out to defend their NBA title with a certain ferocity. While Kevin Garnett, Paul Pierce and Ray Allen returned, there were seeds growing in Rajon Rondo, Kendrick Perkins and Glen Davis.
Unfortunately, tragedy struck in the form of a season-ending injury to Kevin Garnett. Still, this was a resilient unit, as the Celtics outlasted the Chicago Bulls in an epic seven-game series, thanks in large part to those youngsters.
They fell in the second round to the Orlando Magic, largely because of Garnett's absence. In the end, the 2008-09 Celtics had no answer for Dwight Howard on the offensive end.
The question in this comparison, is would the 2012-13 Celtics have an answer for him?
Even more-so, would this current unit have enough of an inside presence to take advantage of Garnett missing the game?
As currently situated, I don't see how the 2012-13 Celtics could dominate the paint with the younger Garnett out. Even without that defensive presence in the middle, the 2008-09 Celtics would take this matchup.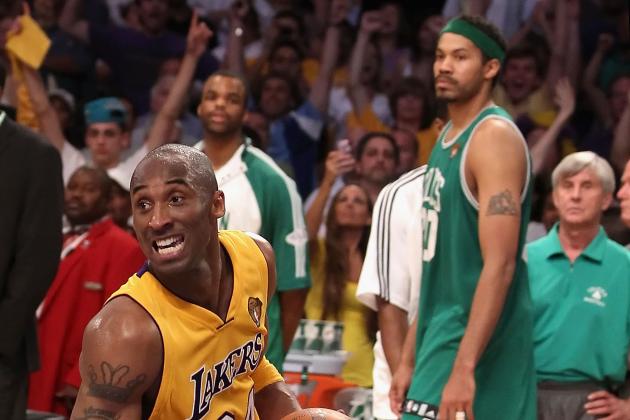 Christian Petersen/Getty Images

2009-10 Celtics Record: 50-32
2012-13 Celtics Record: 10-8
The 2009-10 Boston Celtics are probably the toughest to judge of the past decade.
The team stumbled into the playoffs really, going 16-14 in their final 30 games. They earned the four-seed and didn't seem to be much of a threat, but then went on a run that took them to Game 7 of the finals.
Were they just a good team that got hot at the right time? Were they a great team that purposely relaxed during the regular season? It is too difficult to call definitively. That makes it tough to judge them against this current team.
These two units are fairly even. Rajon Rondo was becoming an elite point guard and wasn't completely far off from where he is currently. Paul Pierce and Kevin Garnett are posting similar stats between the two seasons. Jason Terry and Courtney Lee aren't quite giving you what Ray Allen did, but the upgrade in Rondo's game and other spots off the bench even things out.
Prior to the 2012-13 season, I figured this team for around 50 or 52 wins. If they finish in that range, they are the perfect match for the 2009-10 team.
A trip to the finals though, is a different story.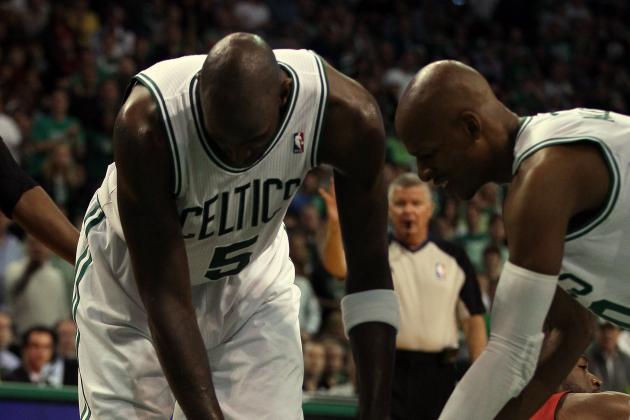 Elsa/Getty Images

2010-11 Celtics Record: 56-26
2012-13 Celtics Record: 10-8
For the 2010-11 season it largely depends on which version of the team you are looking at. The Boston Celtics had a vastly different makeup before and after the Kendrick Perkins-Jeff Green trade.
With Perkins, the Celtics were 41-14 and very much the same team that made the NBA finals the year before. However, Danny Ainge thought he could make an improvement, or at least a lateral move while avoiding the cost of extending Perkins. The trade sent ripples throughout the team, a unit that had been built and prided itself on chemistry.
After that the team was never really the same. With Jeff Green and Nenad Krstic on the roster, Boston swept the Knicks in the first round of the playoffs. Then came the series with the new-look Miami Heat. Boston lost four games to one and the memories of 2007-08 couldn't seem farther away.
The 2010-11 team was on pace to win more than 60 games, something the current Celtics cannot and will not do. However, the team with Jeff Green on it is fairly comparable. He is roughly the same player now as he was for those 26 games. Glen Davis has become Brandon Bass, Ray Allen has become Jason Terry and a host of other reserves have changed names, but not games.
The benefit the current team has is the chemistry. Green is much more accepted now, while he wasn't the most welcome player in 2010-11. Whatever seeds of discontent that were creeping into the lives of Allen and Davis are removed and the 2012-13 team could use that to beat out their counterpart from two seasons ago.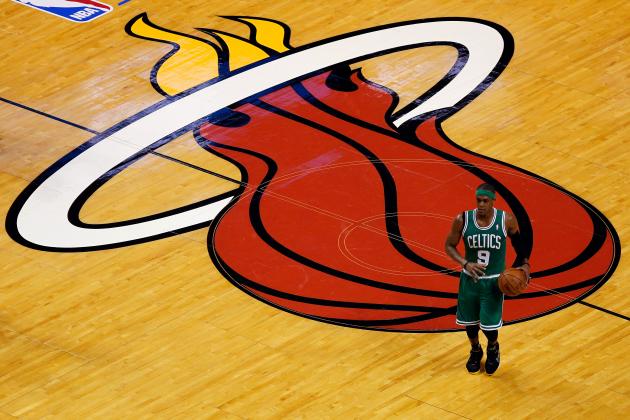 J. Meric/Getty Images

2011-12 Celtics Record: 39-27
2012-13 Celtics Record: 10-8
In the lockout-shortened season of 2011-12, we really saw the emergence of Rajon Rondo as a superstar and team leader. This also brought about the premiere of Avery Bradley, defensive stopper and Brandon Bass' Celtics debut.
Bass brought Boston a slightly different look, particularly offensively. He gave Rondo's offense a mid-range pick and roll assassin and was able to step into the starting lineup when injuries ended the seasons of Jermaine O'Neal and Chris Wilcox.
Bradley's scene-stealing came as a bit of a surprise, as the second-year player fought his way into the rotation and then the starting unit when Ray Allen went down. He was not without flaw though and provided only sporadic offense. The mixture the 2012-13 team, especially when he returns, is better than the shooting guard depth of last season.
On paper, this season's team should be better than the 2011-12 unit, but we have yet to see that. The 39 wins of the condensed season is the equivalent of roughly 48 wins in an 82-game season. Boston could very well land in that range, making this a very close matchup.
Once again though, the chemistry seems a lot smoother in 2012-13, with Allen and Glen Davis out of the picture. Also if Jeff Green does get more consistent, then he is an upgrade over any reserves from a year ago.
The 2012-13 Boston Celtics should be slightly better than the 2011-12 team.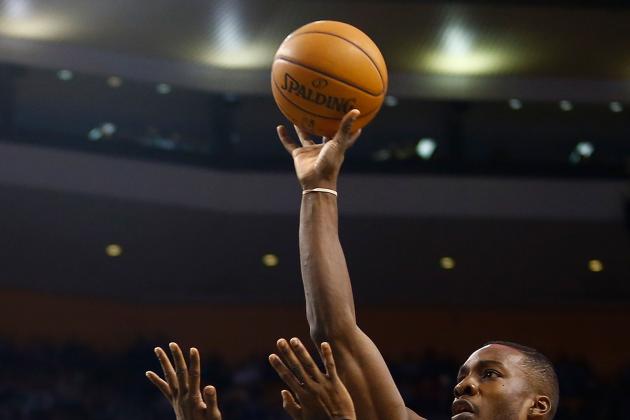 Jared Wickerham/Getty Images

2012-13 Celtics Record: 10-8
2012-13 Celtics Record: 10-8
A bonus bit here, as the 2012-13 Boston Celtics have been very much a two-faced team. They have some nice wins, over the Oklahoma City Thunder and Chicago Bulls and some disappointing performances, losing two games each to the Brooklyn Nets and Milwaukee Bucks.
The team has good games and bad and still stand near .500 on the season. They have won 2-of-3 in impressive fashion since the Rajon Rondo-Kris Humphries fight. That could be a trigger for this team to wake up.
Consistency will plague the 2012-13 team as long as key contributors like Paul Pierce and Jeff Green remain inconsistent. The Celtics have a good enough roster to win the Atlantic Division, but they have been beating themselves this season by struggling to rebound and score at times.
When the Celtics rebound at the level of their opponent, they can beat anyone. As long as they are not gifting the other team with a ton more possessions, they can score with most rosters.
This season it just depends which 2012-13 Boston Celtics team is going to show up.