San Francisco 49ers: Breaking Down the Team's Pro Bowl Candidates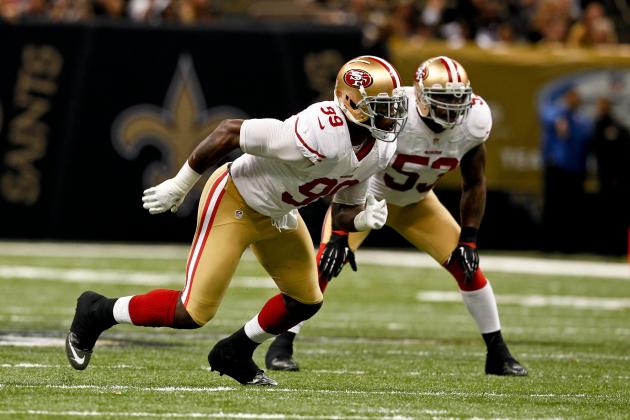 Derick E. Hingle-USA TODAY Sports
Aldon Smith and NaVorro Bowman are big-time playmakers.
For the San Francisco 49ers, the 2012 Pro Bowl by no means occupies their collective focus—it's really all about the playoffs at this point in the season.
But that also doesn't mean we can't delve into the list of potential candidates for the postseason Hawaiian classic ourselves.
At 8-3-1 and in first place in the NFC West, the 49ers feature a playoff-caliber roster full of Pro Bowl-quality players. If not for a dual quarterback situation and floundering kicker, San Francisco has viable candidates at every level of the team.
The NFL's No. 2 defense harbors the more obvious set of worthy playmakers. And punter Andy Lee also poses as a clear-cut favorite for the honor.
Yet, the 49ers offense contains a legitimate set of contenders as well.
Perhaps harder to qualify, but fully deserving nonetheless.
On that note, let's break down the 12 players on offense, defense and special teams that may find themselves representing San Francisco at the Pro Bowl.
Note: All statistics and rankings linked from Pro Football Focus require membership to access.
Begin Slideshow

»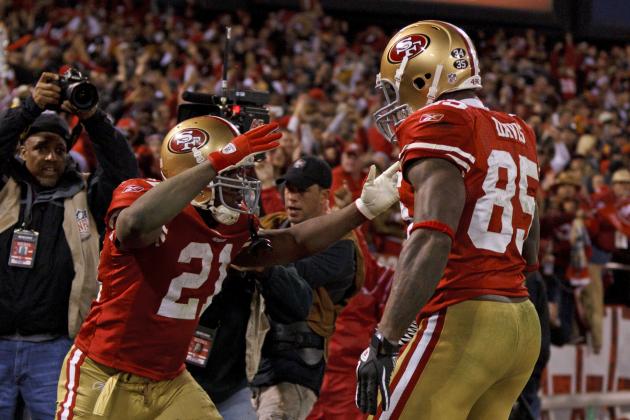 Jason O. Watson-USA TODAY Sports
These two are a couple of studs on the 49ers offense.
RB Frank Gore
Frank Gore currently ranks fifth in the NFC with 972 yards rushing. He is on pace for his second-highest career total of 1,296 yards.
Among running backs with at least 150 carries, Gore ranks second in average (4.9 yards), fourth in touchdowns (six), third in runs of 20-plus yards (seven) and No. 1 in percentage of carries resulting in first downs (27.6).
He also has three 100-yard games, only one fumble and 157 yards receiving and a touchdown.
Beyond the stats, Gore represents the fundamental conduit through which the 49ers' offense runs. He utilizes a hard-nosed, indomitable style on the ground to create balance and complement the passing game.
This component of the offense also benefits from his superior work in pass protection, where Gore often stymies much larger defensive personnel.
His workload, statistical output and Pro Bowl chances should all increase with backup Kendall Hunter lost for the season.
Gore will have to overcome the likes of Adrian Peterson, Marshawn Lynch and rookie sensation Doug Martin to claim an NFC roster spot.
TE Vernon Davis
The 49ers' tight end owns more top-rated spots in NFC ranks than his running back counterpart.
Davis holds the highest mark at his position for average (13.6 yards), 20-yard receptions (11) and longest catch (53 yards). His five touchdowns are third most for NFC tight ends.
Mr. Prolific himself only has two drops in the passing game, has not fumbled and boasts the honor of all-league blocking tight end. He indeed powers the run game to a considerable extent.
Unfortunately, Davis' 502 yards (eighth in NFC) and fleeting inclusion in the 49ers run-first offense will hurt his Pro Bowl-stock. So will the extreme competition posed by Jimmy Graham, Tony Gonzalez and Jason Witten.
The No. 2-ranked TE—in the eyes of Pro Football Focus—and unstoppable freak of nature—simply according to the general eye test—will likely miss out on the exhibition festivities in Hawaii.
Ask any NFL pundits, though, and they'll tell you that Davis is beyond comparison when considering how his dynamic abilities relate to the tight end position. He is simply faster, bigger or stronger than one member or another of opposing defenses.
It's only a matter of time until Davis begins making the Pro Bowl on an annual basis.
Perhaps the big arm of quarterback Colin Kaepernick can help make that happen starting in 2012.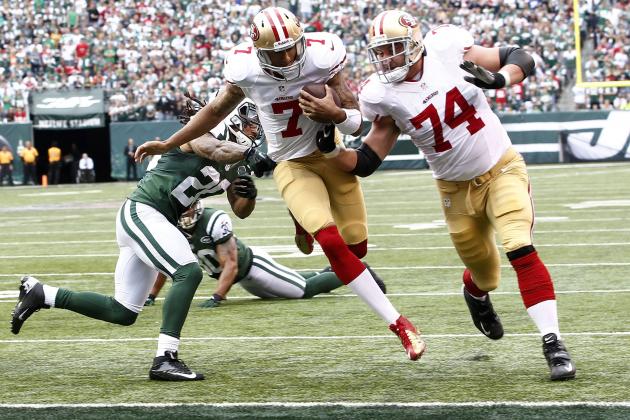 Jeff Zelevansky/Getty Images
Staley is an incredibly effective lead blocker in space.
LT Joe Staley
Staley fulfills the role of most valuable lineman for the 49ers.
Better yet, San Francisco's left tackle has ascended into one of the premier blind-side protectors in all of football.
The 6'5'', 315-pounder owns elite athleticism, technique and sheer power. He dominates in the 49ers' power-run schemes and moves as fluidly as anyone at his position.
PFF recognizes him as the No. 2 ranked tackle in the NFL, and absolute best when it comes to run blocking. The 49ers' own No. 2 ranked rushing offense owes much of its success to Staley.
There are times where he falters a bit in pass protection (e.g. Week 1 @ GB), but these shortcomings have been largely confined to selective moments. He handles this assignment with great proficiency overall.
One way or another, Staley should be a certifiable lock for 2012 Pro Bowl. No player in the NFC comes close.
LG Mike Iupati
No 49er better represents the team's hard-nosed identity than Mike Iupati.
The man holding down the fort at left guard is an absolute rough-and-tough mauler.
Iupati generates awesome leverage against interior defensive linemen, using his unreal power and athleticism. He paves rushing lanes in true road-grading fashion, often doing so far beyond the line of scrimmage.
The frightening American Samoan is 6'5'', 331 pounds of pure force—continually winning battles in the trenches for the 49ers.
And that very much includes warding off would-be pass-rushers. He has surrendered only two sacks all season.
One of the few knocks against Iupati is his penchant for flag-inducing infractions. He has been a little too aggressive at times—eight penalties through 12 games are way too many.
By and large, however, Iupati is a coach's dream at the guard position and is one of the league's best. He should be rewarded with a Pro Bowl nod in 2012.
RG Alex Boone
Now, who would have seen this coming?
Alex Boone made the transition from backup offensive tackle, to relative league-leading right guard—all over the course of one offseason.
Boone scoffed at the notion that his 6'8'', 300-pound physical specs were suited only for the tackle position. He made the move inside to right guard and has mauled his way to glory ever since.
Only his previously mentioned teammate and Eagles left guard operate better as run-blockers according to PFF. Boone moves really well off the line and opens up massive holes for 49ers running backs.
And he does so cleanly, having been penalized just once in 2012.
One also cannot forget how incredible was Boone's filling of the gigantic void in reliable play on the right side of the line from years past (see: Chilo Rachal; Adam Snyder).
Even having allowed just three sacks and three QB hits on the season, Boone's work in pass protection might leave him off the Pro Bowl ballot. The rift in overall effectiveness between pass-pro and run blocking might prove too significant.
But if Niners fans and PFF had their way, the NFC might have a new perennial Pro Bowl RG for the foreseeable future.
Honorable Mention
C Jonathan Goodwin
The 49ers center has been as steady as they come, not having surrendered any sacks or QB hits—all while playing with quarterbacks with two completely different styles.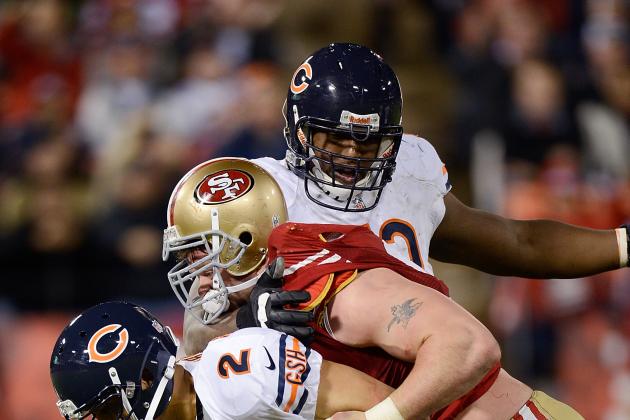 Thearon W. Henderson/Getty Images
A Smith double team would not feel good—at all.
OLB Aldon Smith
We think it's prudent now to acquaint the unsuspecting non-NFL world to one unbelievable force of nature.
Outside linebacker Aldon Smith has taken the NFL—and just about every quarterback—by storm thus far in 2012.
He leads the league with 17.5 sacks and is on pace to set the all-time single-season record with 23.5. In doing so, Smith has already established the record for most sacks through a player's first two seasons in the league with 31.5.
(A somewhat legendary man by the name of Reggie White once held the mark.)
Smith's 53 combined sacks, QB hits and QB hurries ranks No. 1 among 3-4 outside 'backers according to Pro Football Focus.
Truly incredible stuff.
In addition to striking absolute fear into the hearts of quarterbacks, Smith has 51 tackles and ranks No. 5 in the NFC with three forced fumbles.
He has seamlessly made the transition from one-dimensional pass-rusher to every-down linebacker—being nearly as dominant against the run and continually improving in coverage.
And the fact that he only has one missed tackle on the season is just remarkable.
The San Francisco 49ers' No. 1 lock for the Pro Bowl is most certainly Aldon Smith. No single defensive player currently alters the game like he does.
He's a franchise game-changer in every sense of the word—taking down the hopes of opposing franchises one quarterback sack at a time.
Too bad stakes aren't as high on the Hawaiian gridiron in January.
DE Justin Smith
Yet, as thoroughly dominant as Aldon Smith is, there is a man that makes it all possible in the first place.
His name is Justin Smith, the one-man defensive-line extraordinaire.
The 49ers' version of Paul Bunyan boasts the honor of leading tackler among NFL defensive linemen with 59 (43 solo). He also has three sacks, a pass breakup and fumble recovery on the season.
But what makes J. Smith so special is his role in setting the tone up front and making the entire 49ers defense thrive.
He occupies multiple offensive linemen—and any other would-be blockers—so his great linebacker brethren can make plays behind him. Those dominant linebackers can be so great because Smith does all the dirty work in the trenches.
And he often does so with one arm pinned behind his back.
(Or grabbing a gigantic left tackle with one arm and throwing a quarterback to the dirt with the other—as we've seen…)
In particular, Smith will eliminate an entire corps of blockers so Aldon can stunt on the inside and barrel down after the quarterback. Sealing the edge also enables Patrick Willis and NaVorro Bowman to pursue ball carriers and neutralize offensive plays in the flats.
It really is a tag team effort.
So, whether it's making tackles, holding outside contain or manhandling numerous 300-pound linemen en route to the quarterback, Justin Smith does it all.
And he does it so everyone else can bask in the gridiron glory and the team can revel in its distinction as the No. 2 defense in the NFL.
Now it's time he experiences some of his own with a 2012 Pro Bowl nod.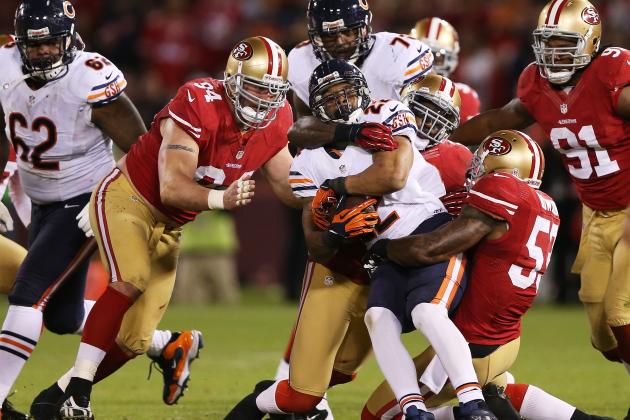 Ezra Shaw/Getty Images
Willis and Bowman say, "Not today!"
ILB NaVorro Bowman
Bowman's 2012 campaign is one indicative of ascending greatness.
The first of San Francisco's preeminent linebacker duo is the NFC's fifth-leading tackler with 74 solos and fourth overall with 108 tackles combined.
He ranks No. 3 among NFC inside linebackers with two sacks and No. 5 among all NFC 'backers with six pass breakups. He also has an interception.
All of these ongoing accomplishments are career-highs in the making.
Furthermore, Bowman has completely shut down running backs and tight ends posing as would be pass-catchers. From his ILB position, he has induced the second-lowest completion percentage (60.9) and fifth-worst efficiency rating (71.1) by quarterbacks throwing in his direction.
So, not only is the third-year man cementing his identity as relentless run-stuffing tackling machine, his work in coverage is now truly dominant as well.
If Bowman made First-Team All-Pro last season, he certainly deserves that and a Pro-Bowl nomination this year.
ILB Patrick Willis
The relative elder statesman ranks No. 6 in the NFC with 71 solo tackles and 12th overall with 94 combined. He's missed just three tackles all year.
A forced fumble, fumble recovery, interception and 0.5 sacks also grace the wall of in-season accolades for Willis.
Best yet, his nine pass breakups (No. 2 among NFC linebackers) helped PFF anoint him as the second-ranked coverage ILB and No. 1 among all inside 'backers.
Even if Willis is not enjoying a personal-best NFL campaign per say, the astute analysts have recognized that he is indeed one of the best—all the way in his sixth year.
Willis and Bowman comprise the most remarkably dominant duo at inside linebacker, and should be voted in as such.
Whether they both make the Pro Bowl, the 49ers' No. 2-rated passing defense and No. 3-ranked rushing D owe so much of their respective rankings to these two.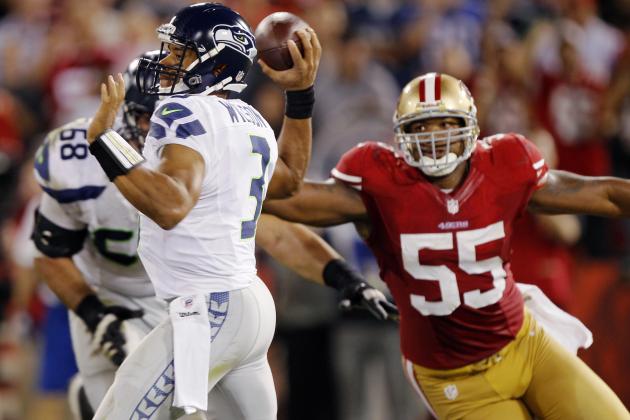 Brian Bahr/Getty Images
Brooks is a very underrated sack artist.
OLB Ahmad Brooks
Yes, all four of the 49ers linebackers are Pro Bowl-quality players.
And it really shouldn't come as a surprise.
Ahmad Brooks—indeed the Unheralded One—is one of the most well-rounded, efficient and versatile outside linebackers. As we say time and again, he simply does everything with a high level of proficiency.
Brooks is in the midst of establishing career-highs in all but one statistical category (forced fumbles). In terms of NFC rankings, he sits at No. 5 among outside linebackers with 5.5 sacks, sixth with two forced fumbles and fourth with seven pass breakups.
Pro Football Focus also determined his sack/QB hit/QB hurry aggregate (41) to be fourth-highest at his position. His zero touchdowns allowed in coverage further helped PFF qualify him as the third-best 3-4 outside linebacker in football.
Yet, what ultimately deems Brooks as worthy of the Pro Bowl is his Heisman-like moment against the Saints.
His 50-yard interception return to the end zone produced a crucial touchdown and overcame a 14-7 deficit on the road. It erased a potentially devastating mistake by a second-year quarterback and shifted momentum back the 49ers.
In other words, Brooks produced a pivotal game-changing moment, one that helped seal victory for the 49ers.
Time for voters to recognize Brooks' contributions on the football field.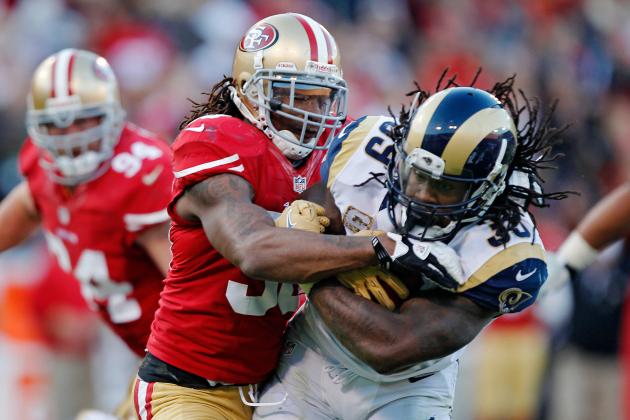 Brian Bahr/Getty Images
Ball hawks can tackle, too.
FS Dashon Goldson
As the title of the slide denotes, Dashon Goldson is once again Mr. Ball Hawk central.
This time, however, he comes with more reward than risk.
Goldson has solidified himself as one of the more exceptional coverage safeties. He ranks fourth in interceptions by NFC defensive backs (three) and No. 2 with 13 pass breakups.
Quarterbacks are completeing a lowly 52 percent of their passes with a ghastly 40.2 rating when throwing in his direction.
Instead of going for broke time and again, Goldson is playing more intelligent football. He looks to shut things down and make clean, clinic-quality tackles, rather than producing the unnecessary SportsCenter highlight.
His 55 tackles, forced fumble and fumble recovery should also help persuade voters to elect Goldson as Pro Bowl free safety for the NFC.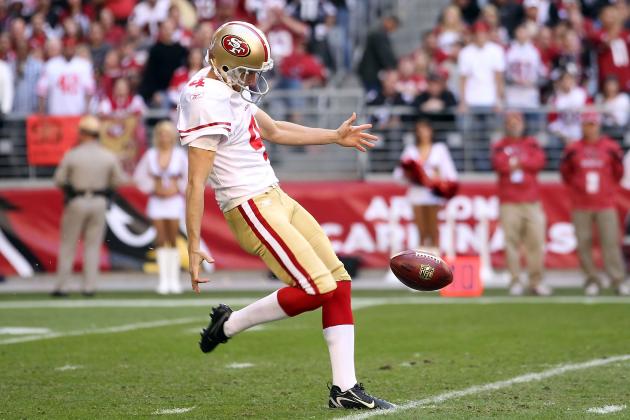 Christian Petersen/Getty Images
The professional boot artist in the flesh.
P Andy Lee
Lee once again is the man with the Pro Bowl swagger—well, as a punter that is.
The 2011 First-Team All-Pro surely deserves a second-consecutive Pro-Bowl start. He ranks third in net yards (42.3) fourth in fair catches (17) and has produced the third fewest touchbacks (three).
The substantial amount of fair catches, as well as the NFC's fourth fewest returns on punts (24 of 51) indicates that Lee almost never outkicks his coverage.
Most notably, he holds the top spot with an incredible 30 punts inside the opponent's 20-yard line. That statistic reveals his strength and pinpoint accuracy when consigning opponents deep in their own territory.
Winning the field position battle is critical in today's NFL.
Lee seems fully adept at securing that for the 49ers once again in 2012.
Follow me on Twitter @jlevitt16