What We Learned from Nick Saban-Brian Kelly BCS Championship Press Conference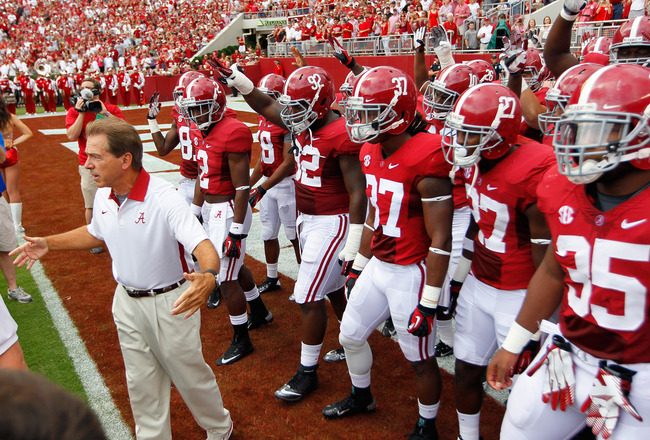 Kevin C. Cox/Getty Images
Nick Saban and Brian Kelly got together for a brief press conference before the preparations begin for the 2013 BCS National Championship. It is one of the many times we will see these two head coaches together, as there is still a good month before this historic matchup between Alabama and Notre Dame takes place.
It was more of a sit down and relaxing meeting than anything else. No major news was revealed, there was no talk about depth charts and there certainly weren't any shots thrown across the table. After all, both coaches were sitting next to one another, and these are two guys that prefer to do the talking on the football field.
However, from the few minutes that they were together, we were able to find a few interesting things from what was said.
Here are some of the best comments that were shared between both Saban and Kelly.
Saban Is Still Losing Sleep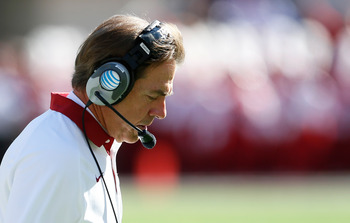 Kevin C. Cox/Getty Images
Alabama head coach Nick Saban has always had an unquestionable work ethic. He studies the opponent like no other, always finds ways to improve on what his team is doing and never wants to settle for what has already been accomplished. He is a workaholic, and that dedication to his craft has certainly paid off.
But due to wanting to be the best at everything has paid a price, and that price is sleep. According to ESPN Coordinating Producer, Desmond M. Wallace, Saban admitted that he is still having trouble resting his eyes, but now has a new excuse.
Alabama coach Nick Saban on how he's sleeping these days: "For me, I never sleep well. Notre Dame is just the excuse now."

— Desmond M. Wallace (@MisterWallaceGA) December 5, 2012
I guess some things will never change.
Brian Kelly Is Also Sleeping Less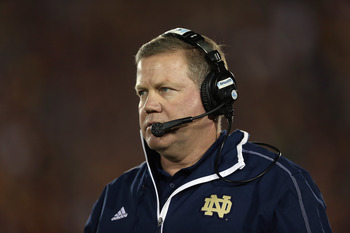 Jeff Gross/Getty Images
Coach Brian Kelly was asked what has kept him up at night when analyzing the opponent. Kelly asked the reporter if he was kidding and then went on to say "everything." He gave credit to Coach Saban, the attention to detail and went on to say that you have to beat the Crimson Tide because they won't beat themselves.
There is clearly a respect level between these two coaches, as most of the press conference included both praising each other throughout.
It also appears that we will have two exhausted coaches on the sidelines once the game begins. Hopefully neither of them falls asleep in the middle of a play; because this is kind of an important matchup I have been told.
Saban Is Still Saban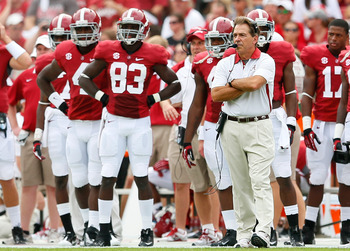 Kevin C. Cox/Getty Images
As mentioned before, Saban is a coach that doesn't like all of the media attention. He doesn't want to have to sit in a room full of reporters and answer questions about what he likes best about his opponent. Truth is, the only thing he likes about the team he is playing is that it sets up the possibility of racking up another victory.
Besides, press conferences just takeaway time that Saban could be studying film and finding weaknesses in the opponent. Sam Gardner of FOX Sports was somebody else who realized that Saban simply didn't want to be involved in the media hoopla.
Nick Saban could not look less interested in this BCS Championship Game coaches press conference, as per usual.

— sam_gardner (@sam_gardner) December 5, 2012
Saban is still Saban.
It Was All Part of the Plan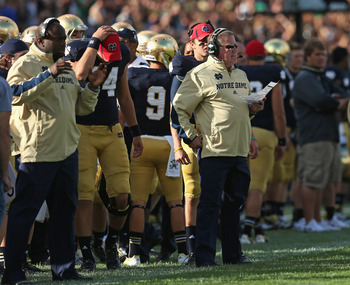 Jonathan Daniel/Getty Images
Before this magical season began for the Irish, Brian Kelly didn't get off to the best of starts in South Bend. The turnover margin became unbearable and two consecutive eight-win seasons wasn't exactly what Irish fans were hoping for.
According to Brian Hamilton of the Chicago Tribune, Kelly knew that he had to make a statement this season.
#NotreDame HC Brian Kelly: "I had an evaluation clause in my contact after the third year, so I figured we needed to get it done in three."

— Brian Hamilton (@ChiTribHamilton) December 5, 2012
Coach Kelly received a two-year extension that carries out until 2016, but with a trip to the national championship, you can bet he isn't going anywhere anytime soon.
The Irish Have Racked Up Individual Awards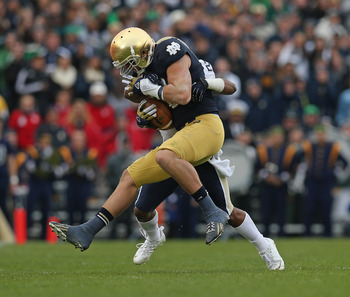 Jonathan Daniel/Getty Images
While these two great head coaches were doing the press conference, big news broke about two members of the Irish winning individual awards.
Brian Hamilton of the Chicago Tribune released the news.
#NotreDame HC Brian Kelly named Home Depot Coach of the Year. First two-time winner of that.

— Brian Hamilton (@ChiTribHamilton) December 5, 2012
#NotreDame TE Tyler Eifert wins Mackey Award, given to nation's top TE.

— Brian Hamilton (@ChiTribHamilton) December 5, 2012
This certainly isn't the ultimate goal, but I'm sure nobody is complaining out in South Bend.
Brian Kelly Takes a Few Things out of the SEC Playbook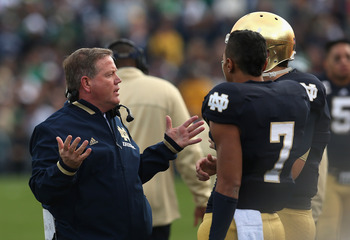 Jonathan Daniel/Getty Images
The SEC prides itself on a few key elements, which most believe is the key to success in college football. It appears that Brian Kelly has discovered those secrets, which has helped the Irish become so great in a short period of time.
Brian Kelly on the success of Notre Dame football, "bigger, faster, stronger"Where have I heard that before?#coachmumm #keepitsimple

— jbalmer (@josh_balmer) December 5, 2012
Those three ingredients have become the main reasons why the success of the SEC has taken over the sport.
Unfortunately for SEC fans, it now looks like Notre Dame has caught on.
Keep Reading